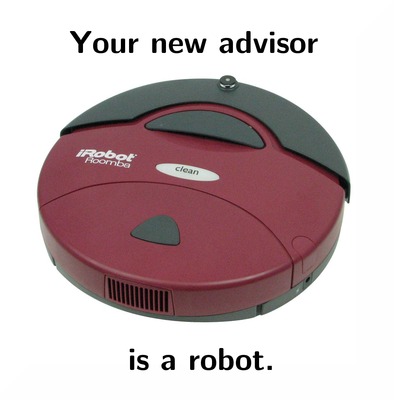 A comment on my previous post Interviewing PhD Students suggested that advising students can and should be automated. Although at first I didn't take it seriously, this idea started to grow on me once I realized that a person could probably be an above-average advisor by simply doing nothing that is actively harmful and also saying the following things at vaguely appropriate times:
Sure, I'd be happy to sign that piece of paper without looking at it closely.
Is there a thesis statement here?
How's the writing going?
How are the experiments going?
I think you'd better cite a few more papers in chapter 7.
What research question is this addressing?
There's no such thing as writers' block, but there is such a thing as people who don't want to write very badly.
You are not allowed to say "the stupid reviewer is wrong about X" but rather "I failed to explain X clearly enough for the reviewer."
Do you really need to implement that, or do you just want to?
What's the null hypothesis?
Why does this graph: contain no axis labels / connect unrelated points with lines / start the y-axis somewhere besides zero / use 3D / confuse me so much?
What have you learned that you didn't already know?
What have you learned that I didn't already know?
What have you learned that nobody knew?
Whose life have you made better so far?
Now if only paper-writing, proposal-writing, and teaching could be automated so easily.