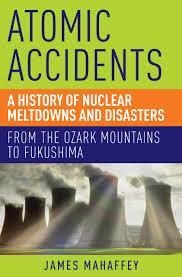 Although I was six years old when the Three Mile Island accident happened, I clearly remember grownups talking about it and being worried: the house my family lived in was only about 60 miles away from the meltdown. In those days there was also plenty of free-floating nuclear angst due to the cold war; this would occasionally condense into something like The Day After or Edge of Darkness. The latter remains one of the best things ever to be shown on television, I re-watch it every couple of years (the 1985 one, not the 2010 one).
James Mahaffey's Atomic Accidents covers not only Three Mile Island, Chernobyl, and Fukushima, but also pretty much everything else that has gone wrong when humans tried to exploit nuclear fission or fusion. It's a fascinating book as well as being — perhaps oddly — quite funny, and I had trouble putting it down.
I was surprised to learn how many nuclear reactors have been destroyed on purpose, and I was also surprised to learn how many nuclear weapons were temporarily lost by the US military: something like 60 in total. That's really scary. But perhaps the most chilling image painted in Atomic Accidents is the criticality accident where a small nuclear reactor is accidentally created, usually by someone working in a fuel processing facility. Imagine doing something innocuous like turning on a stirrer or pouring a liquid into a different container, seeing a bright blue flash, and realizing that you're dead on your feet. This fascinating report contains a lot of details.
The accidents in large reactor facilities have some depressing common elements. First, the situation is inherently dangerous due to this large system that, under certain conditions, will get into a runaway positive feedback loop. Second, the thing can't just be shut down to zero power: residual radioactive decay generates heat that has to be gotten rid of, necessitating extraordinarily complex cooling systems and backup power systems behind those. Third, visibility into the operating reactor is often poor: in one early accident, a reactor core had been on fire for several days before this was realized. Finally, humans, caught in between all of these factors, don't seem to reliably do the right thing at the right instant.
A lot of pop science is written by people whose understanding of the issues seems to be shallow, but that is not the case here: Mahaffey is clearly a real expert on the subject matter. On the other hand, he is not unbiased. For example, on page XIX:
To keep the industry alive, thriving, and growing, it is imperative that the general population not feel threatened by it.
On page XXI:
The purpose of this book is not to convince you that nuclear power is unsafe beyond reason, or that it will lead to the destruction of civilization. On the contrary, I hope to demonstrate that nuclear power is even safer than transportation by steam and may be one of the key things that will allow life on Earth to keep progressing…
The best we can say is that it's nice that he is up-front about this. Mahaffey's slanted point of view caused me real stomach trouble only once: by page 33 he has twice asked the question: "Could we eventually evolve into a race that can withstand high levels of radiation?" What? For the human race to evolve in such a fashion, those who cannot withstand high levels of radiation must die — or be sterilized — before they can reproduce, repeatedly, over a period of hundreds or thousands of years. This is what might happen if the entire surface of the earth became dangerously radioactive. What was going on in Mahaffey's mind that made this disturbing idea seem so appealing that he had to mention it more than once before the end of the first chapter?