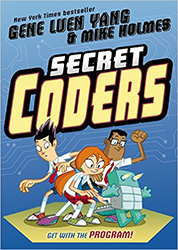 Although I'm not sure that I've mentioned it here before, I'm a pretty big comic book nerd. So I was psyched when, late last year, Gene Luen Yang mailed me asking if I'd like a review copy of his upcoming graphic novel. I love Gene's Avatar comics, which I had been reading with my kids, as well as his earlier American Born Chinese. What I hadn't known is that Gene is a former computer engineer and high school computer science teacher.
Gene's mail described Secret Coders — which comes out at the end of September 2015 — as sort of a Harry Potter but with programming instead of magic. It stars plucky Hopper Gracie who has to adjust to life at her strange new middle school while also, with her new buddy Eni, unraveling its many mysteries, some of which might involve her missing father. Along the way, the reader gets a clever introduction to binary numbers and Logo programming, the latter via a slightly mysterious robotic turtle character that obeys verbal commands. You can read an excerpt here. The book's web site also has a 5-minute video introducing Logo, which makes it feel like this series might end up being as much of a MOOC as a graphic novel.
My 10 year old read Secret Coders almost as soon as it arrived. I should mention that he has read more of Gene's books than I have (perhaps using the school library? I'm not totally sure) and has loved all of them. The kid is also a decent Scratch programmer and something of a novice at Python. He gave the book high ratings both for plot and for CS content. My eight year old hasn't read the book yet; if he does, I'll update this post with additional findings. Anyway, at $5.50 (Amazon price) this book is a great deal and I'd recommend it to folks who are hoping to get a young person interested in programming.
Update from Sep 17: The 8 year old is reading Secret Coders now and loving it. Too early to tell if he'll pick up the programming content.