I've been doing a poor job of taking pictures in Europe. On the other hand, I've had a trip report on the back burner since last spring, so let's look at a few pictures from that.
Happy Canyon, in a remote part of southeast Utah, has a scenic and non-technical narrow section that would be famous if it were easier to get to. There are about five ways to get there, but each has a catch: a very long hike including a rappel, a multi-day hike with poor access to water, a backcountry airplane landing, a float trip on an intermittent river, or a difficult drive. The last option was the only one that made sense for us.
We left Hanksville UT before sunrise and had about a 20-minute drive on pavement before turning off at Poison Spring Canyon where the track follows the bottom of the canyon in and out of the waterway, through mud and sand and pools of water. This canyon is frequently impassable, but it had been bladed since the last flash flood and was mostly lots of fun, with only a few sections of real 4WD. It took us about 40 minutes to drive 11 miles to where the Black Jump road turns off (#1 on the map below). This next road follows a bench between cliffs; it was put in during the 1950s for uranium exploration and, as far as I know, hasn't been maintained since then. This track had caused me a lot of stress during trip planning and indeed it was a bit exciting: it is partially blocked by rocks, goes right next to cliff edges, has sinkholes in the clay that could eat a wheel, and has some sections of real high-clearance 4WD. It took us about an hour to drive five miles to where the track is finally blocked for good by a bus-sized rock that fell from the cliffs above (#3).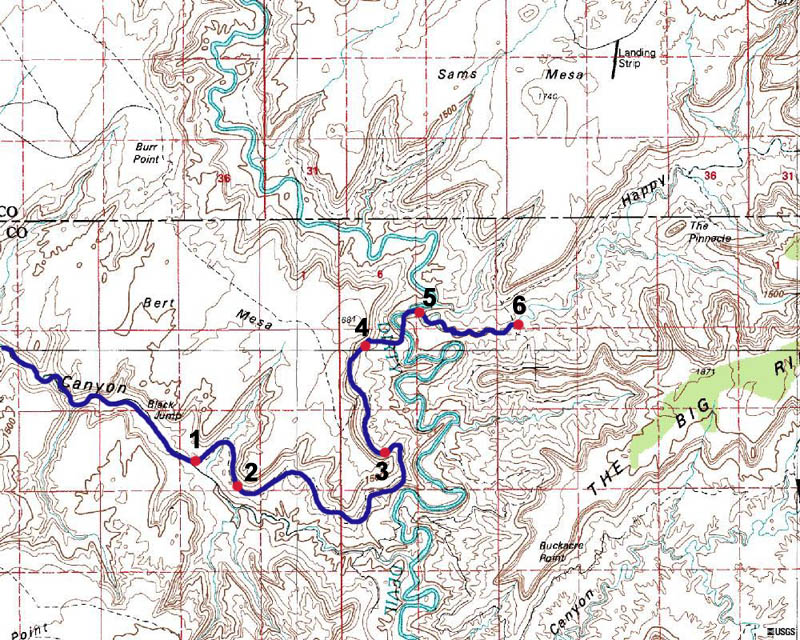 (Map credit: USGS with annotations by rockgremlin.)
So there we are — an 8 year old, a ten year old, and me — parked on a ledge halfway down the 1400-foot deep Dirty Devil River gorge, probably 10 miles from the nearest human being. We continued along the deteriorating mining road on foot; there's a lot of petrified wood including some entire logs, which are really fun to see. After a while (well past #4 — the folks who made that map dropped down to the river too early) there's a nice break in the cliffs and we picked our way down to the river, which was flowing in the 80-90 cfs range. We all took off our shoes; the younger boy crossed holding my hand and the older one crossed on his own. The mud was nasty and there was a bit of quicksand, but nothing too hard to avoid. At this point we were at the mouth of Happy Canyon (#5) and we had lunch on the river bank.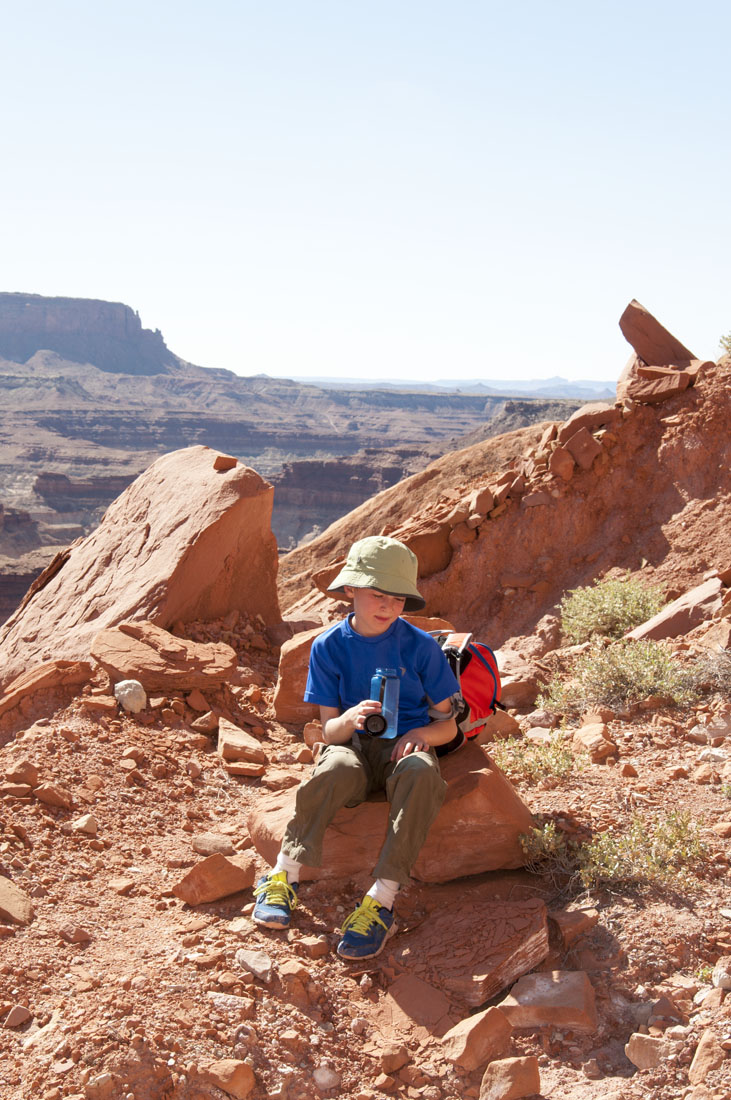 Happy Canyon rapidly narrows down and remains narrow for most of a mile, and while it isn't actually a slot canyon (where you can consistently touch both walls) it is deep and convoluted.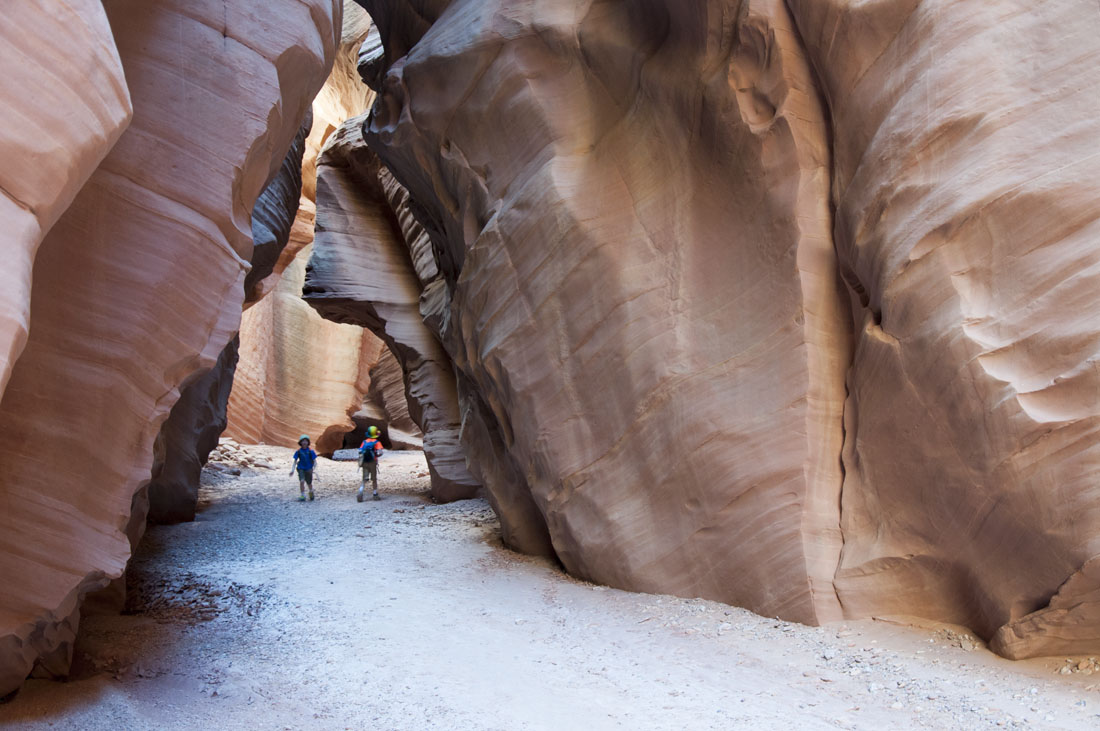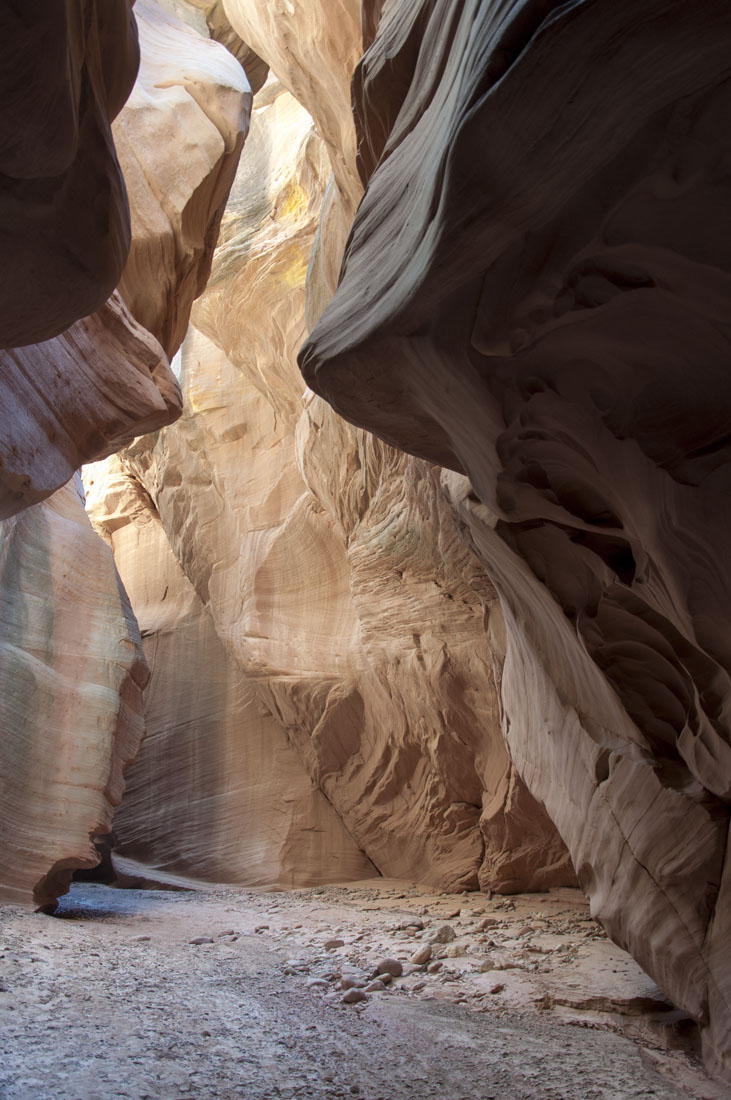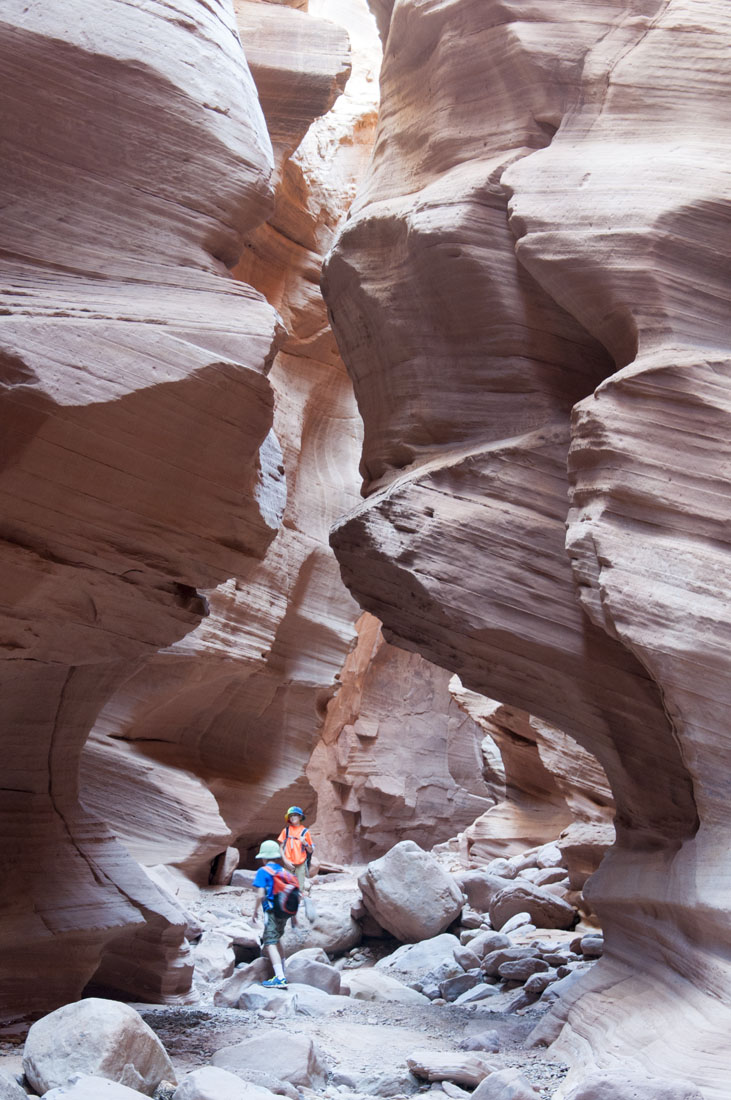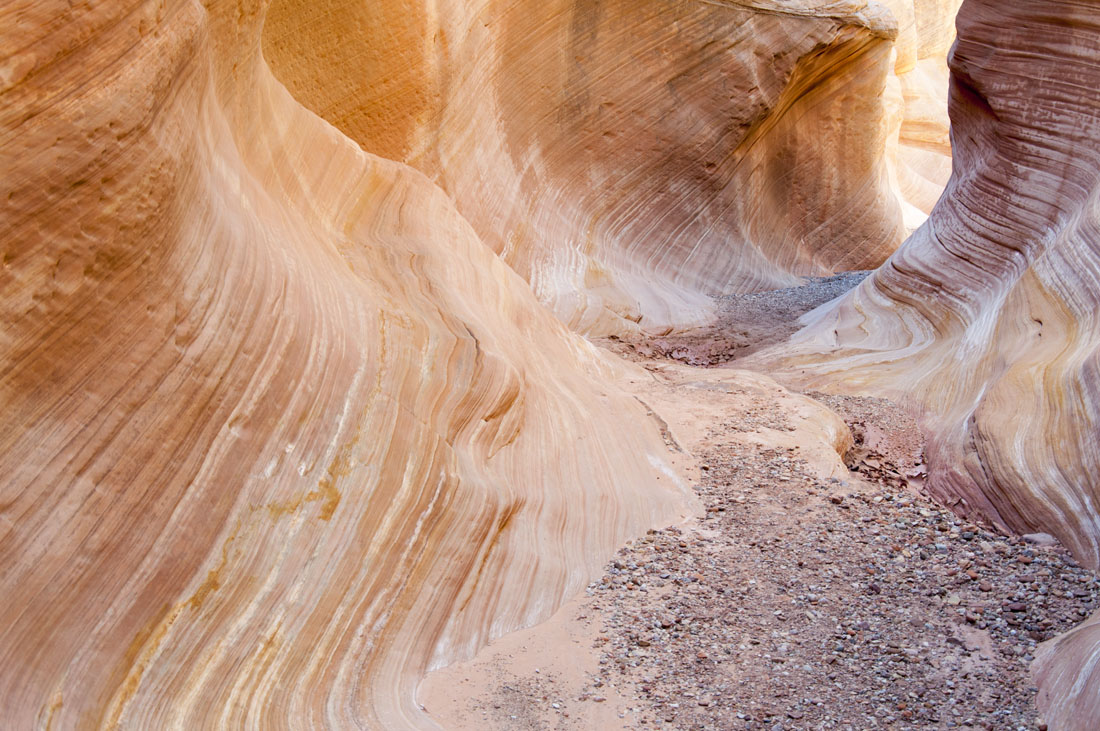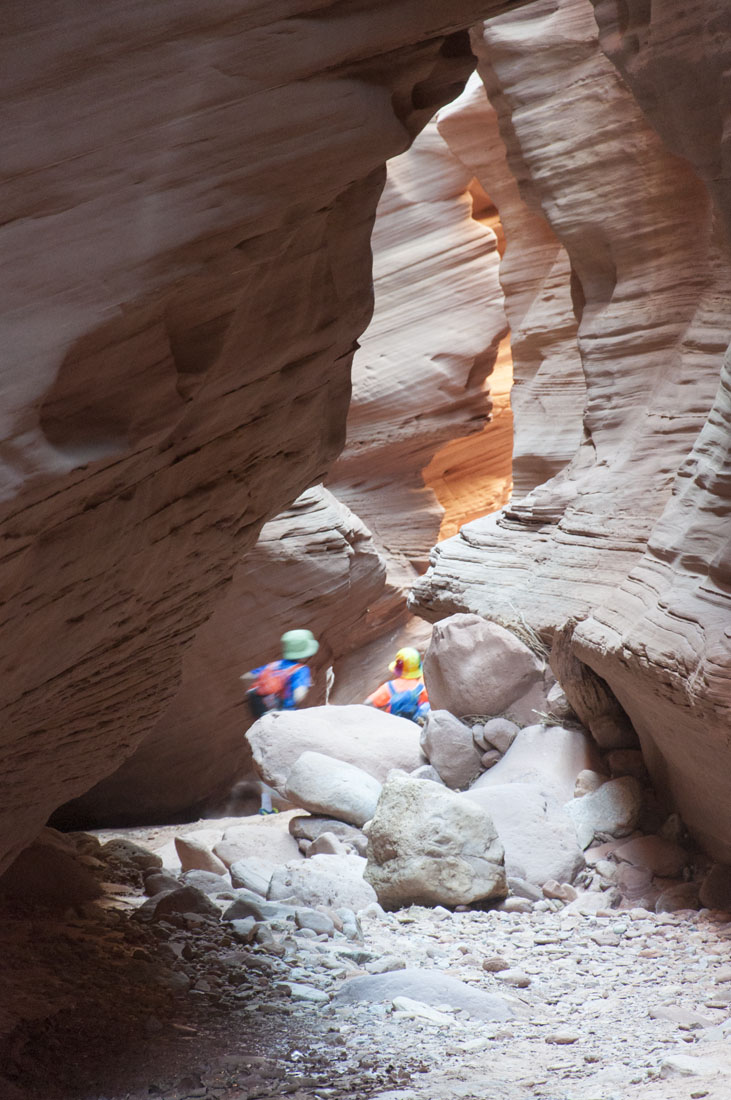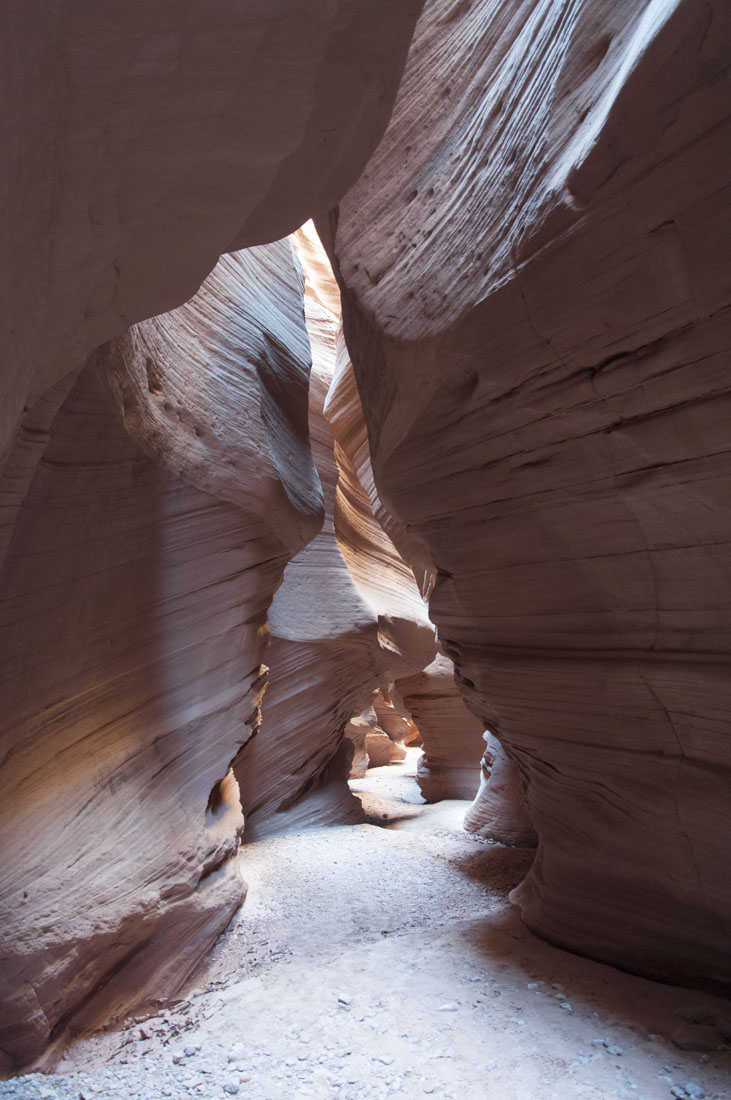 We could have stayed in the narrows for hours, but we had a long (and warm, even in March) hike out and I didn't want to drive the Black Jump road in the dark. We cooked dinner at the junction with the main Poison Spring road, and then we made it back to Hanksville by dusk.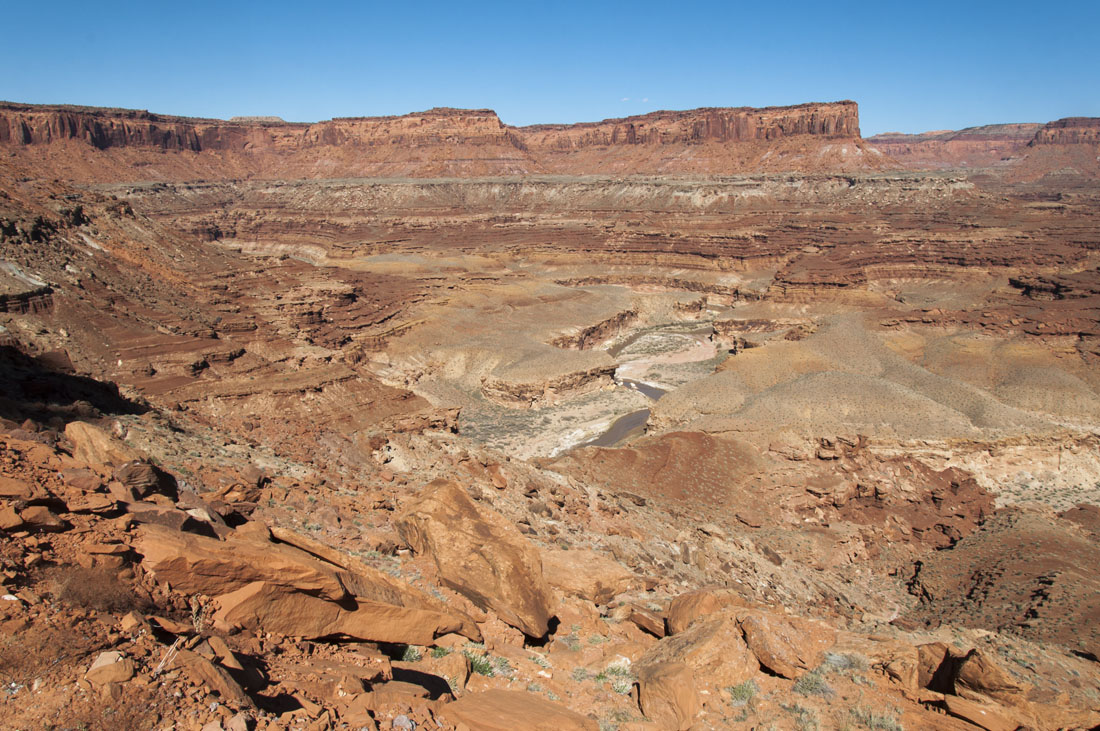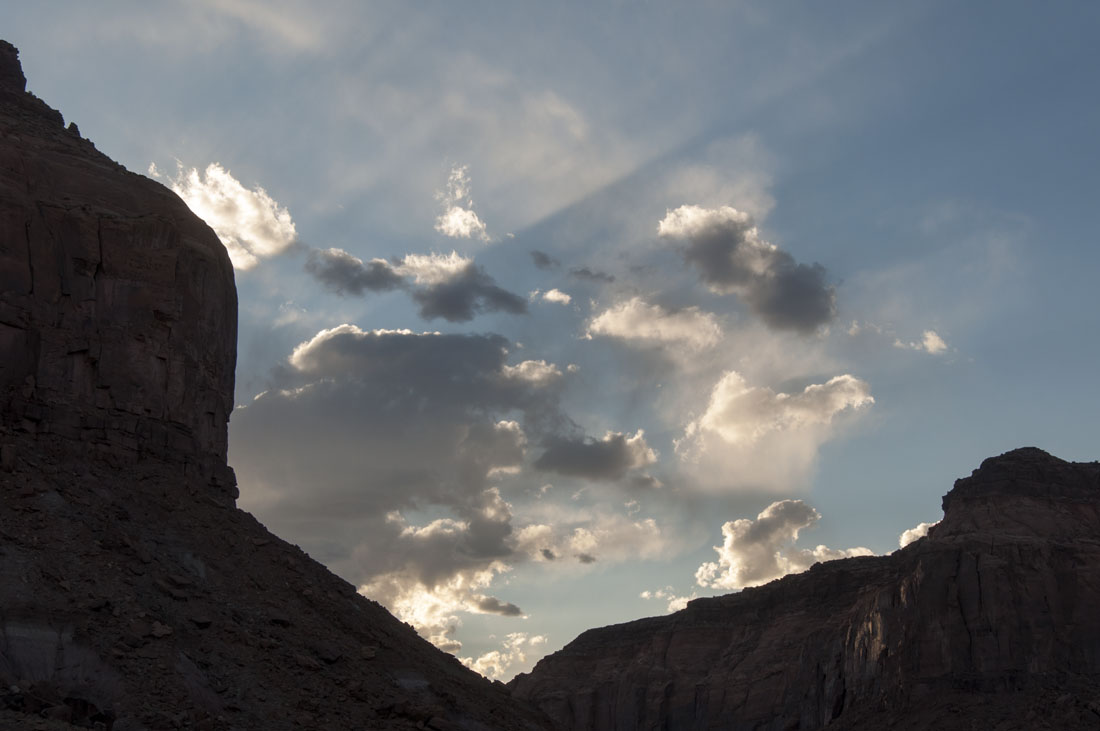 The next day was less eventful: we visited a little-visited mesa top and found a place where wind or floods had created a perfect little beach along the Fremont River.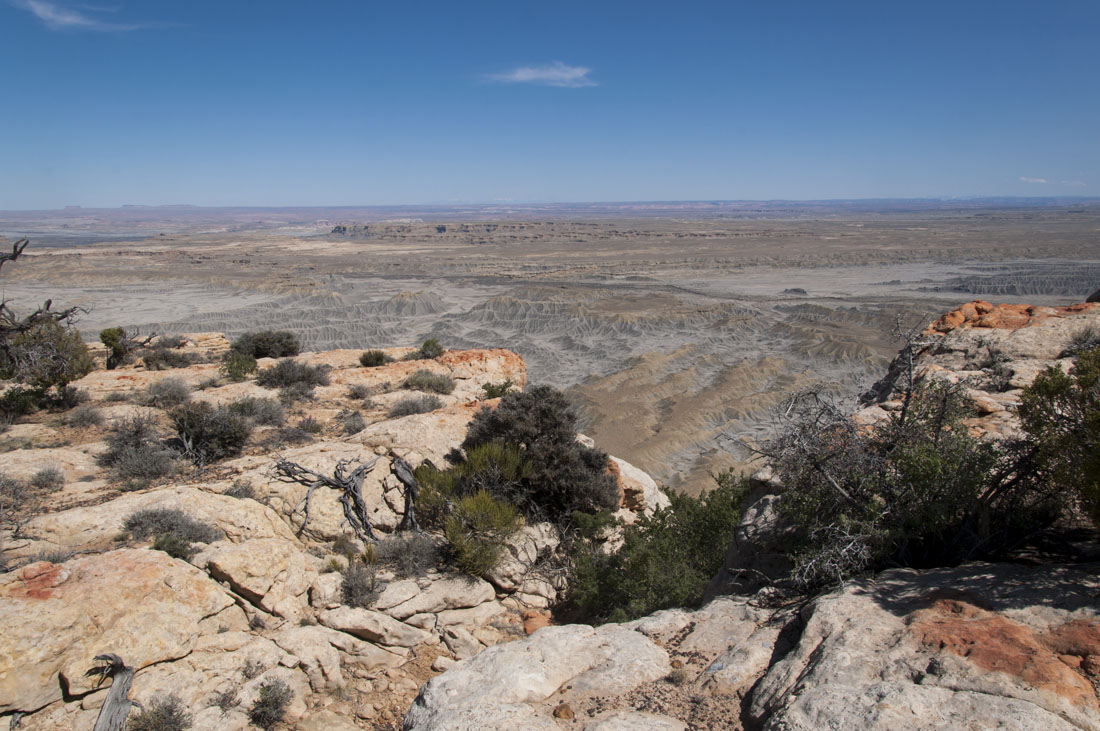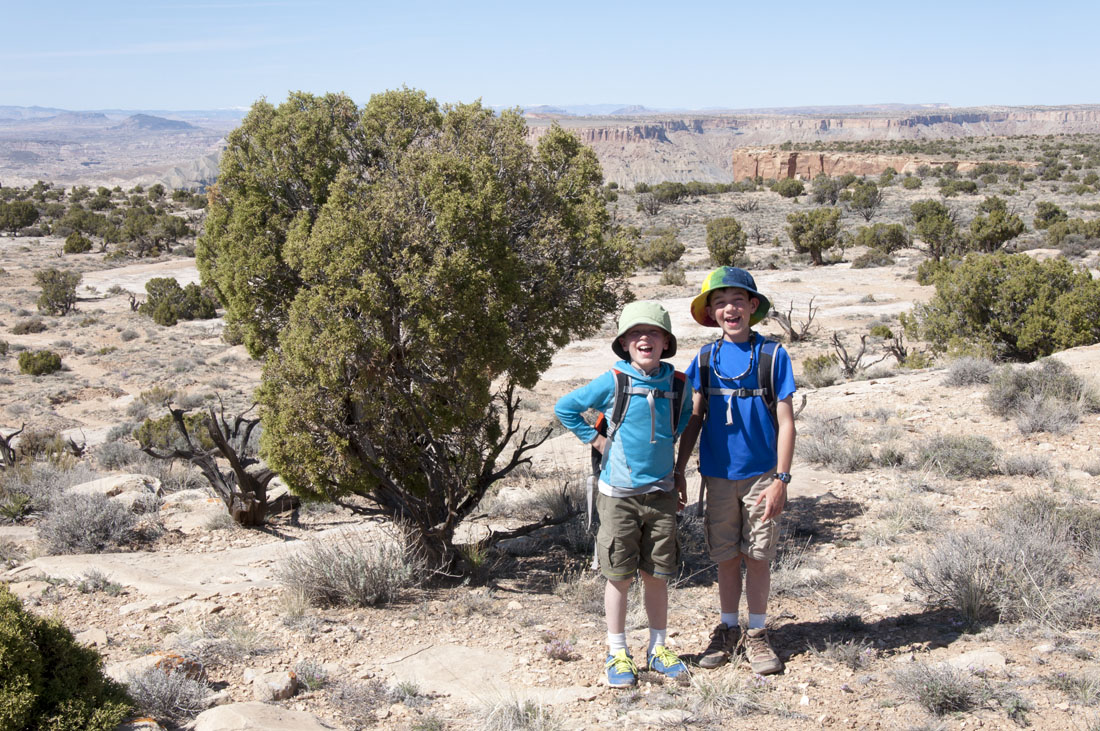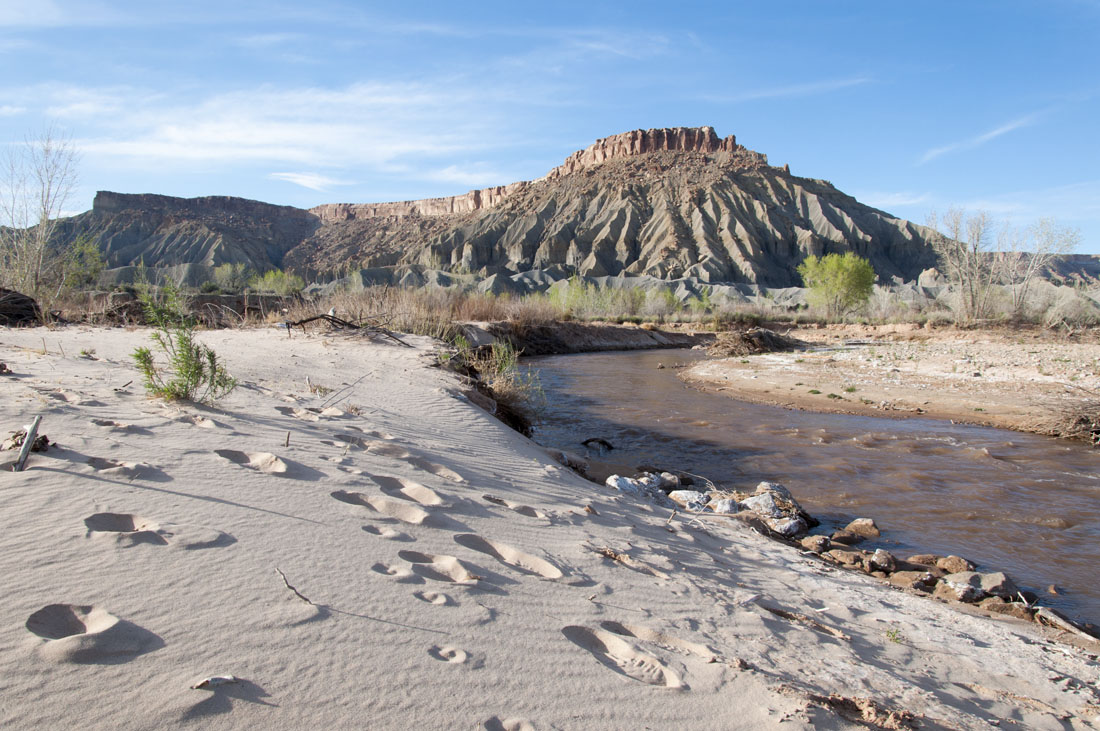 On the final day of this quick trip I wanted to visit yet another out-of-the way spot. The boys endured a breakfast of beef jerky and gatorade, a routefinding debacle, an extremely muddy river crossing, and a longish and not-inspiring hike. As a reward, we got to spend an hour or two on the moon before heading home.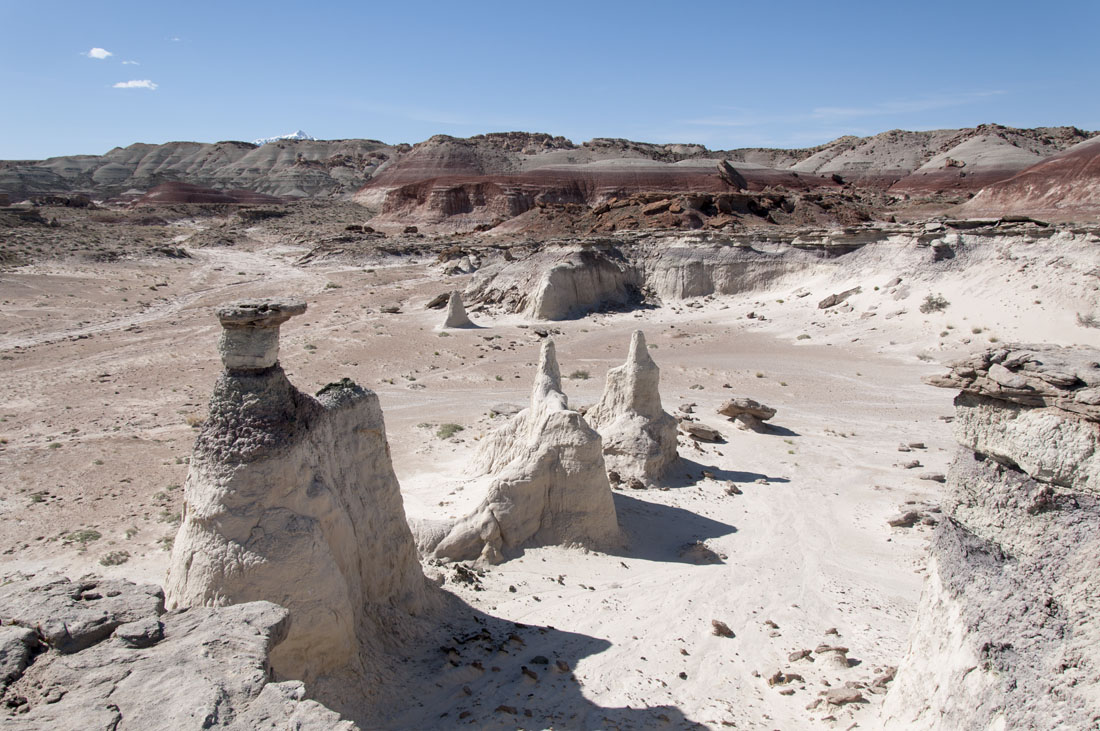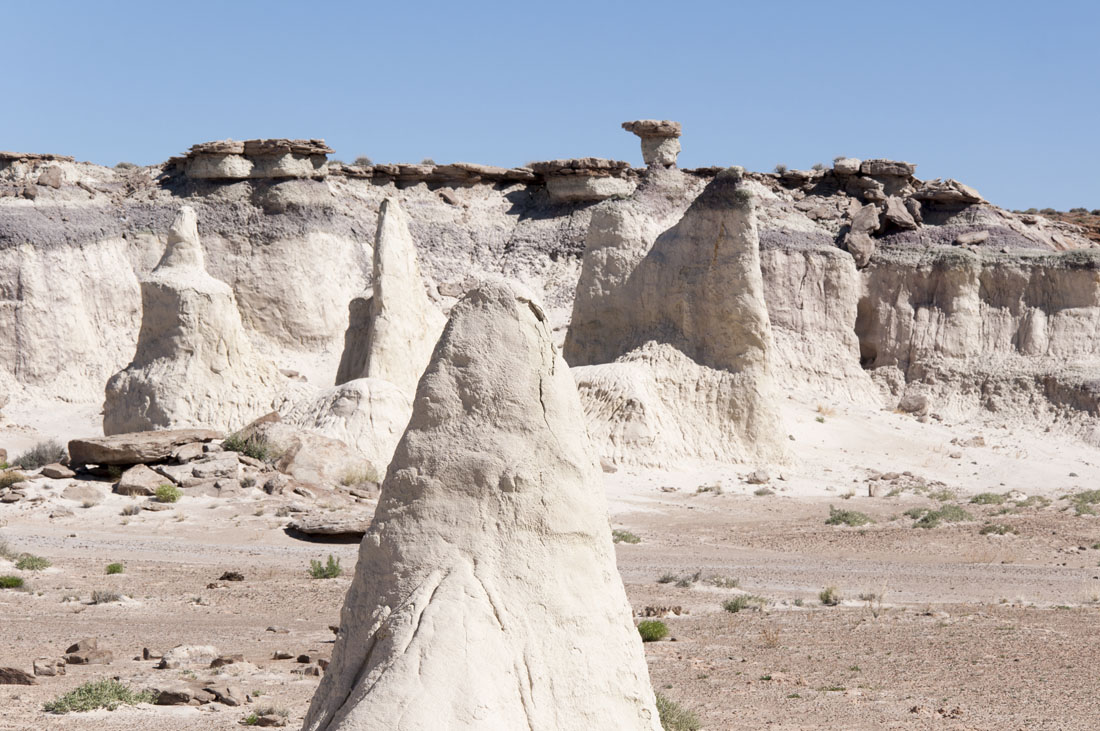 Overall this was a successful trip, though we did run into one person while hiking.