The problem posed by this trip was to find a route that was interesting for my hiking buddy Bill while still being feasible for me. Bill is a seasoned mountaineer and has done some difficult climbs. I'm a strong hiker and feel comfortable on moderate snow slopes, but I haven't done any technical mountaineering. Technical, in this case, means roped up in order to gain safety on glaciers and on steep snow or ice where a self-arrest is unlikely to succeed.
Our solution was to spend six days on Mount Baker with a guide. During the early part of the trip I'd get brought up to speed on roped travel, crevasse rescue, etc. and then we'd attempt the Park Glacier Headwall: an interesting, moderately technical route to the summit. The 2009/2010 winter ended up not bringing a lot of snow, so we felt comfortable scheduling a trip in May, on the early side of the season.  However, the spring turned ugly and a lot of snow was dumped on the northwest. Going into this trip we knew the forecast was poor for the whole week and we'd be lucky to get anything done.
On Saturday May 15, Bill and I traveled up Bellingham, WA. Sunday we woke up early and headed over to the AAI offices where we met Jason Martin, our guide. After a bit of gear sorting and renting me some plastic boots, we headed up to Baker's Heliotrope Ridge trailhead. It was great driving through the dense forest: living in Utah one gets used to the desert and it's nice to see so much green.
The hike up to "Mirkwood," a sheltered campsite at around 5200′ on a moraine overlooking the lower Coleman Glacier, was a bit grim since my pack was overloaded. It's hard to be light when carrying six days of food, a full set of climbing gear including two ice axes, and plenty of cold-weather clothes. Also Bill and I weren't that interested in sharing a tent so we each had one of those to carry. I was delighted to discover that hiking in plastic mountain boots is not at all uncomfortable. Over the course of this trip I learned to love these boots, although keeping the insides dry in the rain and wet snow was a challenge.
Setting up tents on snow is quick and easy. After settling in we did a bit of snow review: self arrest, anchor-building, etc. I built a snow bollard and then, simulating a fall, pulled the rope right through it, yikes. After a while it started raining hard enough that these activities stopped being fun. After dinner the weather cleared up a bit and I started feeling enclosed by the big trees, but just a 15-minute hike up the moraine the trees petered out and a quick scramble got me onto a nice rock pinnacle where I had a great view of the mountains in BC and a gorgeous sunset.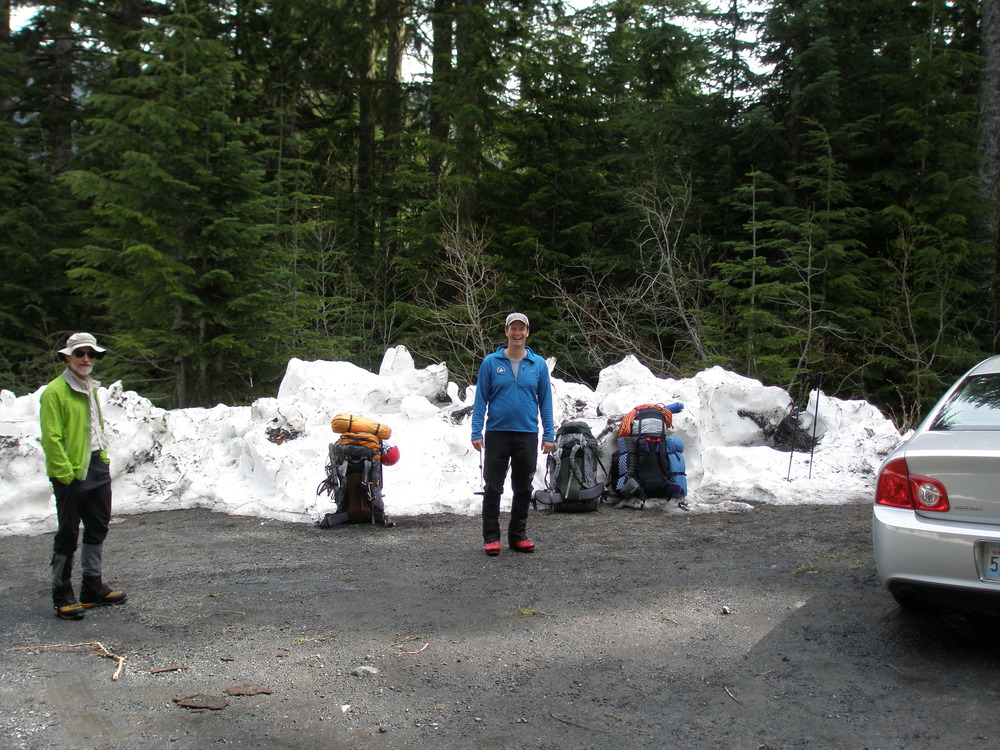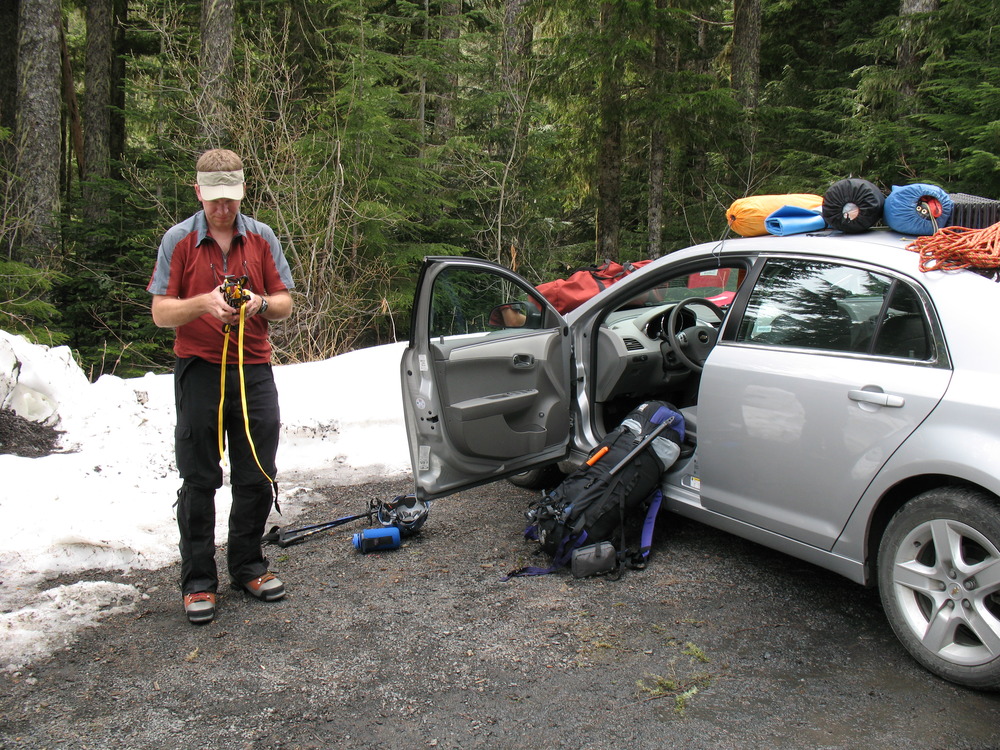 Ugh, should have brought a bigger pack!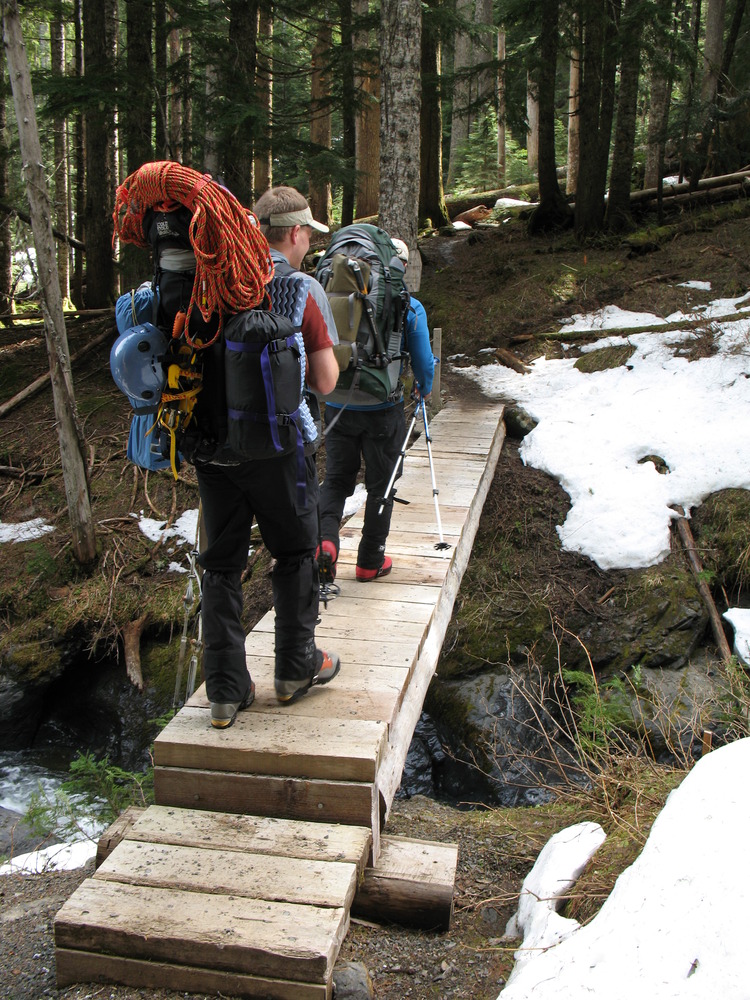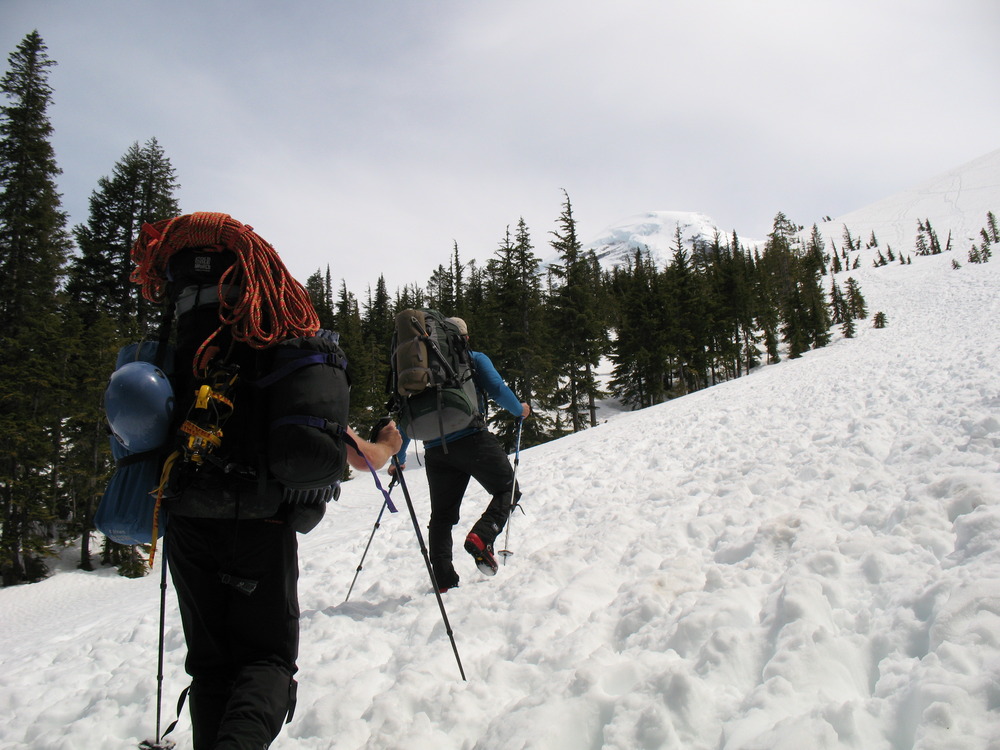 Monday the weather was beautiful, though Baker's summit had an ominous cloud cap. We decided to spend the morning doing glacier skills and then head up to a high camp, make a snow cave, and attempt the Park Glacier headwall on Tuesday if the weather held.  I was a little nervous about this since we skipped over the crevasse rescue stuff and, in fact, on the way up to the high camp both Bill and Jason put legs into hidden crevasses. It is a little scary walking past a hole in the snow that has been produced in this manner because it is 100% clear that a serious crevasse is lurking right there, and there's no easy way to tell exactly where it is or if the rest of the snow bridge will hold.
Our high camp was at 7700′ on the next ridge east of Baker's North Ridge.  The hike was long and fairly warm and really quite tiring due to poor snow conditions, like walking in mashed potatoes. Bill and I volunteered to break trail but perhaps not very convincingly since Jason took the lead the whole way. As soon as we stopped walking the wind picked up and it got cold. We immediately started work on the snow cave a bit down from the ridge crest, but above the glacier. This cave (I'd never dug one before) turned out to be a very large amount of work: just below the surface snow was some great structural snow with about the consistency of sheetrock. We traded off often and made progress slowly, eventually deciding that we didn't need to fit our entire bodies into the cave; if it rained we'd sit out the rest of the night leaning against the back wall. The flaw in this plan was that a serious drip developed along the interface between the sloppy surface snow and the hard snow beneath. We didn't manage to eliminate it, nor did it stop as the night became colder. So we slept with our bivy bags getting dripped on, not the end of the world but not that great.  We set alarms for 2am.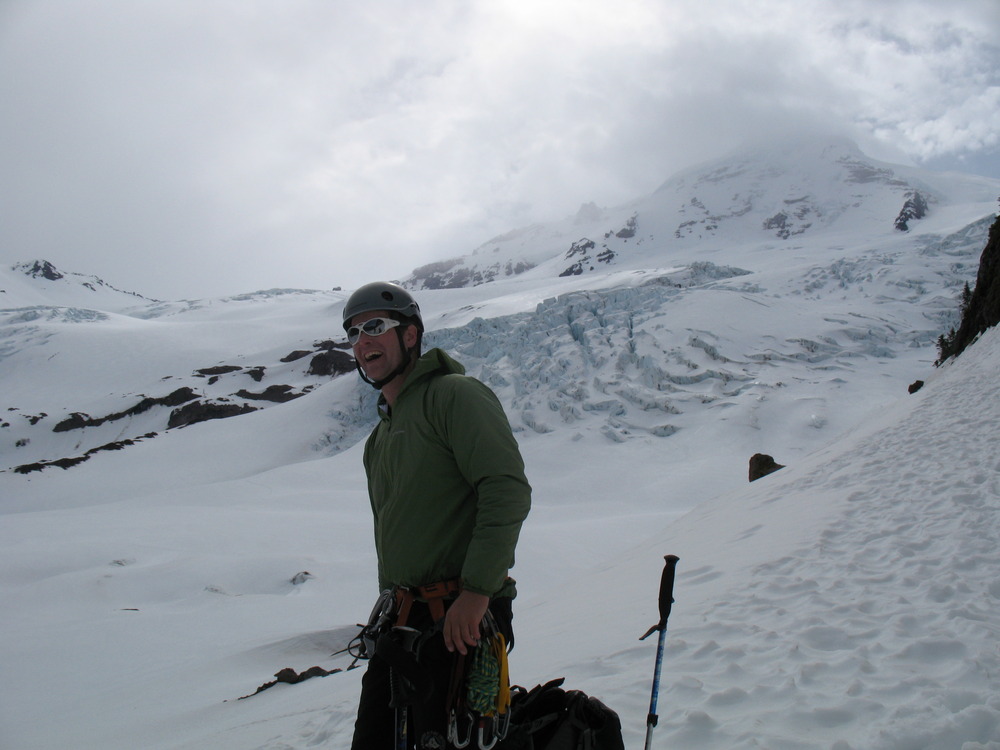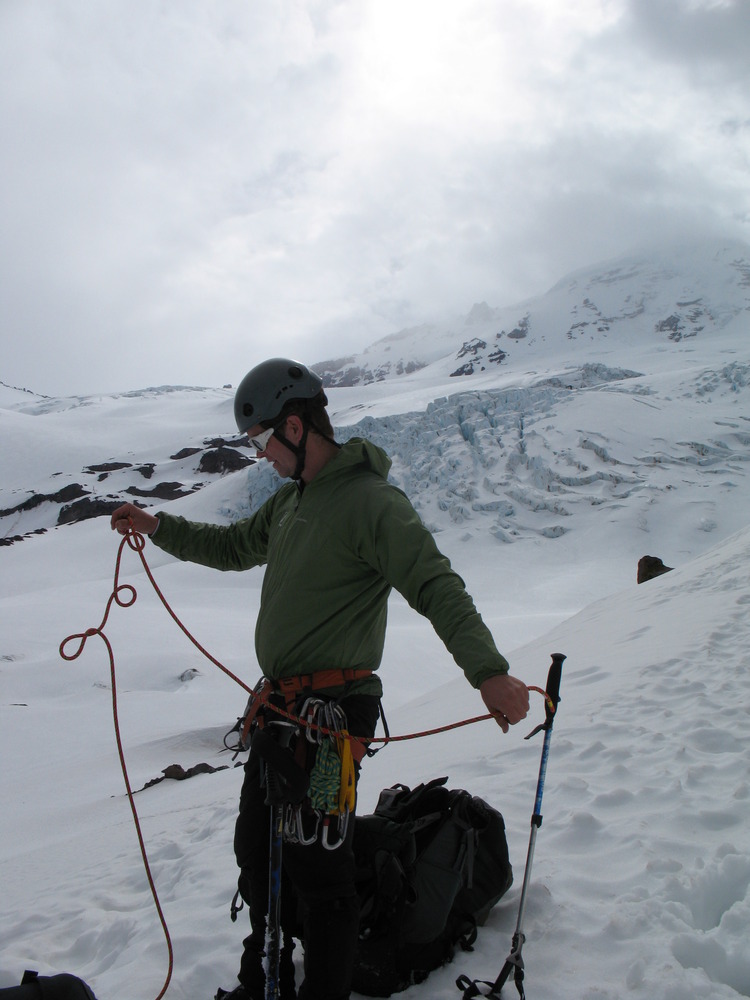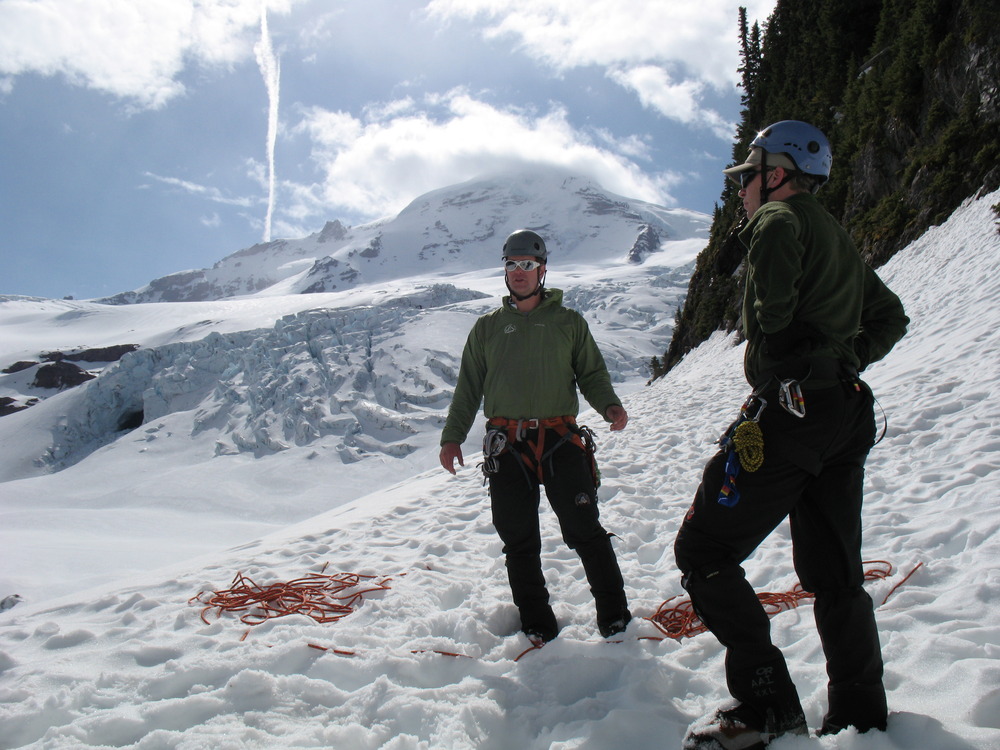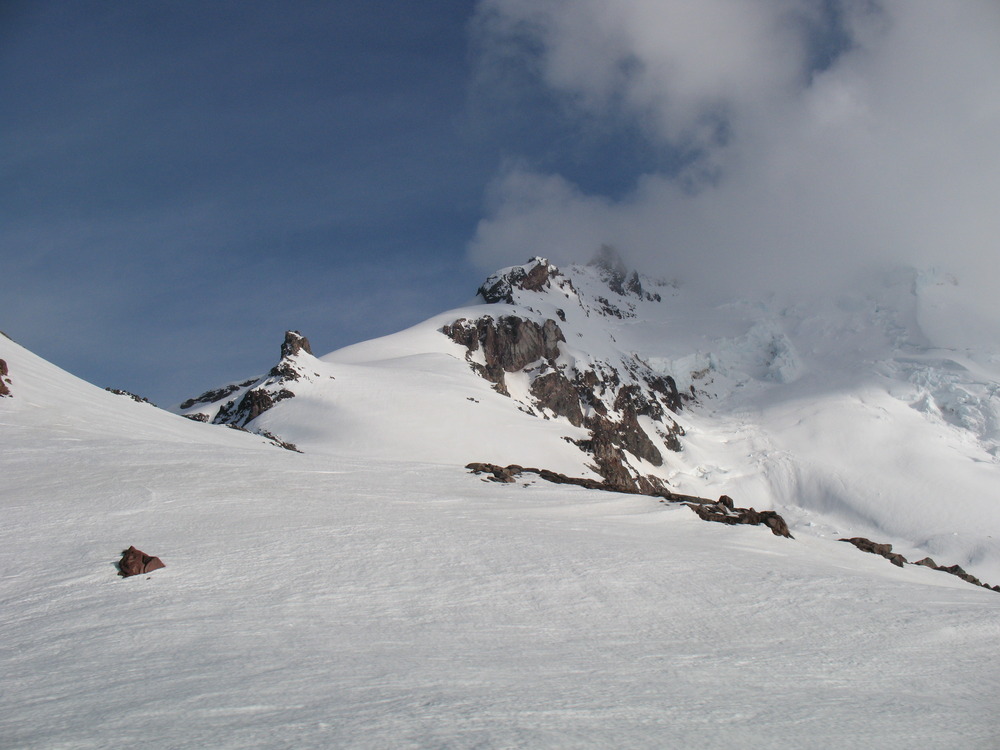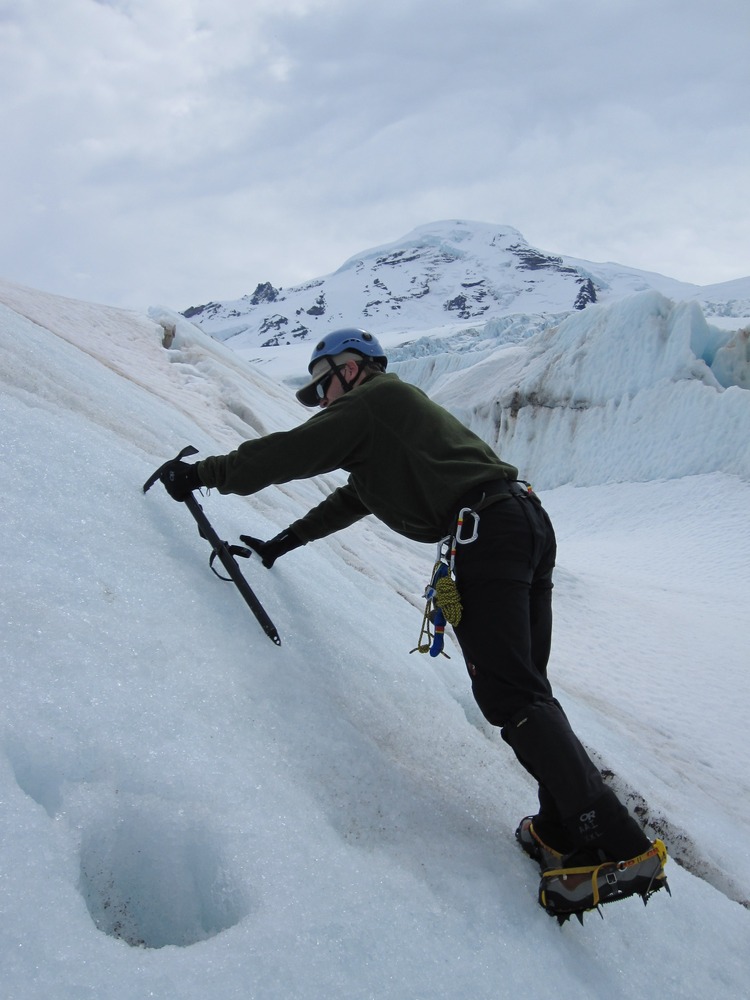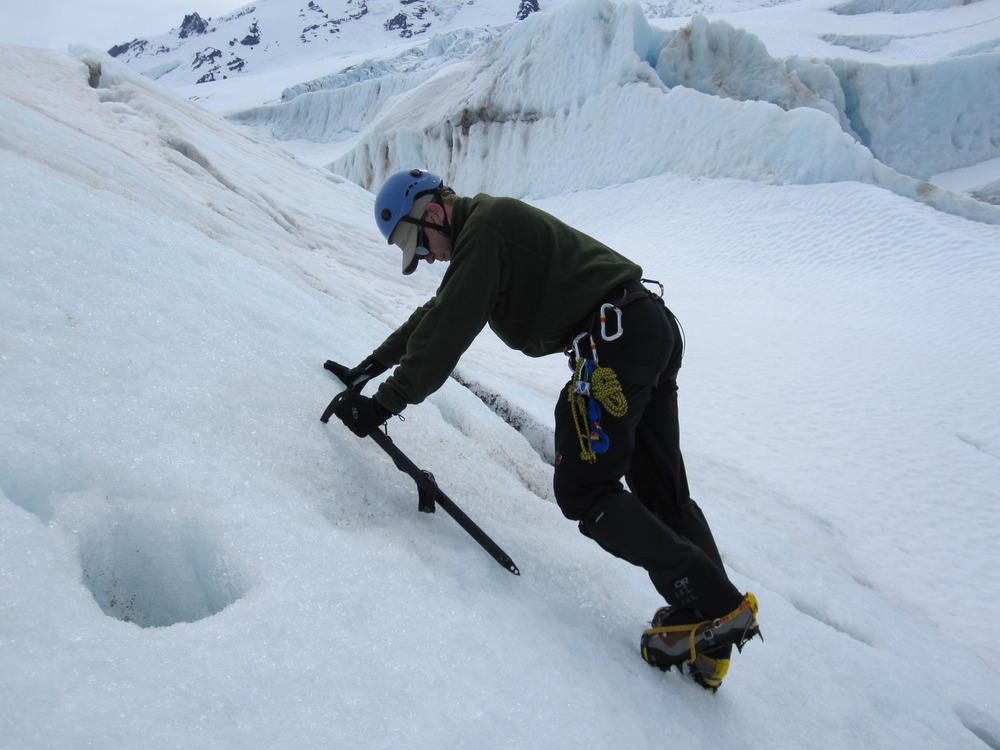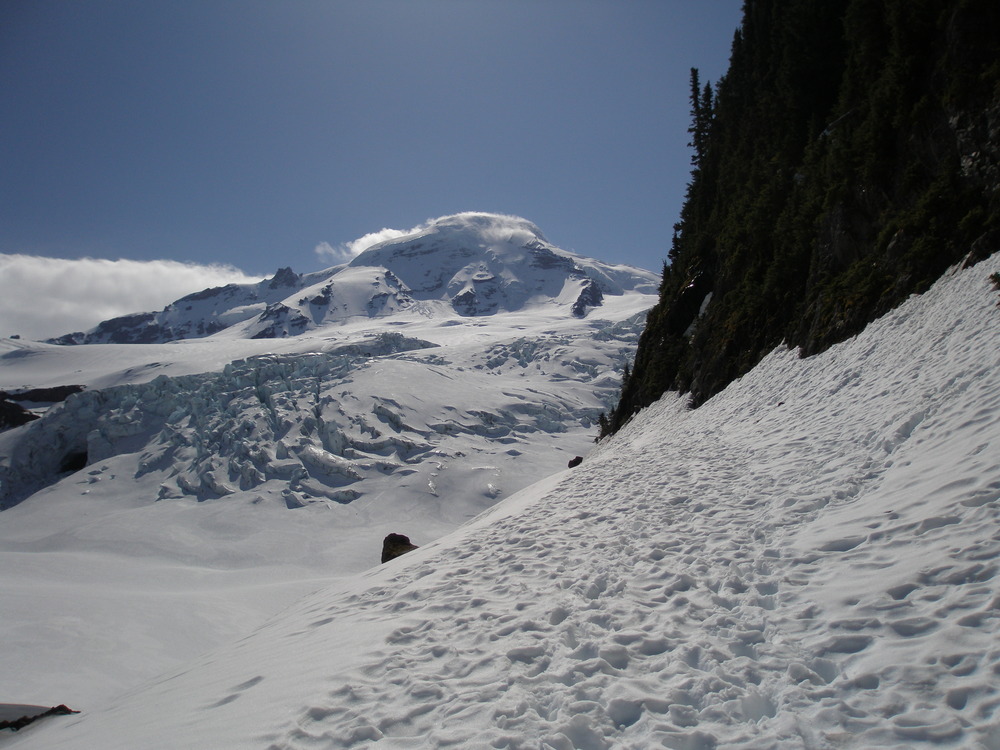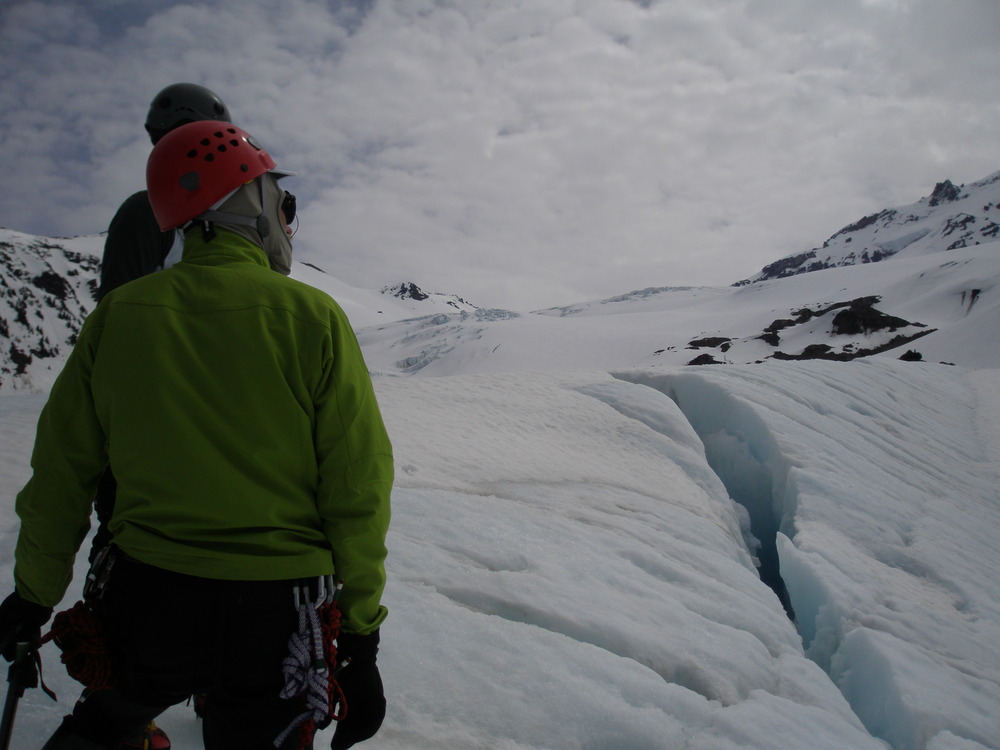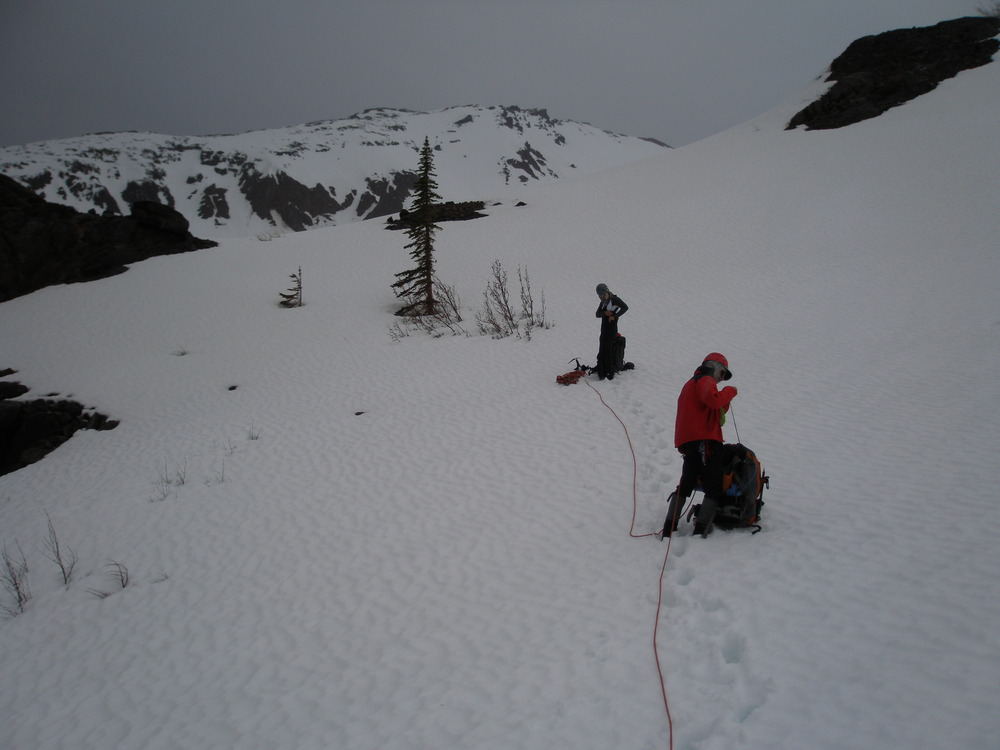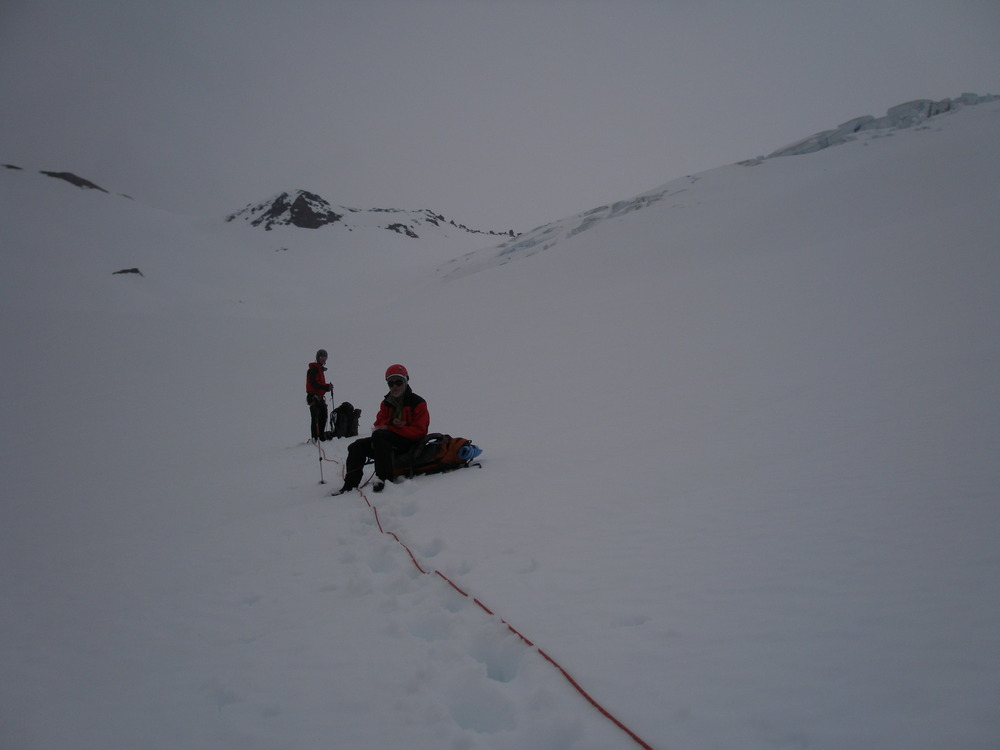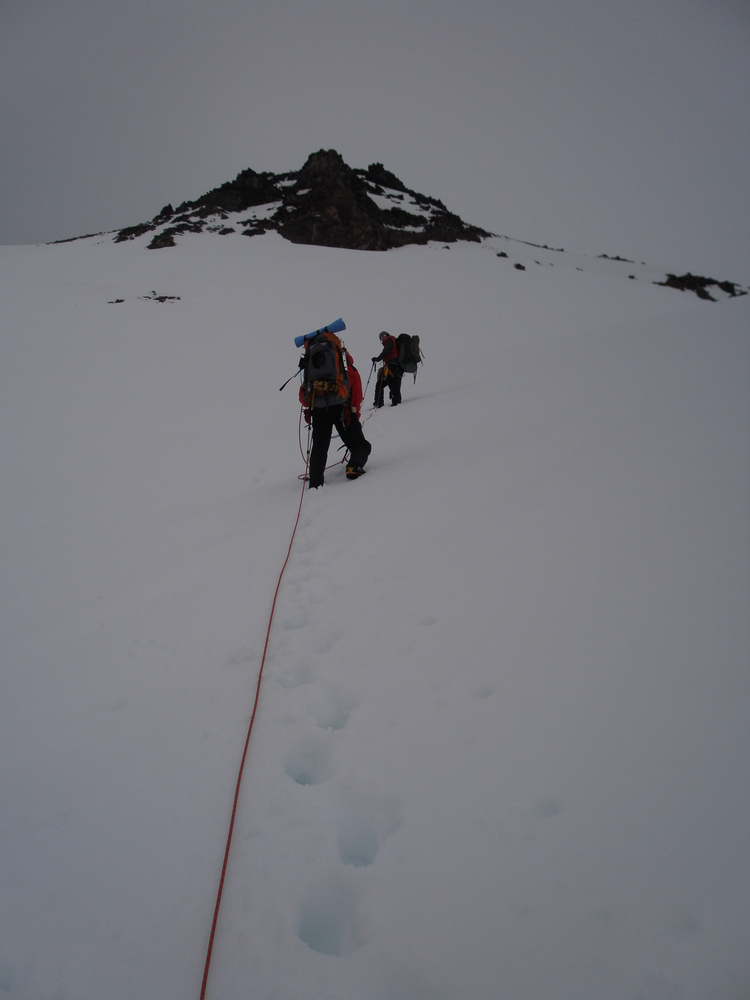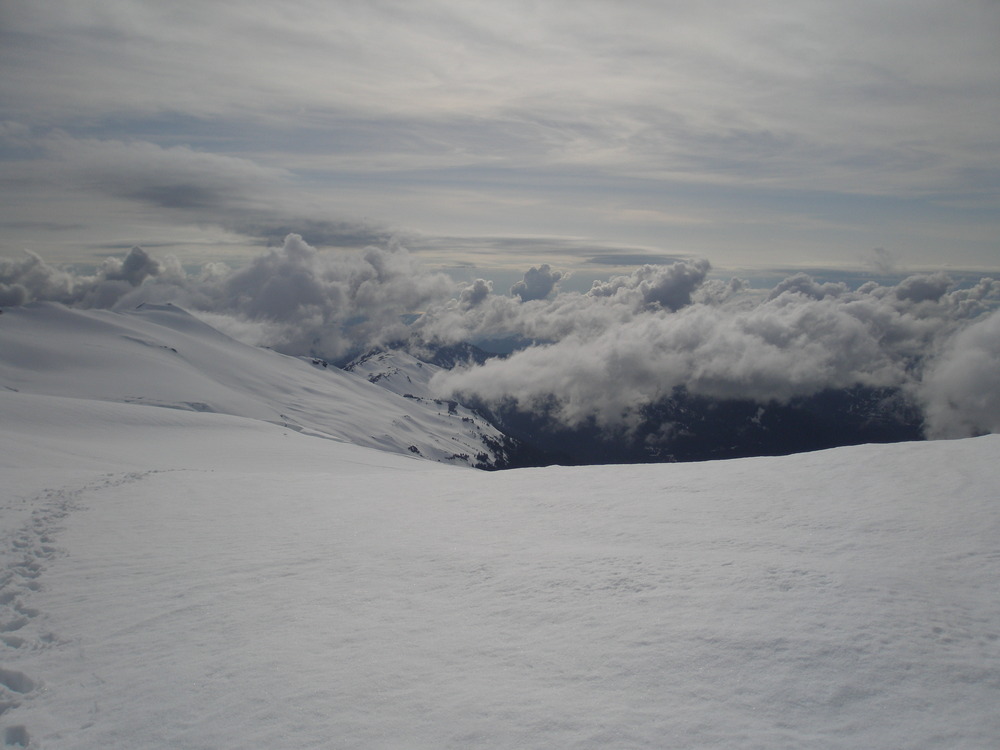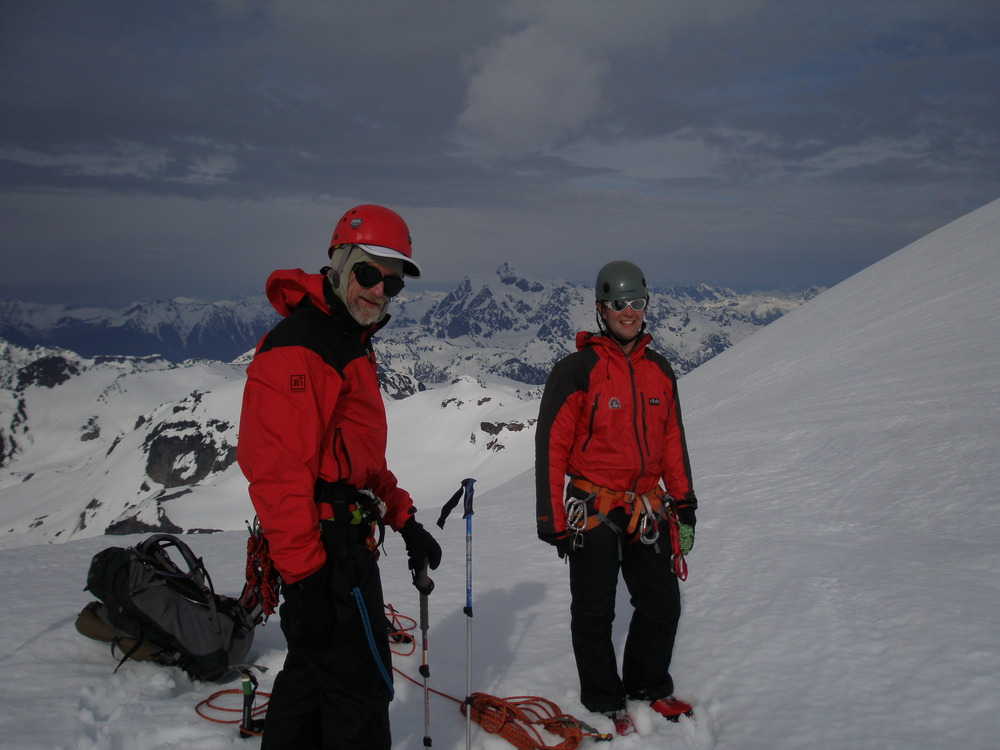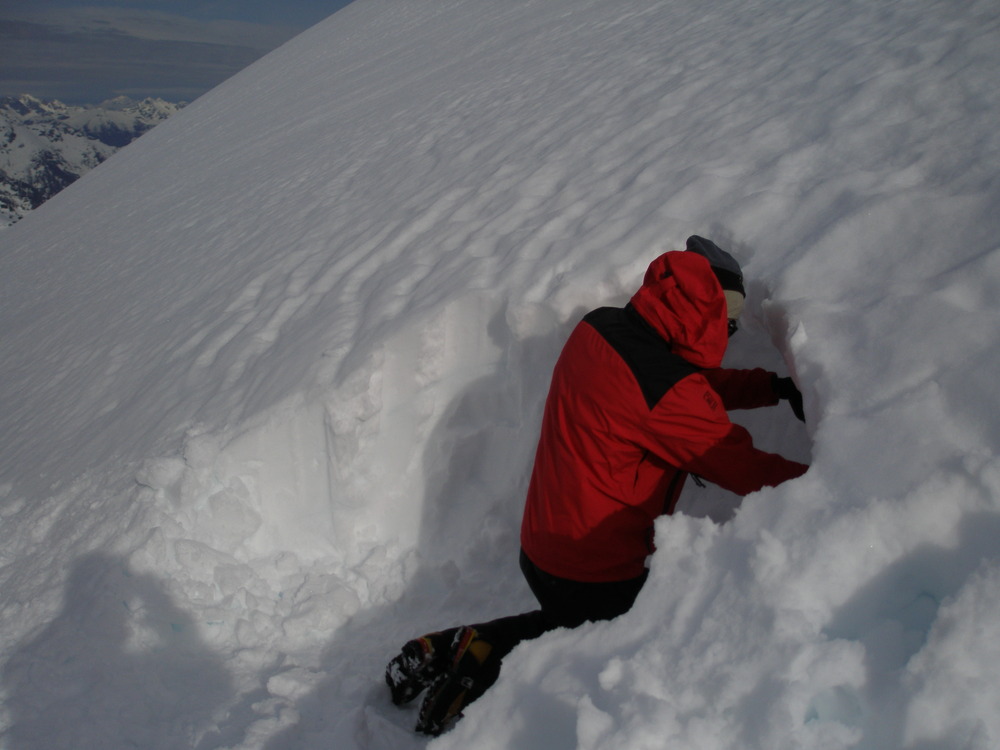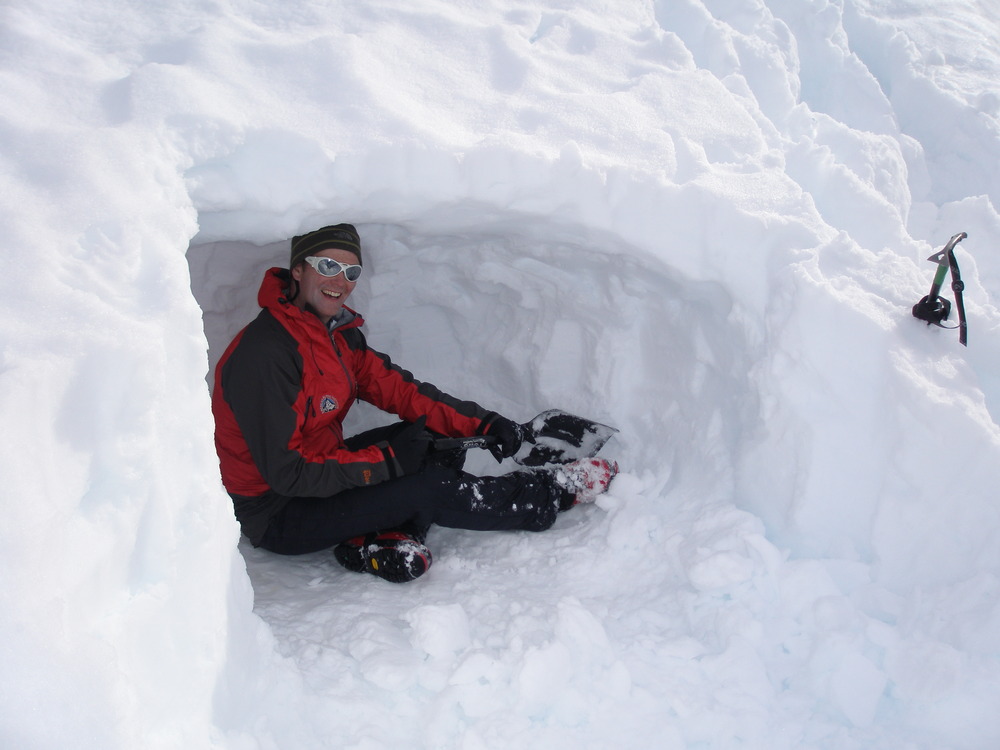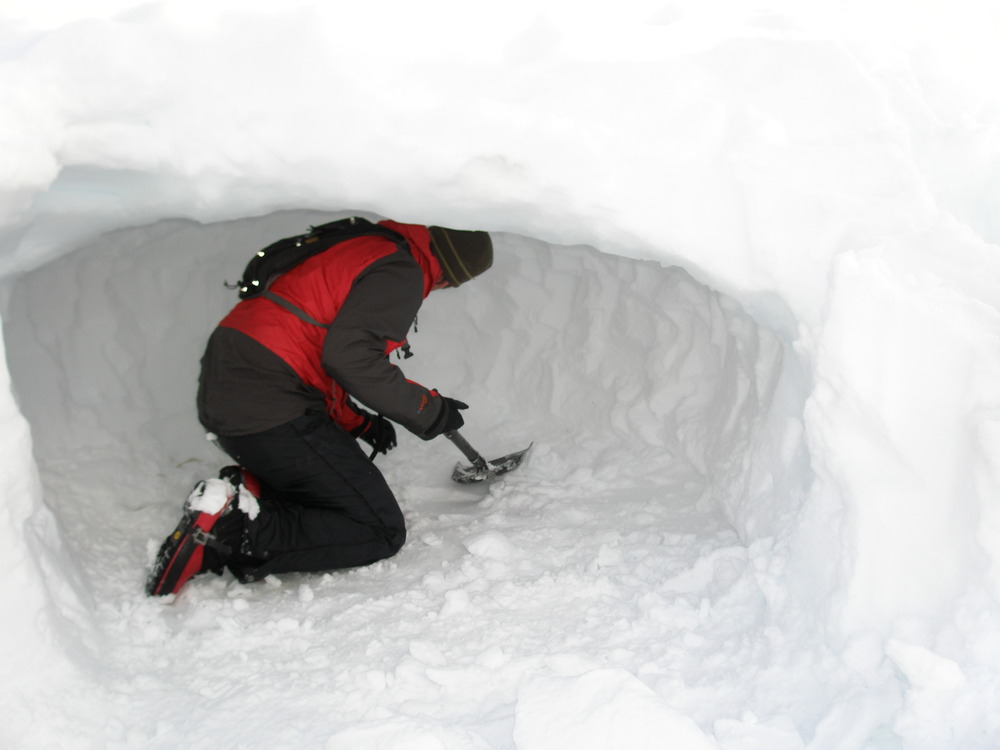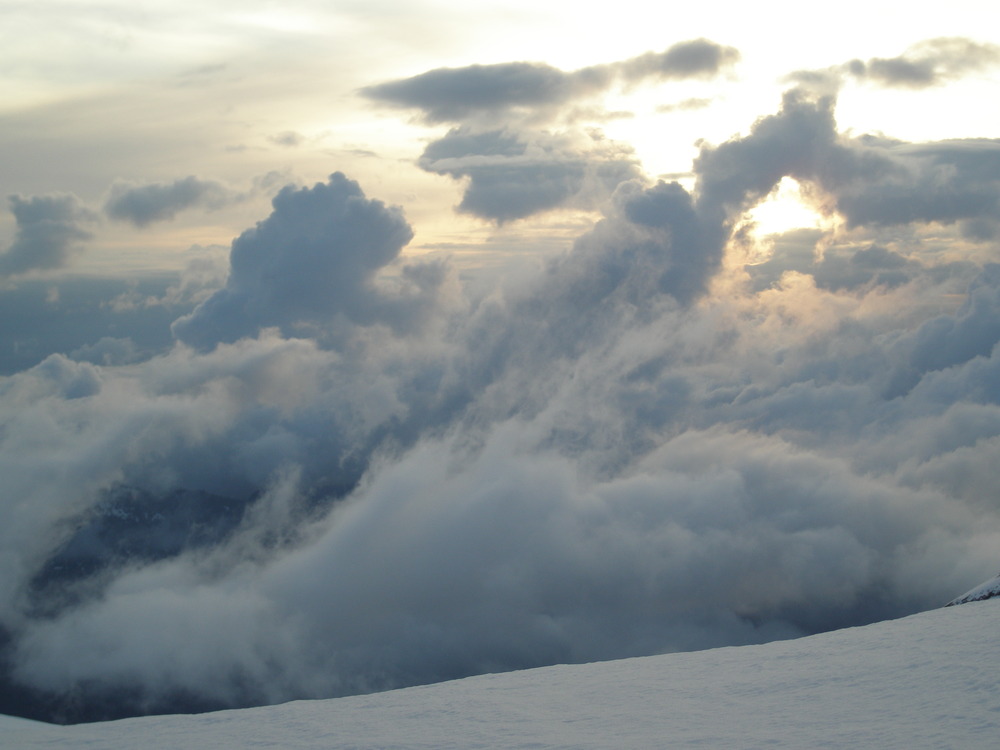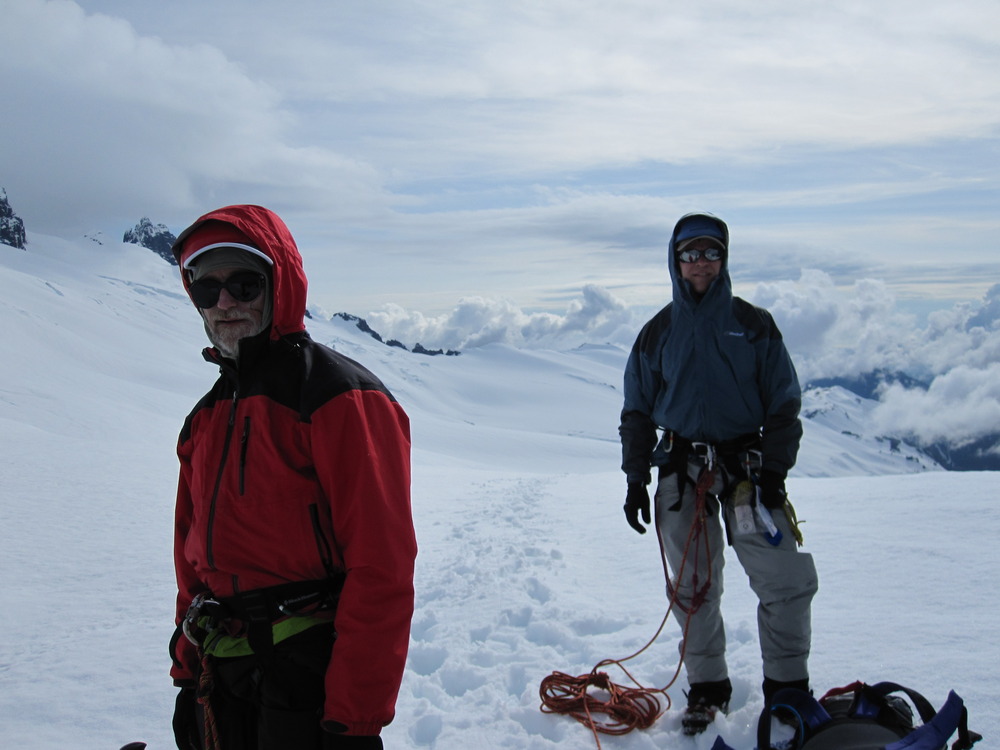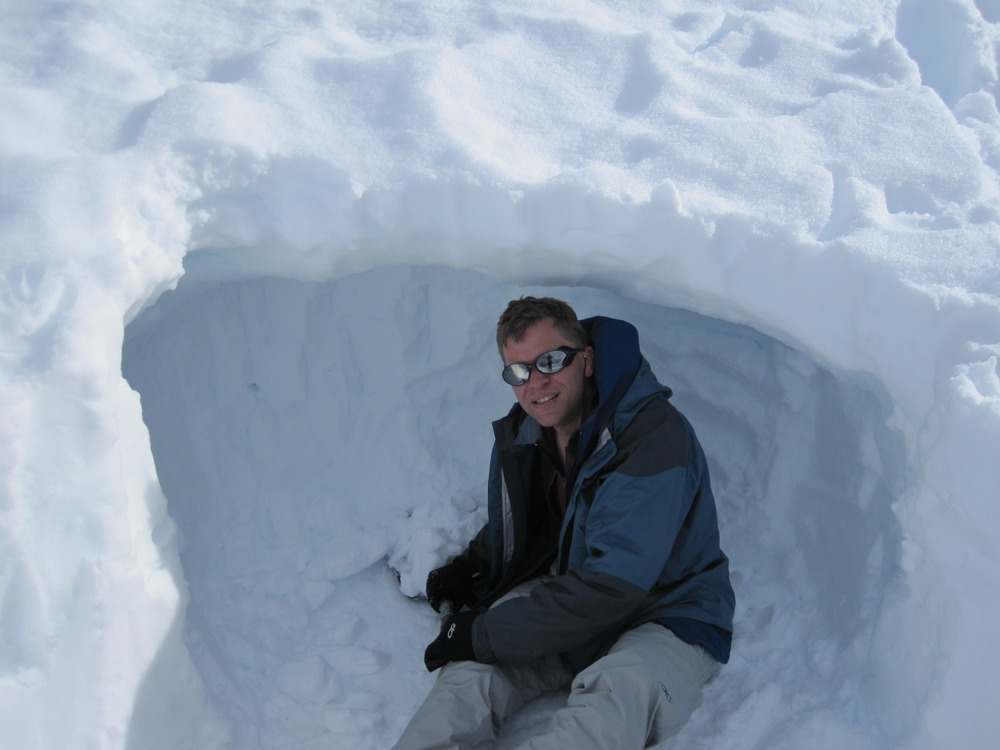 At 2:00 the sky was not clear and the snow had not come close to freezing. We decided to bail on this summit attempt. This turned out to be the right decision; we'd not have summited in any case, and descending might have been pretty adventurous depending on where we were when the weather turned. We woke again at 7 and headed back down to Mirkwood in a whiteout. The cloud cover felt shallow and while we couldn't see much of anything, the solar radiation was burning hot. We got back to camp around lunchtime and napped for a while, during which time a nice cold rain began. At this point the floor of my tent was very wet due to condensation. I'm not sure how to avoid this when camping on snow in humid weather, perhaps a footprint made out of very thin foam?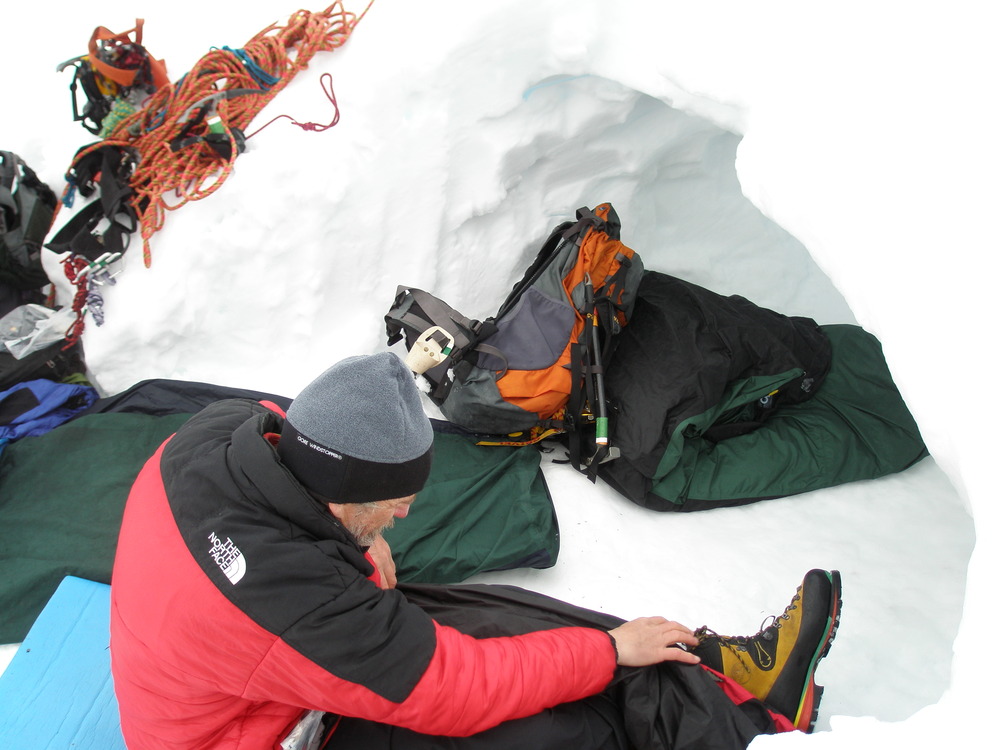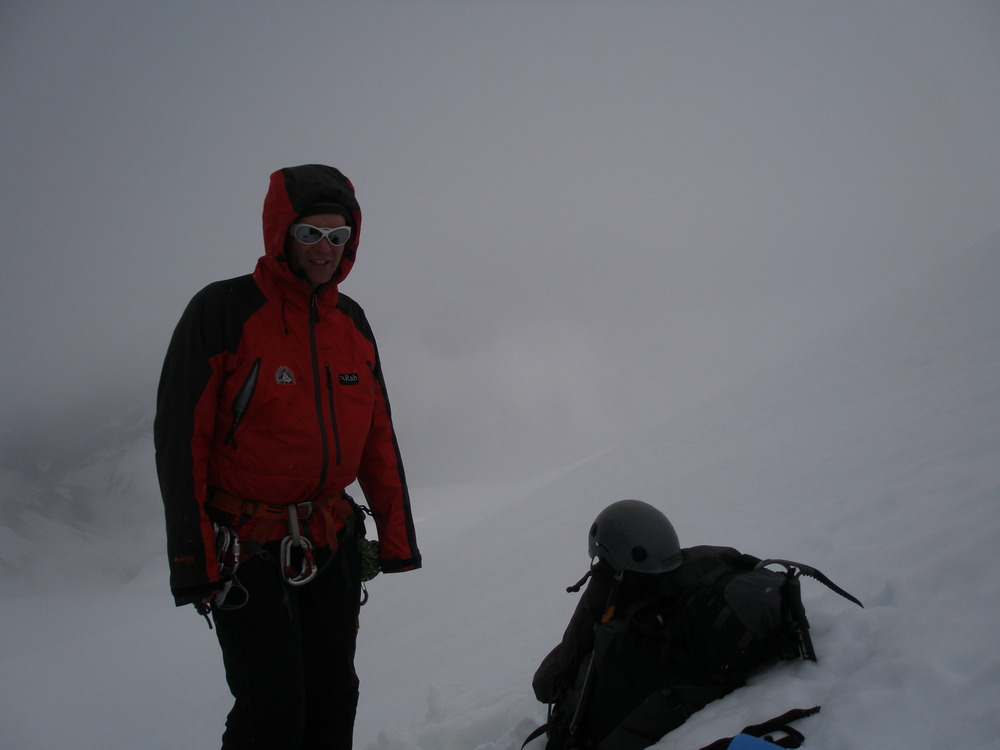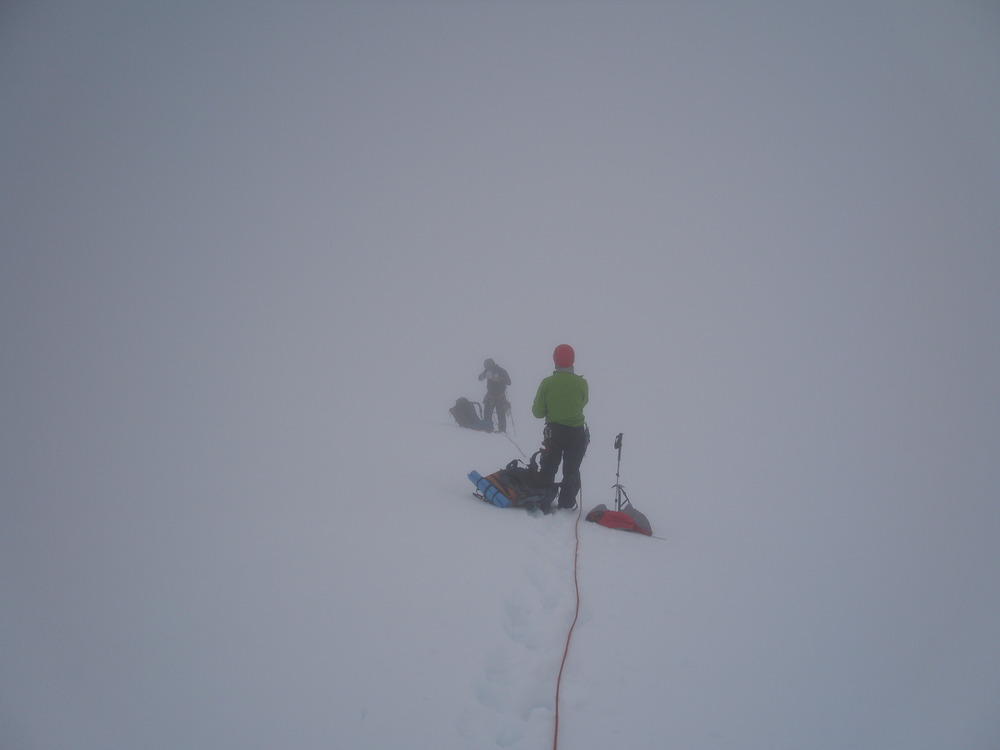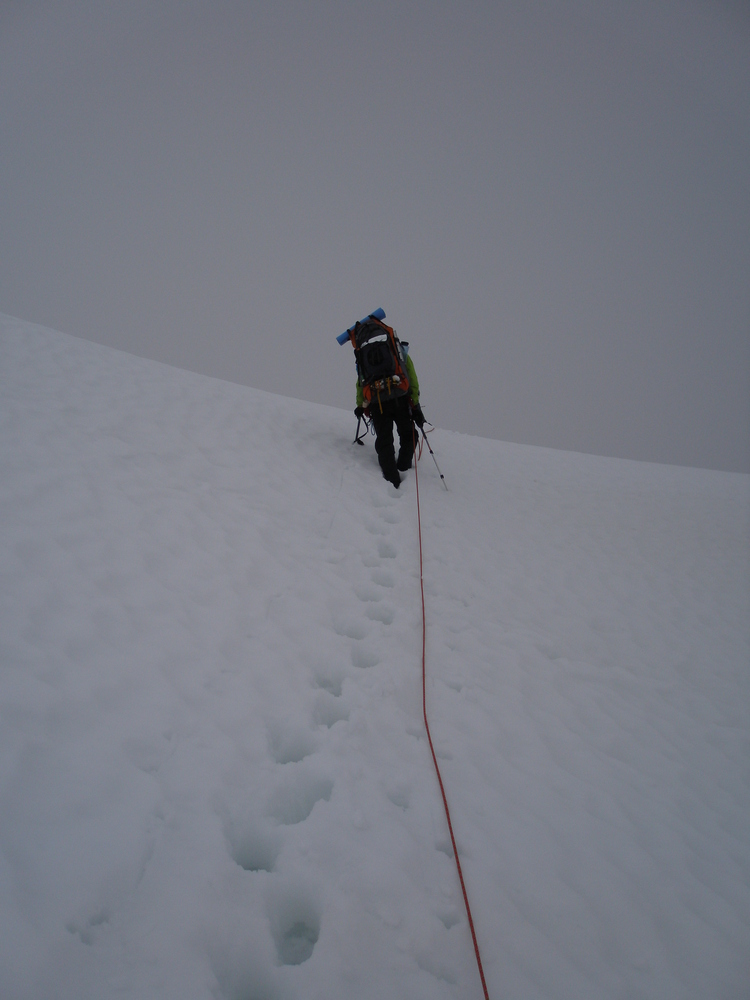 Wednesday it was gorgeous in the morning, but again with a cloud cap over the summit. We did a full-on crevasse rescue practice, my first one. First we found a nice crevasse and probed an area near it so that we could move around without ropes. Next, Bill and I roped up for glacier travel and he jumped into the crevasse! This took a bit of convincing, it was not very fun for him. However, Jason had him belayed on a second rope so that we wouldn't both end up at the bottom of the crevasse if I failed to stop his fall or if my anchor blew. Here's a short video Jason took of this. After I self-arrested, we went through the entire drill which is pretty involved, Jason has a great blog post giving the details. Extracting Bill took perhaps 45 minutes of hard work, here's me working a C on Z pulley system. When it was my turn in the crevasse, Jason lowered me; I was perfectly happy not to jump in. Being inside the glacier was pretty cool: it was drippy and there were lots of moving-ice noises that couldn't be heard on the surface. Bill's rotator cuff problems made him less than excited about operating a pulley system so I got to prusik out, which is actually quick and easy except for getting over the crevasse lip.
In the afternoon we found a serac with perhaps 40′ of vertical ice to climb on, another thing I hadn't done before. It was fun: in this glacier ice you can plant a tool just about anywhere and it sticks. My first time up, I had trouble and it turned out I was doing only two things wrong: placing my feet and placing my ice tools. But both were easy to fix. First, when Jason said to use four crampon points I thought he meant two on each foot, not four on each foot. By drooping my heels some, I was able to use all four front points, making things greatly easier. The problem with my ice tools is they are quite mismatched: a sweet little 50cm Petzl Aztar hammer in one hand and my beat-up, off-brand 70cm mountaineering axe in the other. The longer, heavier tool was tough to swing properly and I did a lot better once I borrowed Bill's matched tools. Bill zipped right up the slope and I did OK after a few practice runs. Perhaps the most fun part was climbing a slightly less steep ice slope (probably 80 degrees) with just one axe.
By mid-afternoon it was raining and we retired to camp. We had dinner in the cold rain and later it started storming properly. Luckily the Mirkwood camp is sheltered, but even so we had at least 30 mph gusts, not friendly for my slightly crappy 3-season tent which is sort of a wind tunnel due to having too much mesh and a very open fly design. Tent stakes setup as deadmen and frozen into snow are impossible to dislodge, my main worry was the fabric ripping. Eventually the rain turned to sleet and then snow. I was pretty cold but felt fine after getting into my bivy bag inside my tent.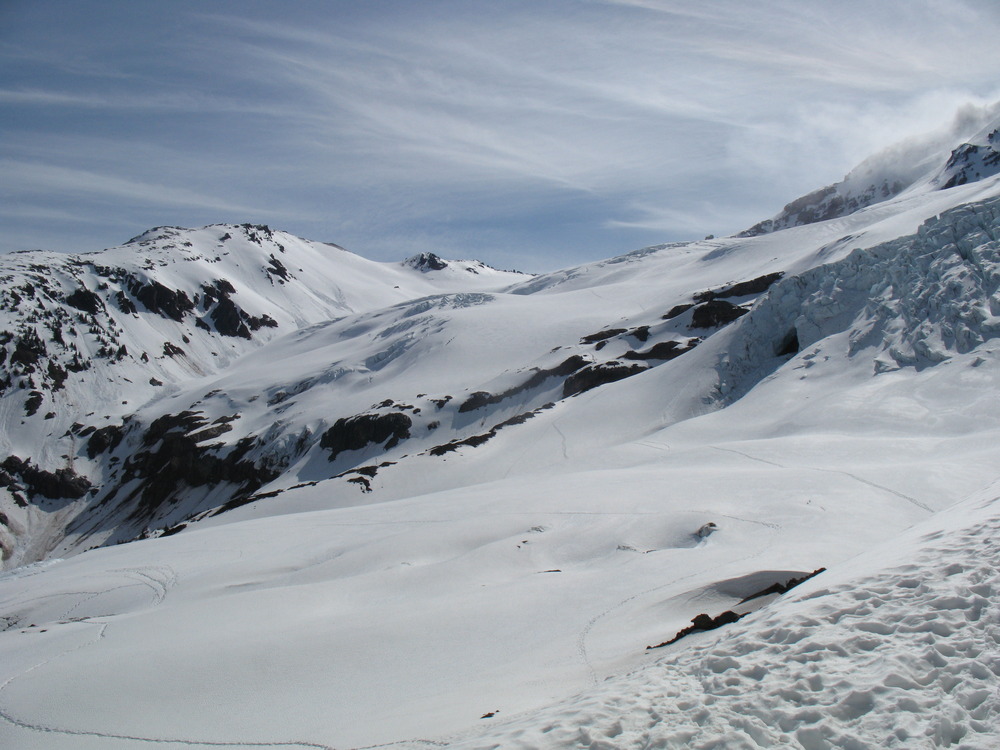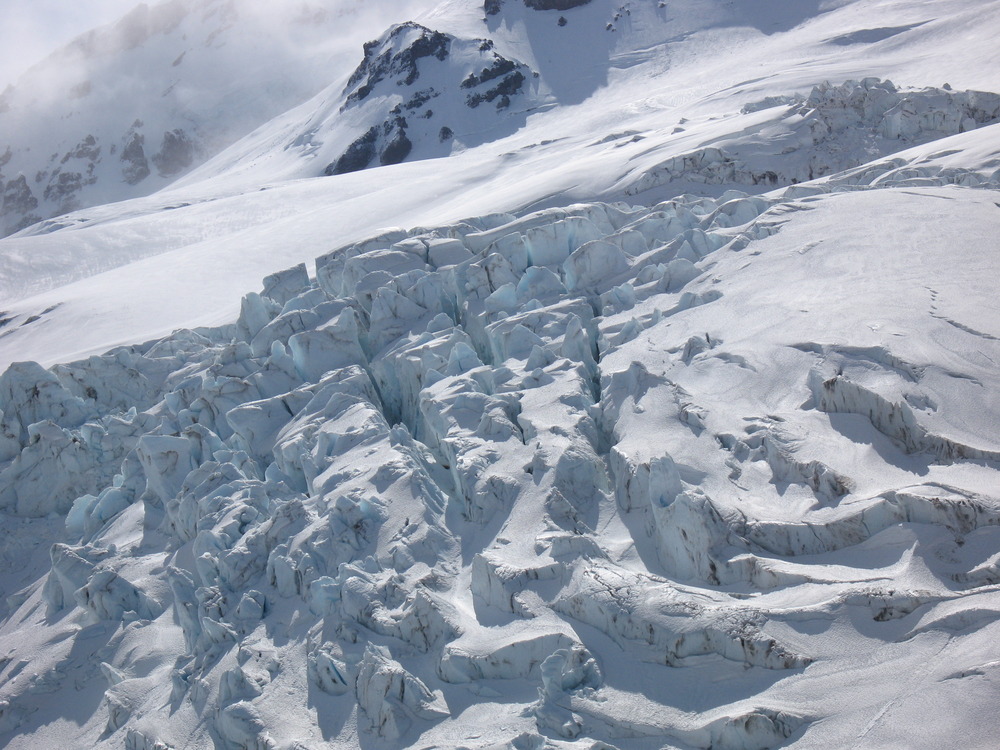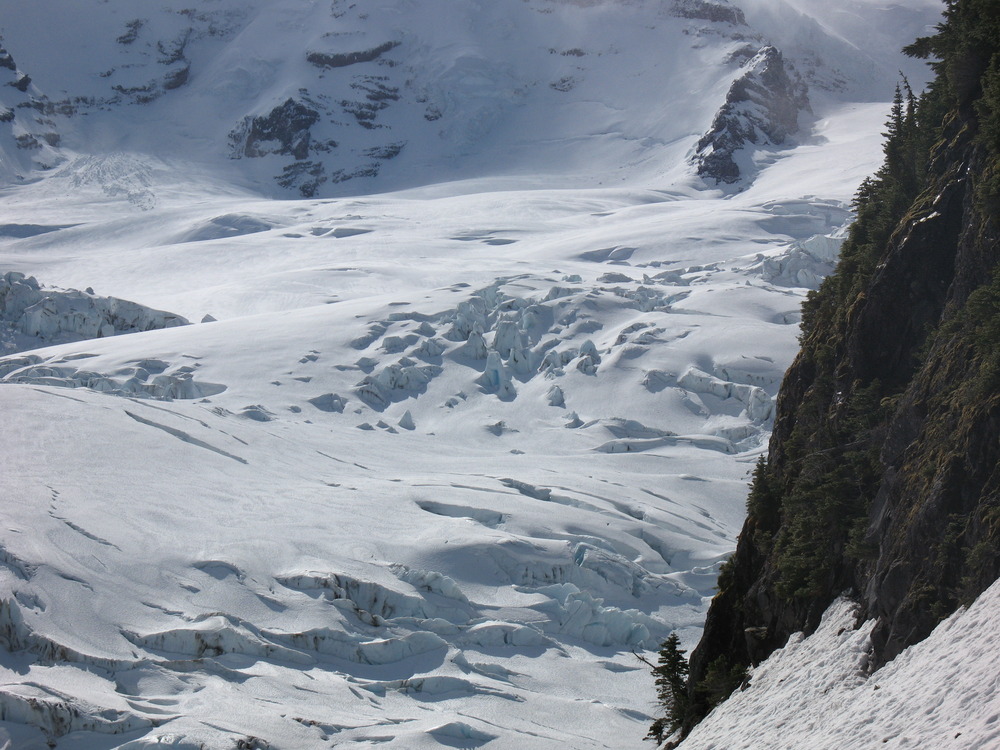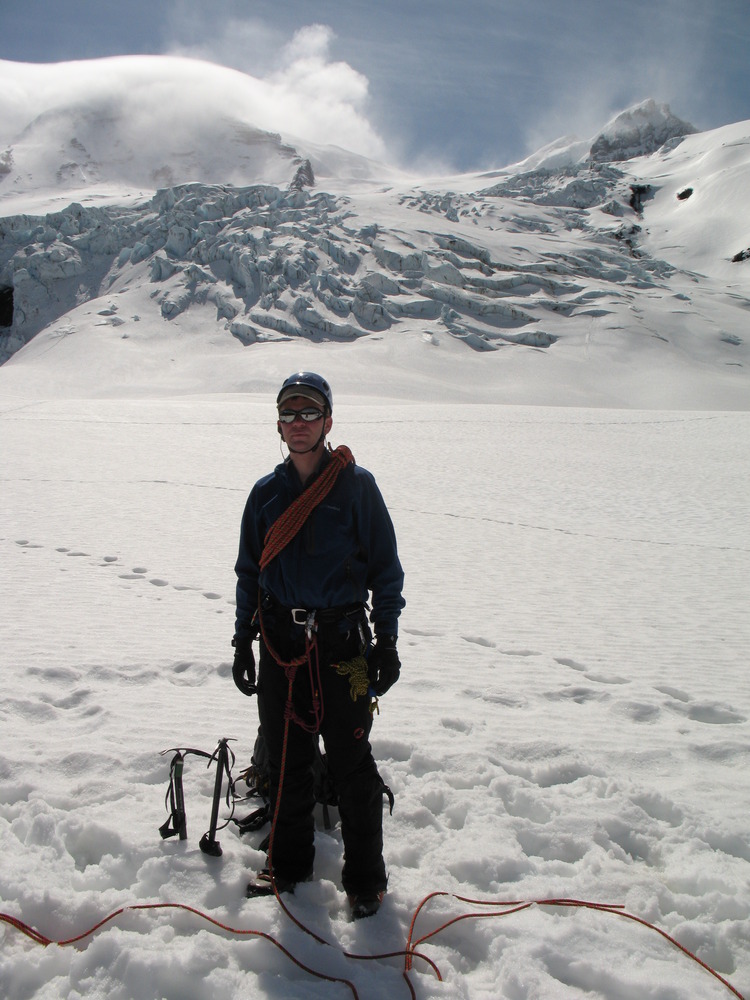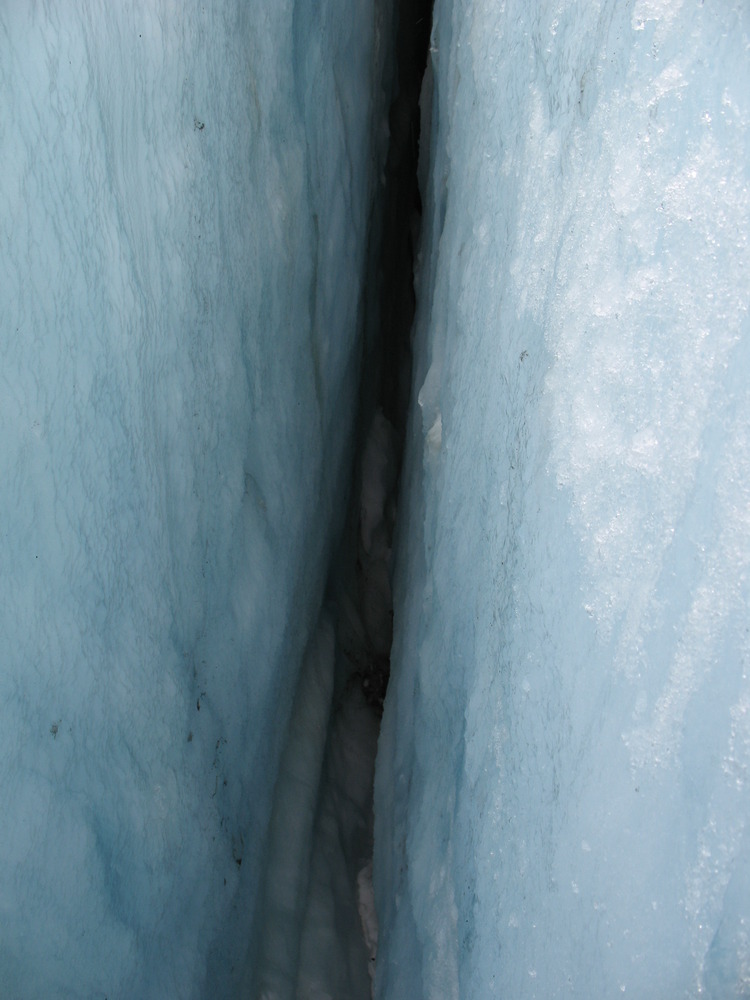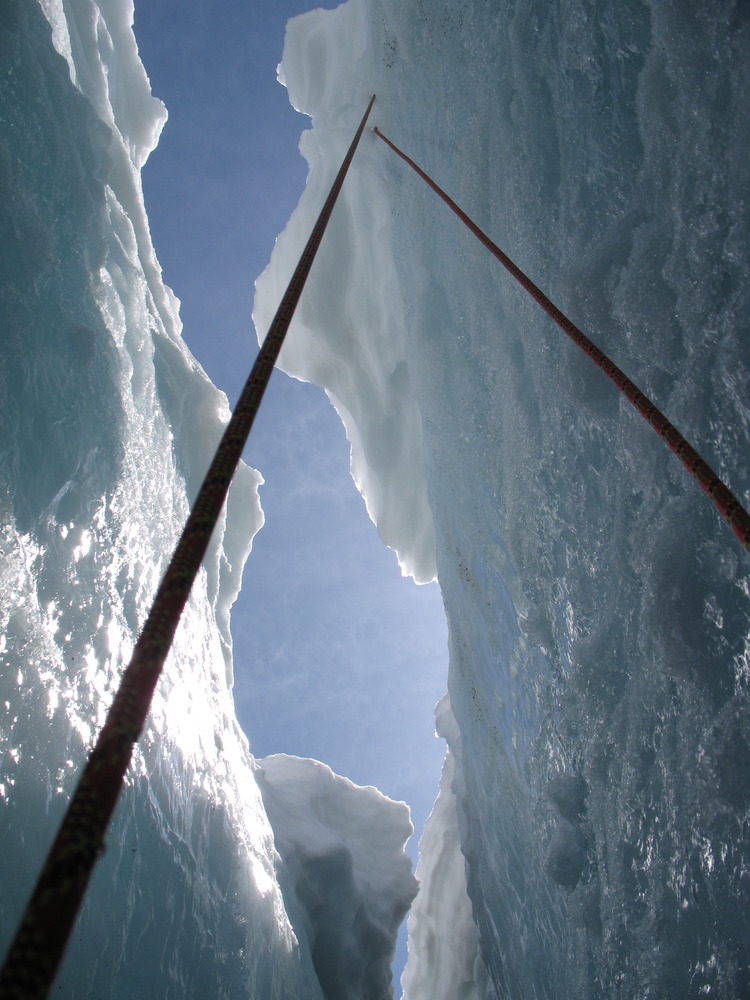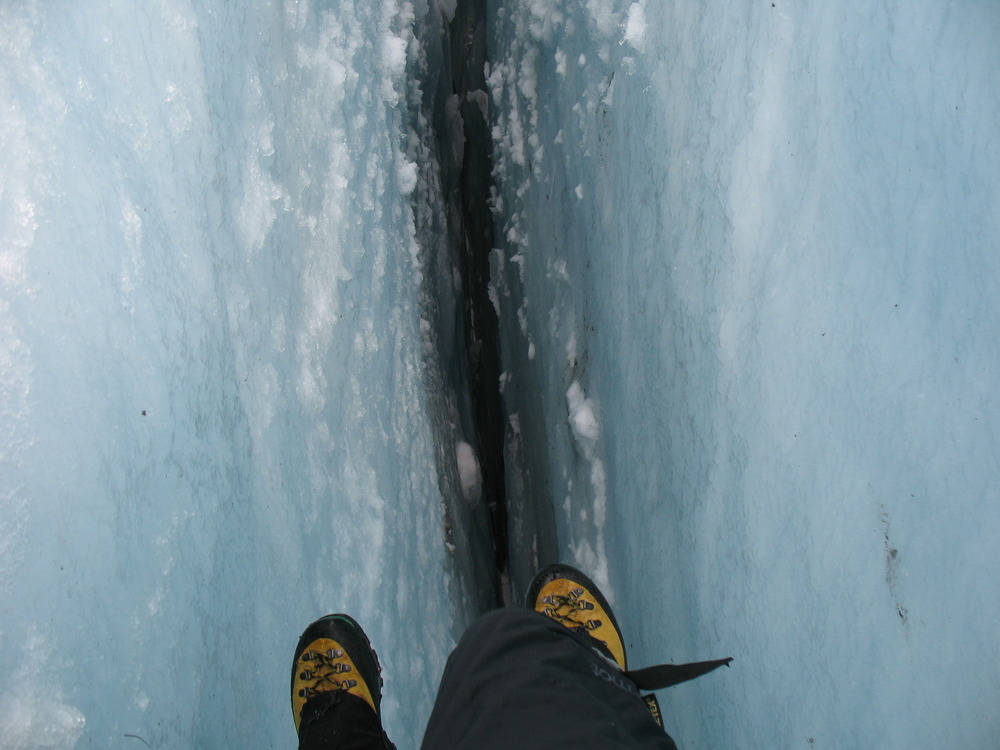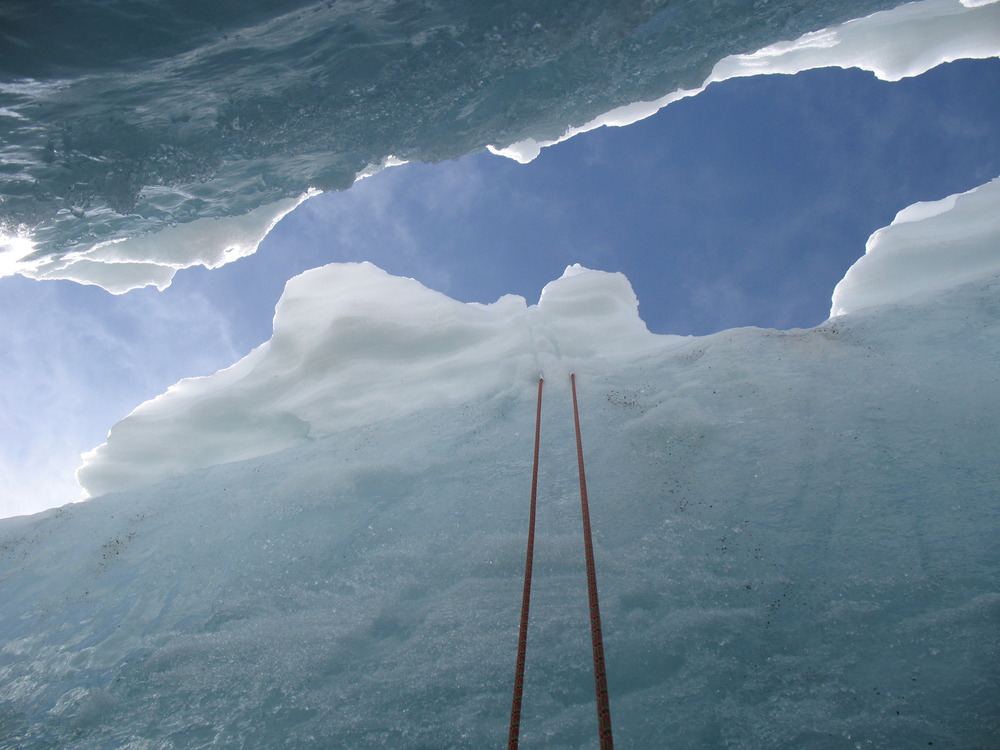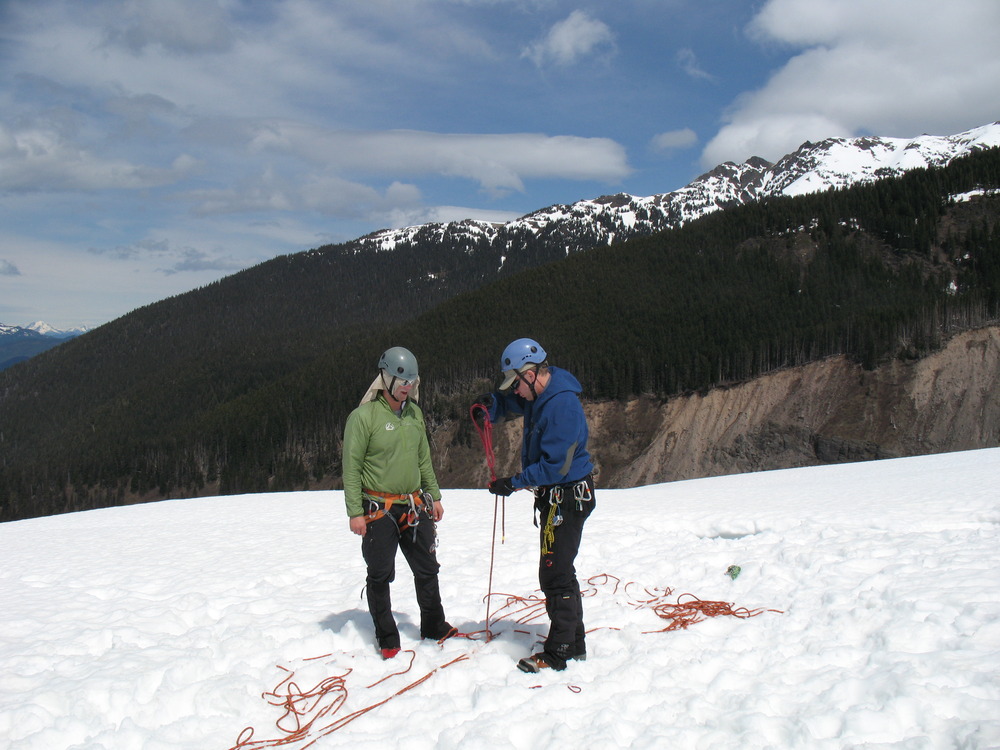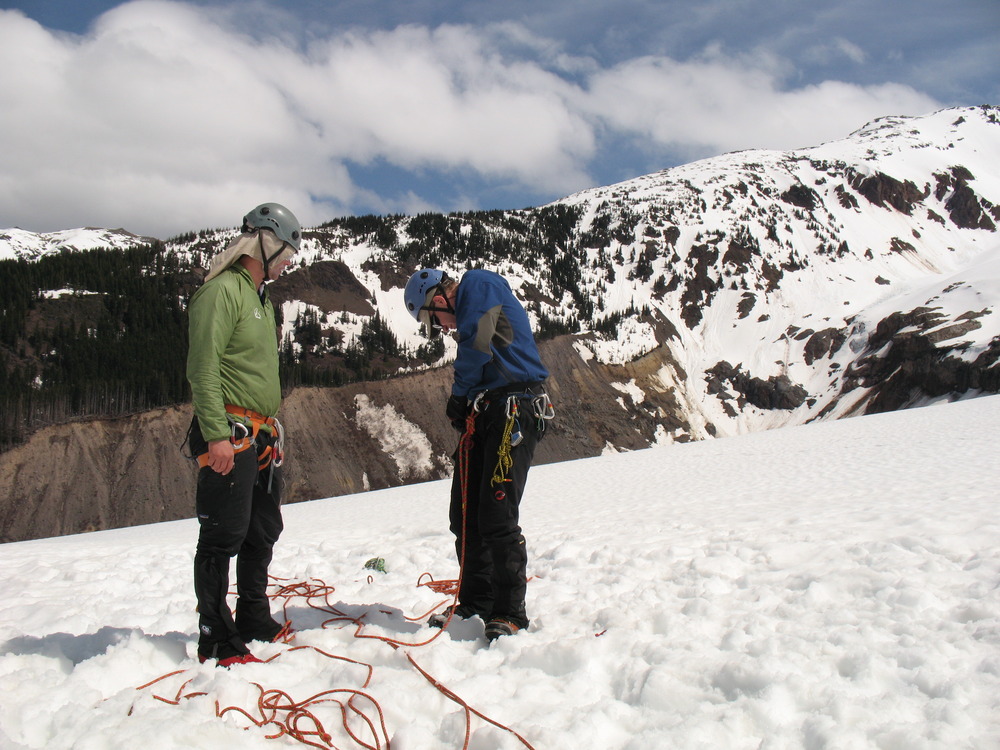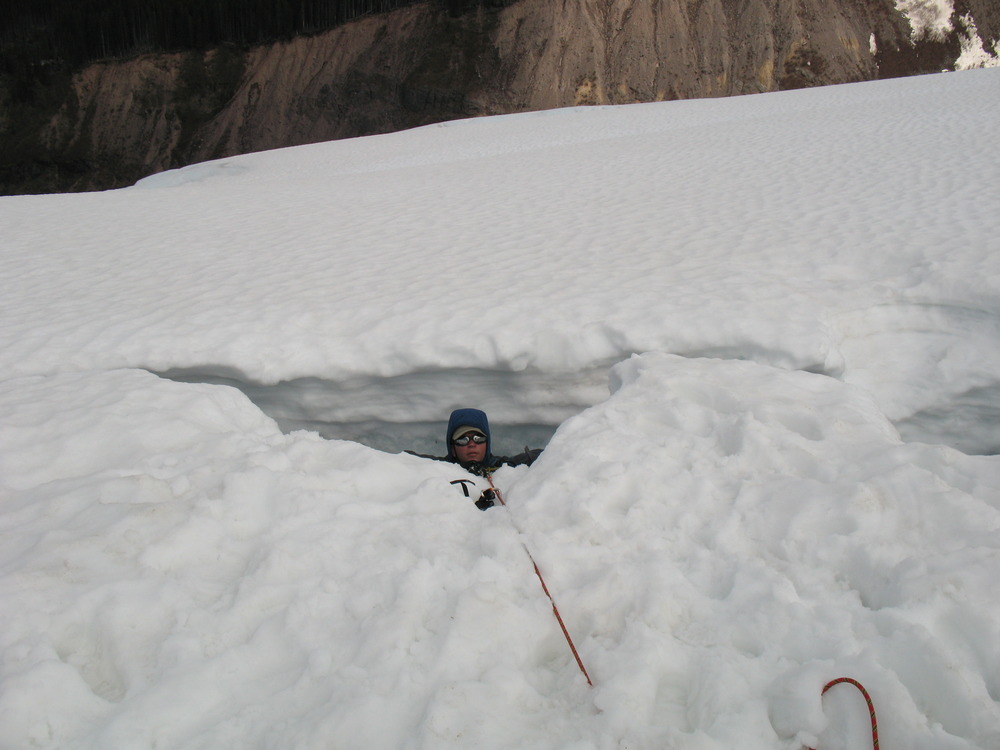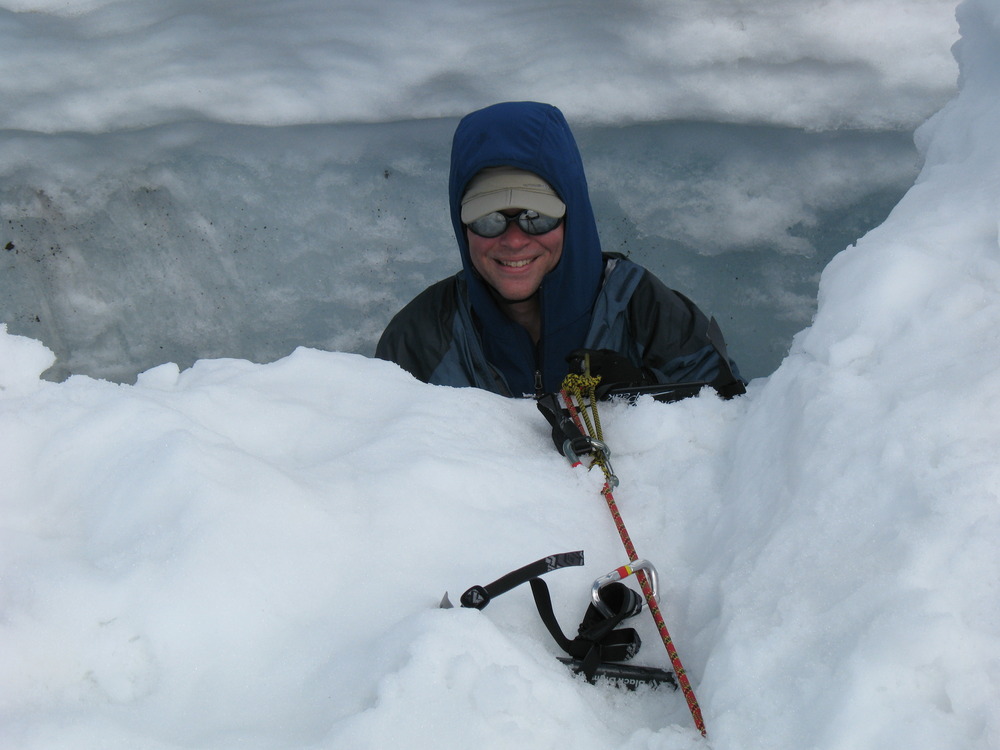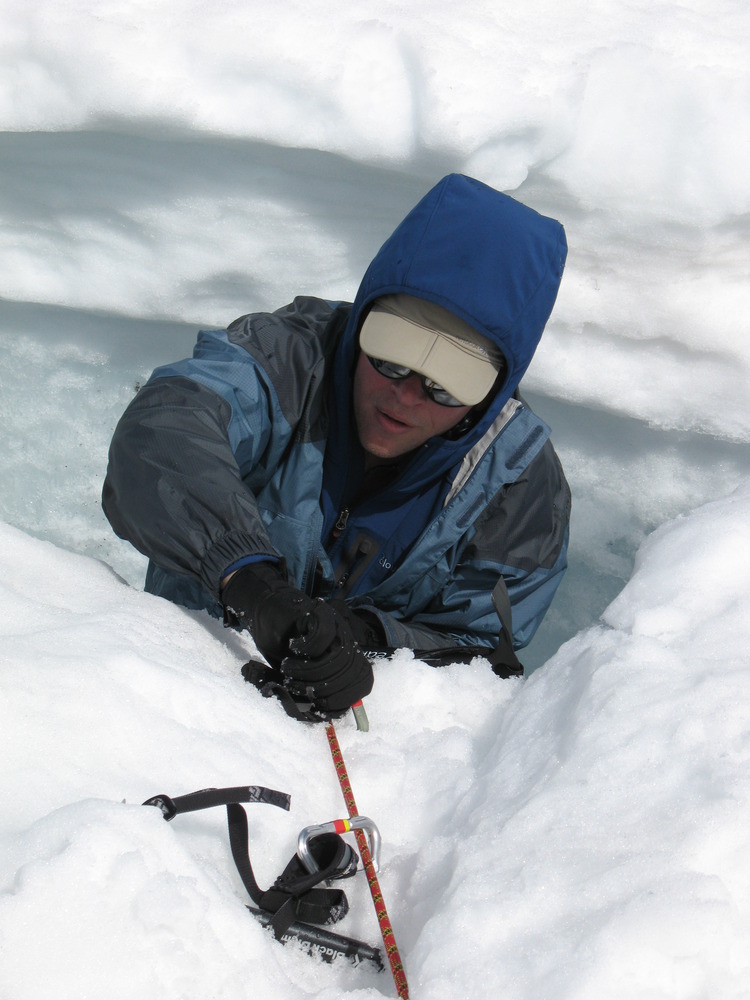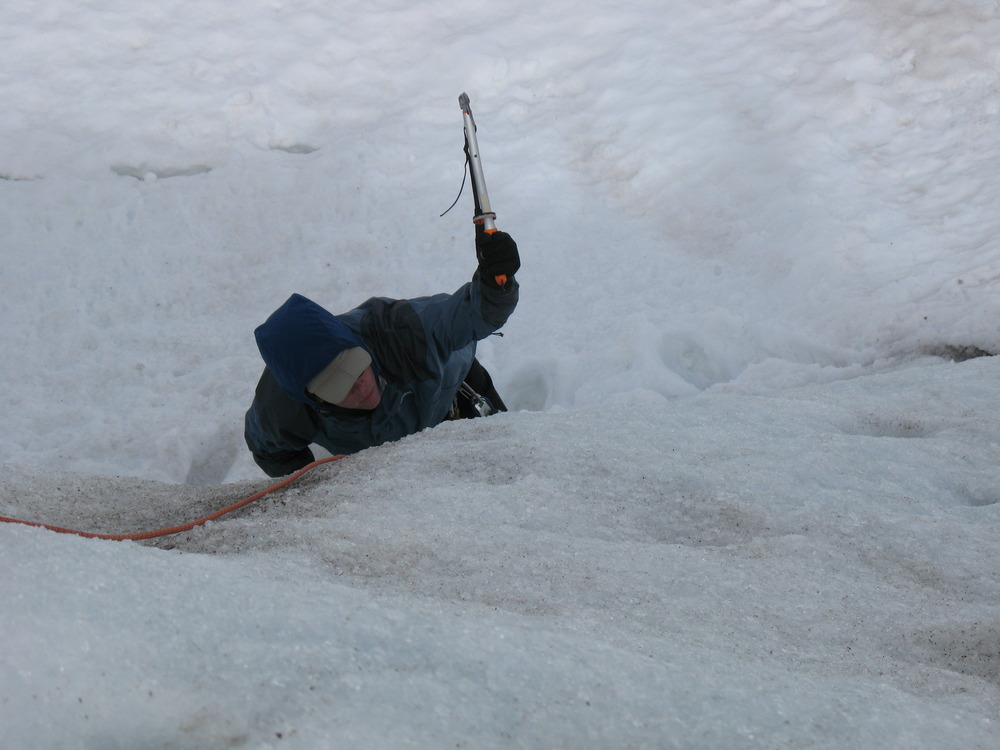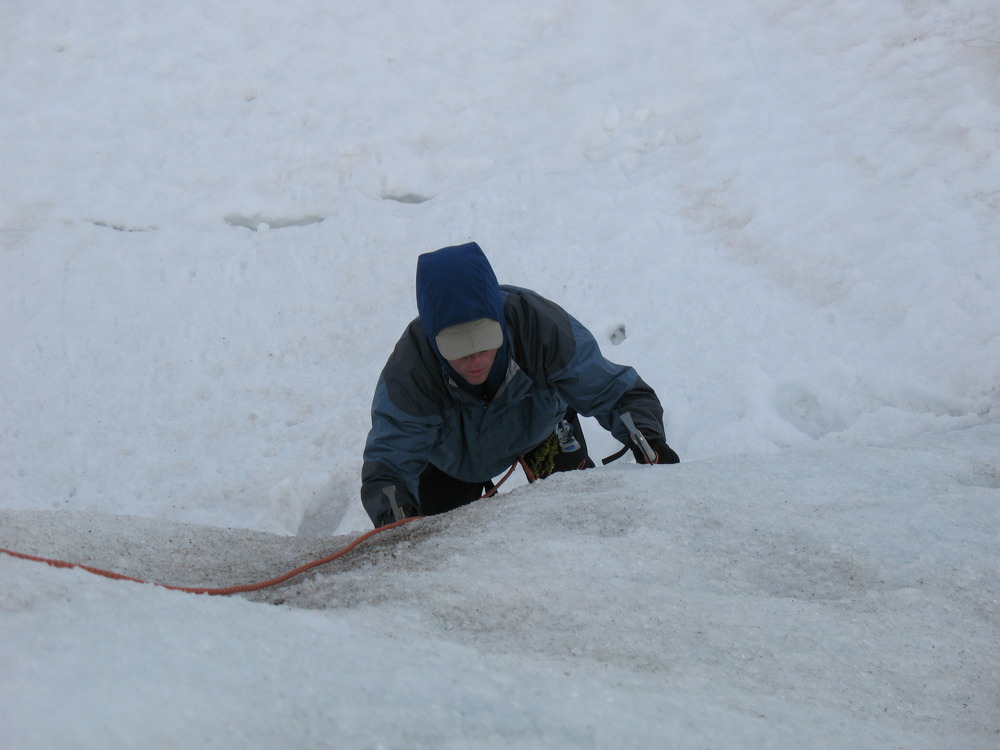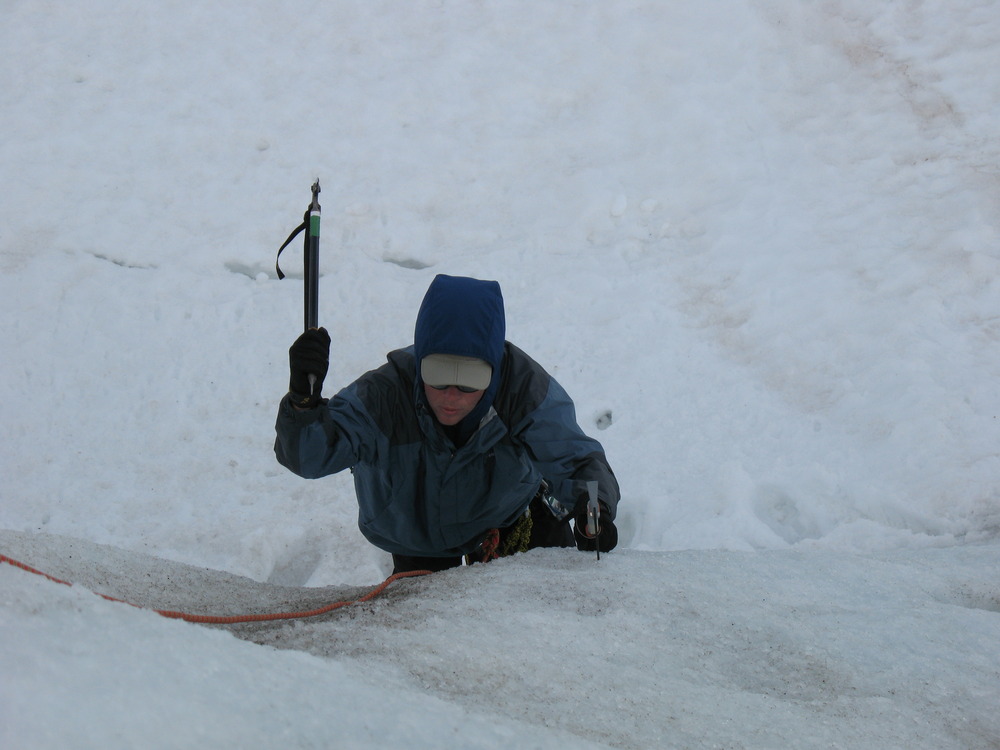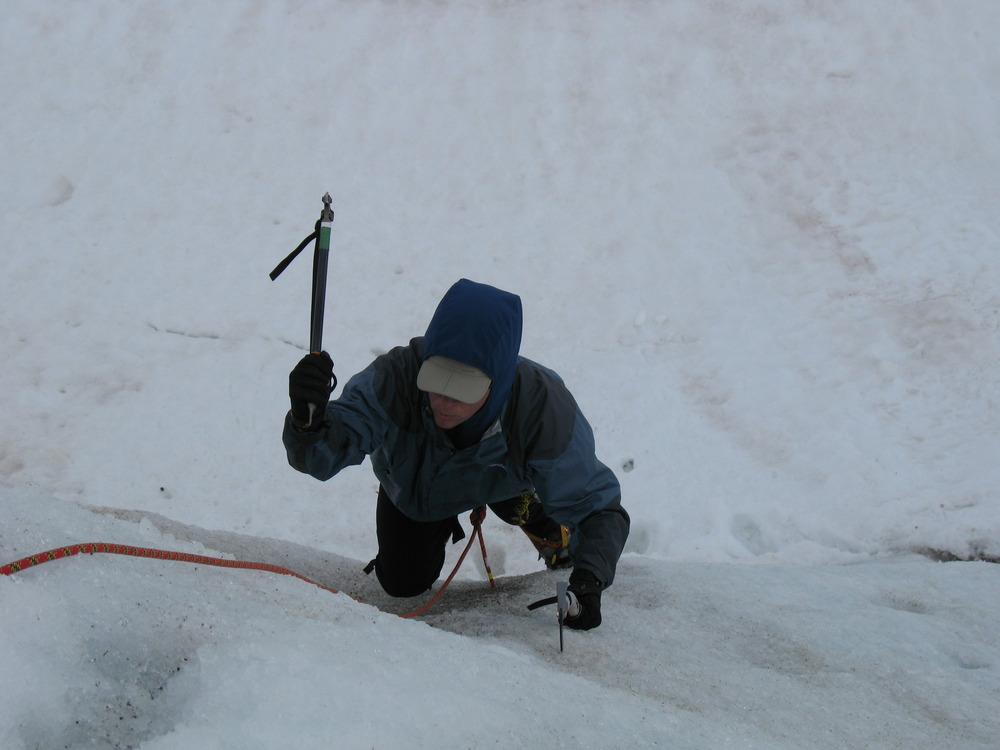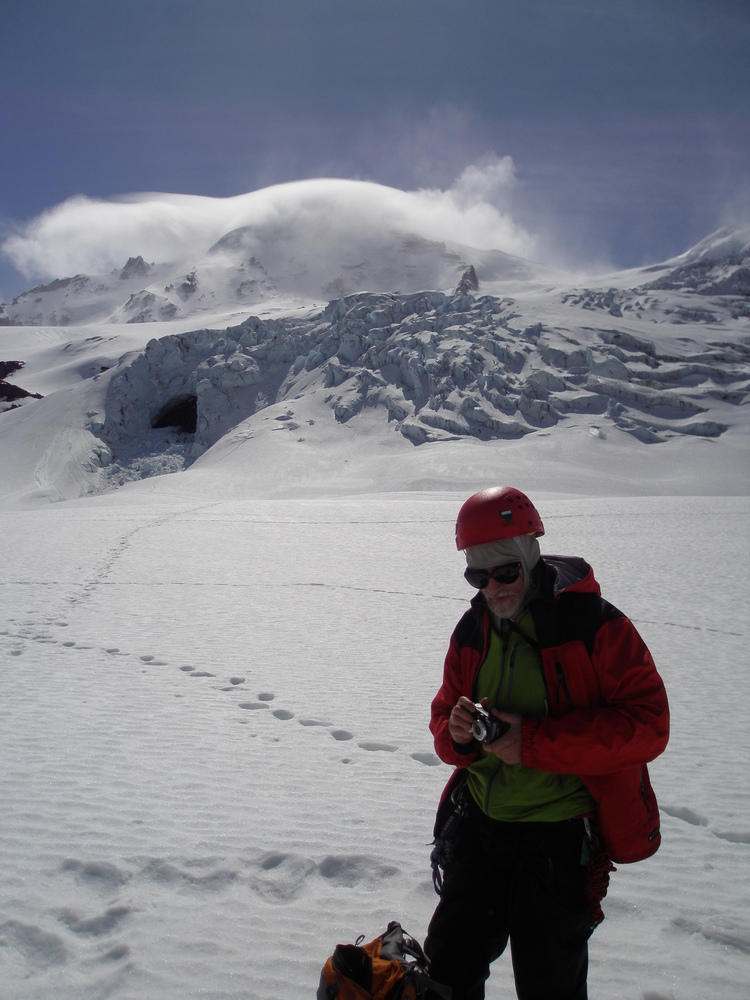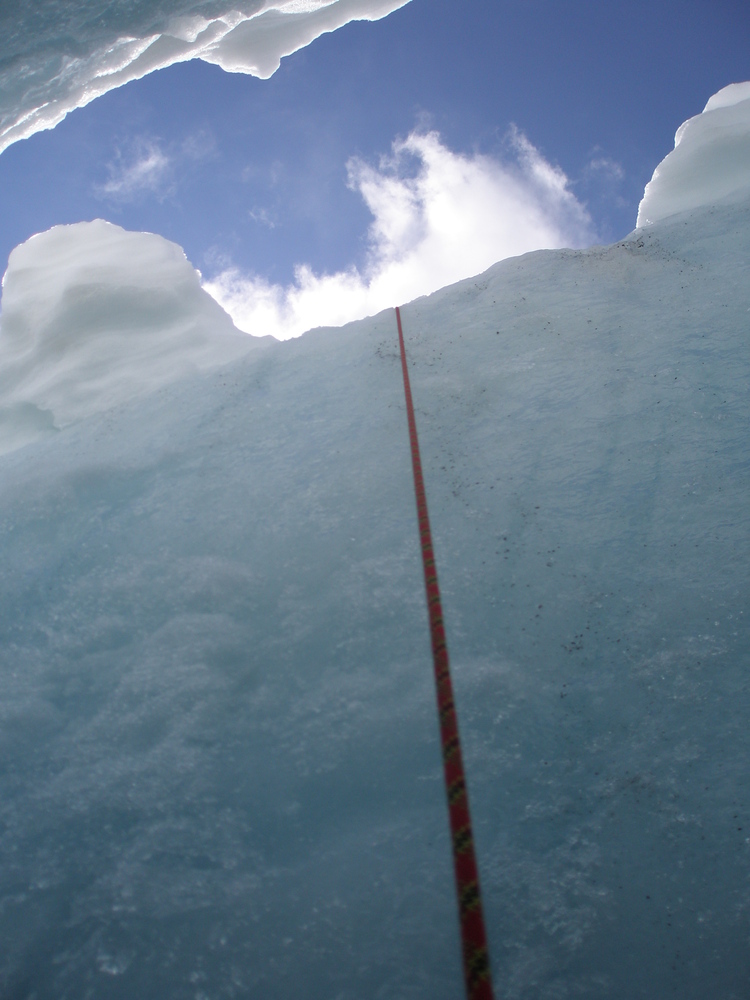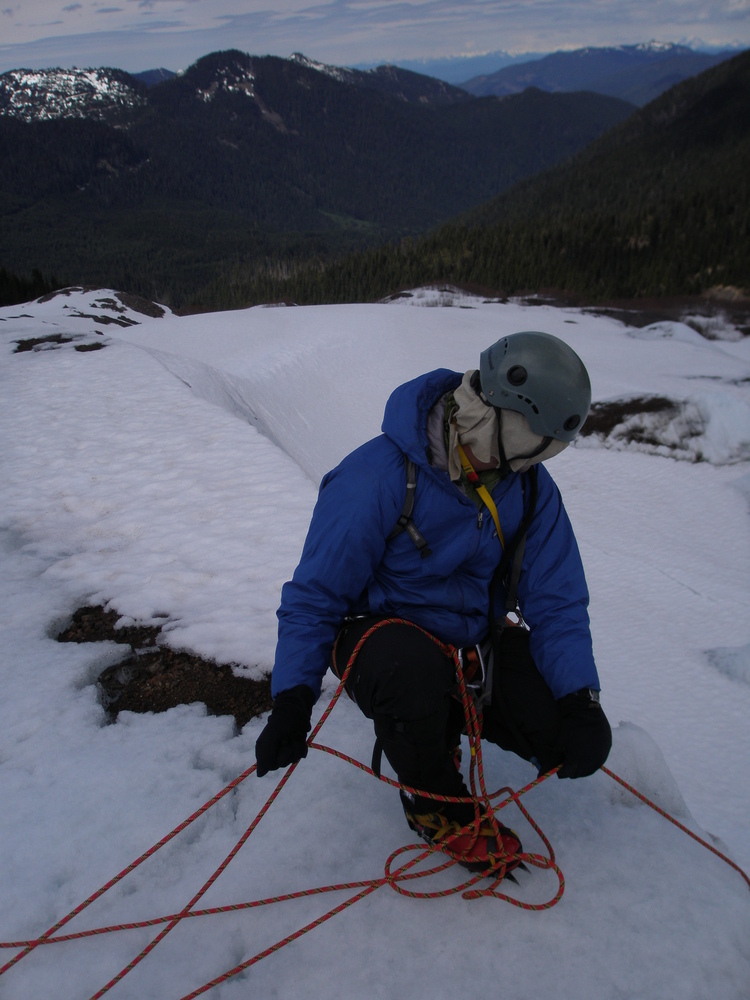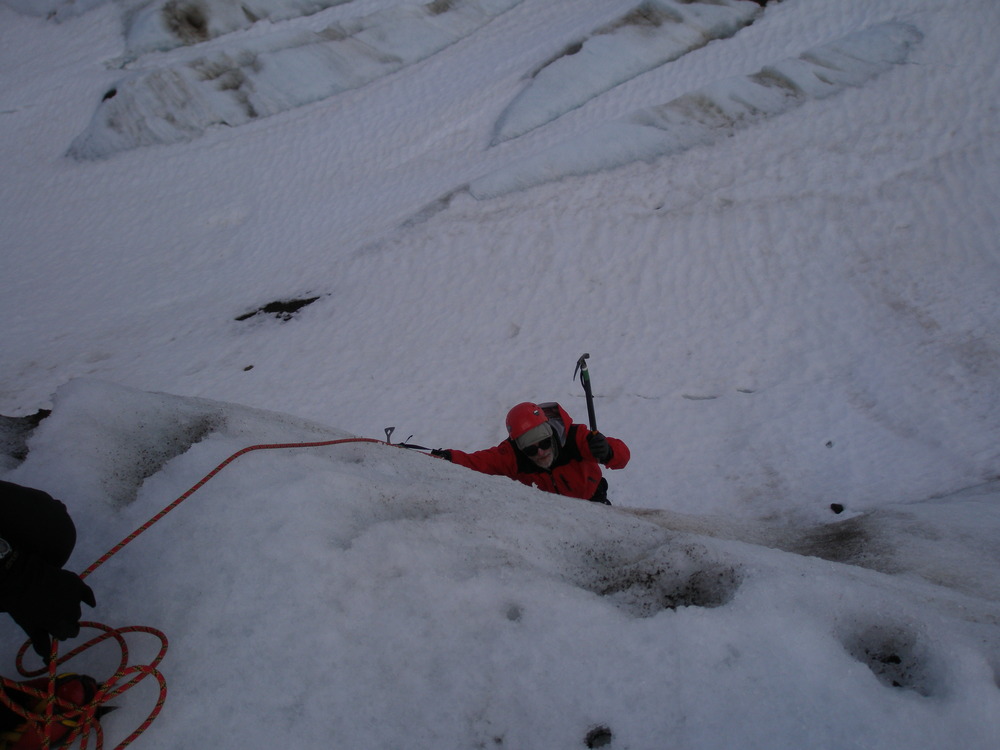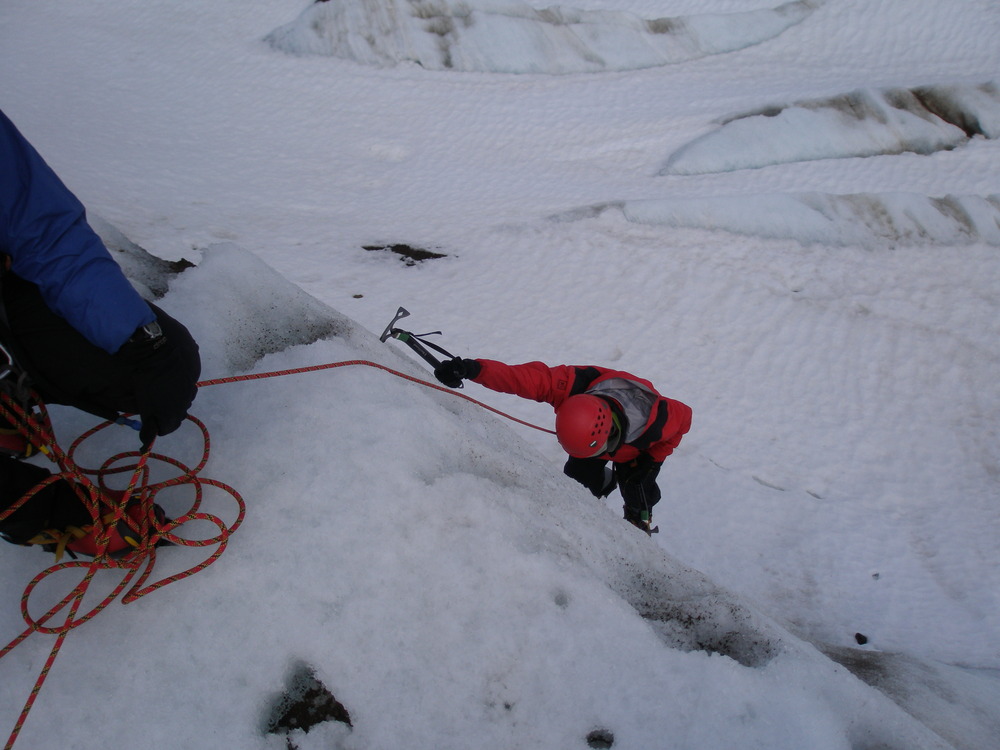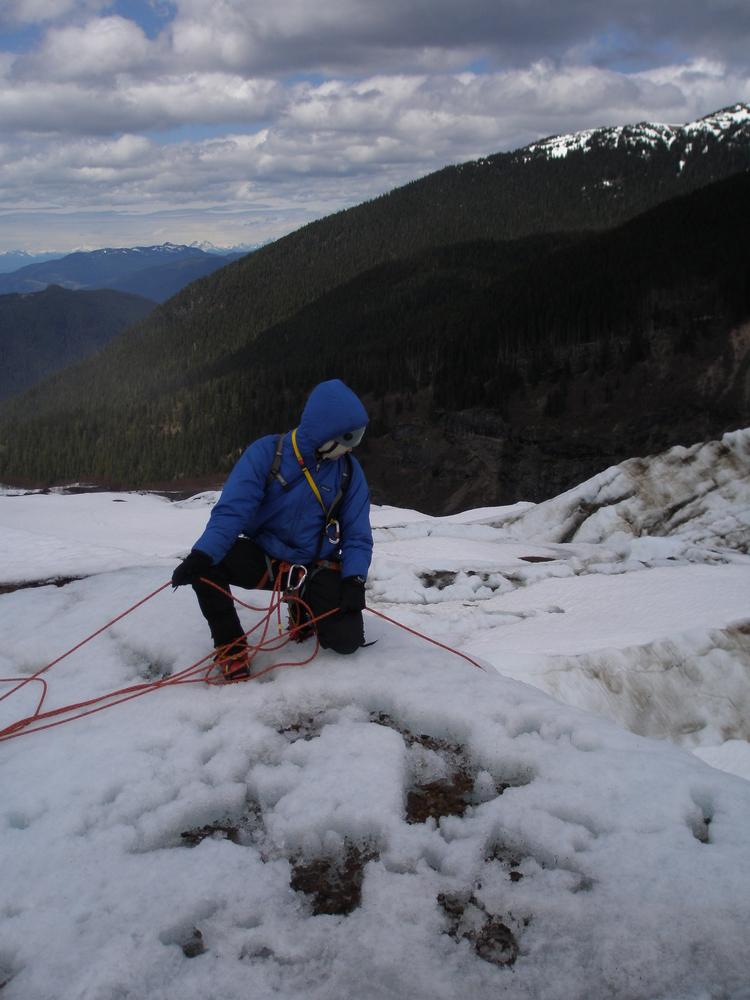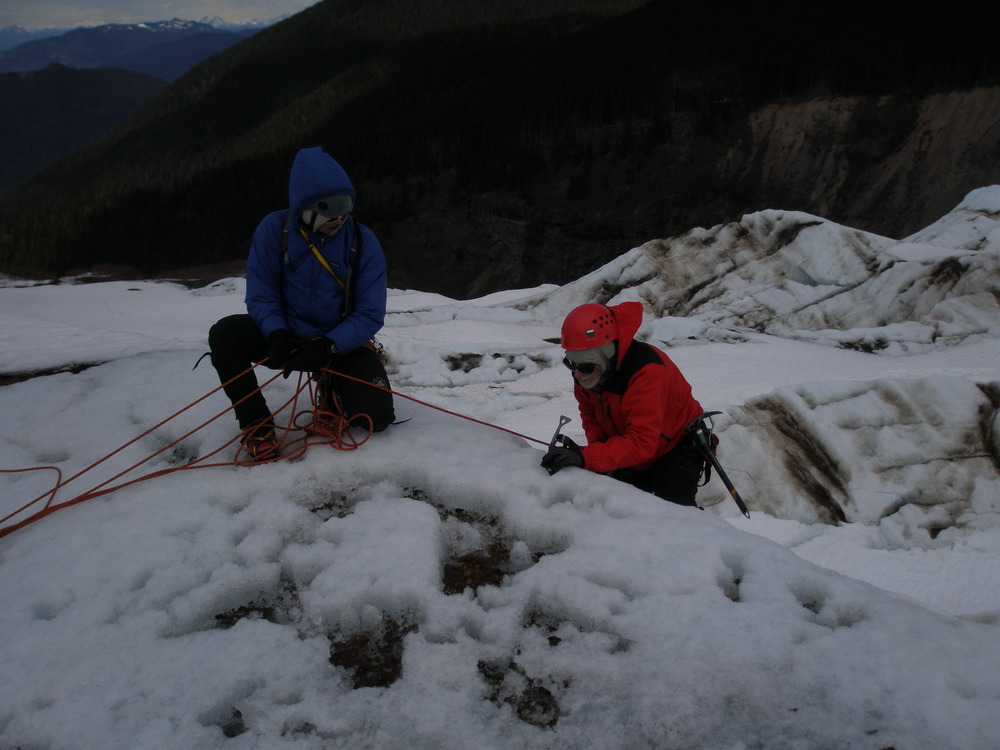 Thursday morning the weather was good but basically all of our gear including boots and sleeping bags was soaked from days of humidity and rain. Our harnesses and packs had frozen stiff overnight. The forecast remained crappy.  We decided to bail from Baker and do some rock climbing near Bellingham. The hike out was beautiful and sunny at first, but by the time we got to the car it was blowing snow again, and we were glad to get out.
We headed to Mt Erie near Anacortes, a beautiful spot. The forecast was still for rain but we had a great afternoon. Baker, we noticed, was shrouded in ugly dark clouds. I'm not a rock climber at all but struggled my way up some pitches in the 5.4 to 5.6 range. 5.8 appears out of reach for now. We spent Thursday night at the Deception Pass campground, located in a gorgeous temperate rain forest.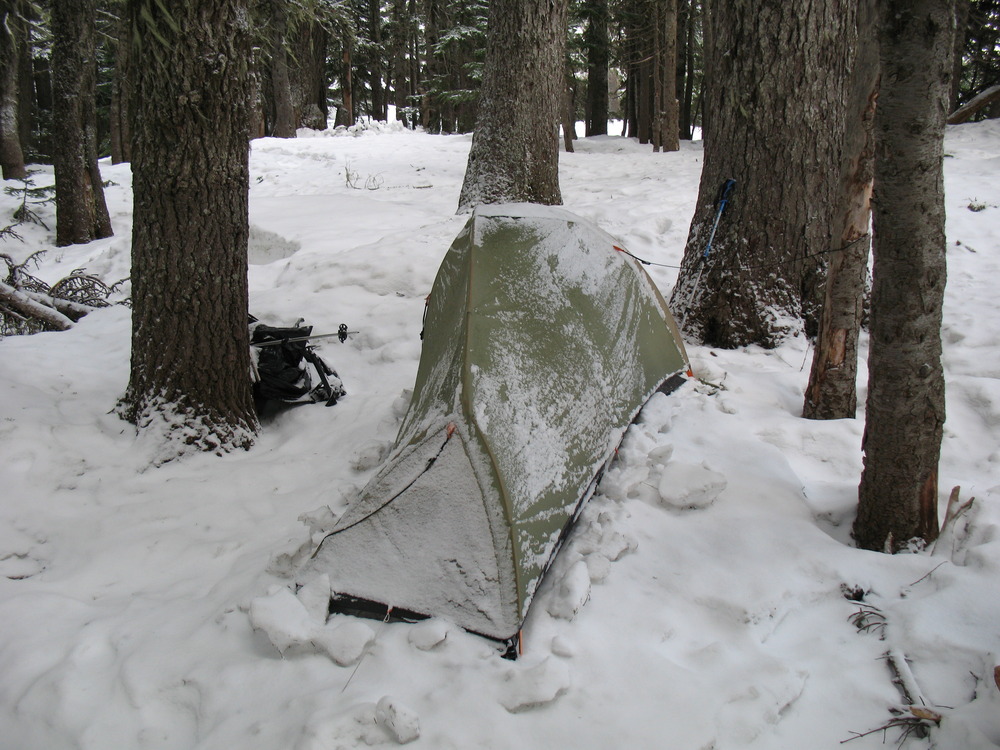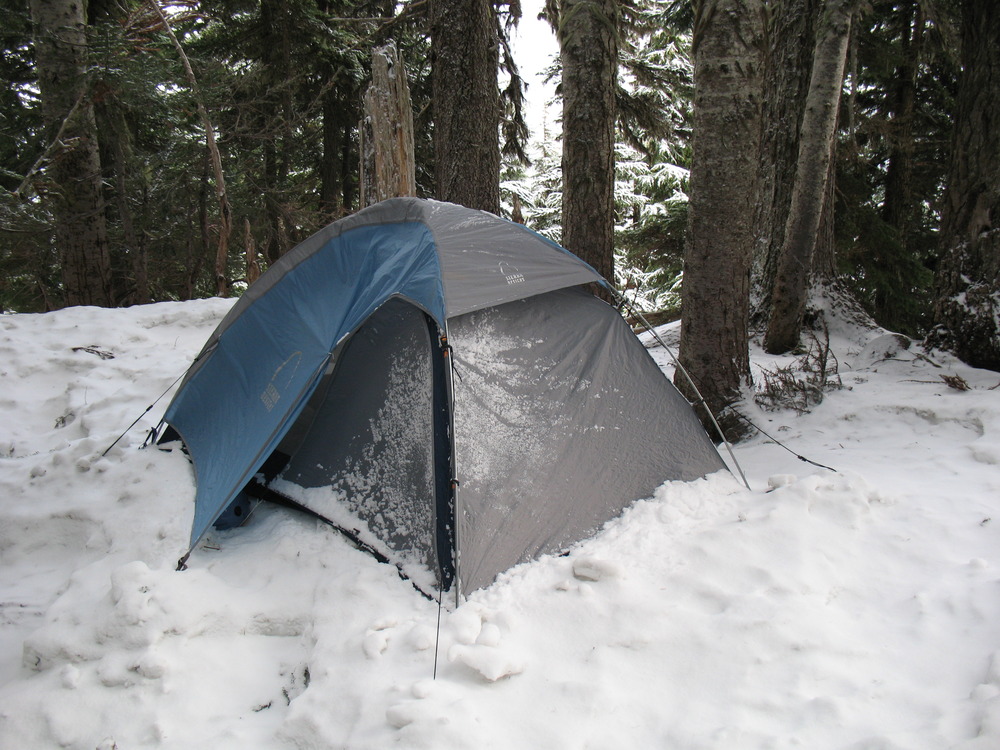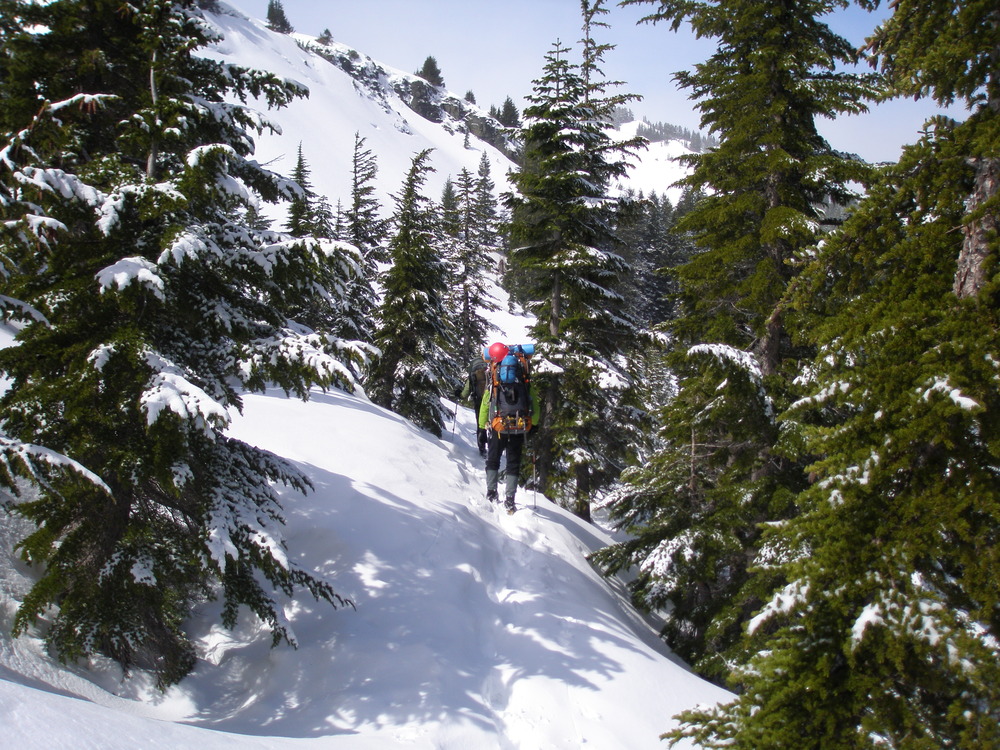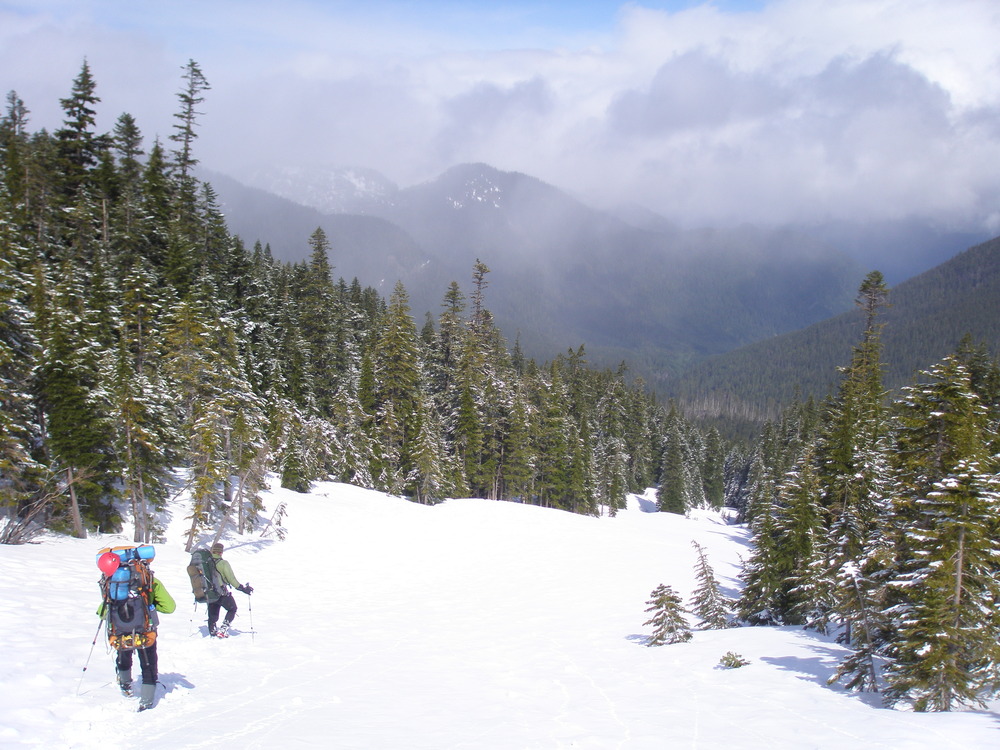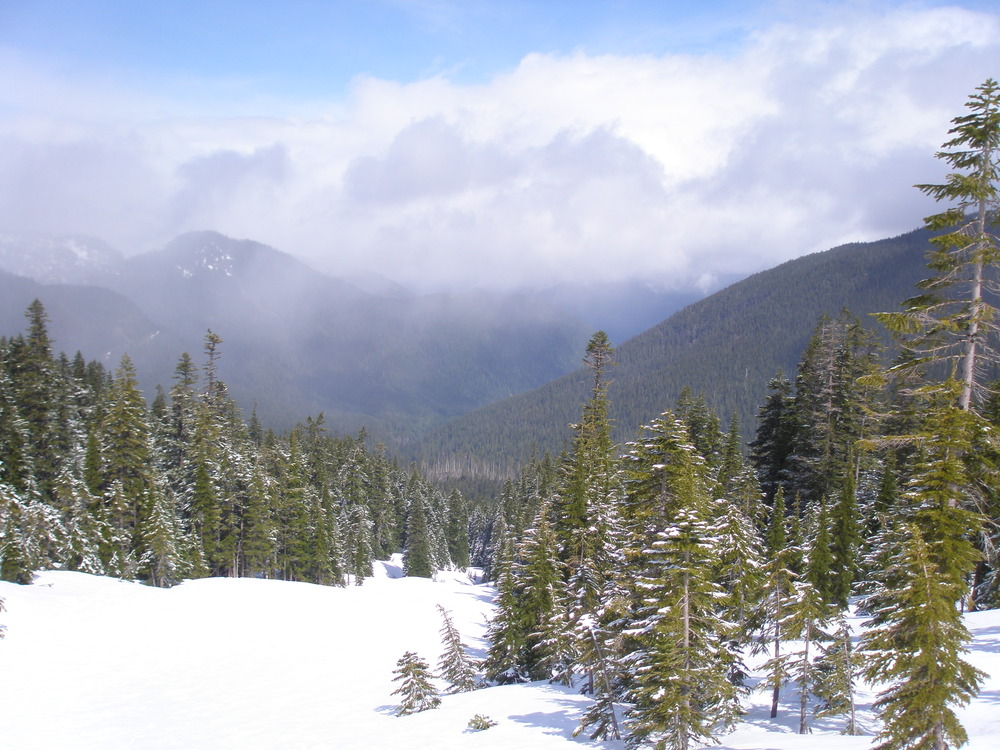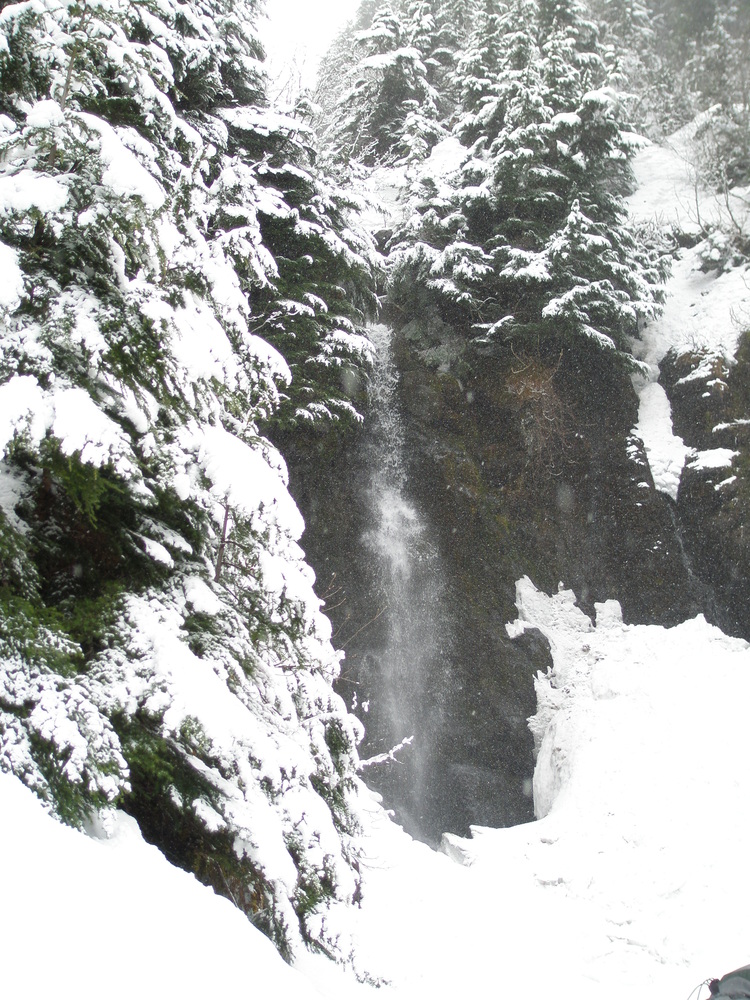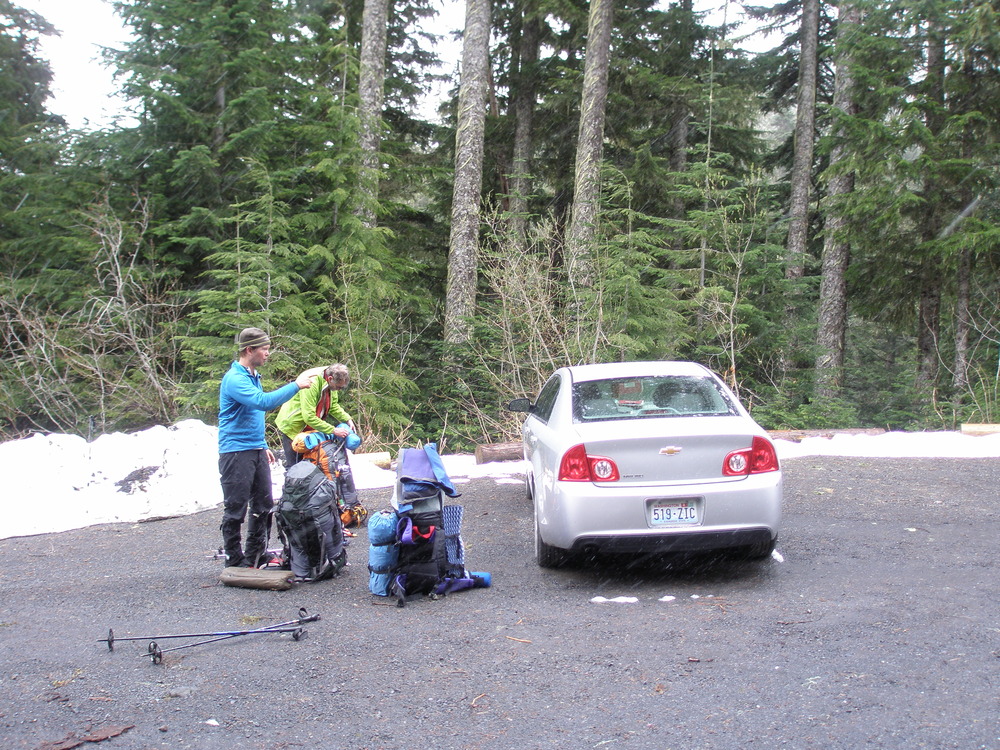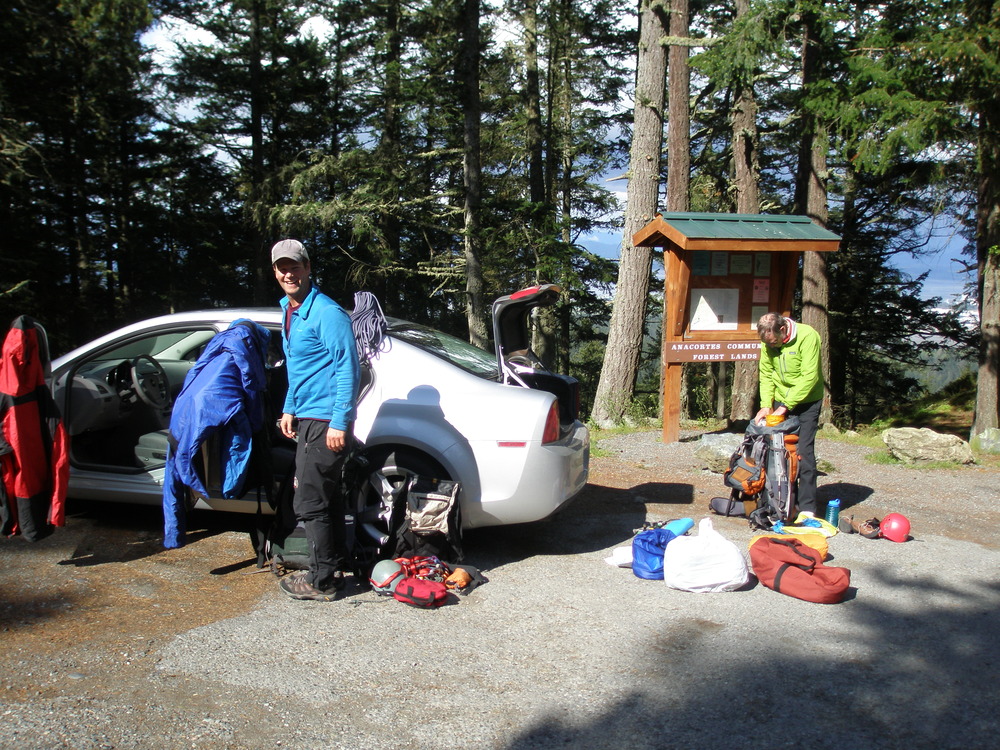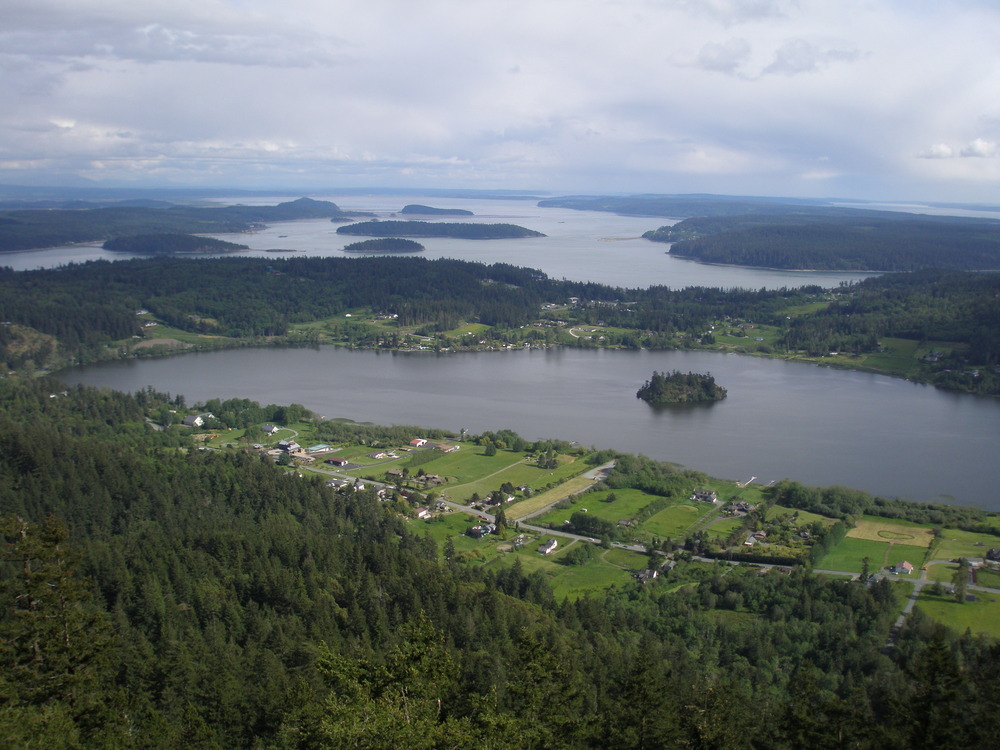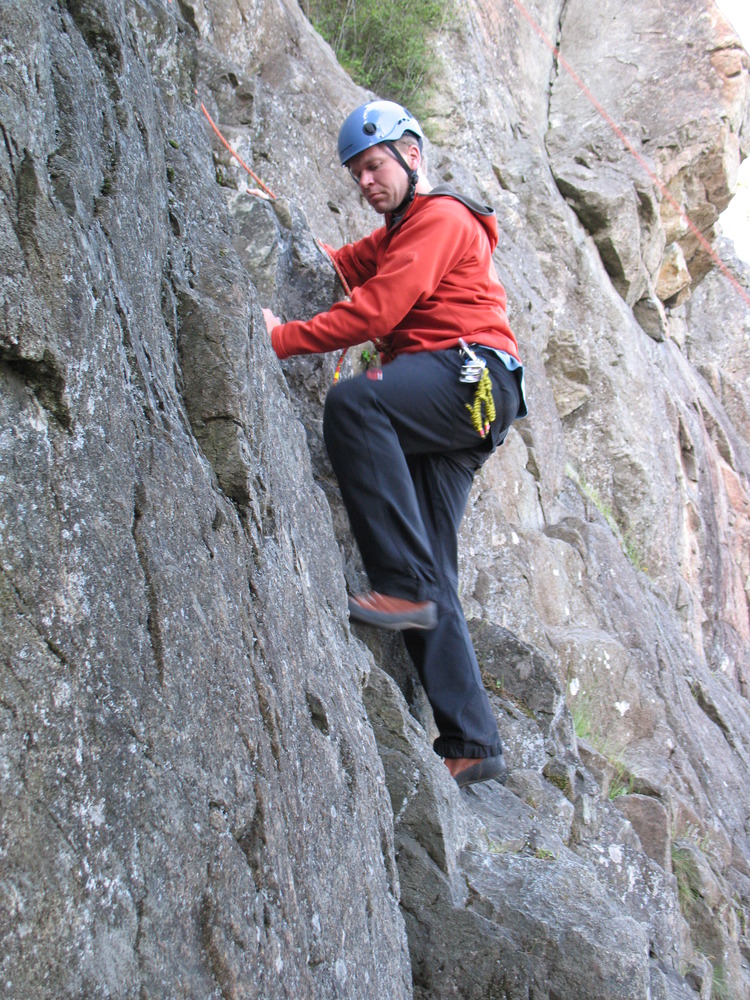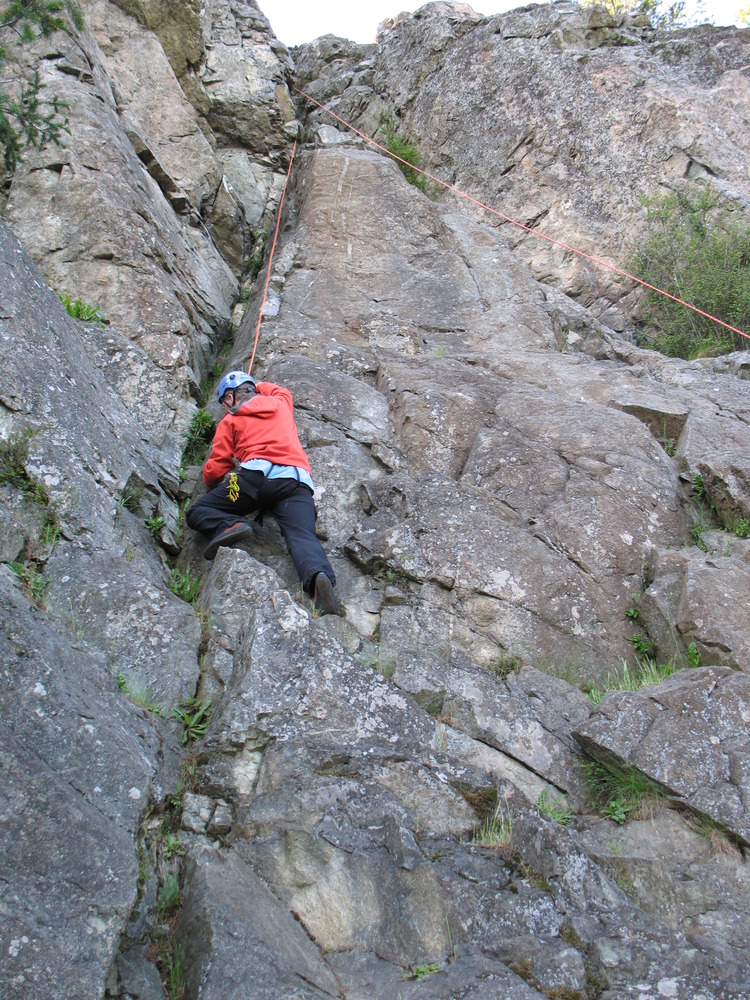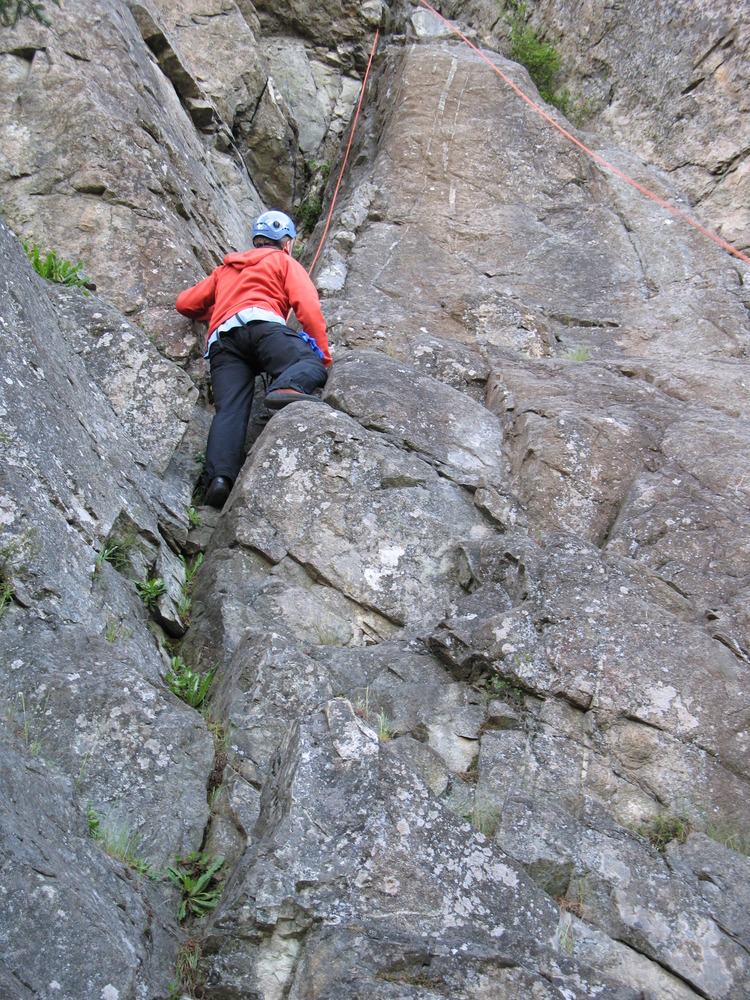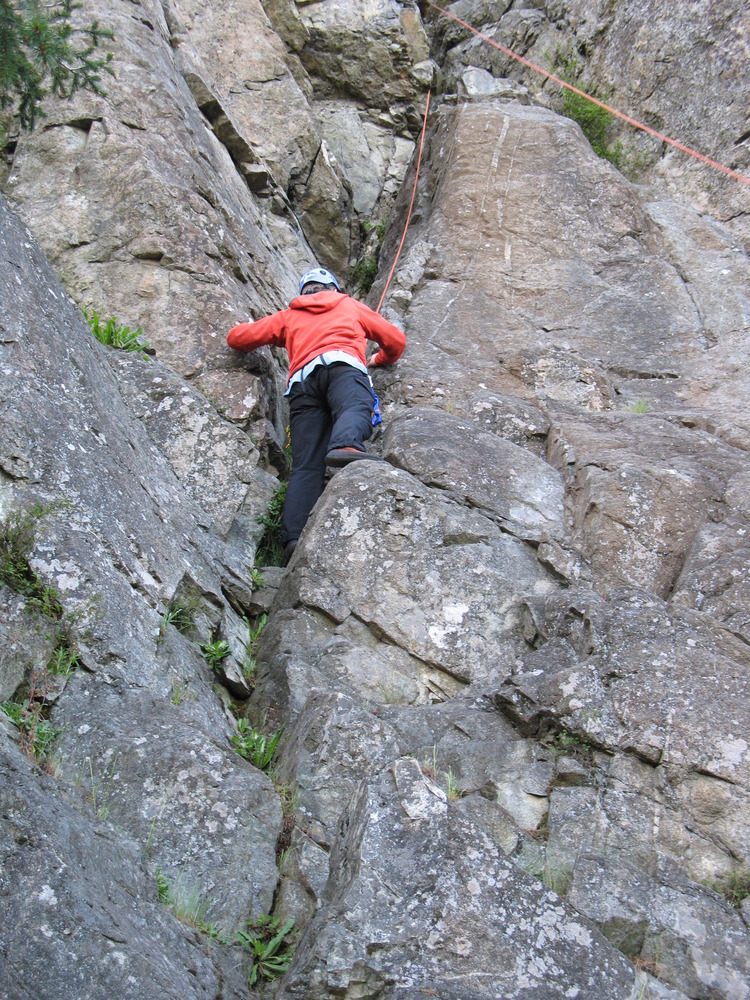 Friday we did more cragging and a gear sort at AAI in late afternoon. Bill and I checked into our motel and I used basically every available surface for drying gear. Beers and dinner went down well.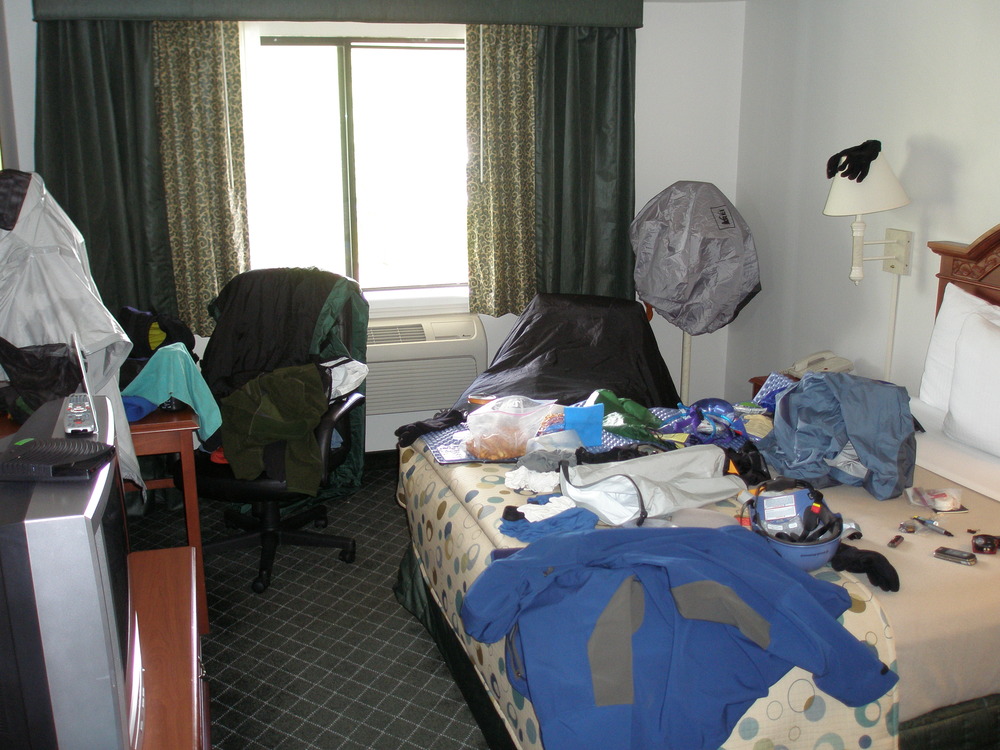 Overall, we had a great trip. At least part of each day had decent weather and neither Bill nor I was hugely invested in reaching the summit. We got to do lots of mountaineering stuff that can't be done in Utah (no glaciers here). Jason turned out to be a really interesting guy and was fun to spend a week with; he's the guide manager at AAI and also writes plays and screenplays, and previously was a high school drama teacher.
All photos © Jason Martin, William B. Thompson, or John Regehr 2010.