Packrafts are tough, light, individual-sized inflatable boats that people use to put together really amazing wilderness trips by combining rafting, hiking, and sometimes even biking. I've had sort of a low-grade obsession with packrafting since 2009 when I ran into some people in Alaska who were on their way to hike up and over the Brooks Range and paddle down to the Arctic Ocean. (I'm 99.9% certain it was these folks.) But anyway, I never managed to actually do any packrafting until spring break this year when — along with my friends Brian and Tim — I floated a section of the Dirty Devil River in southern Utah.
The Dirty Devil is a little tricky: it's a seasonal desert river that, on average, only has enough flow for floating during February and March — and February can be really cold. Luckily the university's spring break is in March, usually a superb time to be in the desert: the days are getting longer and warmer, the nights are still cold, and there's not a single bug to be found. Usually you get snowed on for a couple hours, but the snow doesn't stick around.
None of us had so much as touched a packraft, but all of us had canoed or kayaked before, so we figured a class 1-2 river should be doable. The Dirty Devil flows through a canyon 1500 feet (450 meters) deep and, once we started, there was no realistic possibility of escape except by finishing the trip 36 miles later.
We started out on a spectacular morning: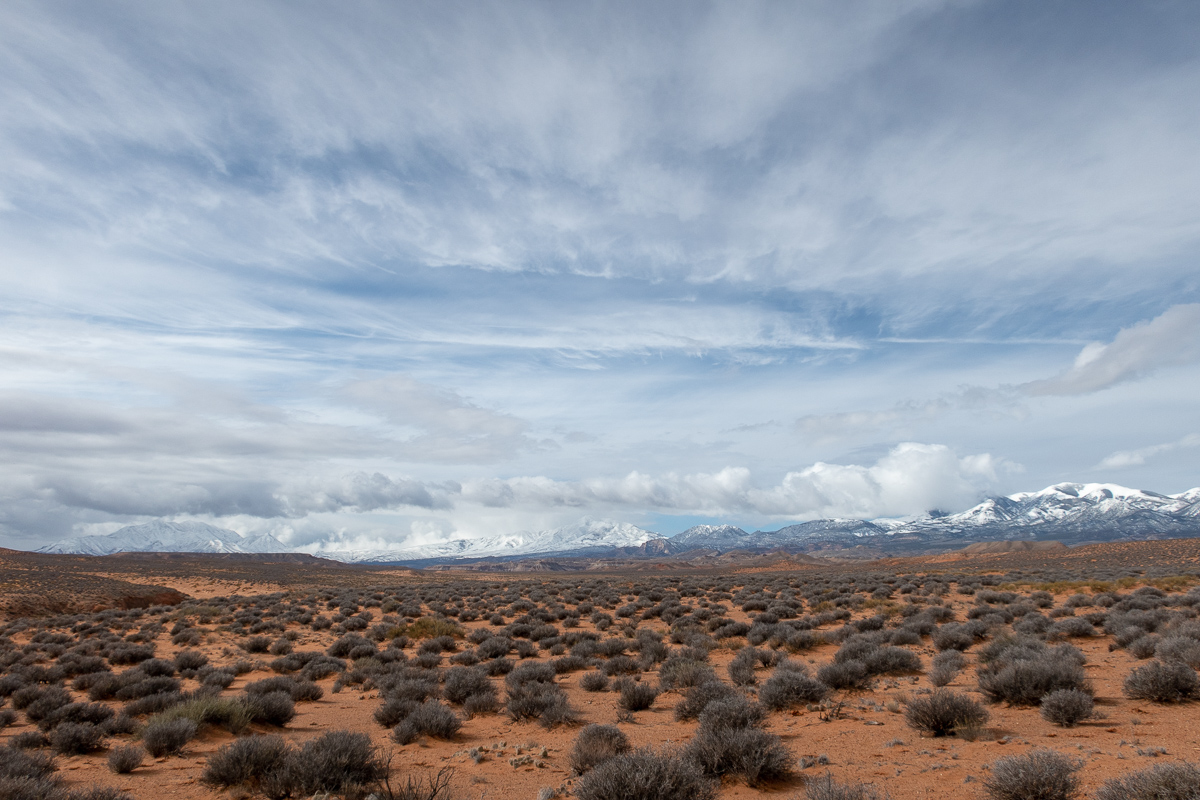 To set up a shuttle we drove down the rough but super fun Poison Springs Road; here Brian's cramming a few last things into my vehicle with the DD running narrow and fast in the background: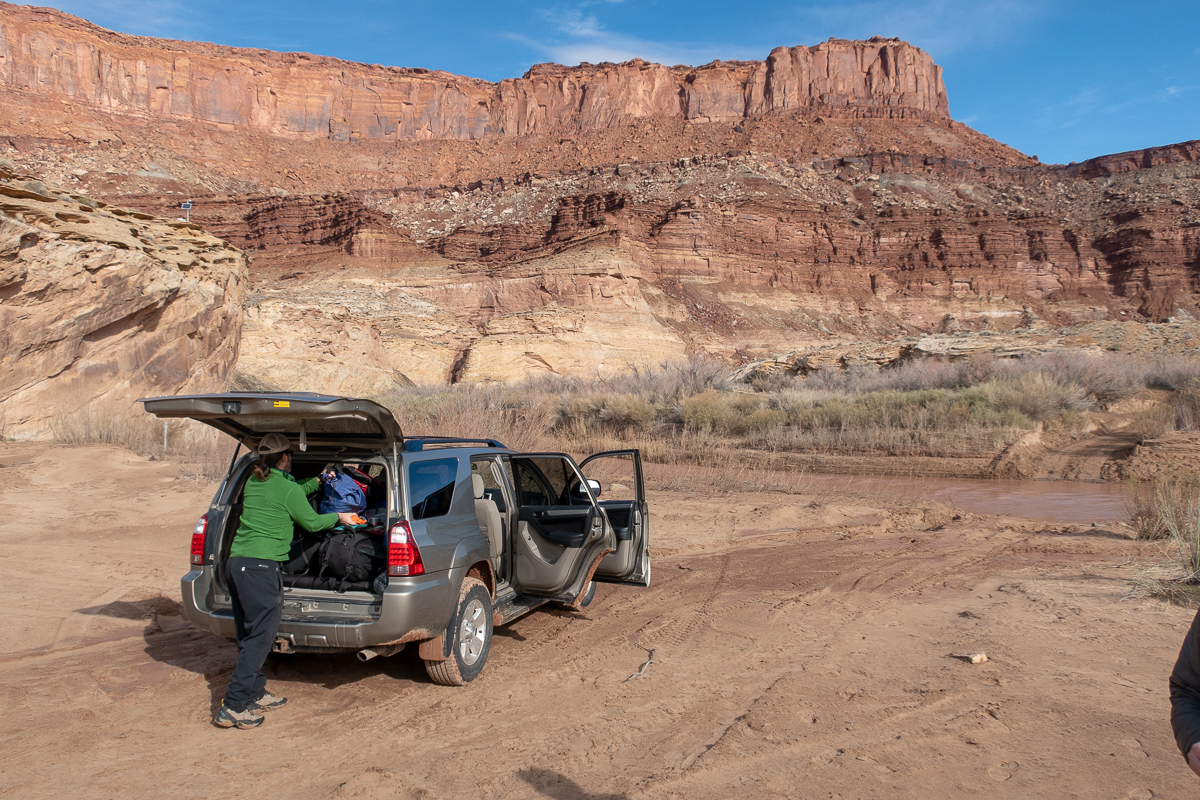 There was quite a bit more water in the channel than we'd expected; it turned out that Happy Canyon, about eight miles upstream, was in the middle of a minor flash flood.
Next we returned to the paved road, drove a few miles, then down to the top of the western end of the Angel Trail (one of a number of trails with that name). Nobody else was there, and we didn't see anyone until the last day of our trip. At this point the weather was deteriorating: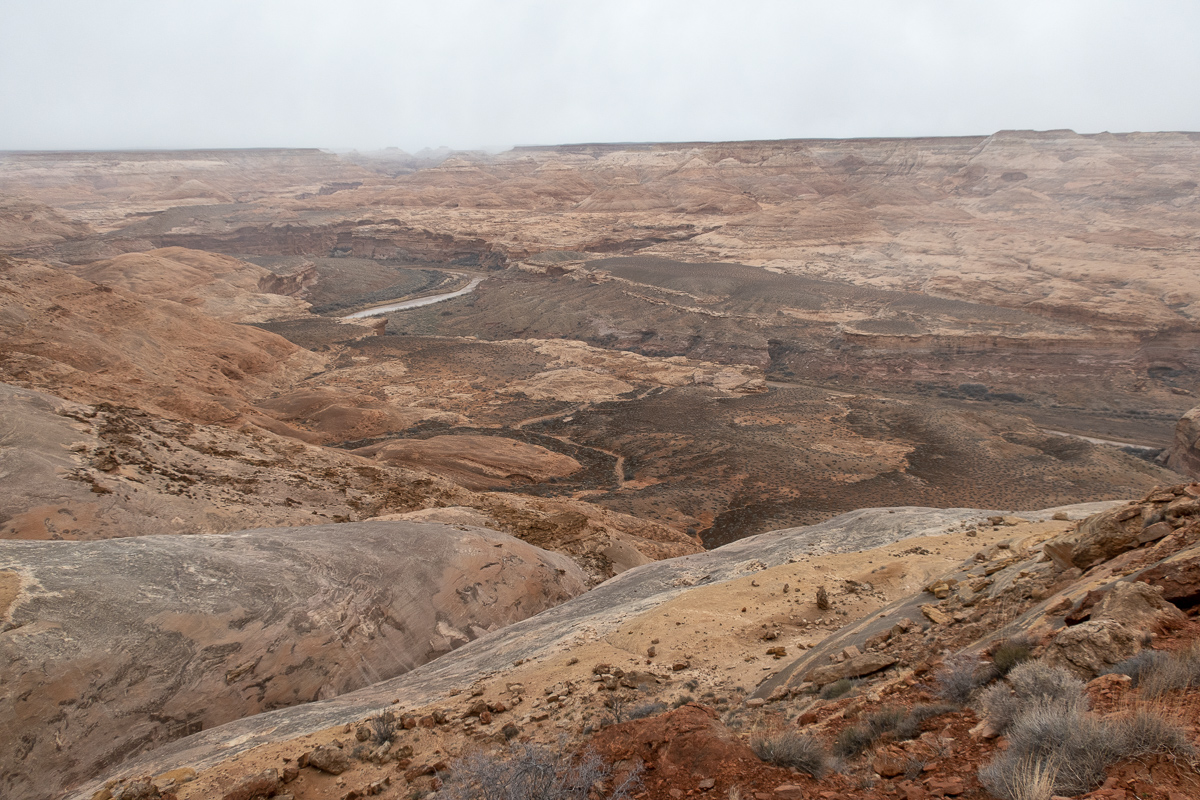 And soon we here hiking in the snow: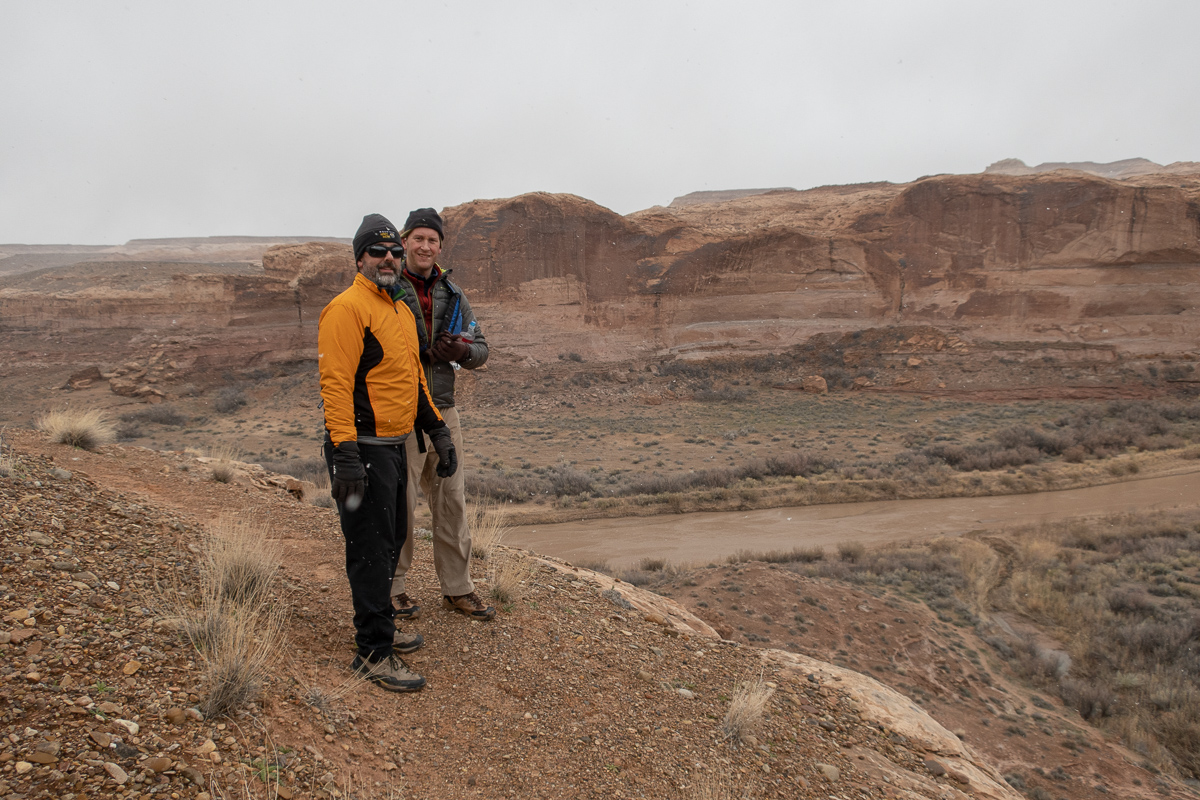 The snow didn't last long, but it remained windy and not far above freezing; we were happy to have wetsuits and puffy jackets. We put in across the river from Robbers Roost Canyon, where Butch Cassidy and his gang used to hide out: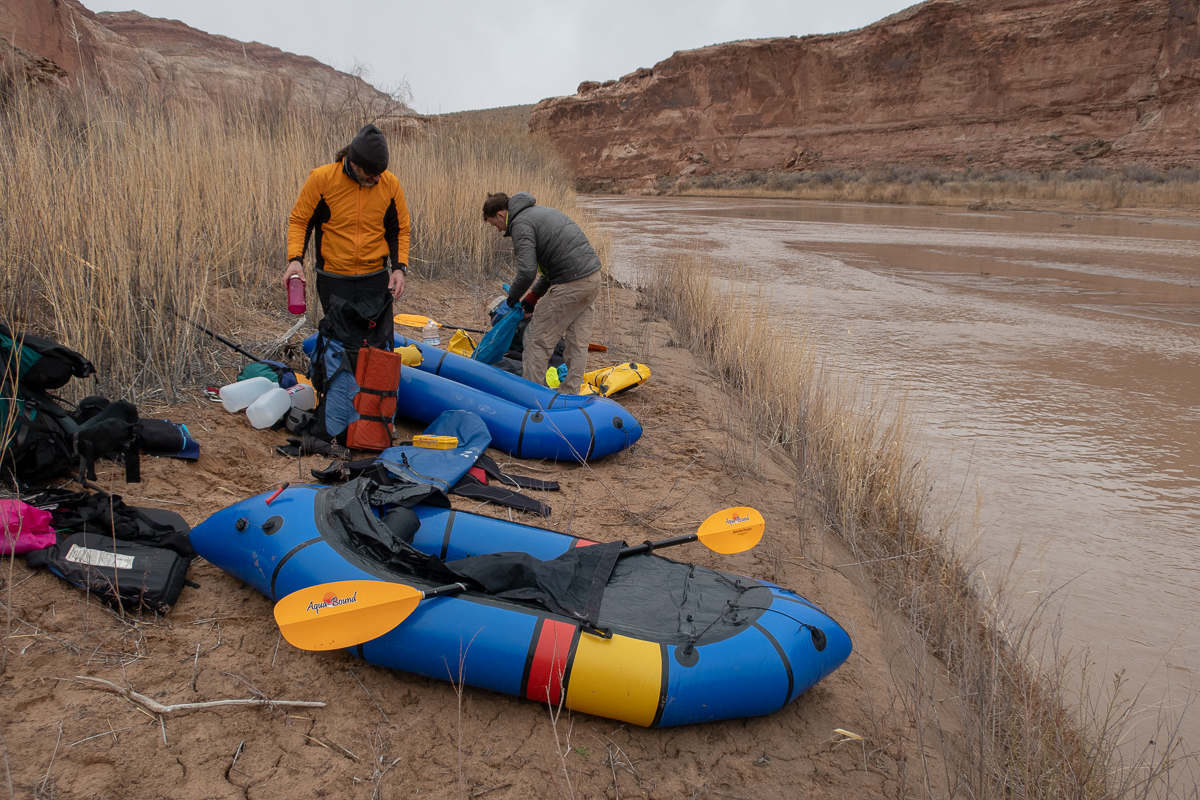 We paddled to Angel Cove, which has good camping and a nice spring. With the braided river and the wind it took forever to go just a couple of miles. We were pretty happy to get there, get into dry clothes, make some dinner. Also, the rest of our trip lacked reliable water sources (water from the DD is nasty) so we purified enough water to last the rest of the trip.
The next morning it was still cold, but nice and sunny: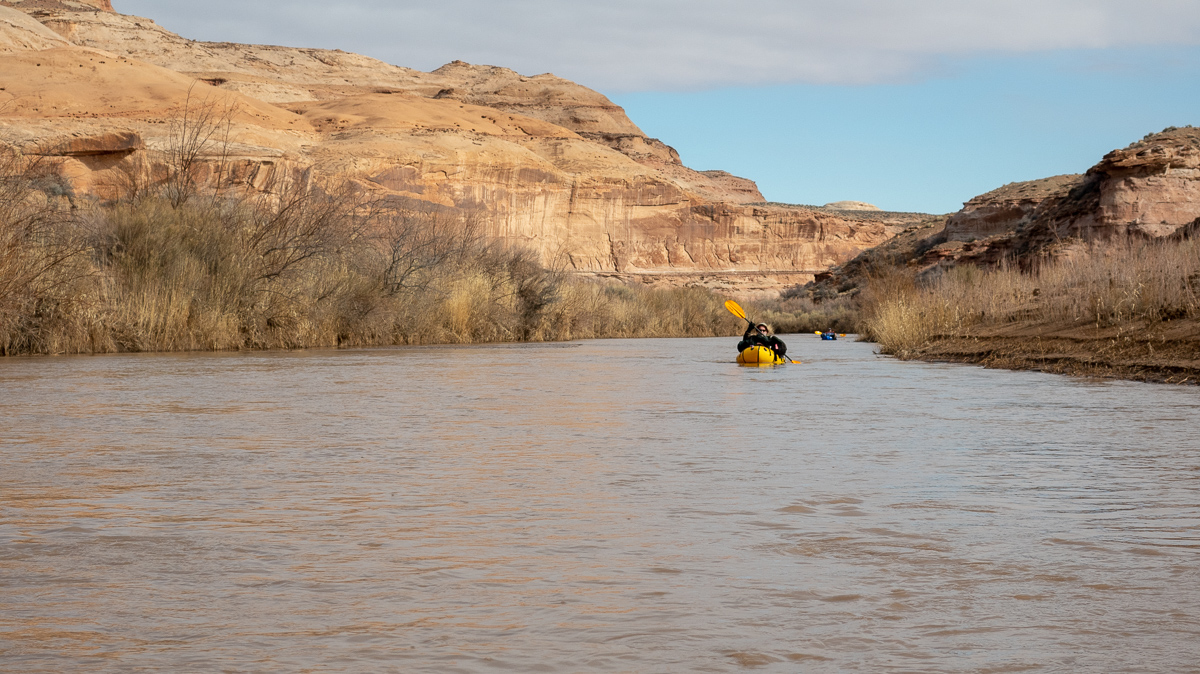 We saw both sides of a ridge called the Saw Tooth, which the river meanders around: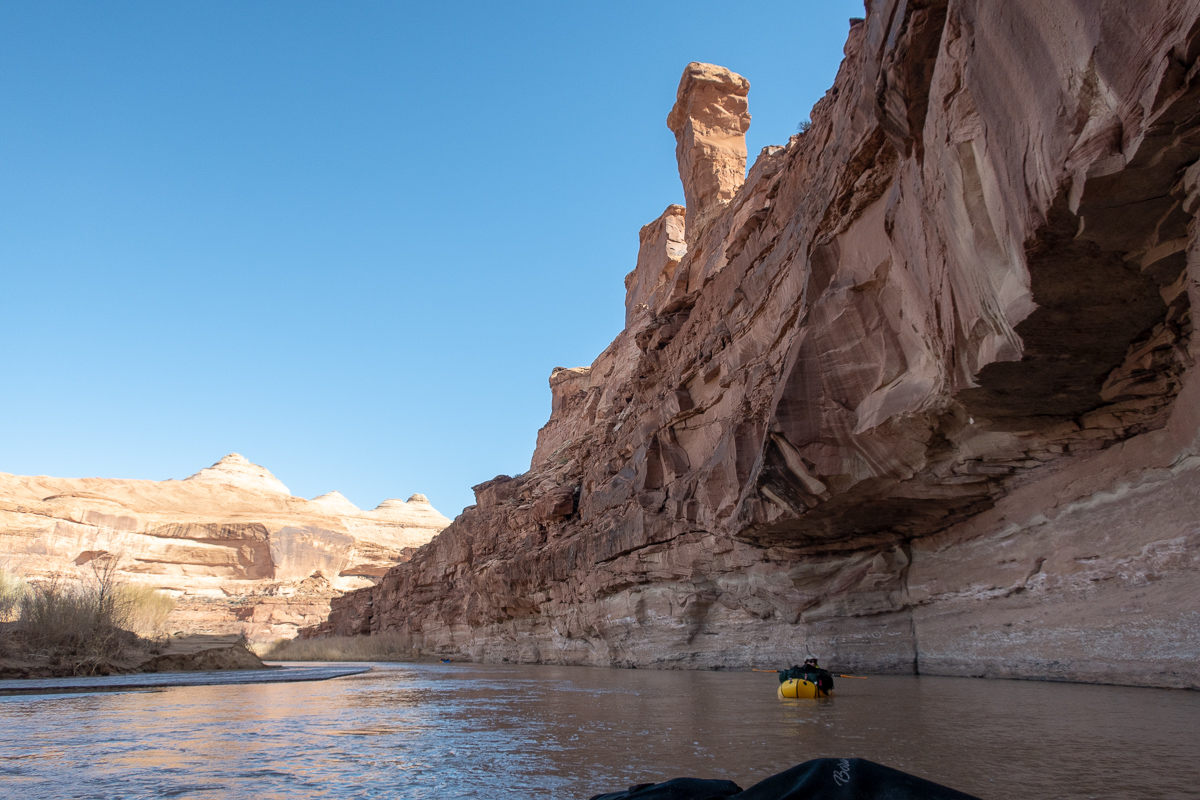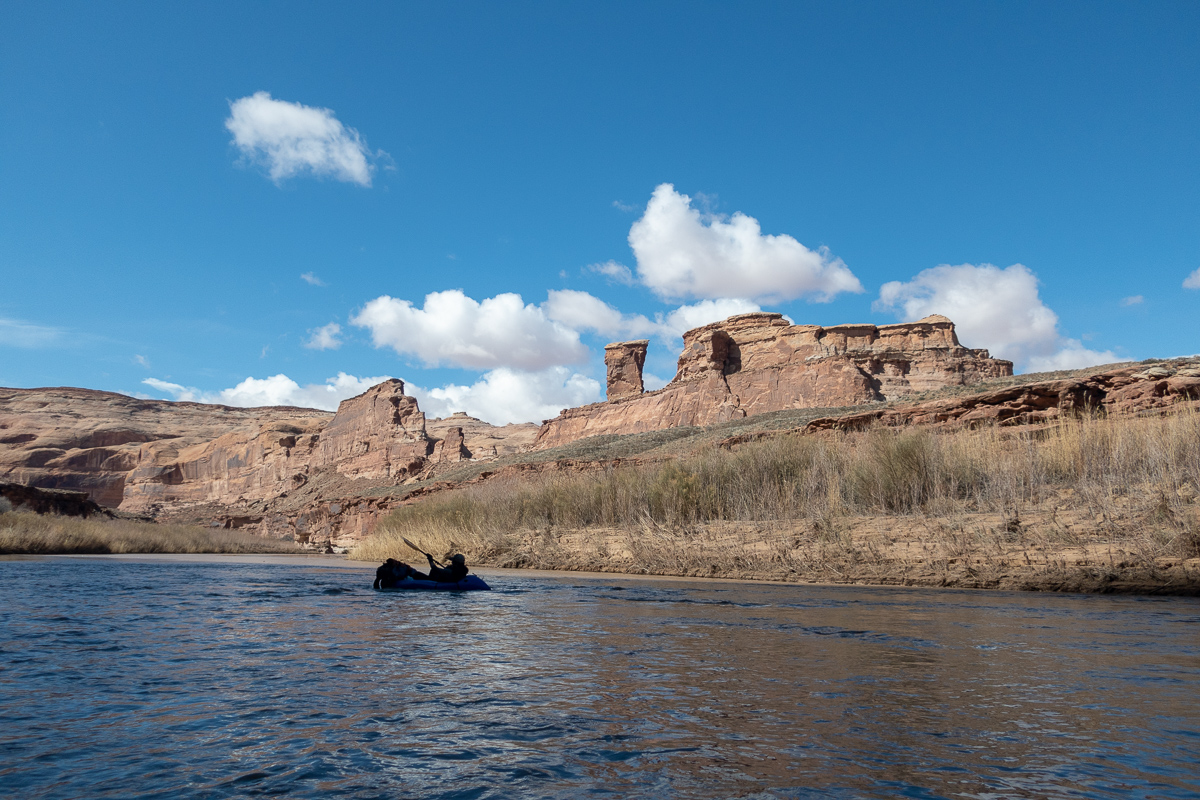 We also passed No Man's Canyon and Larry Canyon, both of which would have been great to spend a few days hiking, but we hadn't been able to budget time for that.
The opaque water was hard to read and we did an awful lot of pulling our boats around the river trying to find the channel, which moved from bank to bank every few hundred yards: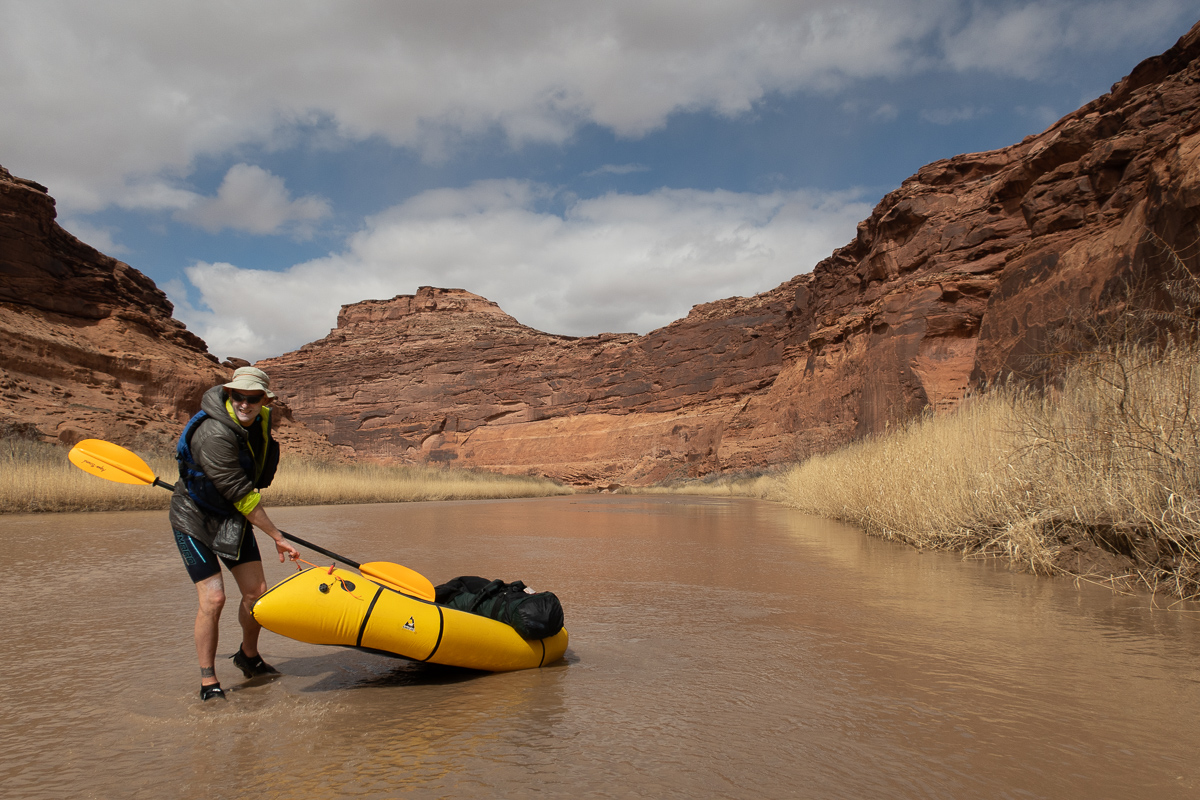 This was exhausting and there was plenty of quicksand too. Time flew by as we moved down the river at less than a walking pace and it was around 3pm before we noticed that we should stop for lunch.
The scenery continued to develop: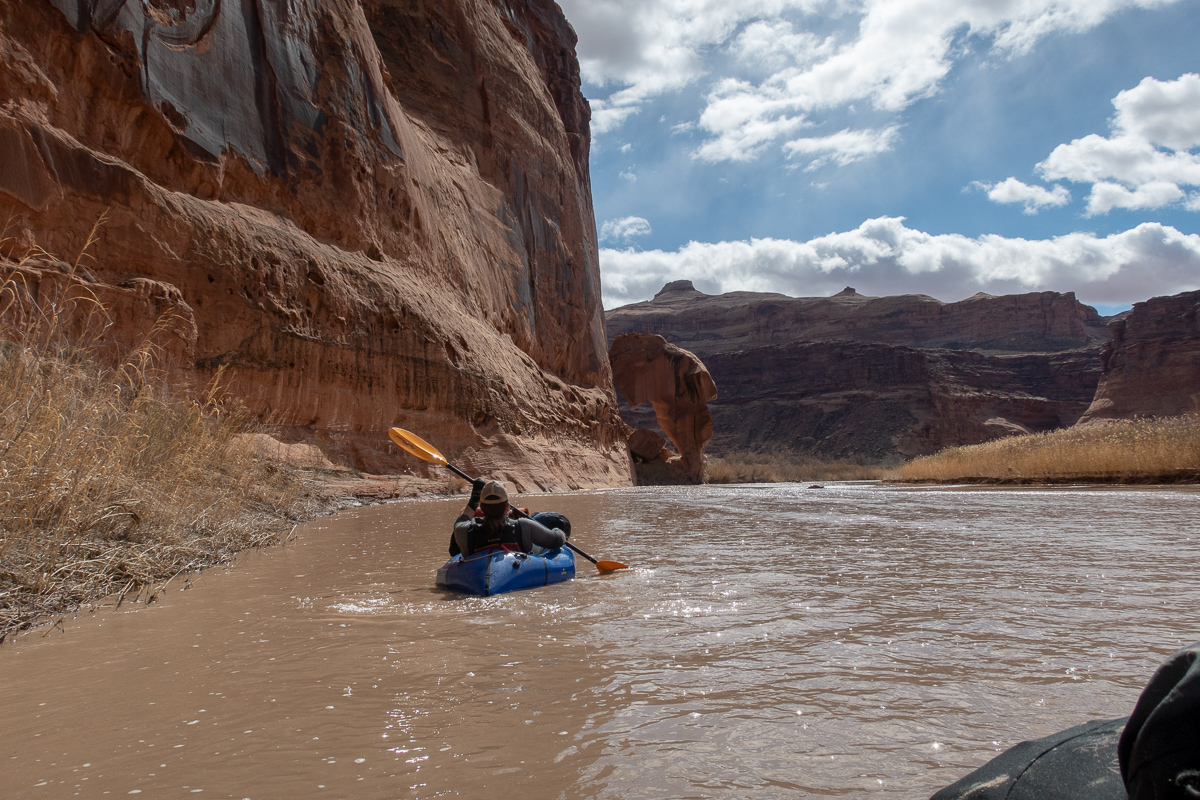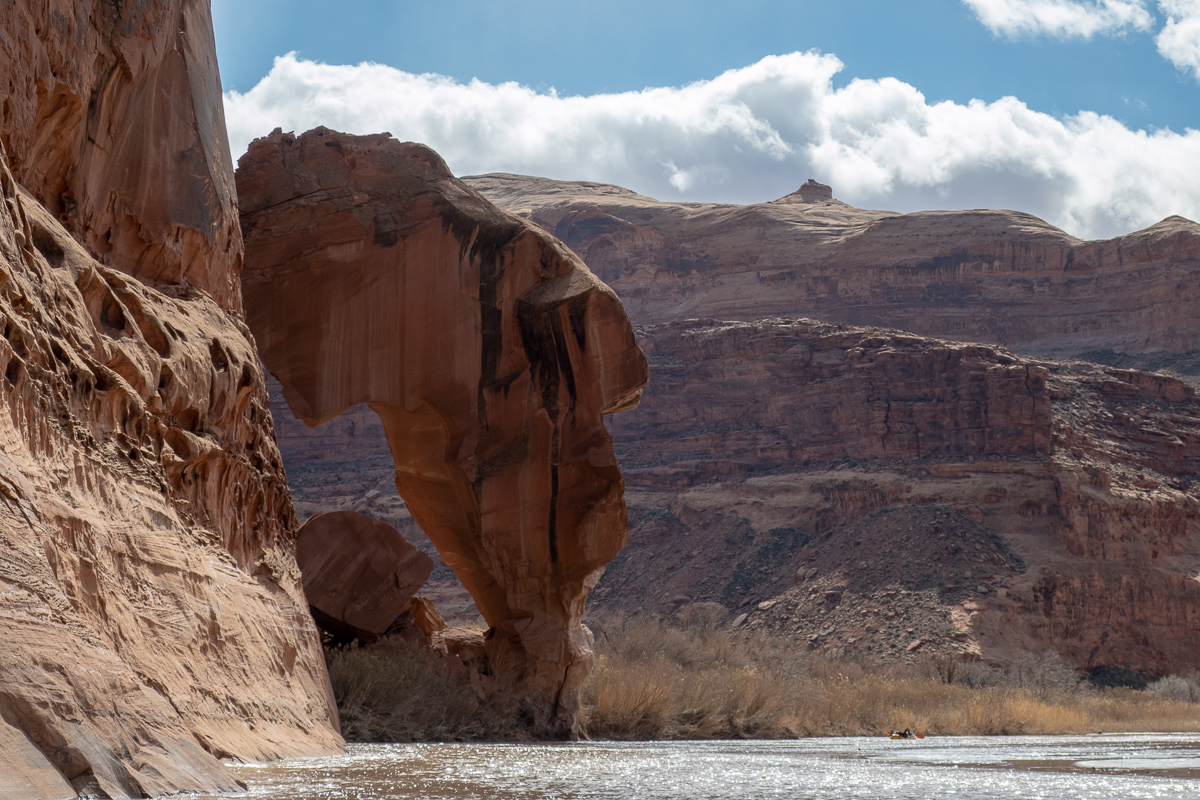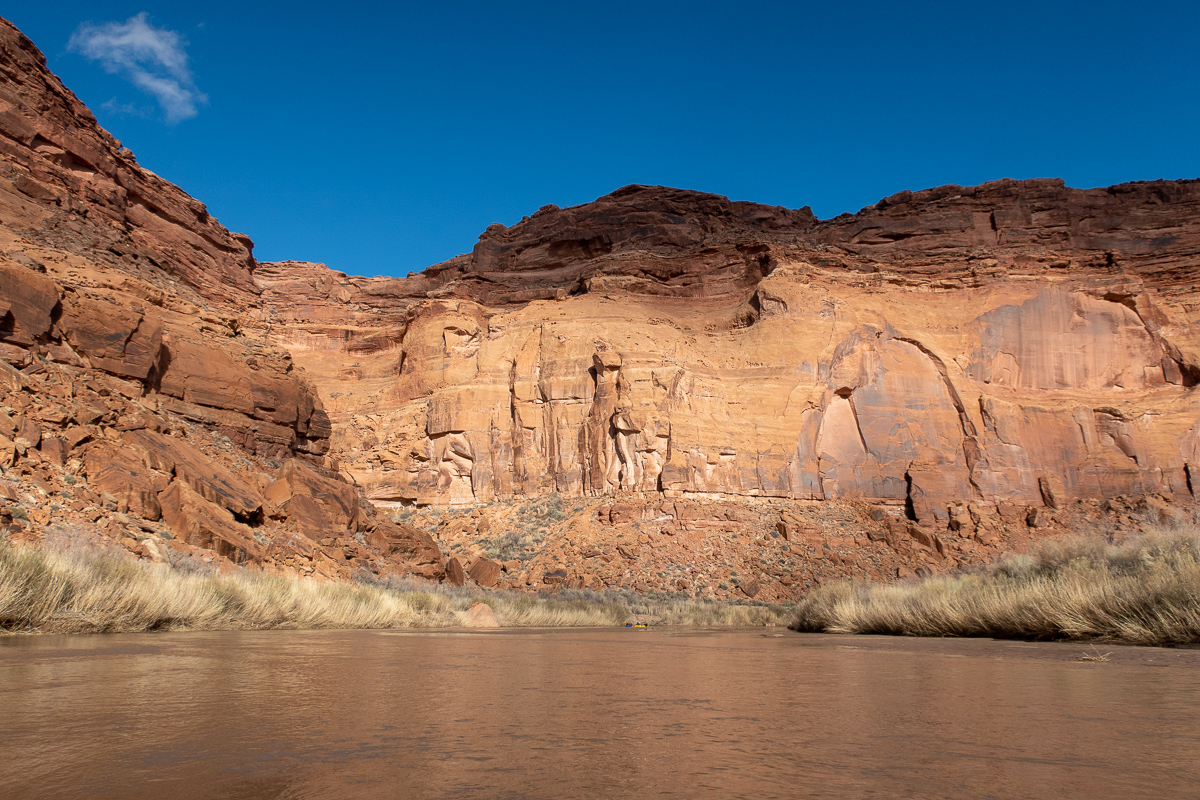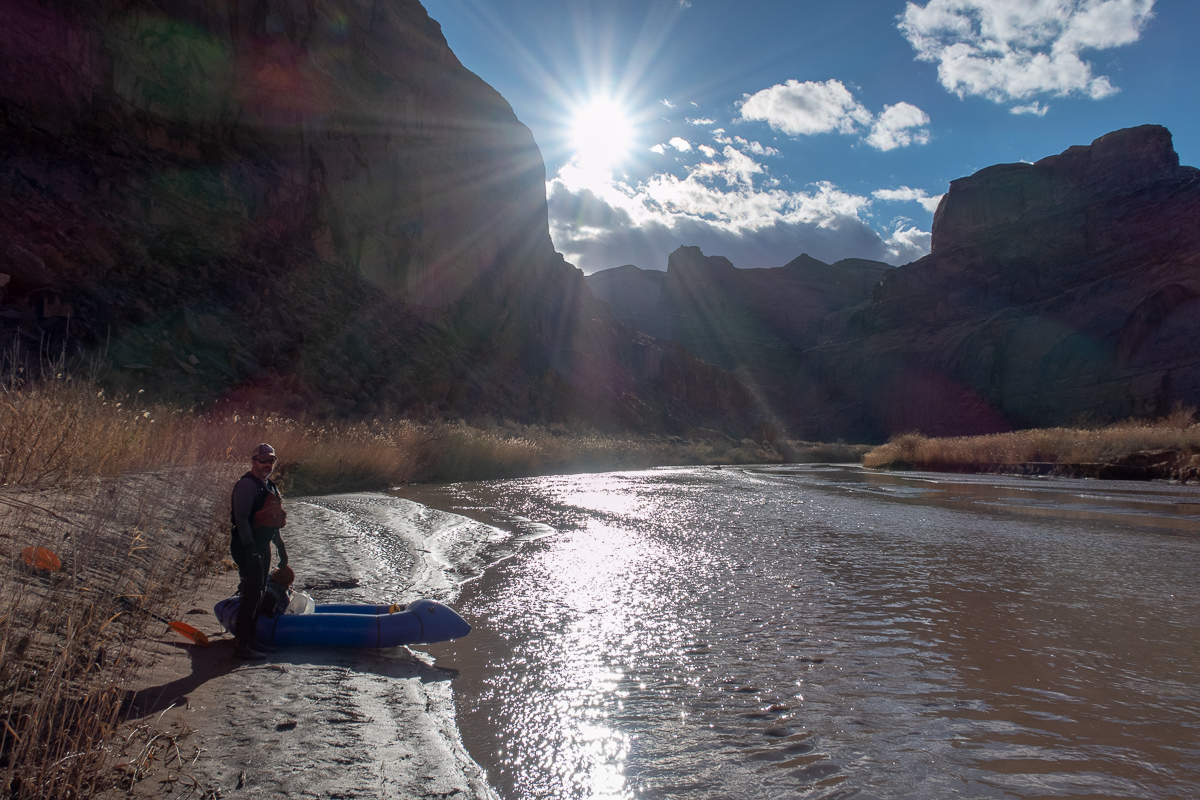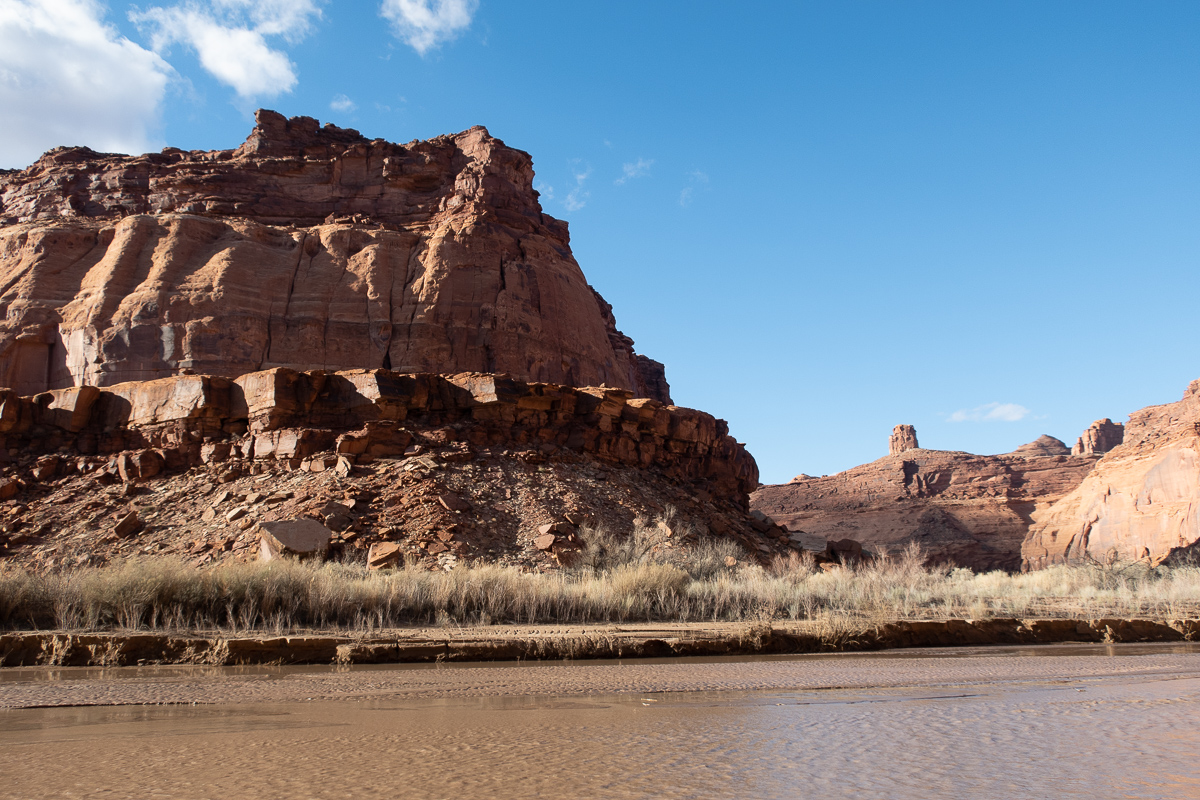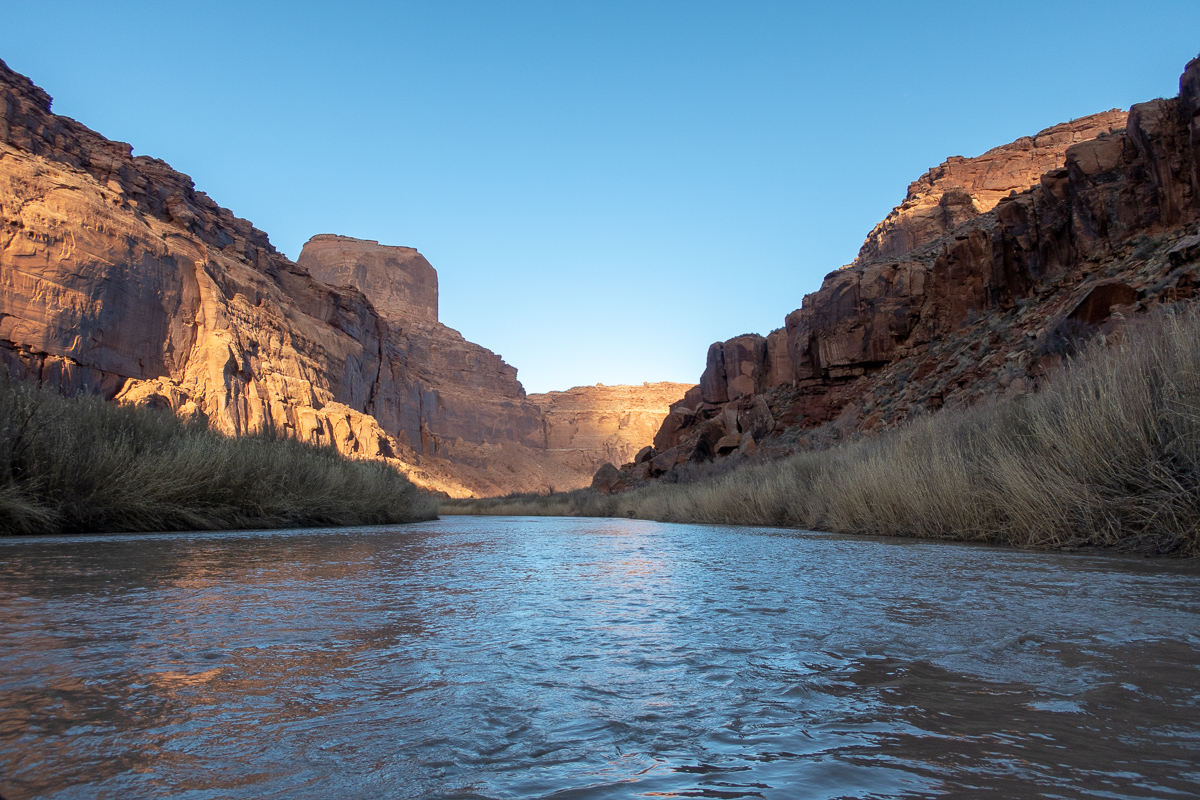 We pushed late into the day: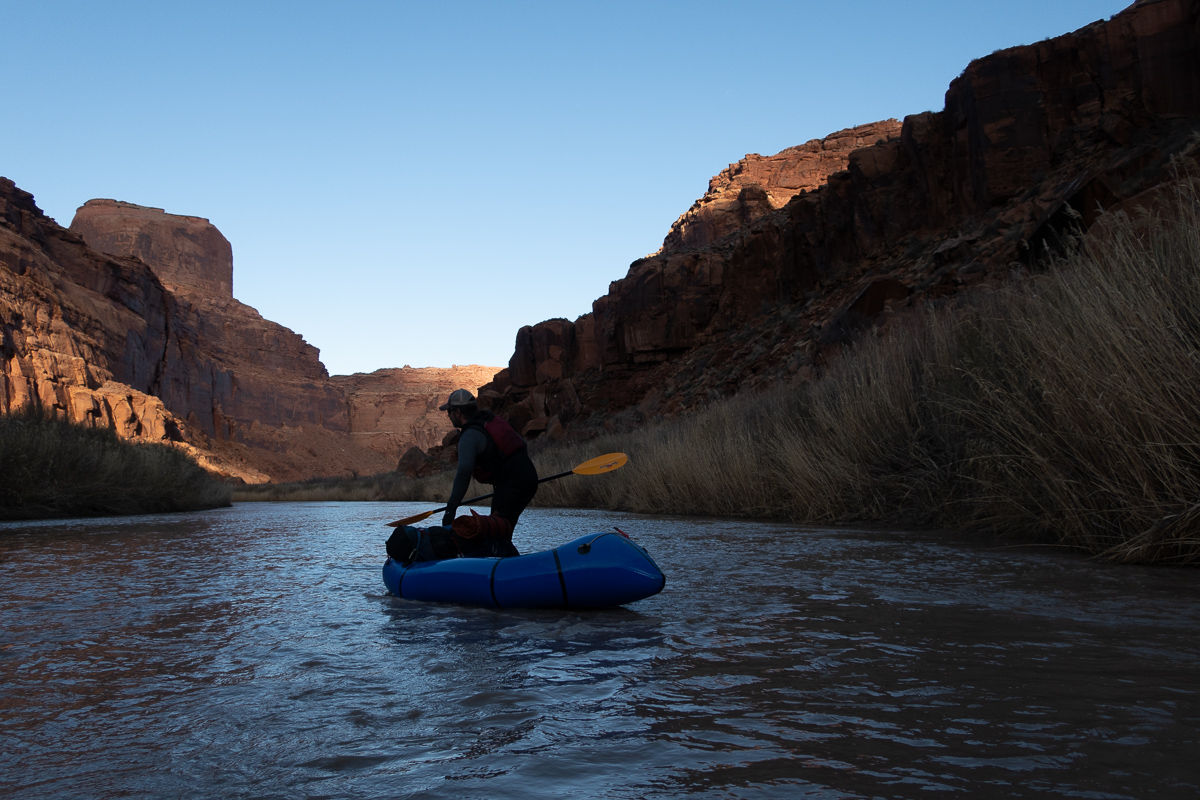 And finally stopped at a nice camp site on the river bank where we watched the last of the sun on the canyon walls:

There was copious driftwood so we had a fire: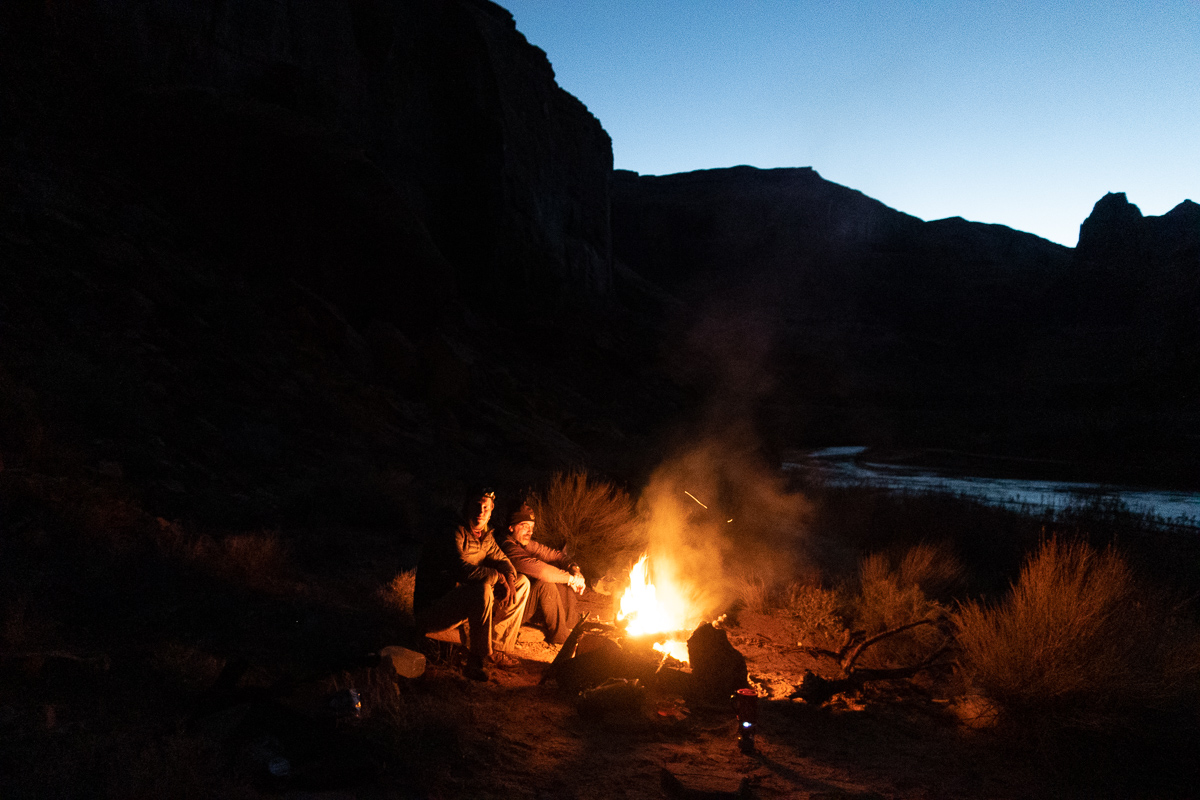 Morning was good: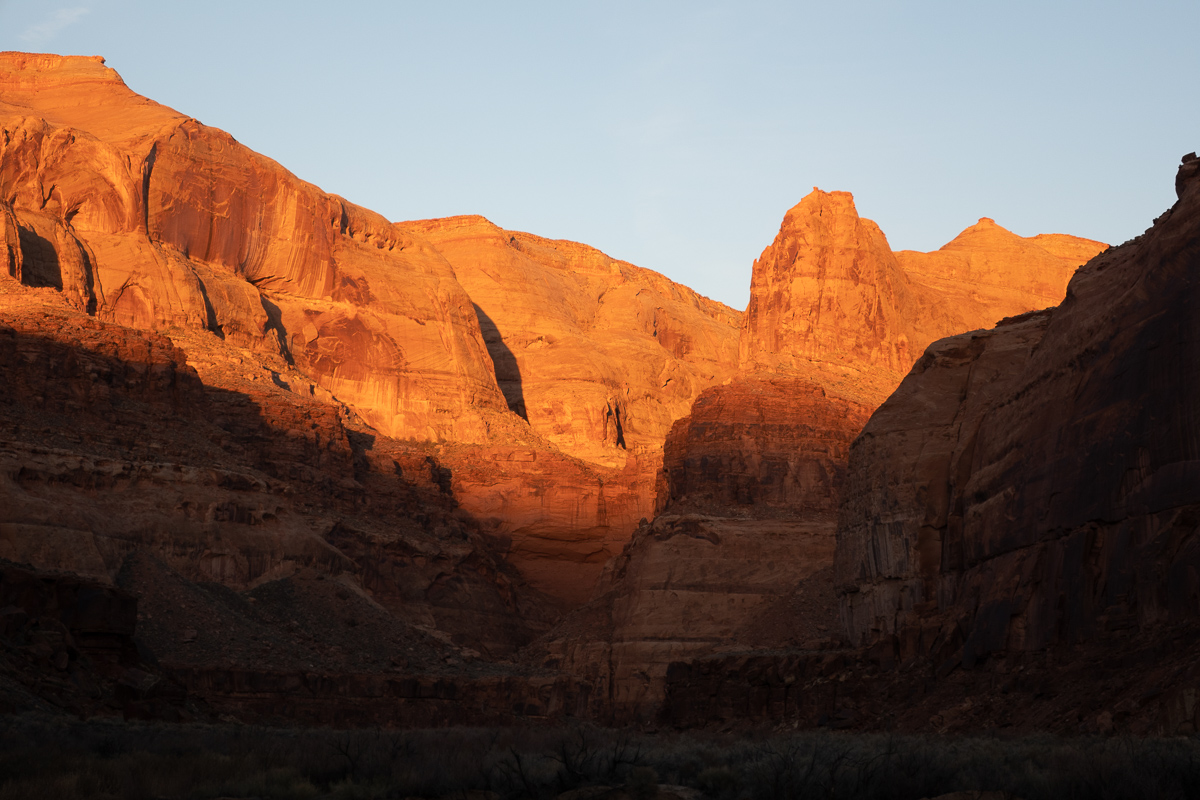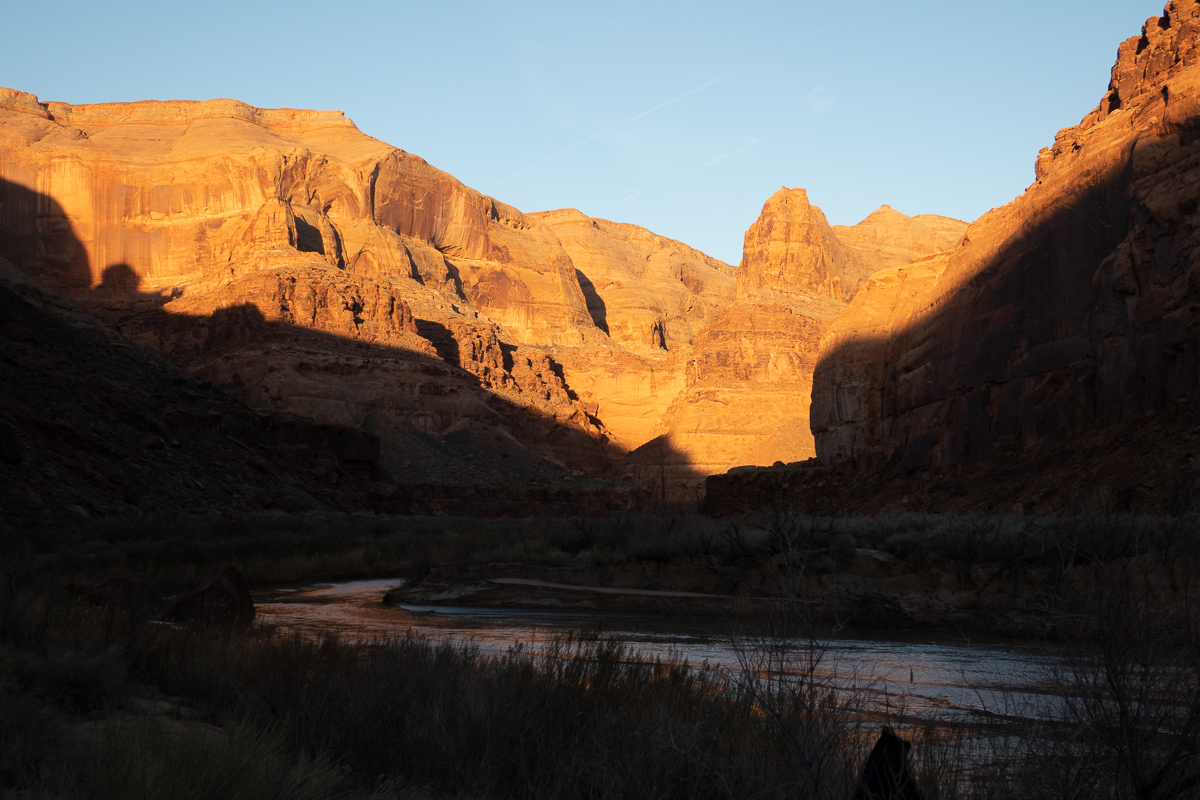 Since we hadn't made good time the previous day I got us up early, but it was just too cold to get into the water and anyway our wetsuits were frozen stiff. We had another cup of coffee and waited for the sun: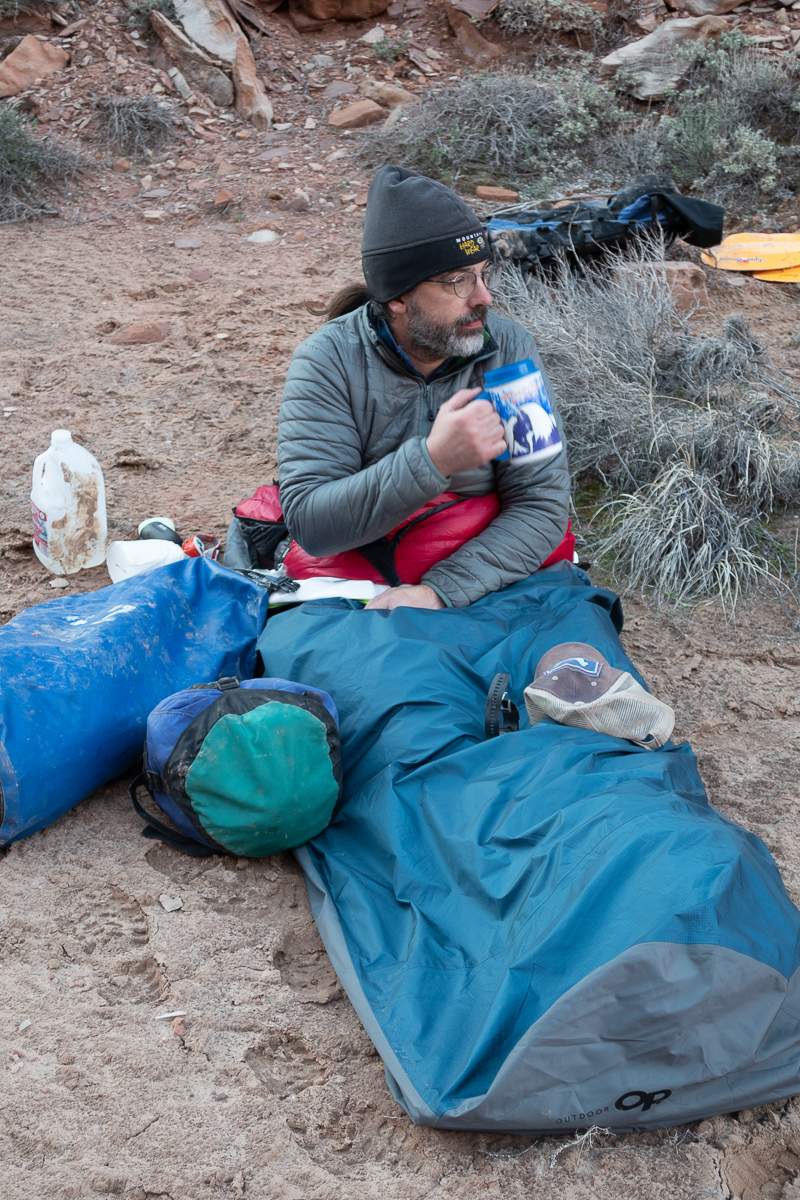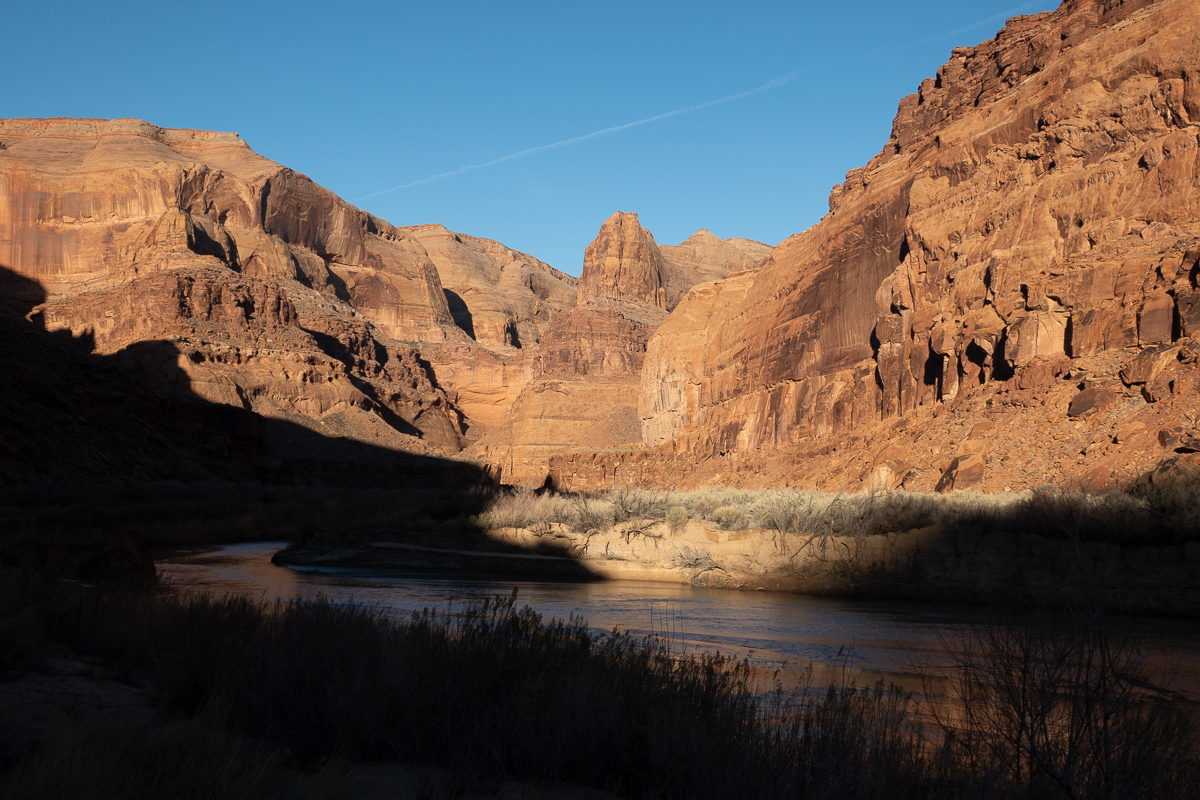 It ended up being warmer than the previous day — just about perfect weather — and for whatever reason we made much better time than we had earlier. At this innocuous-looking rest stop I hit some ugly quicksand and told the others to land somewhere else: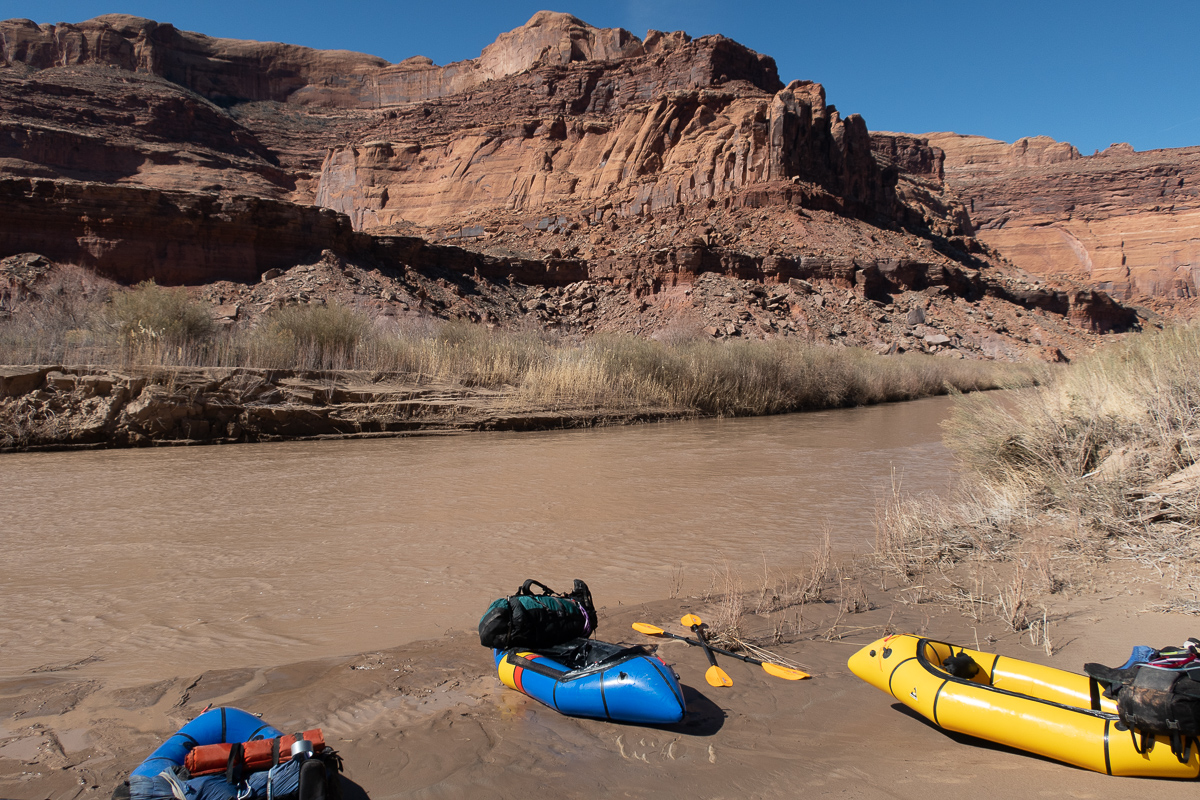 Brian landed a little ways to one side and just walked up the bank but Tim got mired much worse than I had, it probably took him 15 minutes to get out. We couldn't even help.
Over the course of the day we passed Twin Corral Box Canyon and Sam's Mesa Box Canyon, both huge and seldom-visited places I'd have been happy to spend a couple days exploring, but again we wanted to keep on schedule. Travel was generally easy and also the river gained some fun riffles as it started to drop more rapidly through the sandstone layers. It wasn't possible to avoid hitting rocks since we couldn't see through the water, but packrafts seem to be very tough. They're also quite stable, I only worried about flipping once or twice, and never did.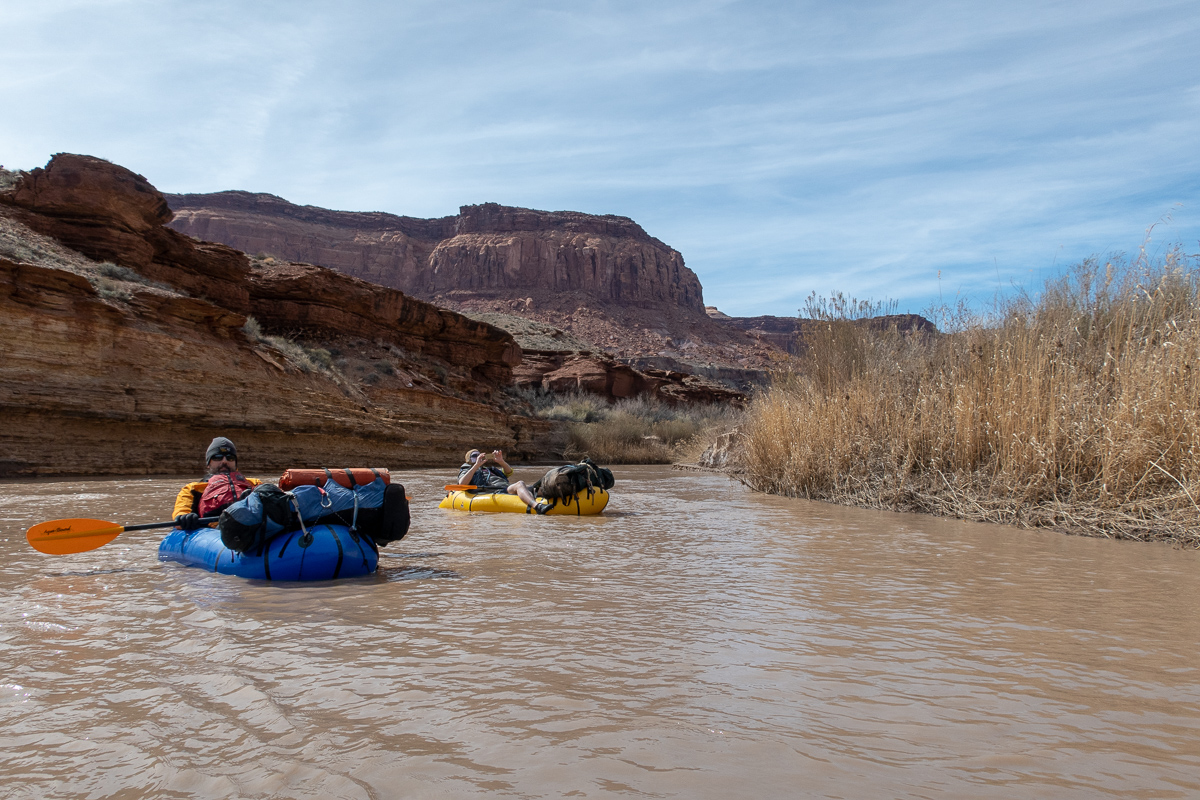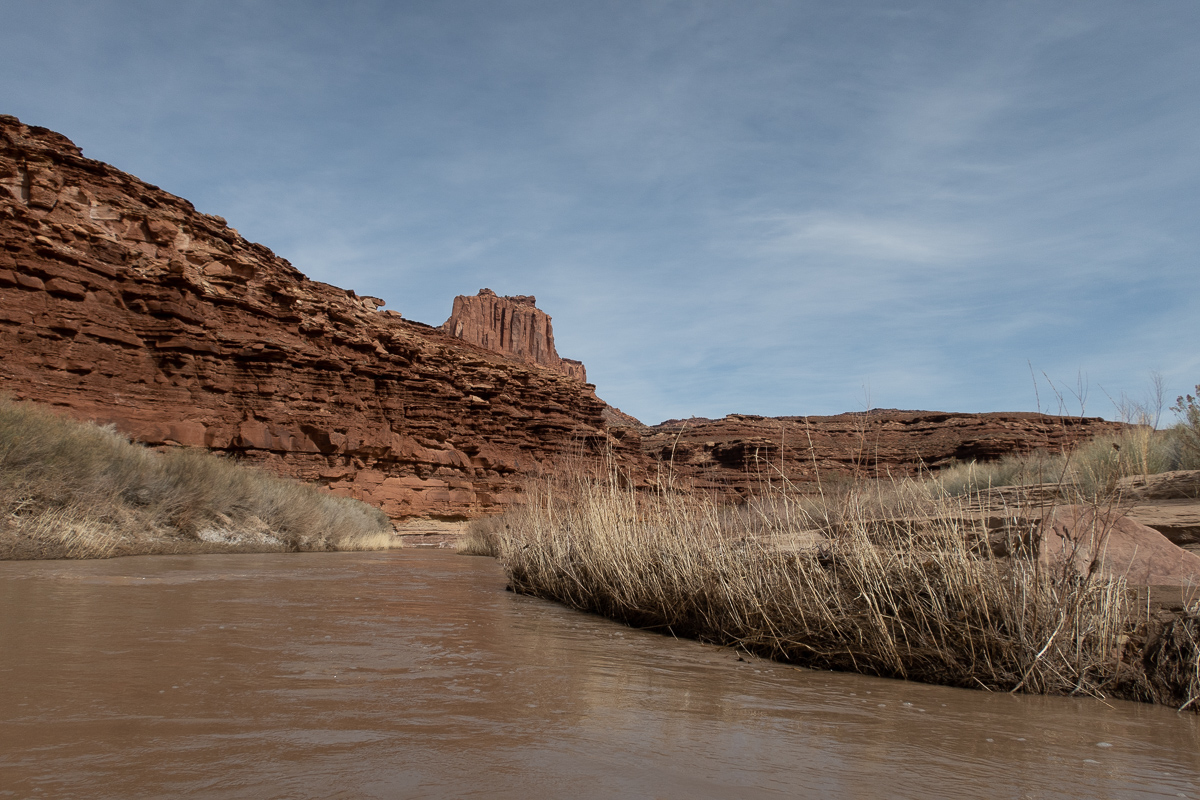 By late afternoon we reached Happy Canyon — named, apparently, by old-time cowboys who were happy to find a way out of it — which was still running from its flash three days earlier: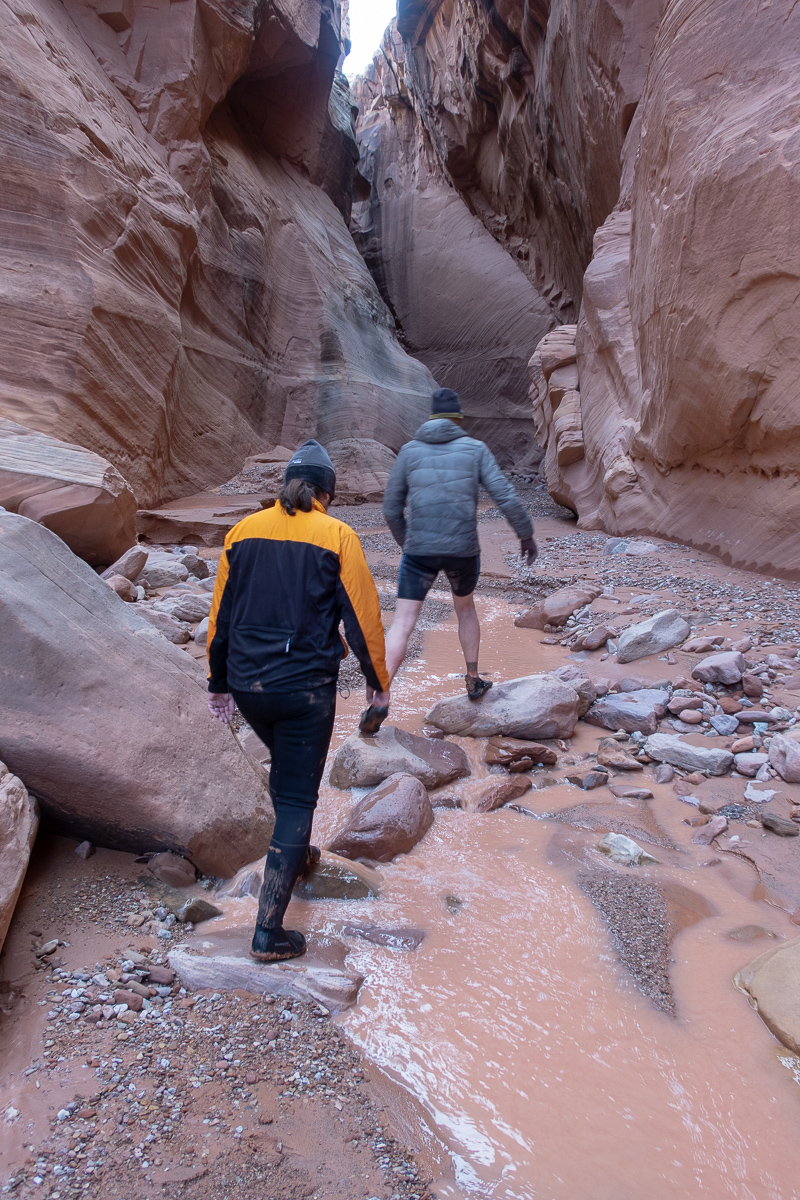 No shortage of quicksand here either, ugh!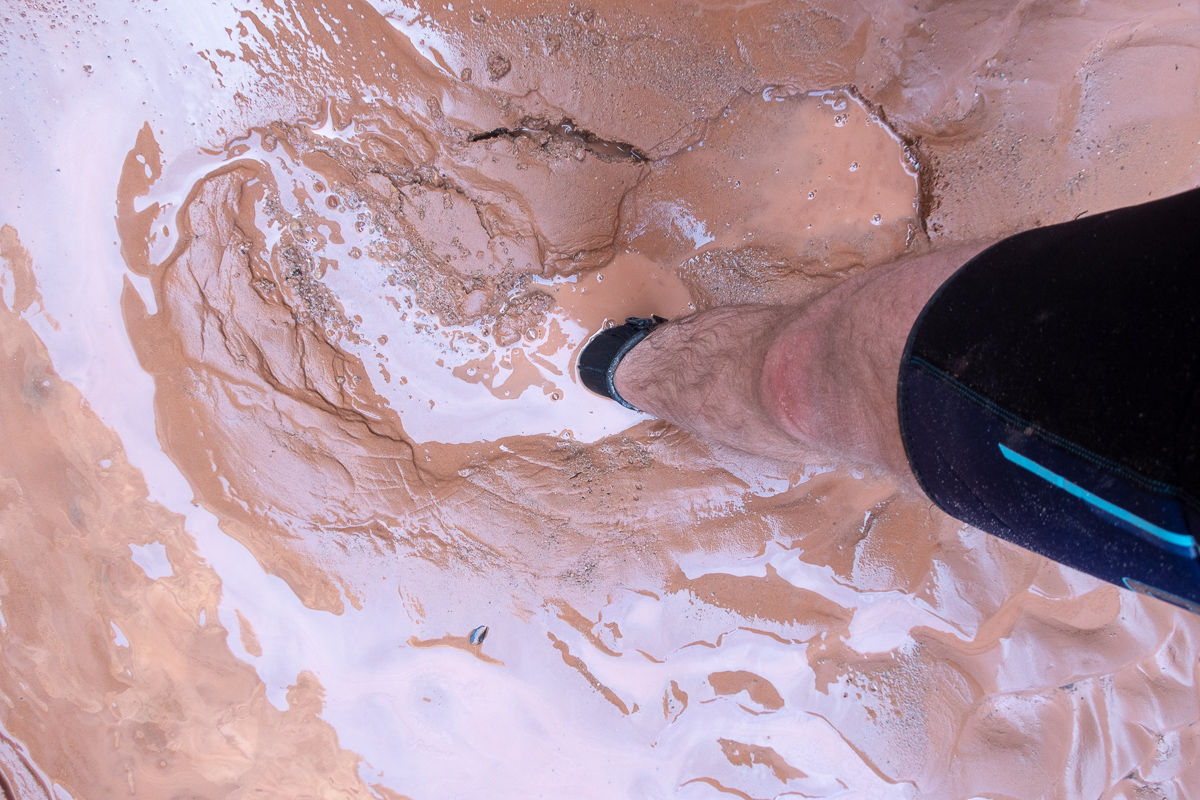 We didn't take much time to explore, but rather found a place to camp nearby. By this point we were only eight miles from our takeout and I finally stopped worrying about getting trapped in the canyon if one of the boats popped or got lost. For whatever reason this night was extra cold, my water bottle was more than half frozen in the morning, meaning it had probably gotten below 25 degrees.
Nice light on the walls: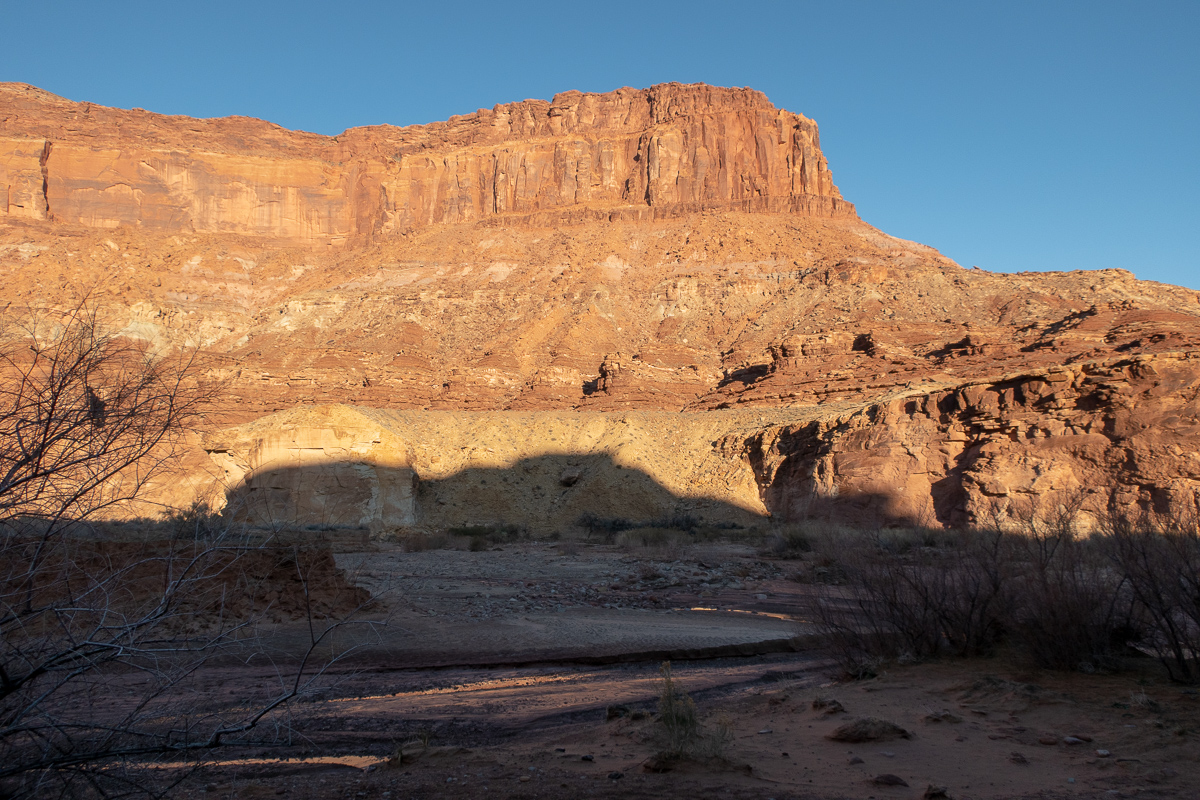 Happy Canyon has some of the finest walk-through narrows anywhere on the Colorado Plateau: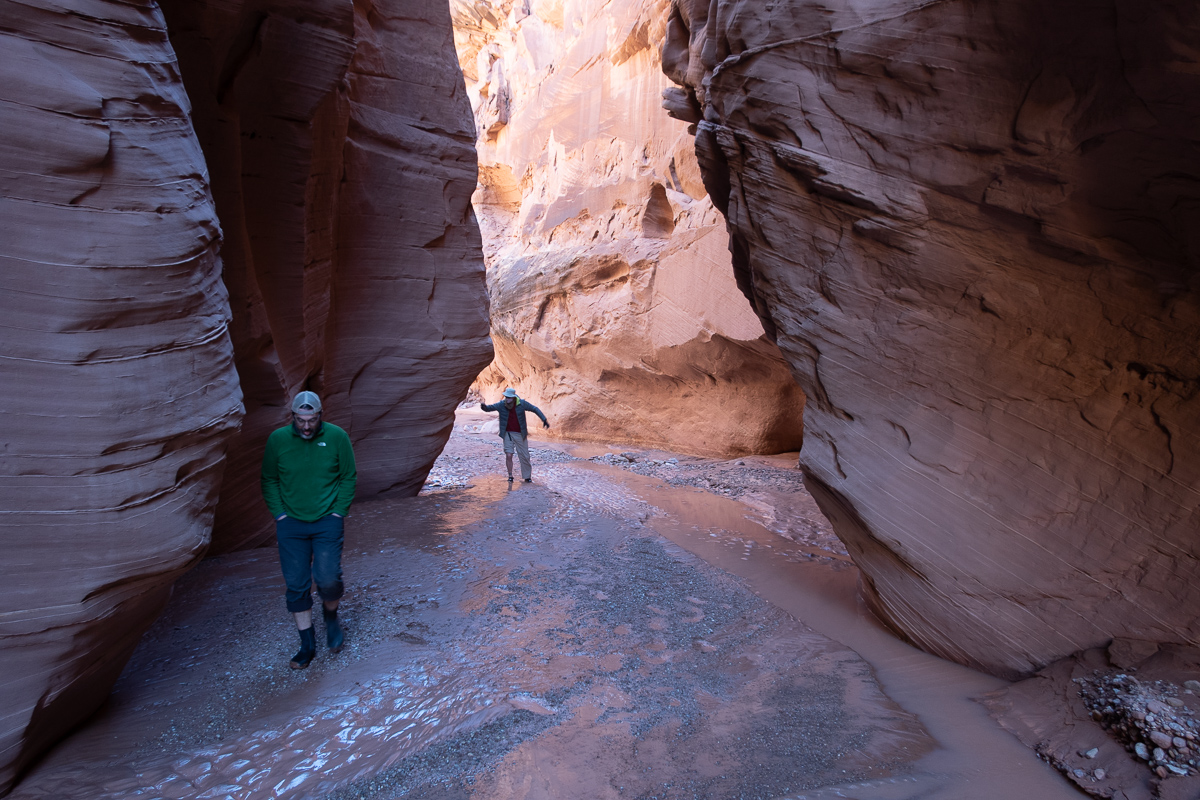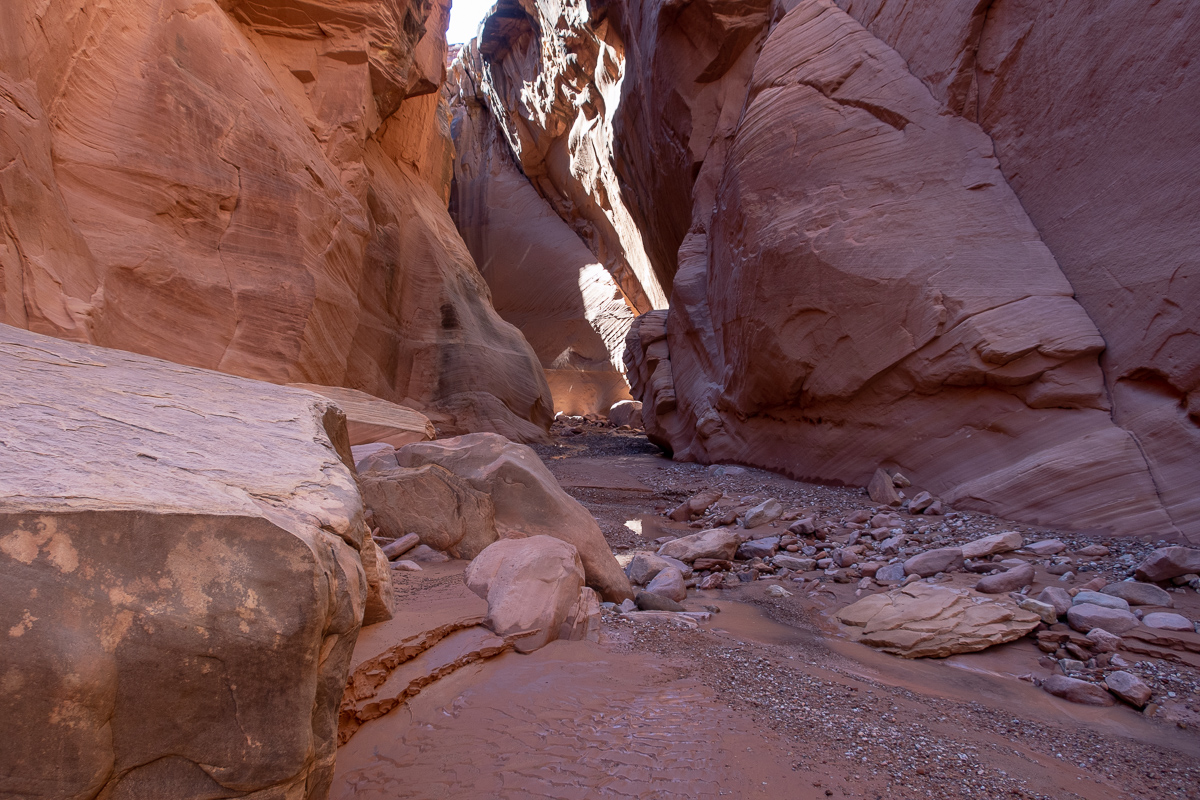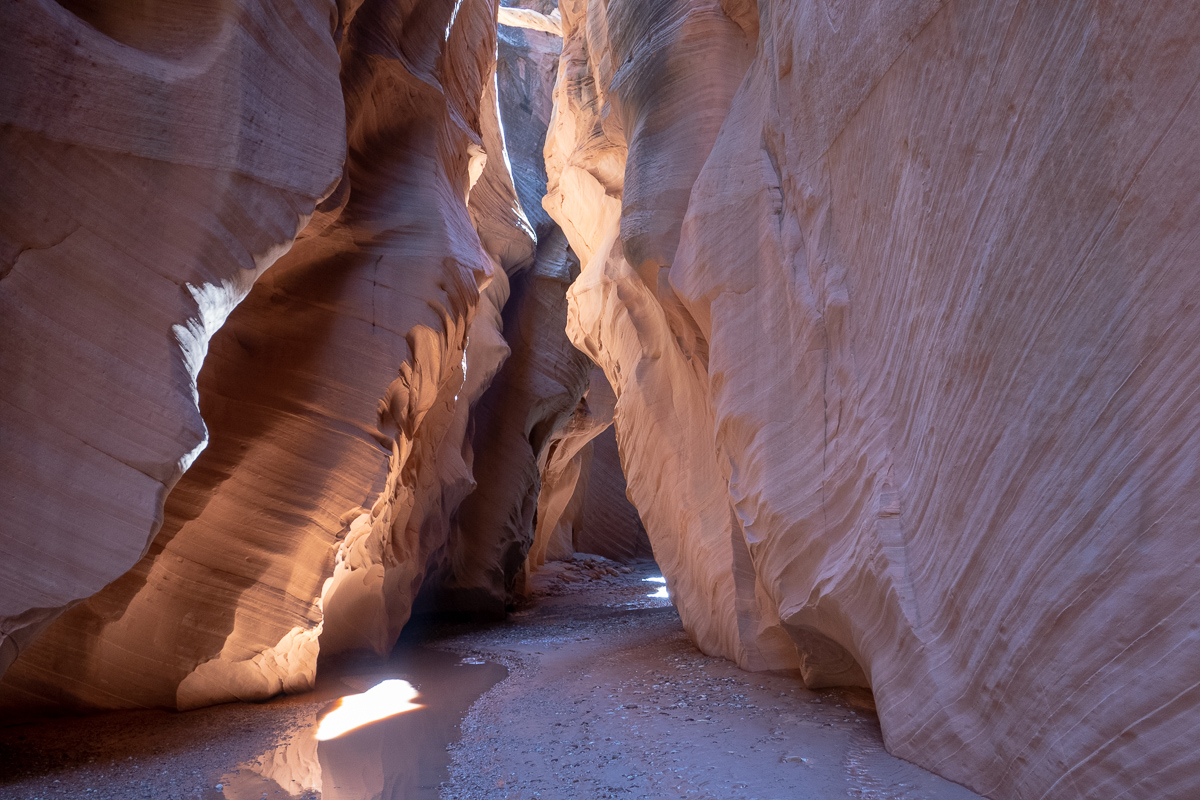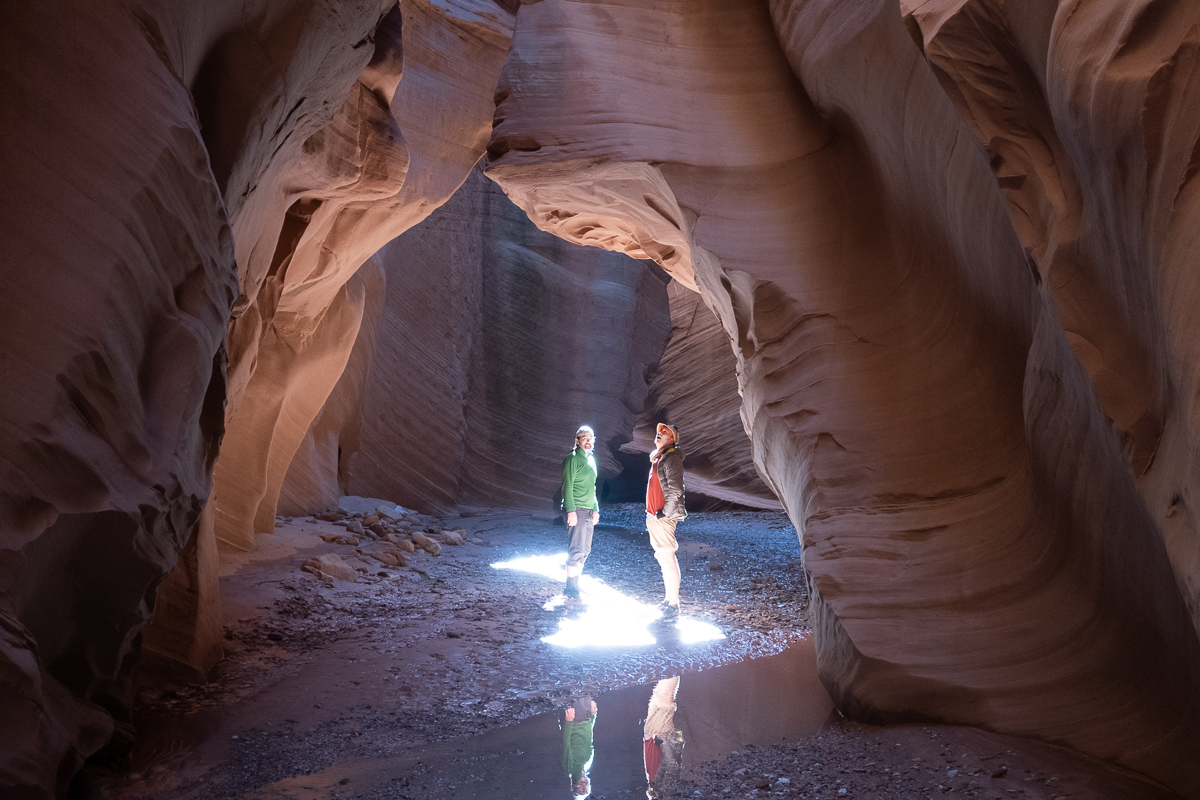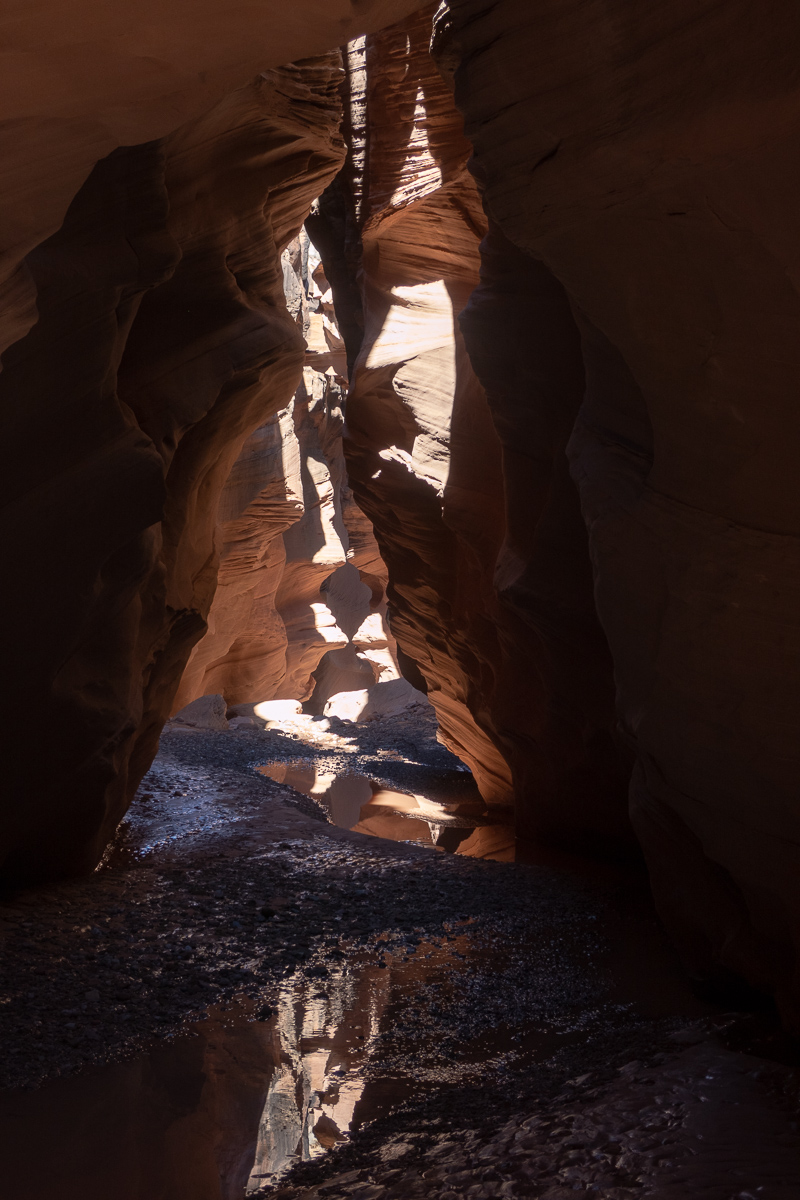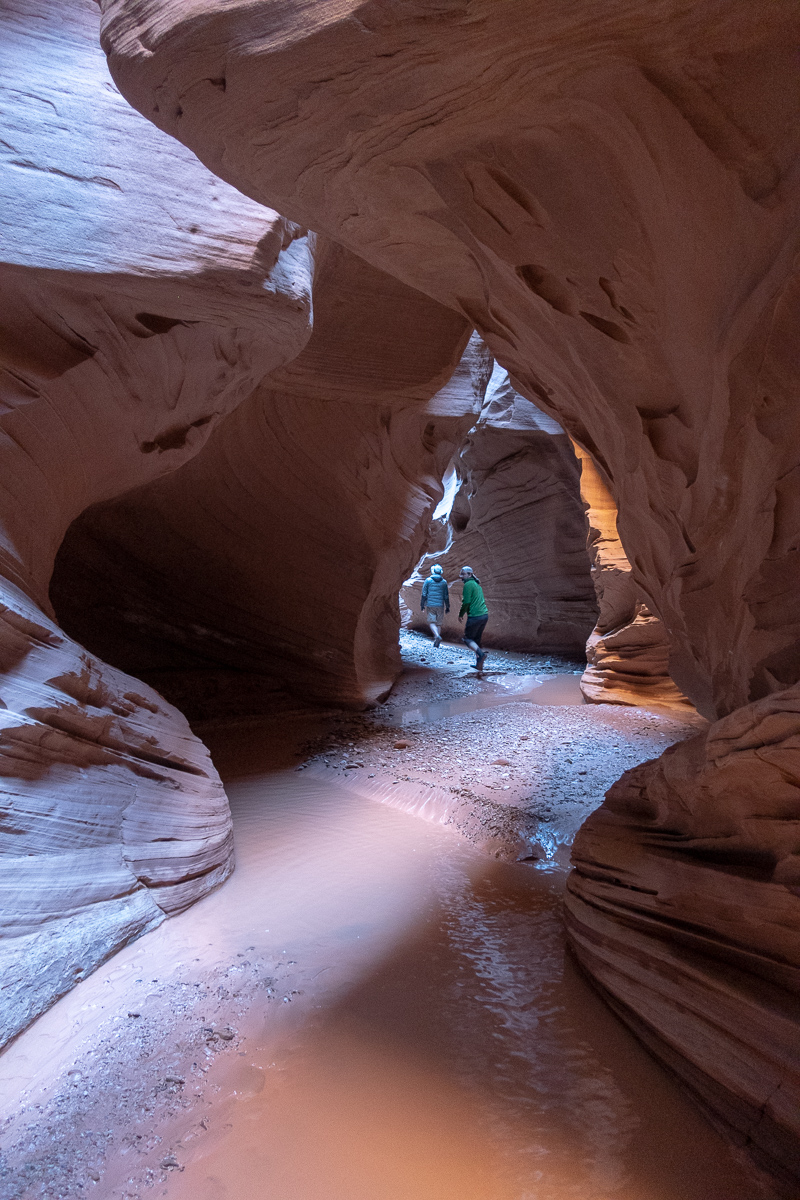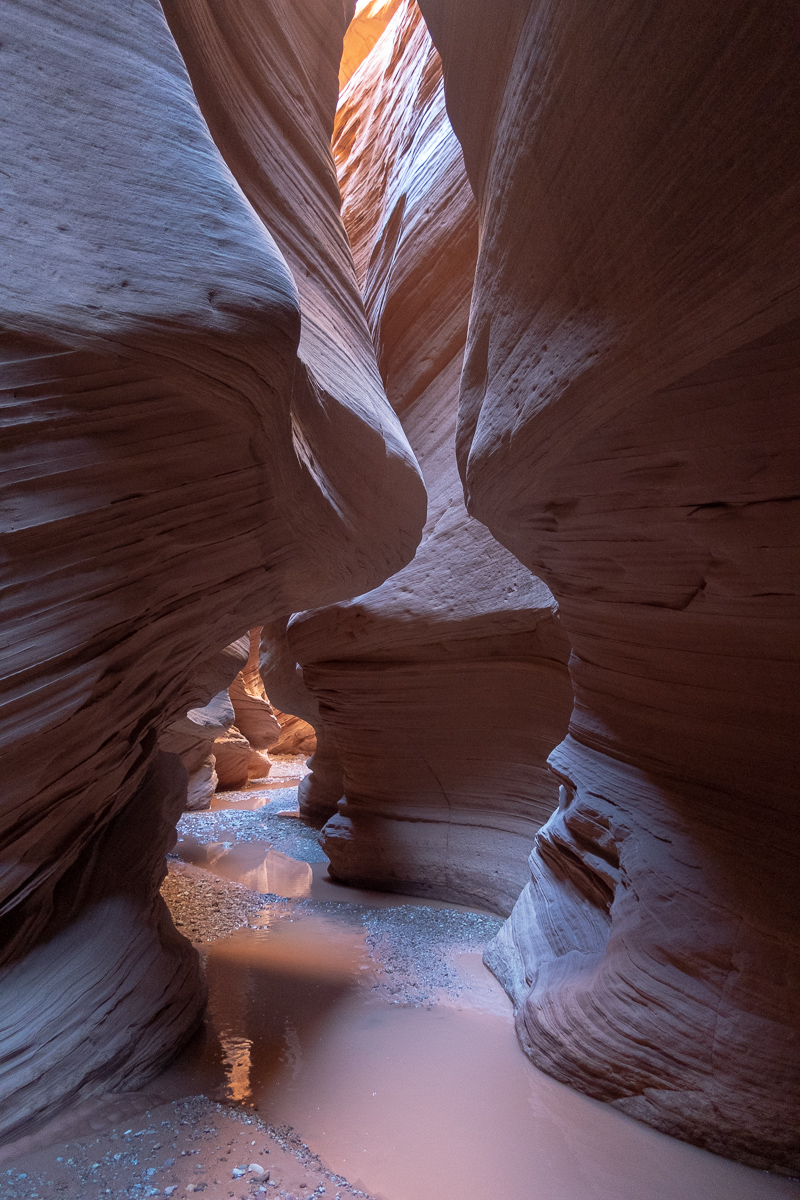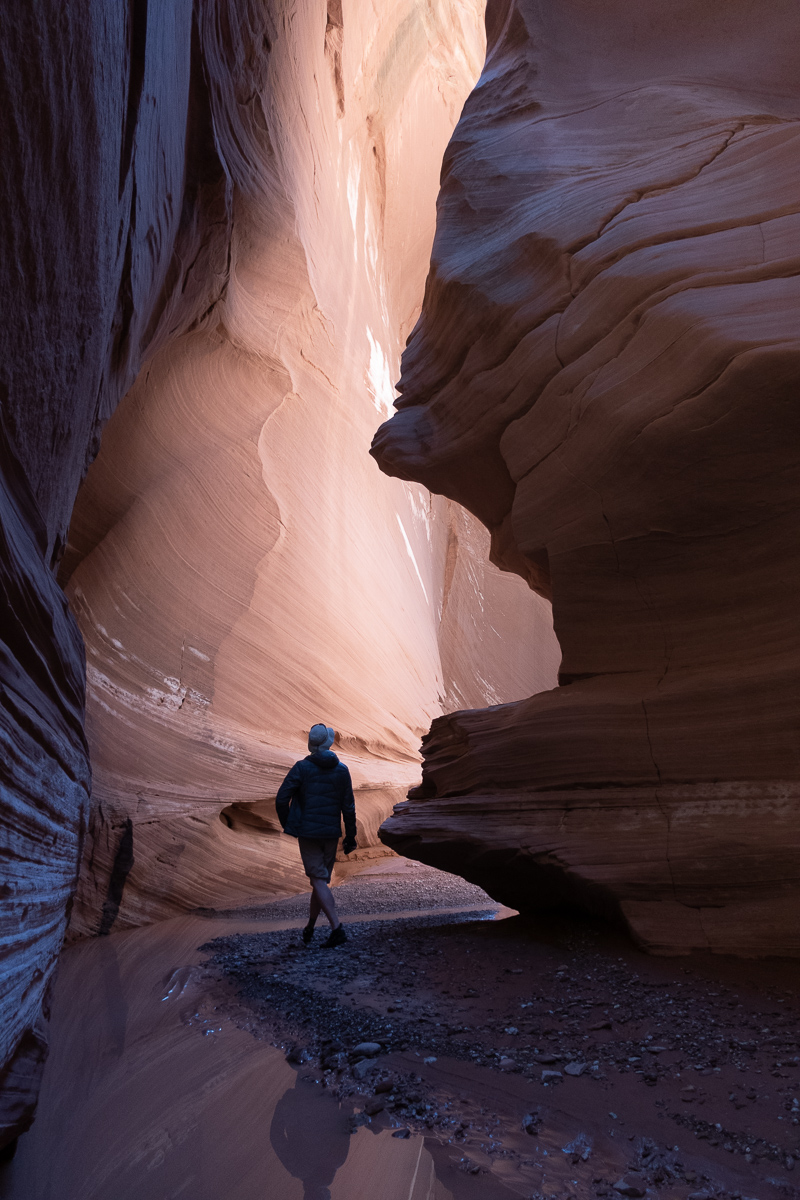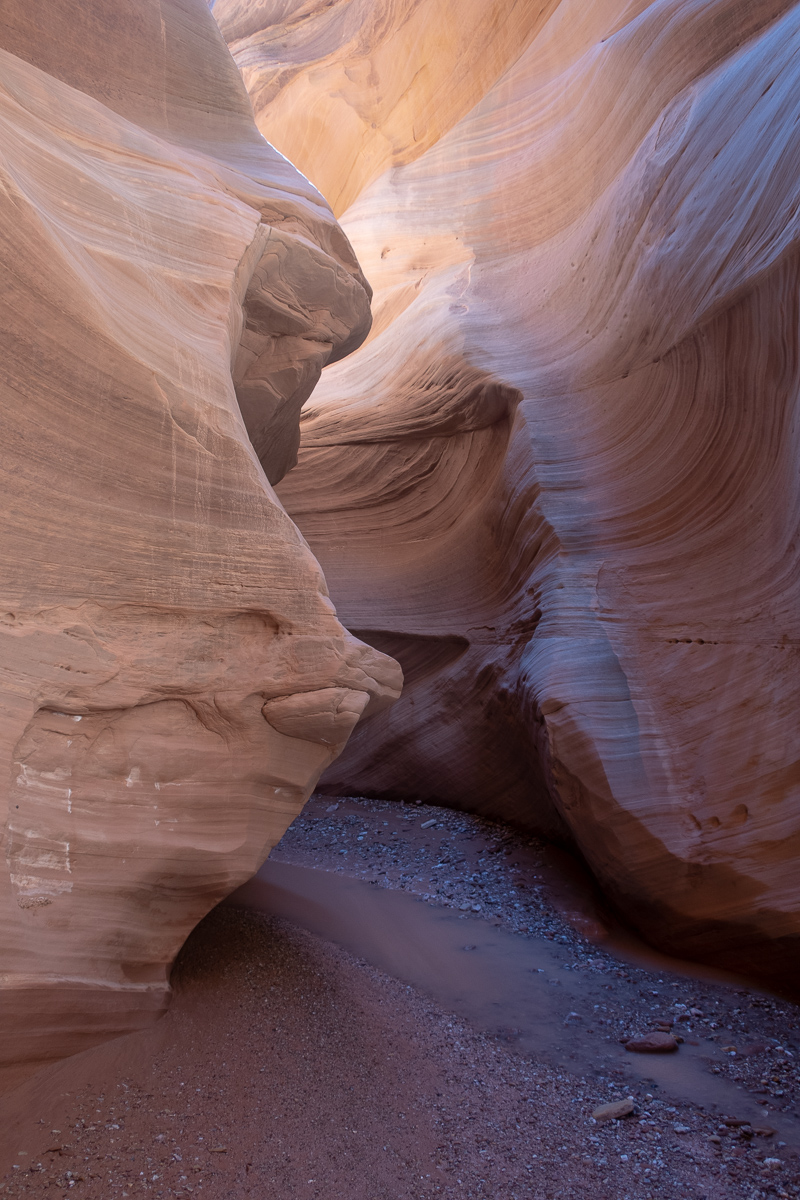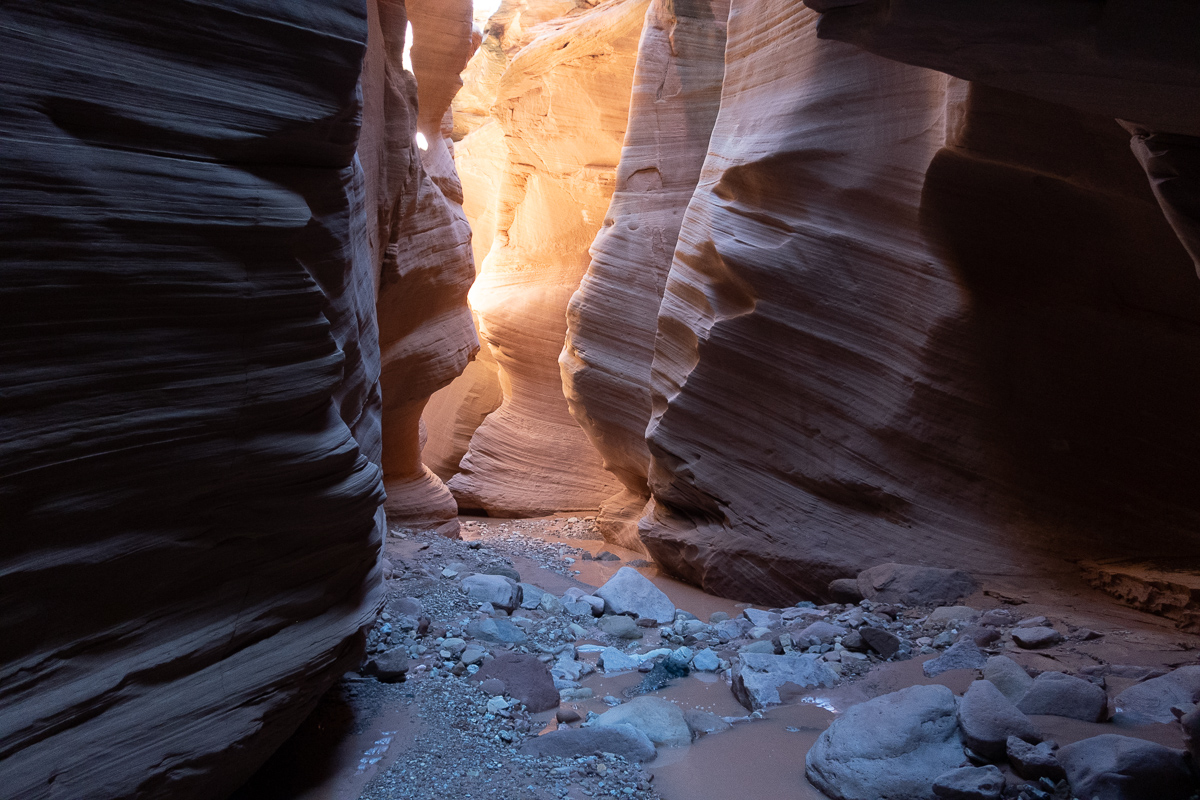 After this excursion it was time to pack up camp and float some more. We immediately hit a series of rock gardens: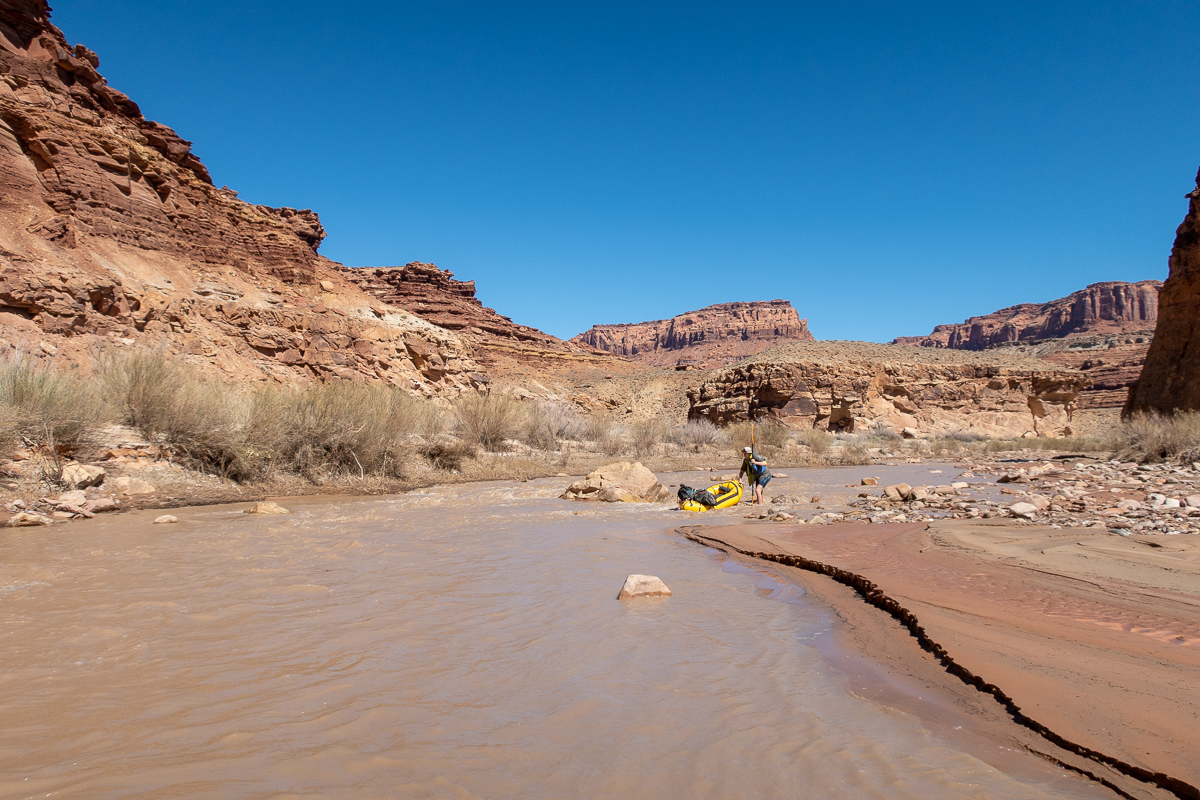 Progress was overall slower than the previous day, but we moved along and the scenery kept being good.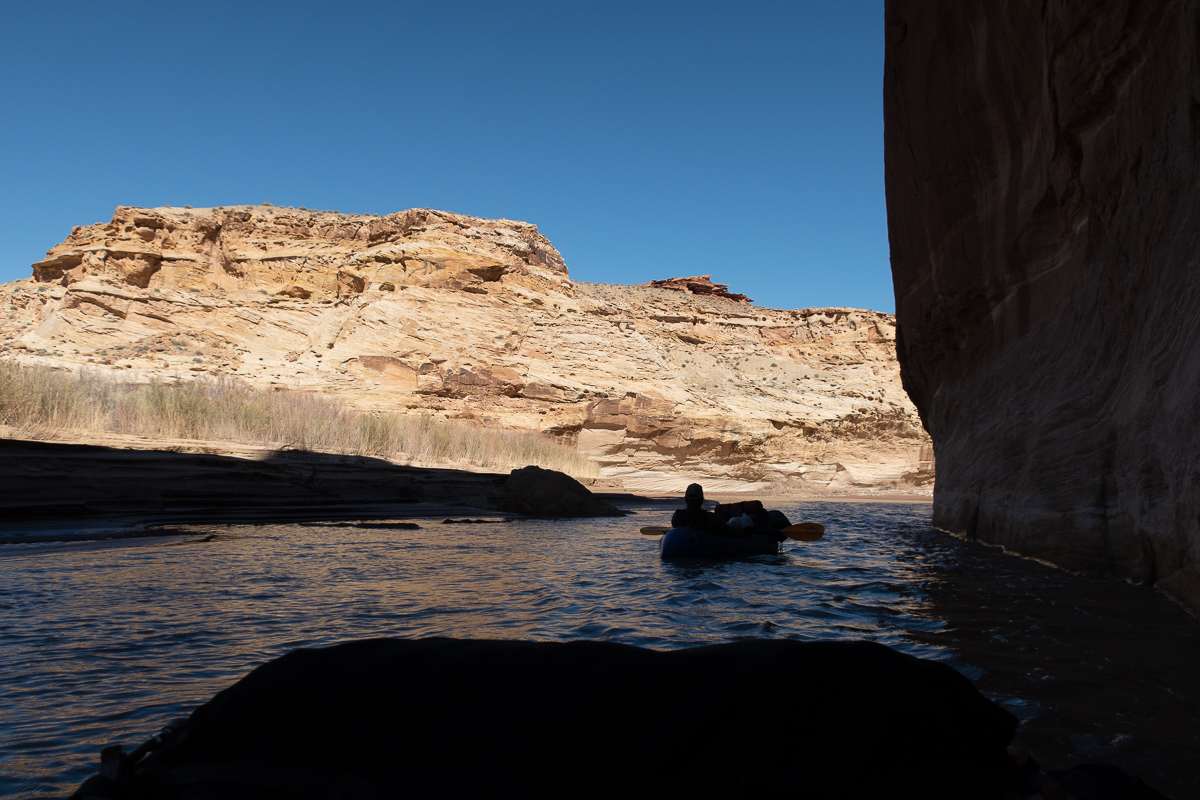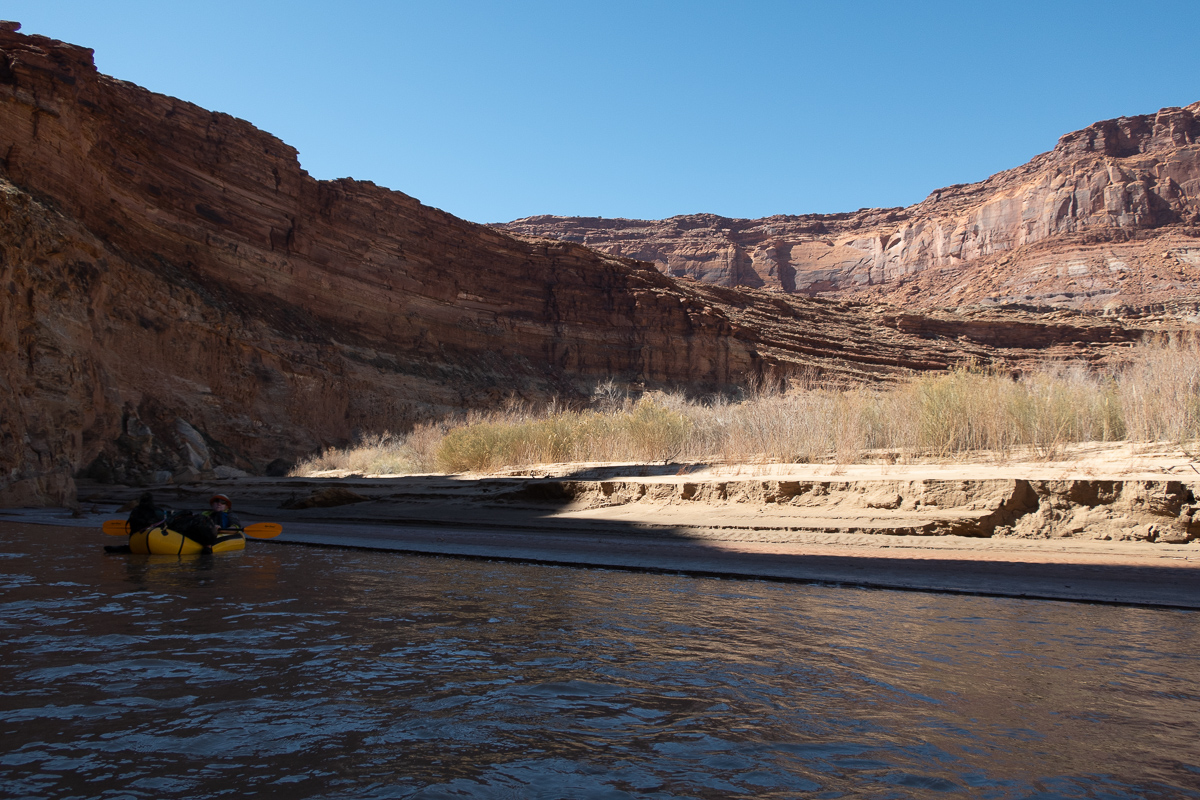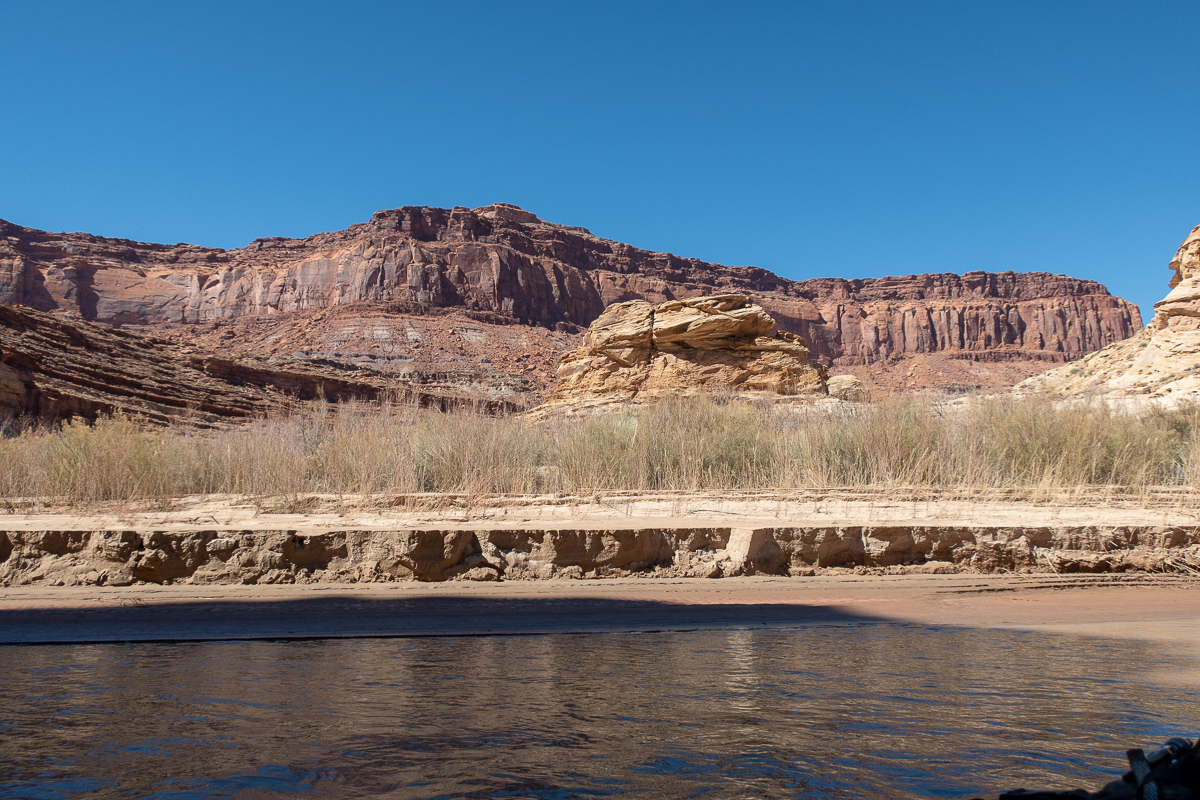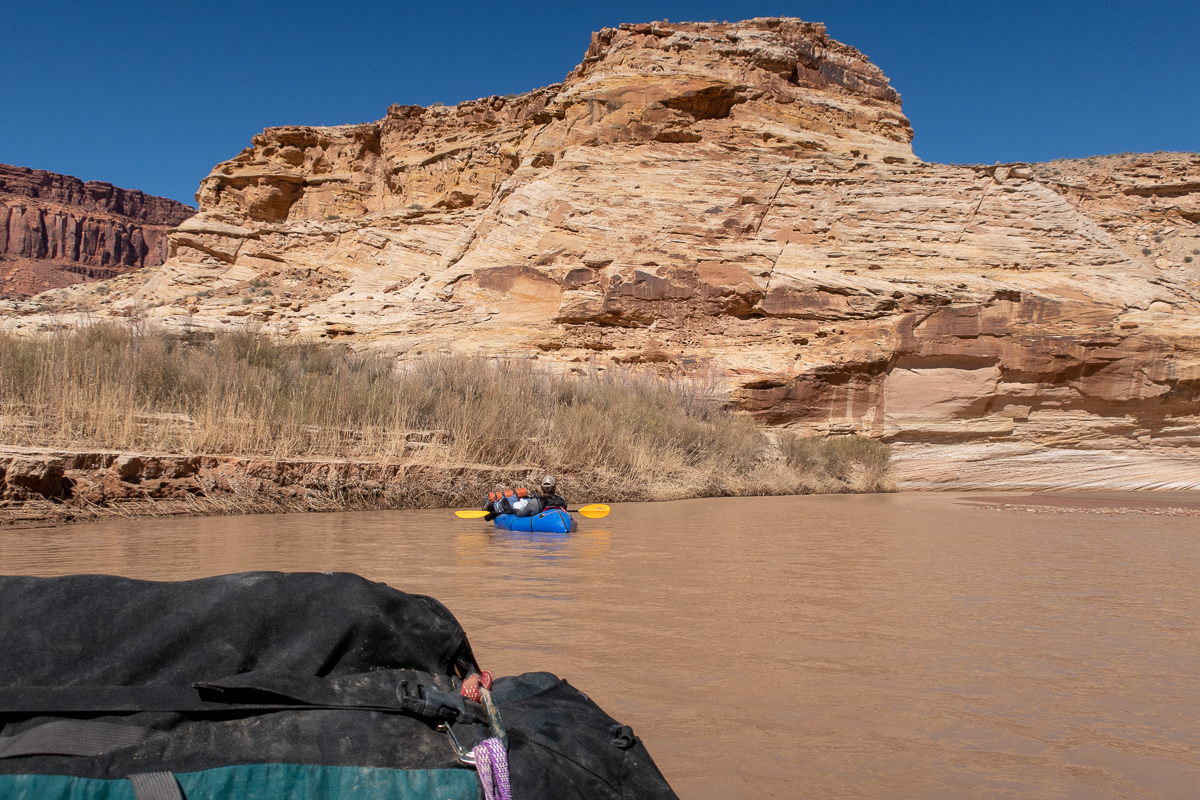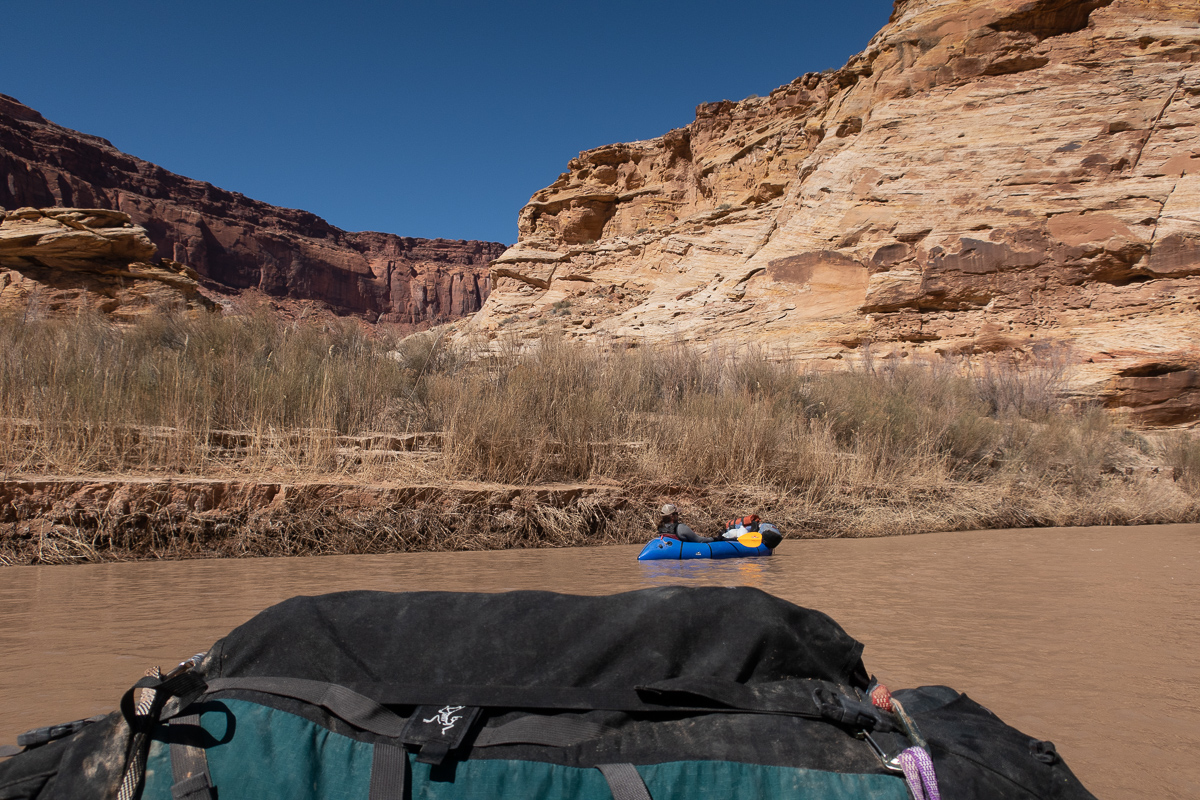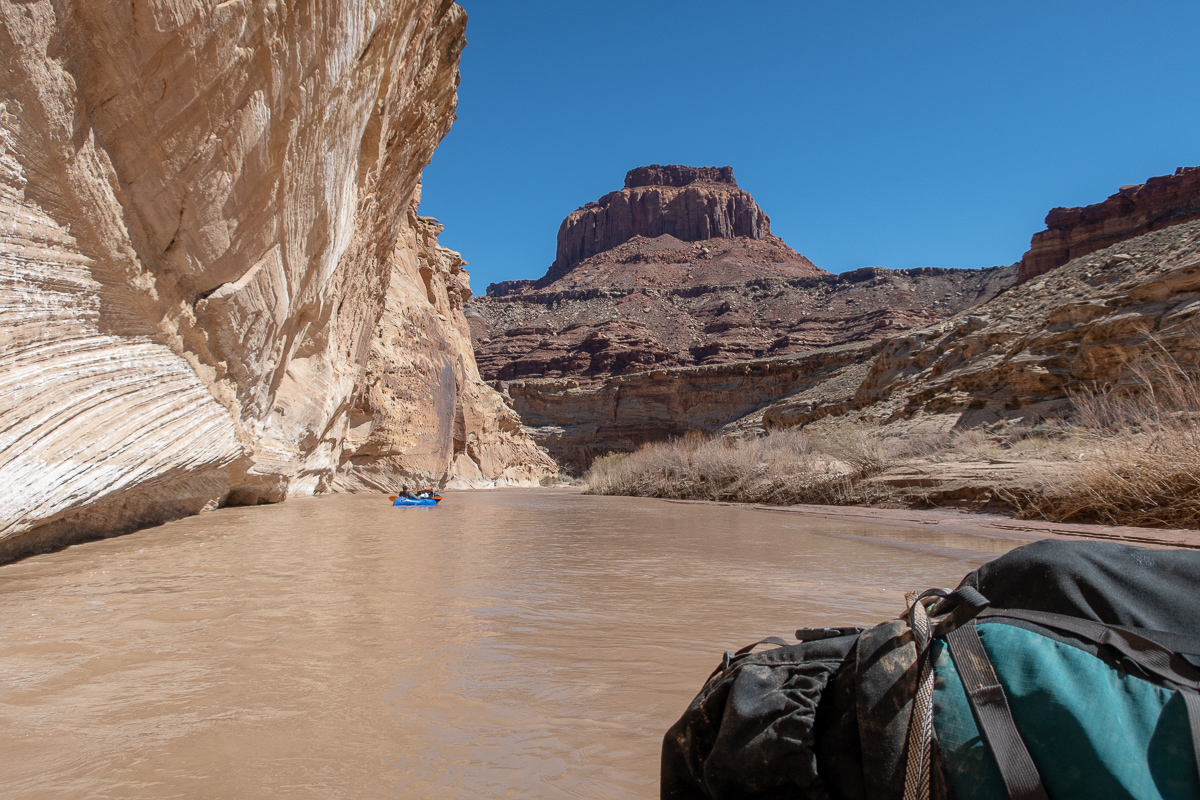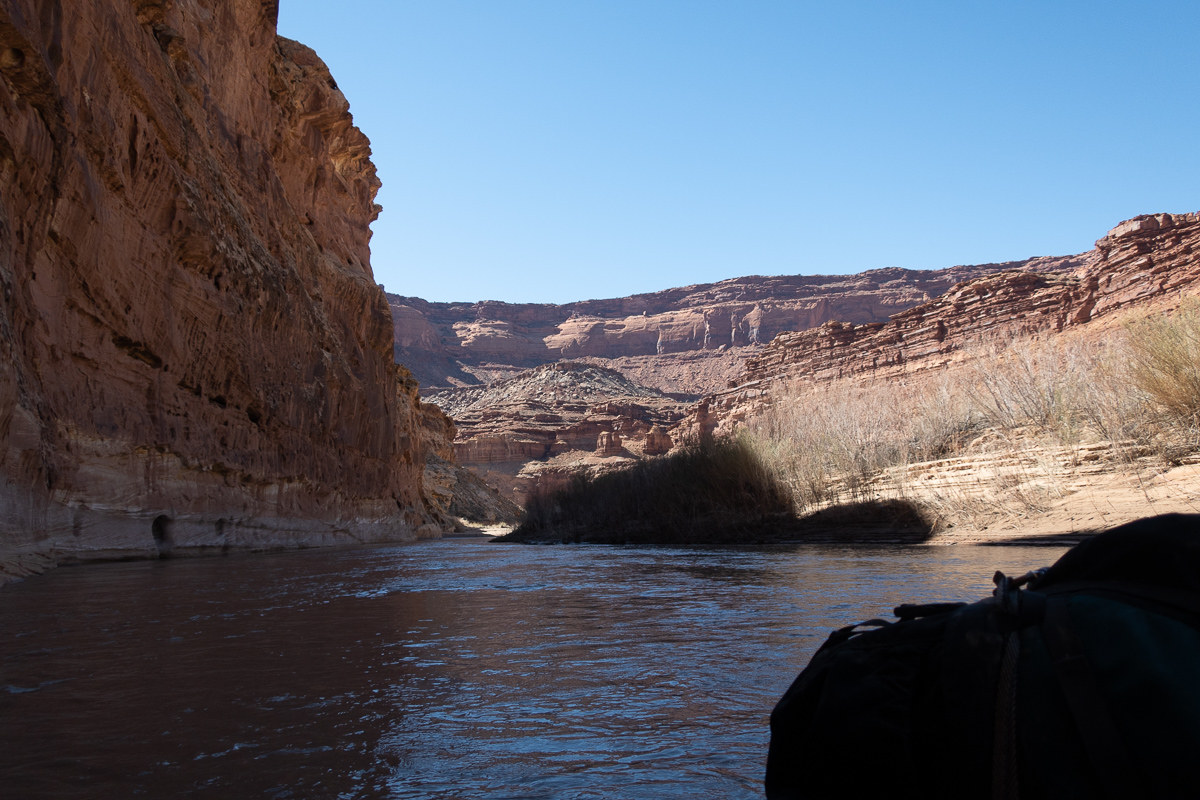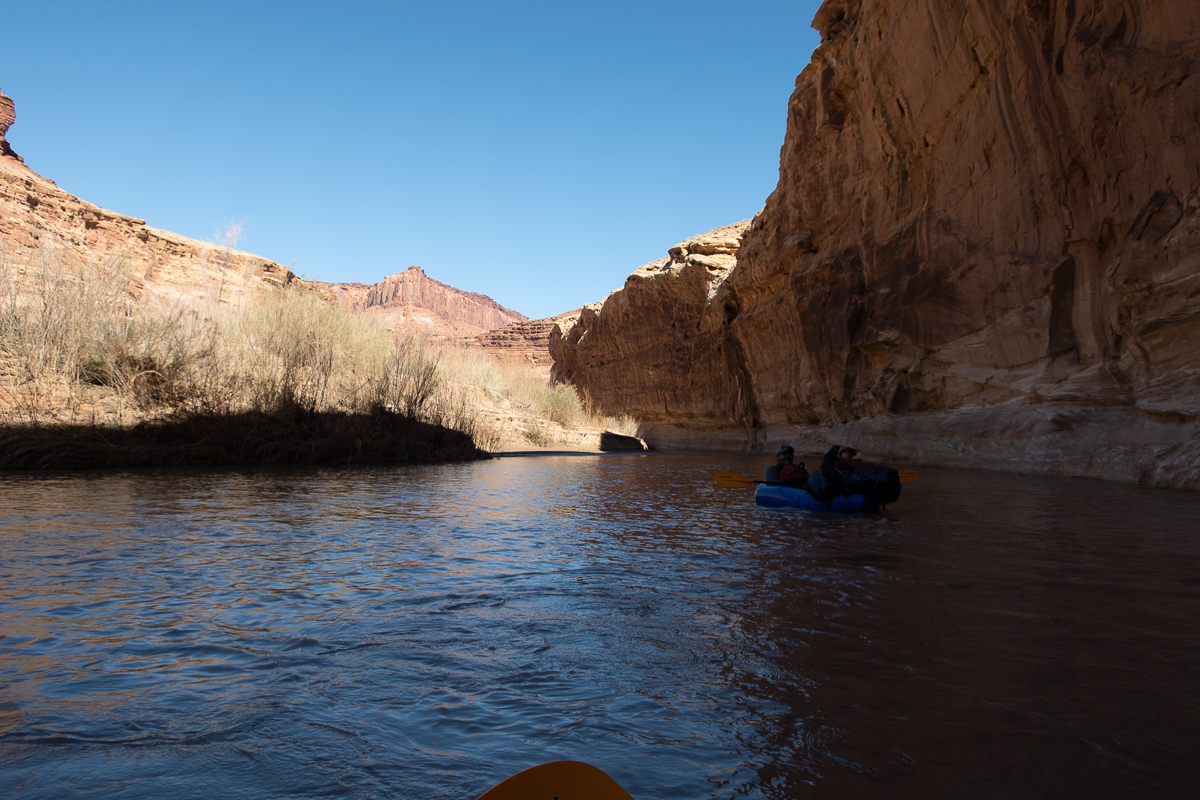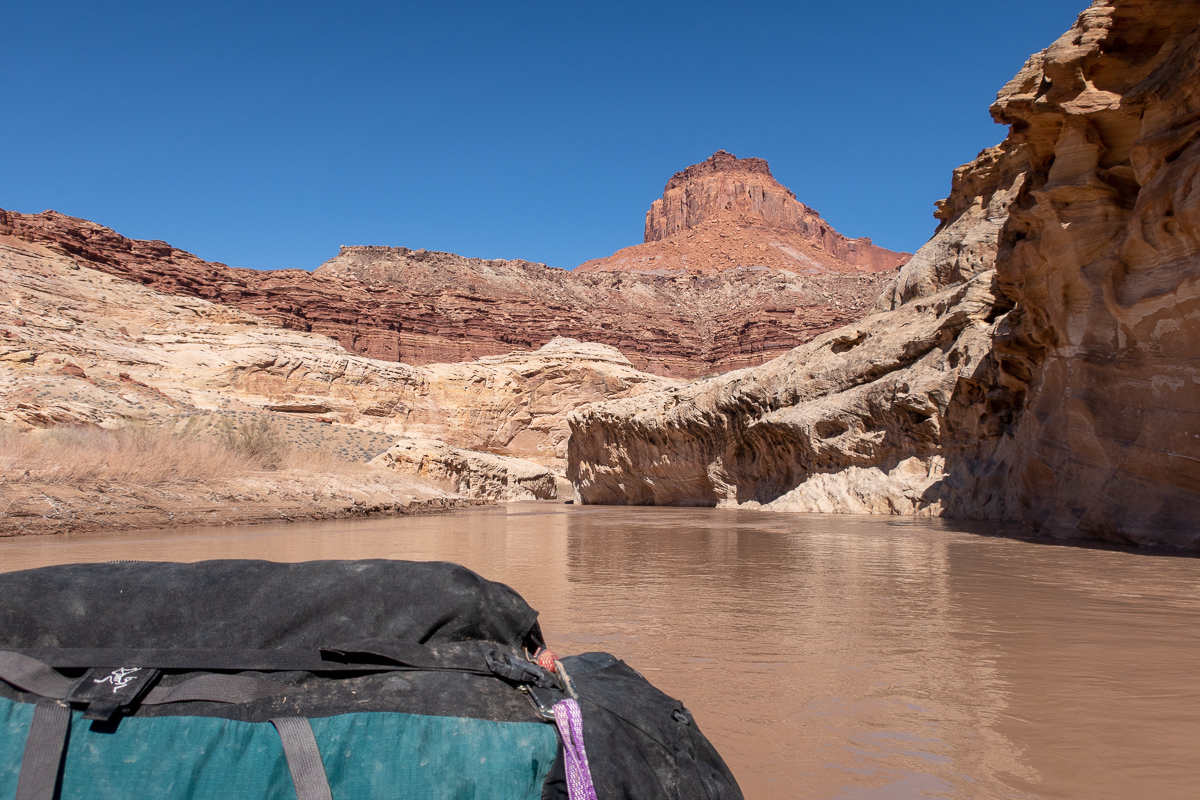 And suddenly we reached the takeout, where we had adult beverages and loaded a lot of extremely sandy gear into Brian's truck: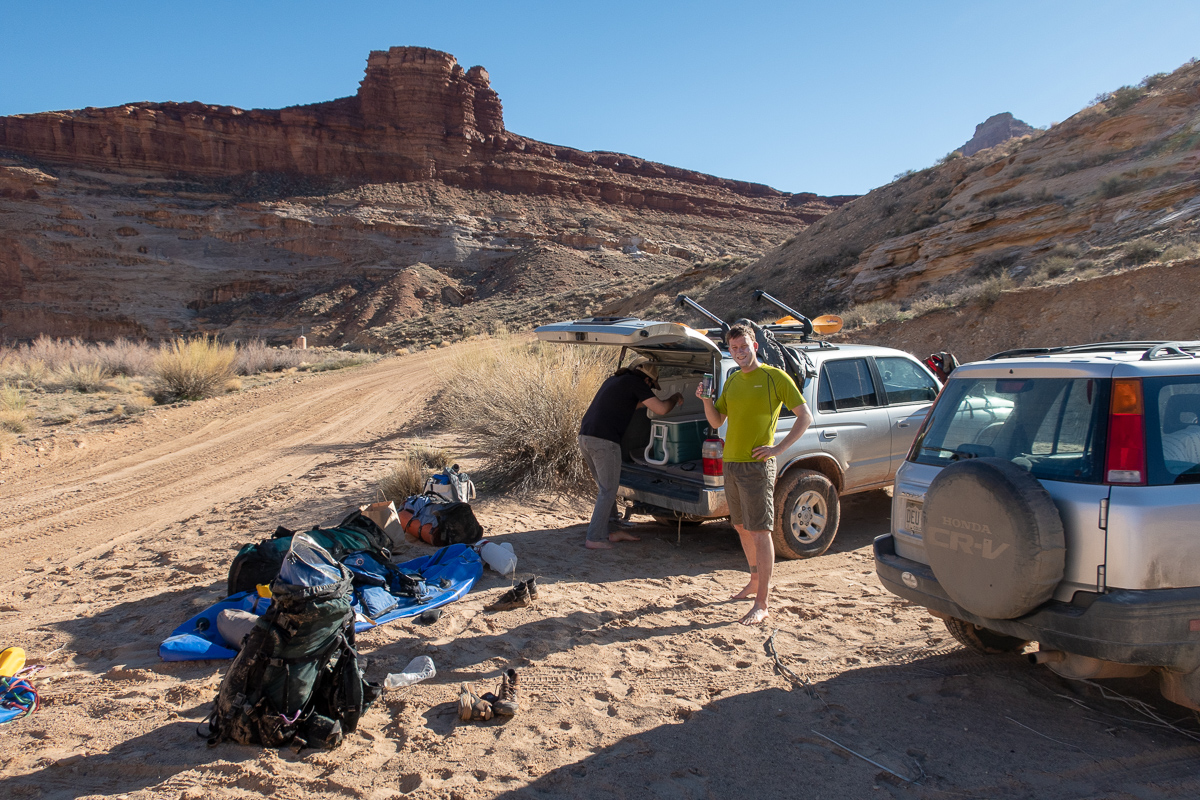 And then back to pick up my truck, which we reached just in time for sunset: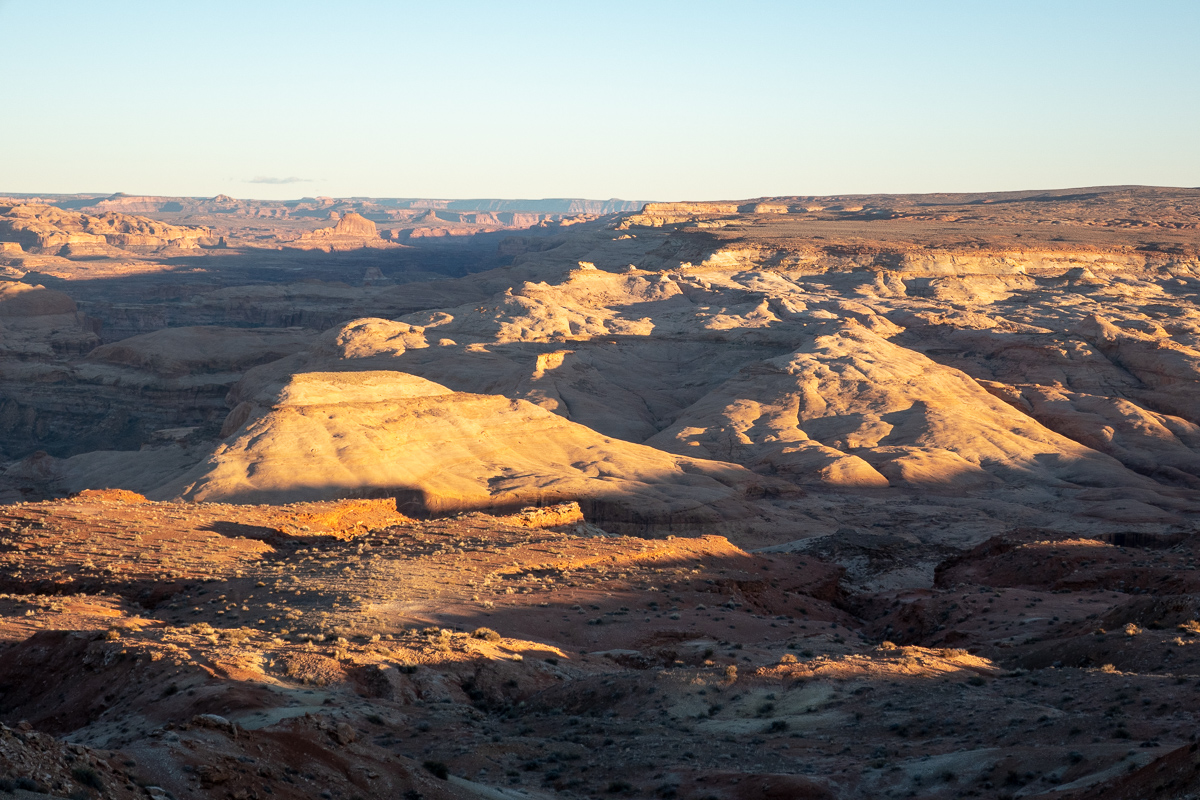 Here in the middle-right you can see the sawtooth ridge that we had floated past a few days earlier: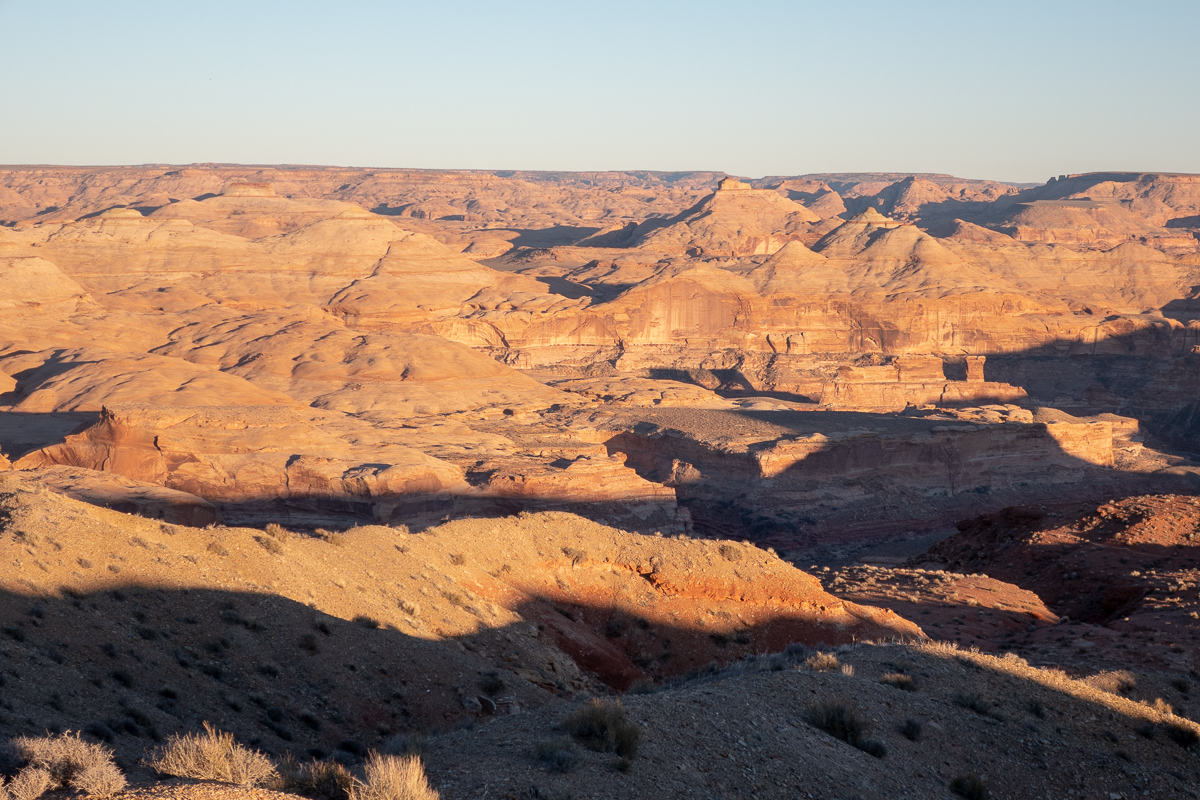 And finally, as tradition dictates, we stopped for burgers at Ray's in Green River. This was a super good trip, but fairly difficult physically and perhaps a bit much to bite off for a group of 40-something first-time packrafters.