Years ago my friend Derek heard that the Jarbidge Wilderness — a remote, mountainous area along the Idaho-Nevada border — is one of the least-visited wilderness areas in the USA, and we've wanted to visit since then. There's little good information about this area online, but a book I had sitting around listed The Gods Pocket Peak Trail, and we hoped to connect up to some other routes in the area to make a loop. The trailhead for this route is above 9000 feet, but then the trail immediately drops a thousand feet, climbs a thousand feet, and sort of keeps on doing this. The views and microclimates are amazing but it's tiring walking.
We left Salt Lake City in the morning, and about four hours later turned off of US 93 in Rogerson, NV. Our trailhead was near the (abandoned) Pole Creek Ranger Station: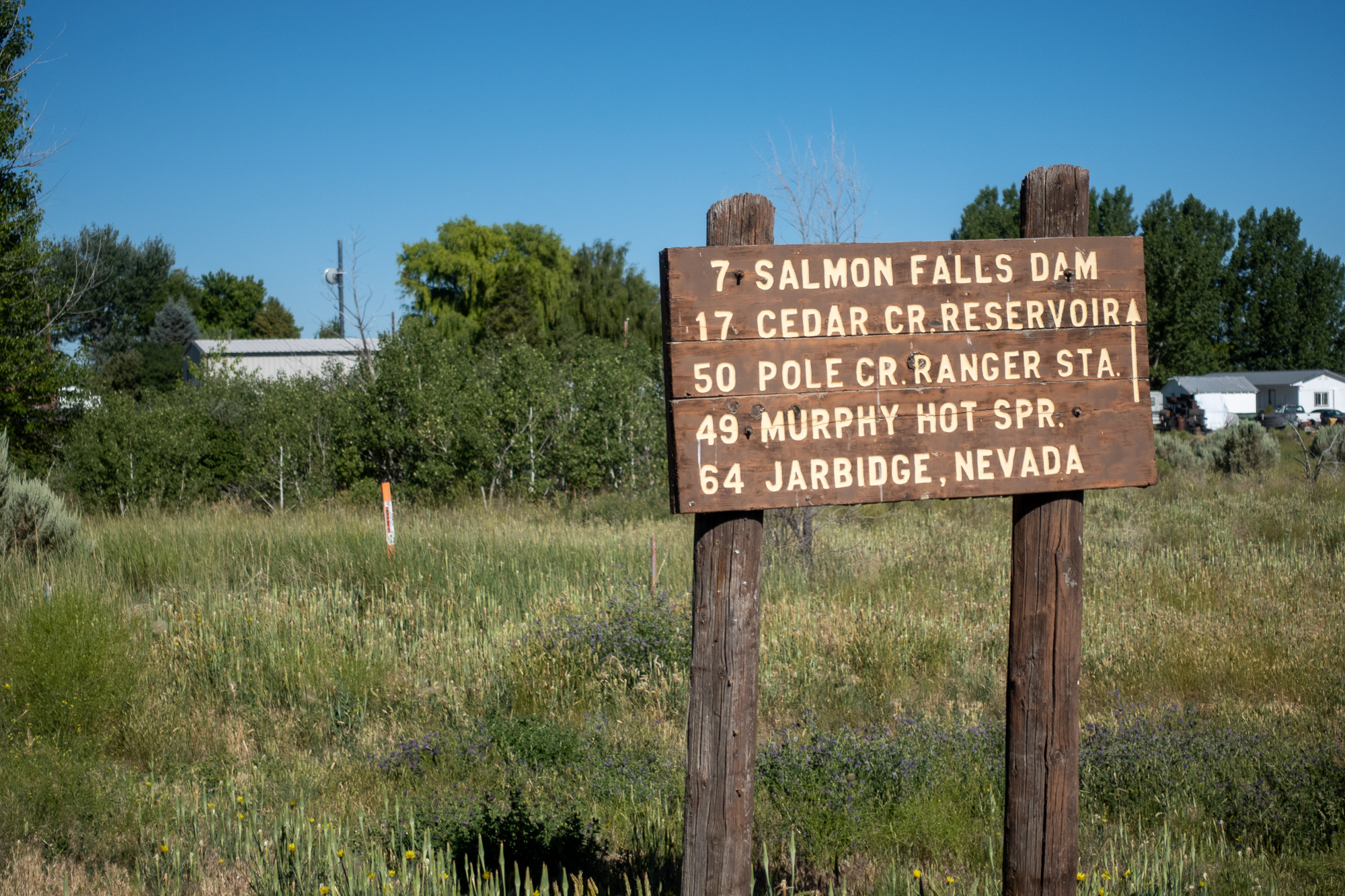 We started walking by mid-afternoon with good weather and good views: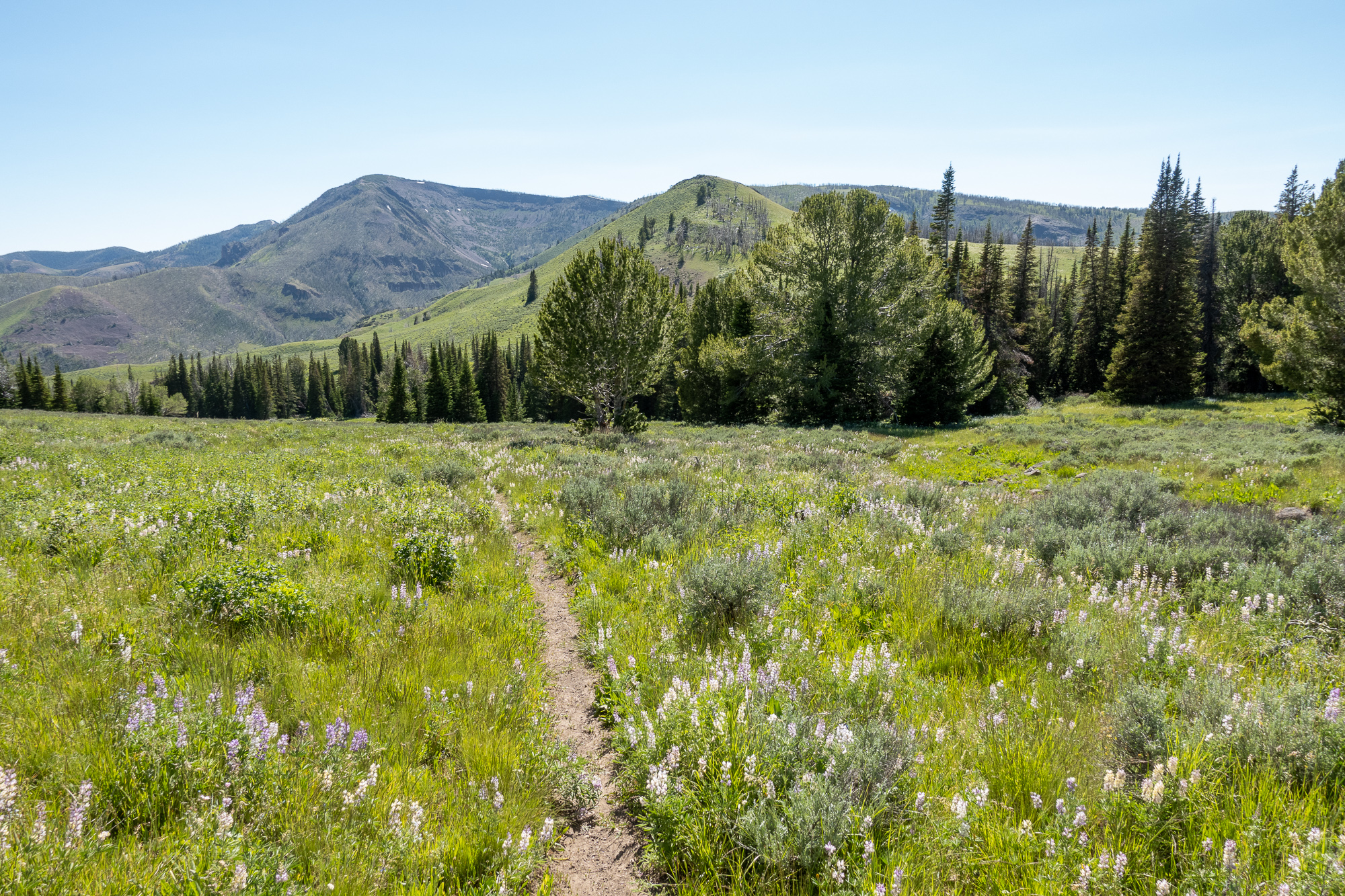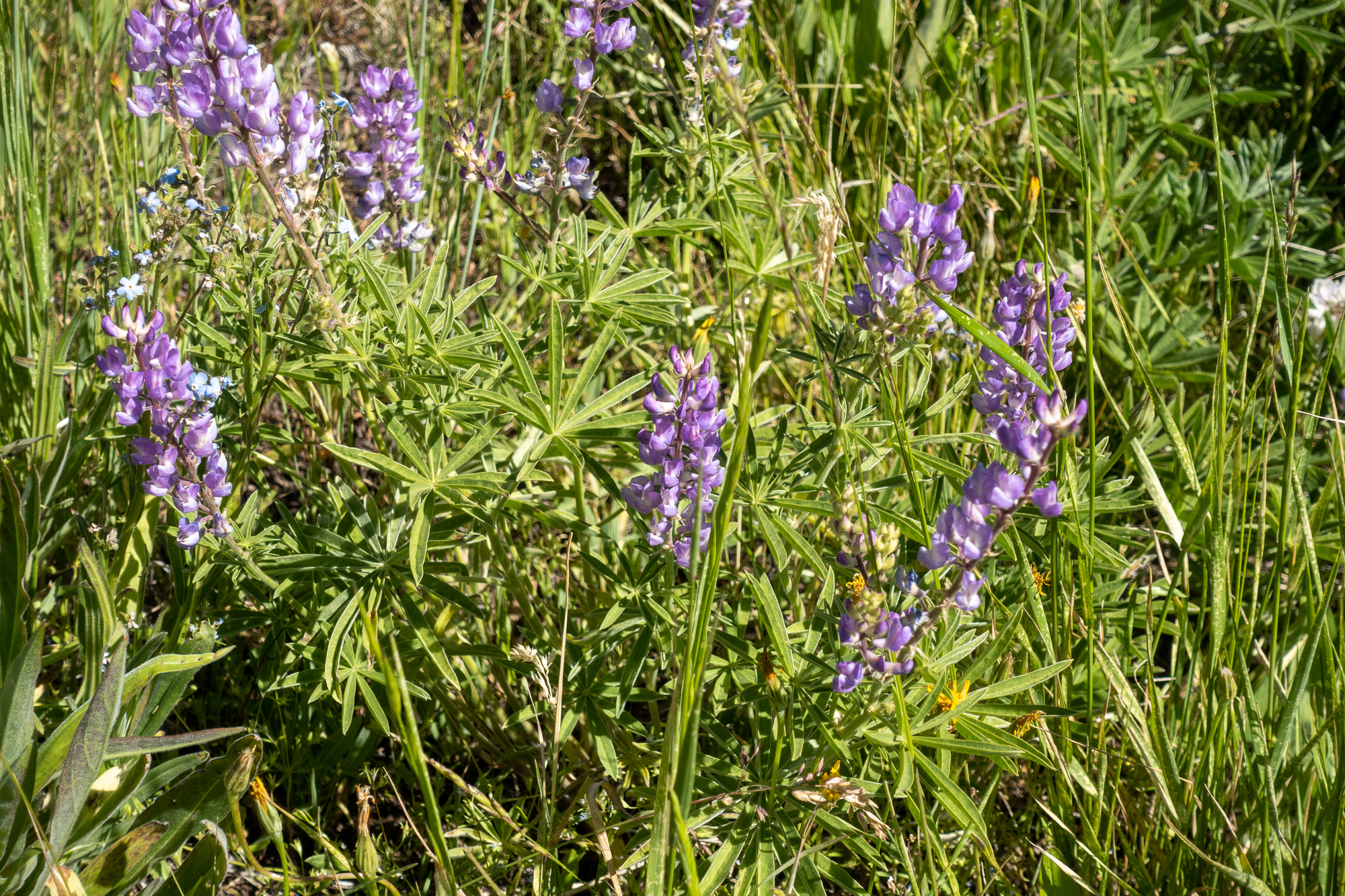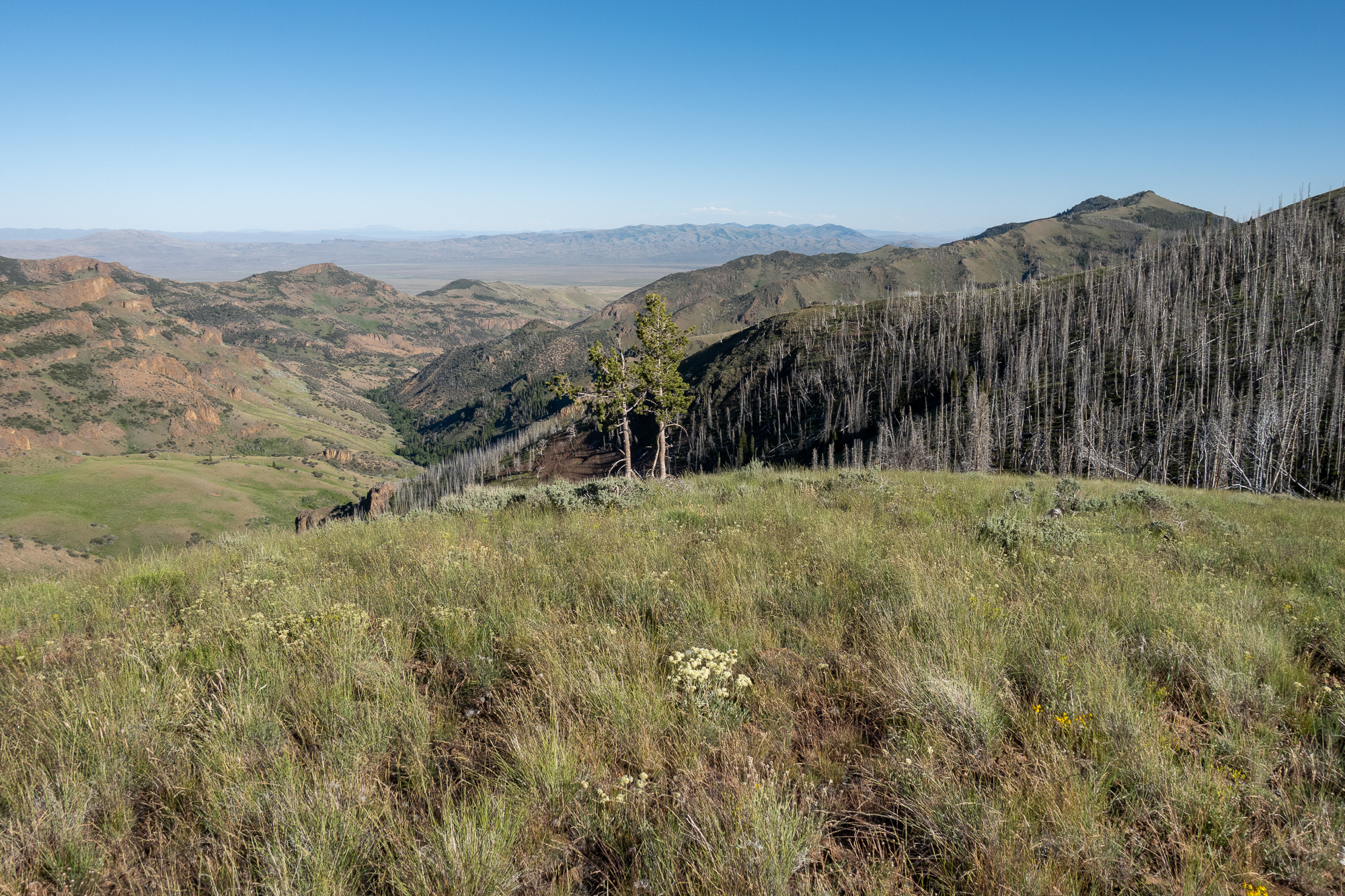 We camped about five miles down the trail on a ridge that had a few trees for shelter and some moderately flat spots to camp. Here's Derek's tent as we're getting ready to sleep: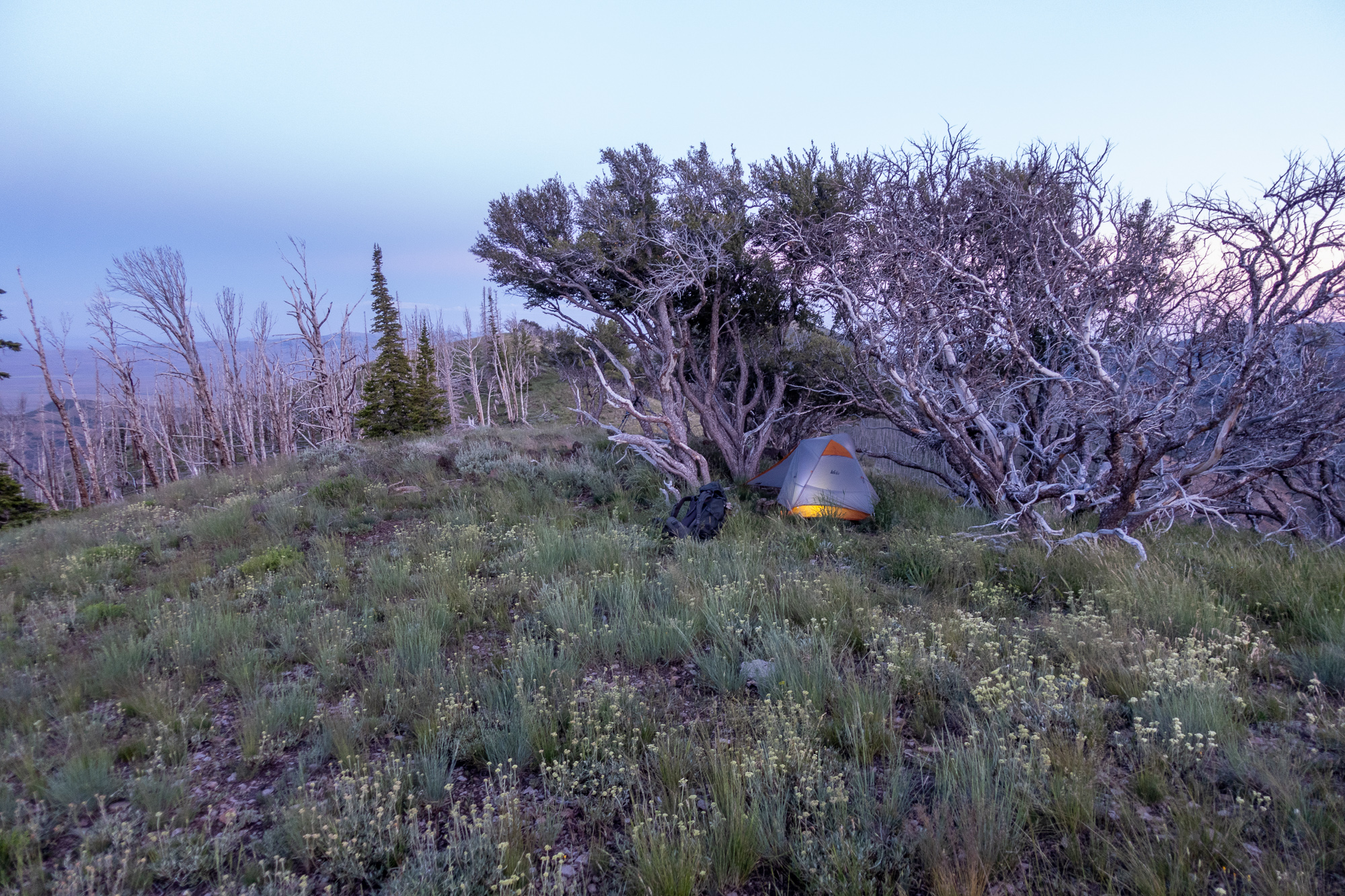 Gods Pocket Peak in the morning light: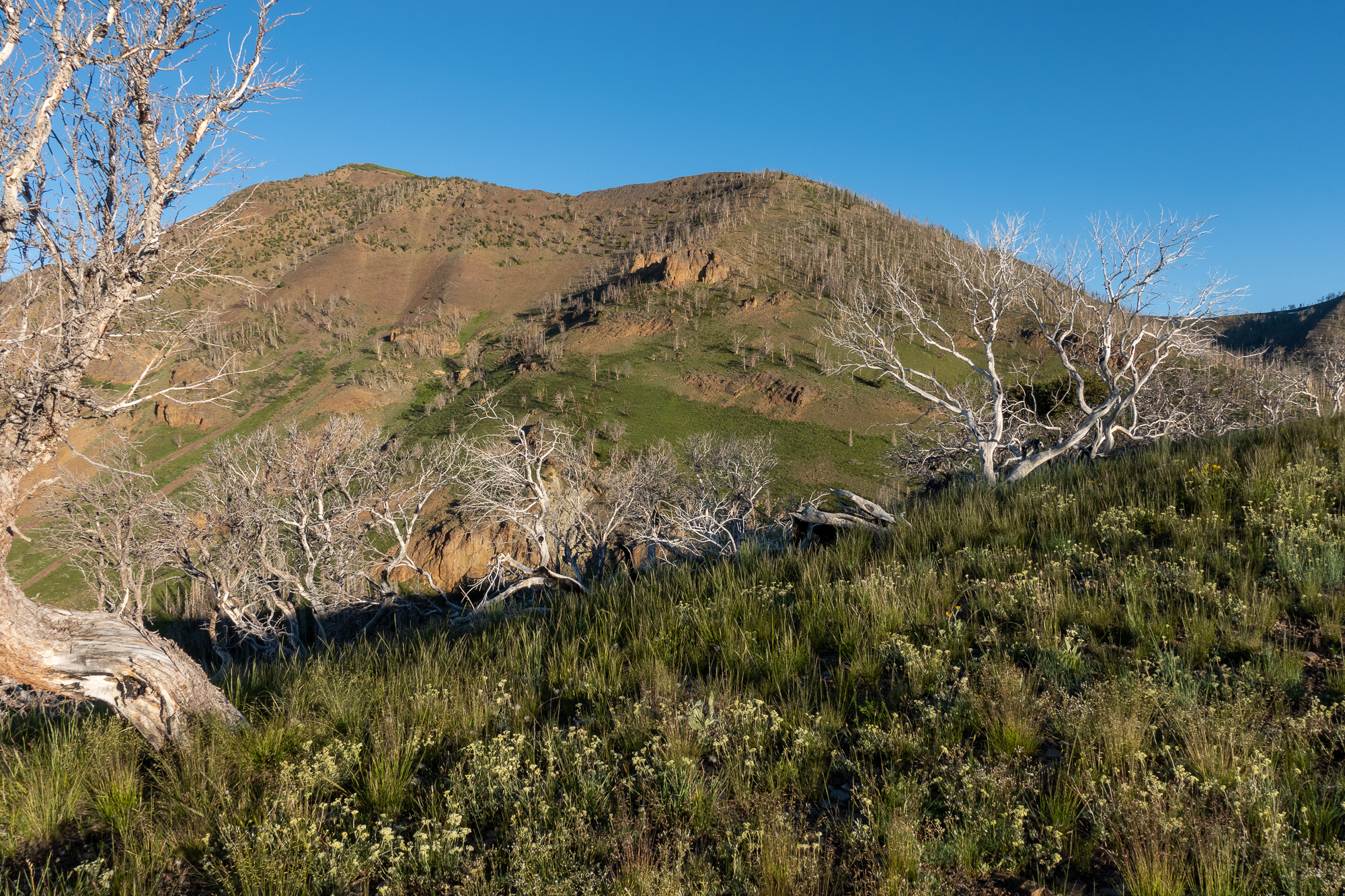 After coffee we started a long traverse of the eastern slopes of Gods Pocket Peak and Divide Peak, and then crossed the upper parts of several forks of Camp Creek. Views were outstanding but we kept losing and finding the trail, and progress was overall not super fast.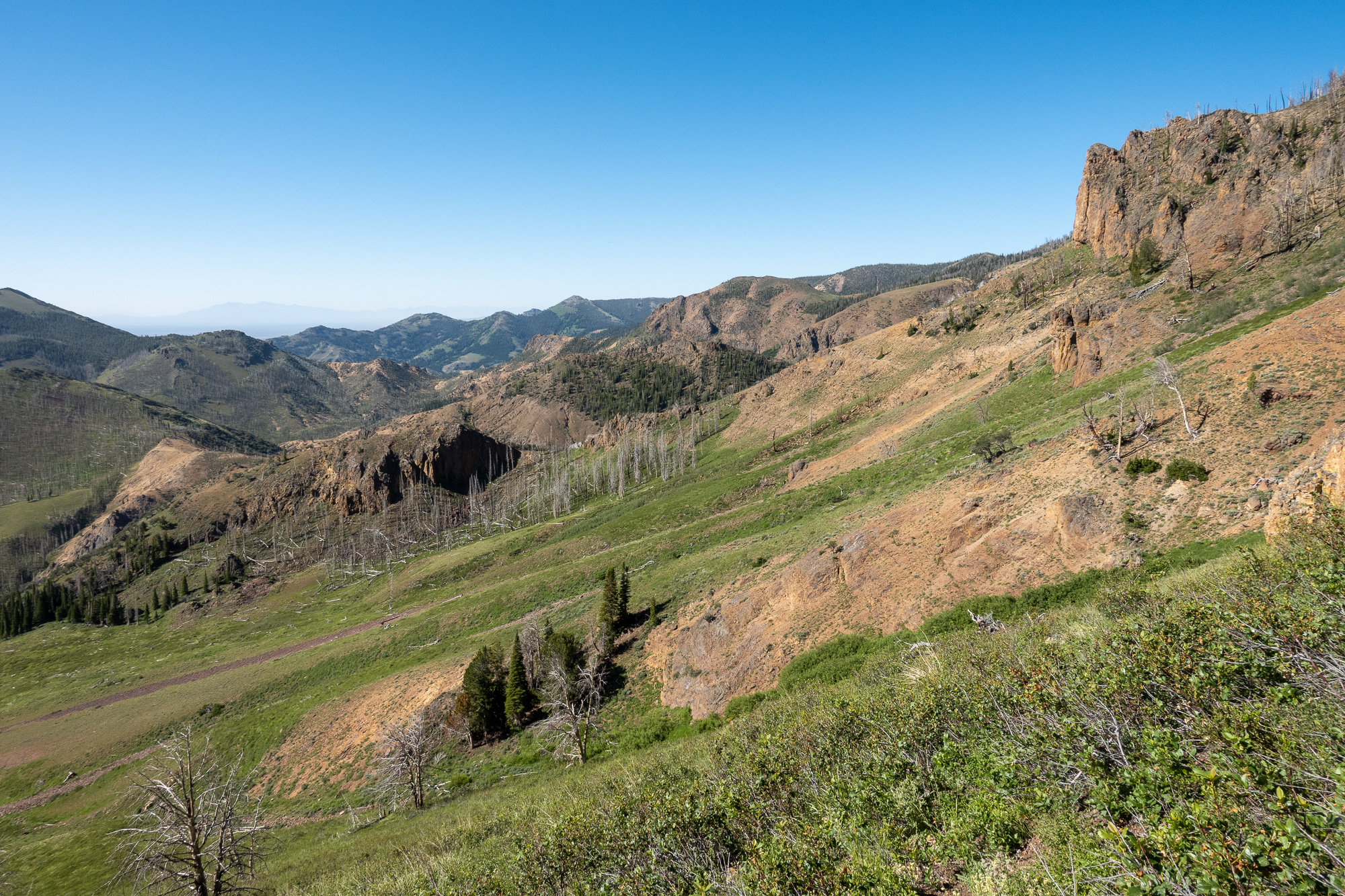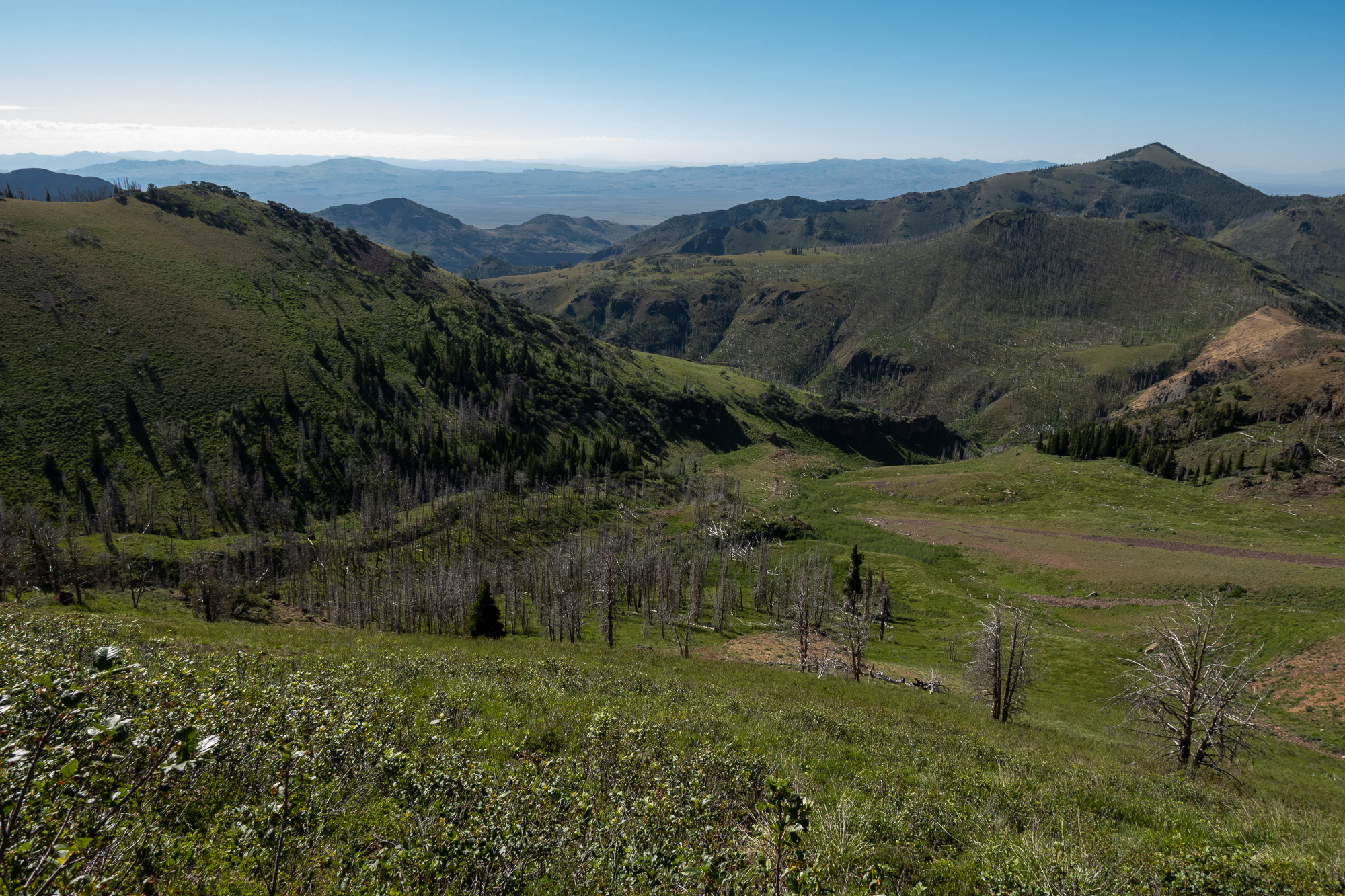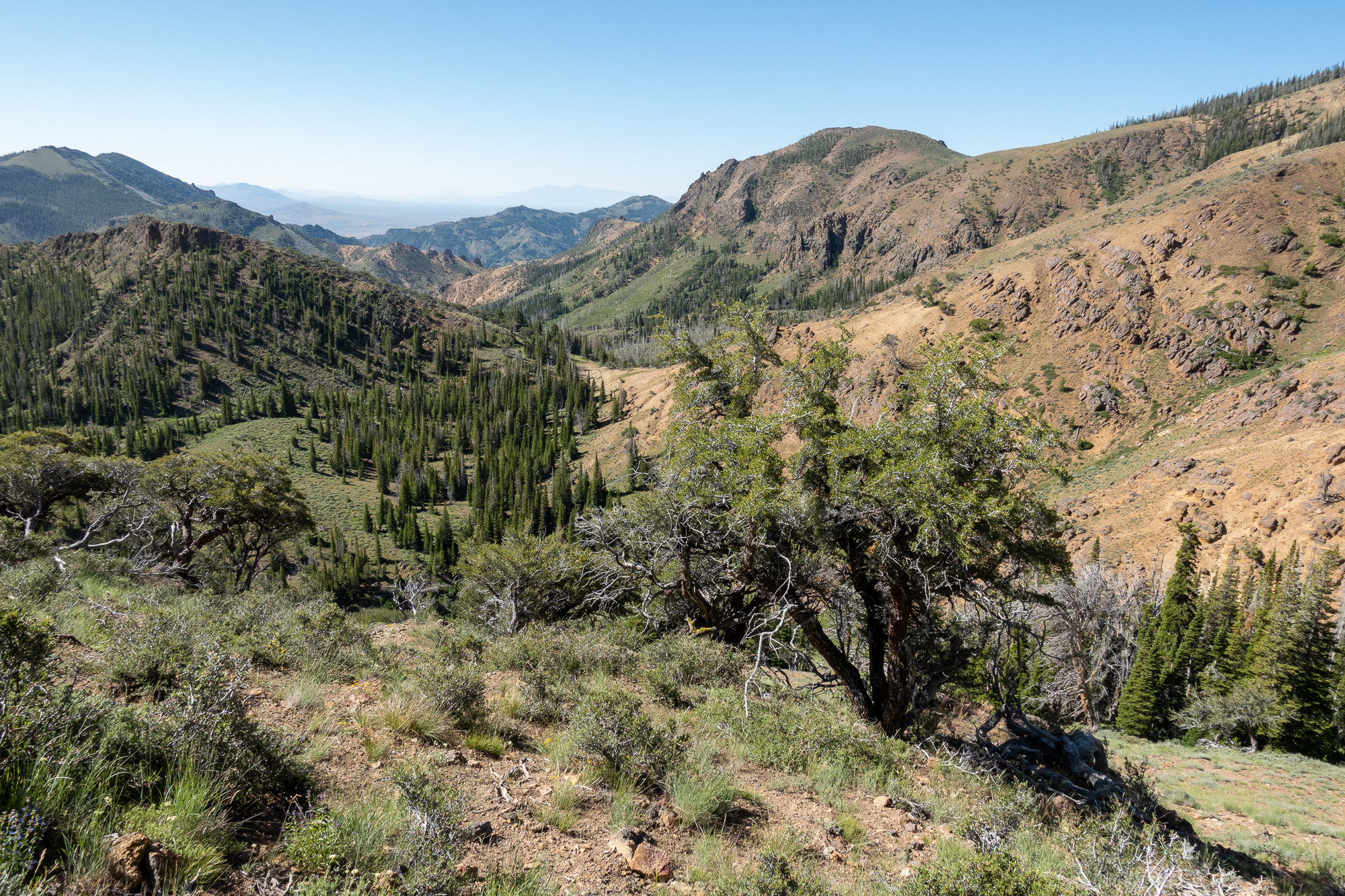 We ended up beneath the imposing Marys River Peak:
at a 9300′ pass overlooking the East Fork of the Jarbidge River, roughly 12 miles from the trailhead.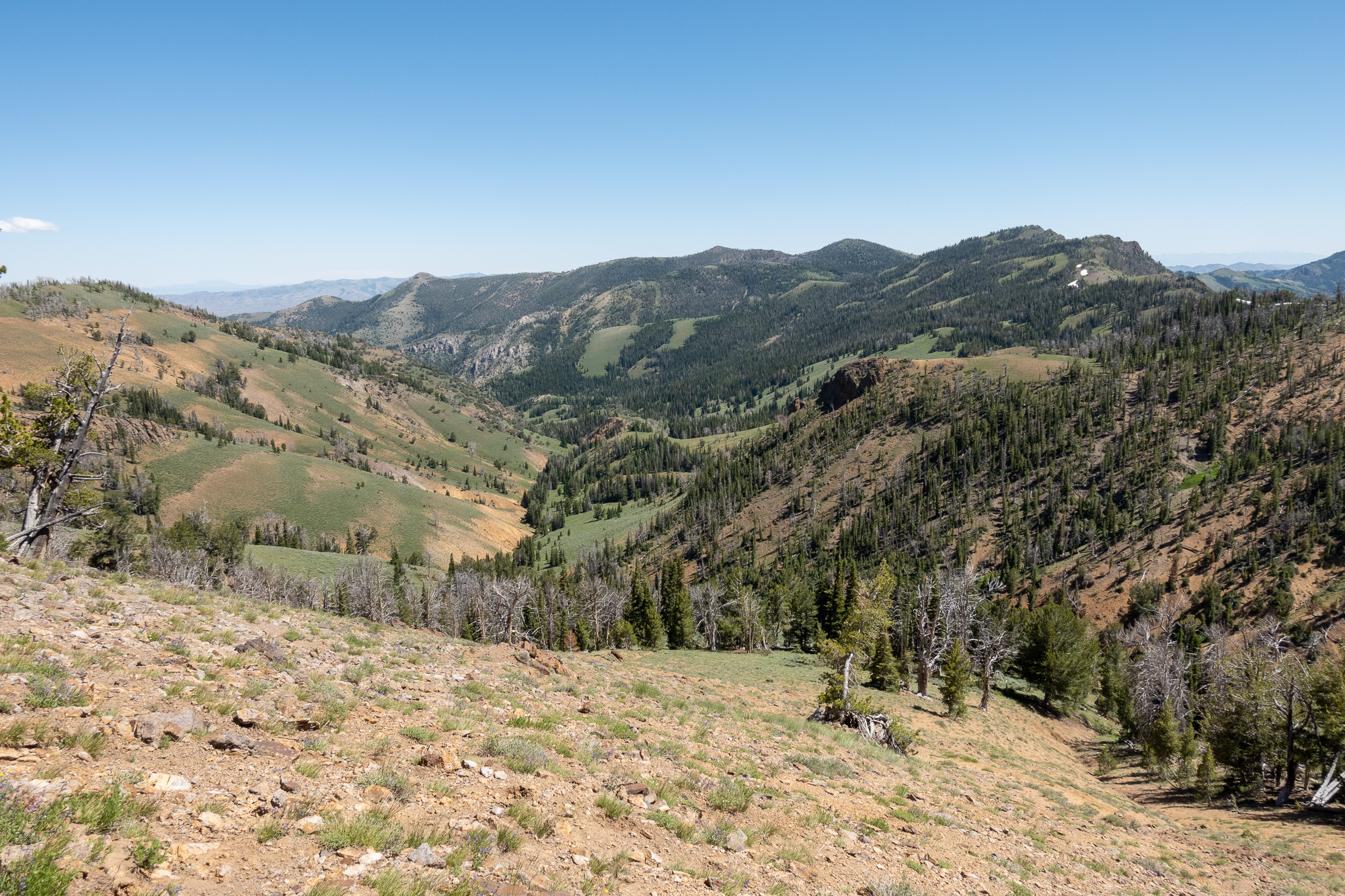 From here we wanted to follow a trail I'd seen in some old online imagery, but the descent on the south side of the pass was very steep and loose, and we could see no signs at all of a trail that went in the direction we wanted to go. Since it was getting late and we didn't feel like bushwhacking, we turned around and went back to an excellent campsite we had passed earlier in the afternoon. At this point we knew the rest of the trip was straightforward, so we put our whisky flasks into a convenient snowbank and relaxed.
Next day, we returned to the trailhead, another tiring day of uphill and downhill hiking. And, of course, when walking a faded trail in reverse, you lose the trail exactly the same number of times, but in totally different locations, so we had a decent amount of hunting around for where the trail picked up again.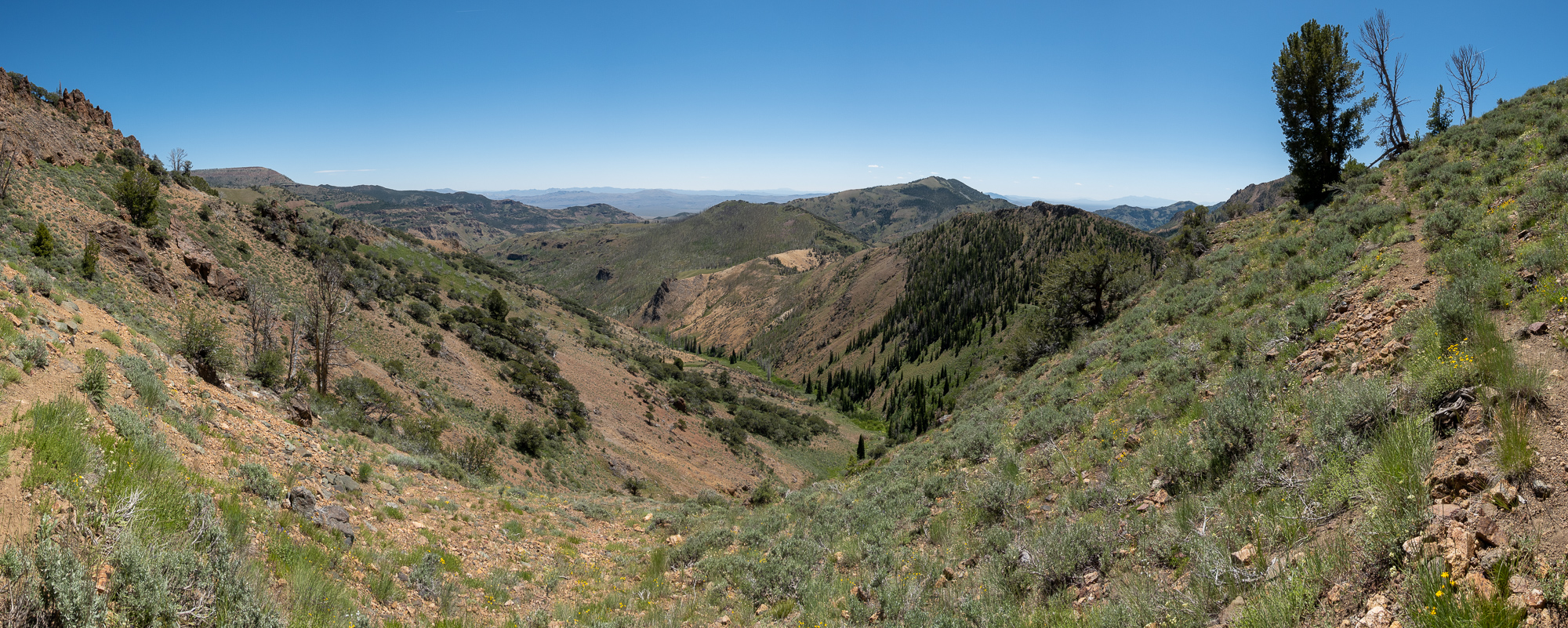 The final uphill slog to the trailhead hurt.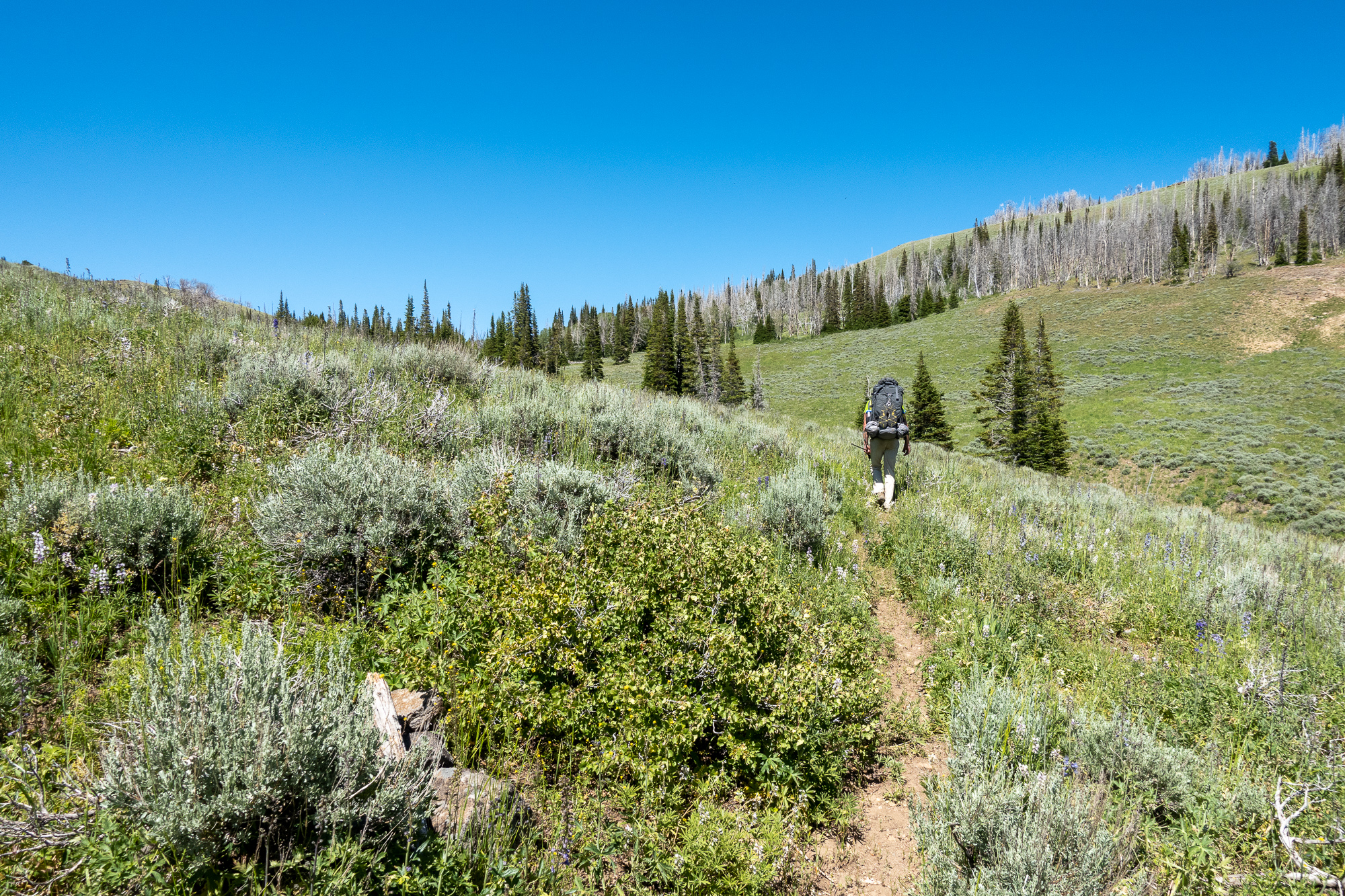 Obligatory selfie on reaching the truck: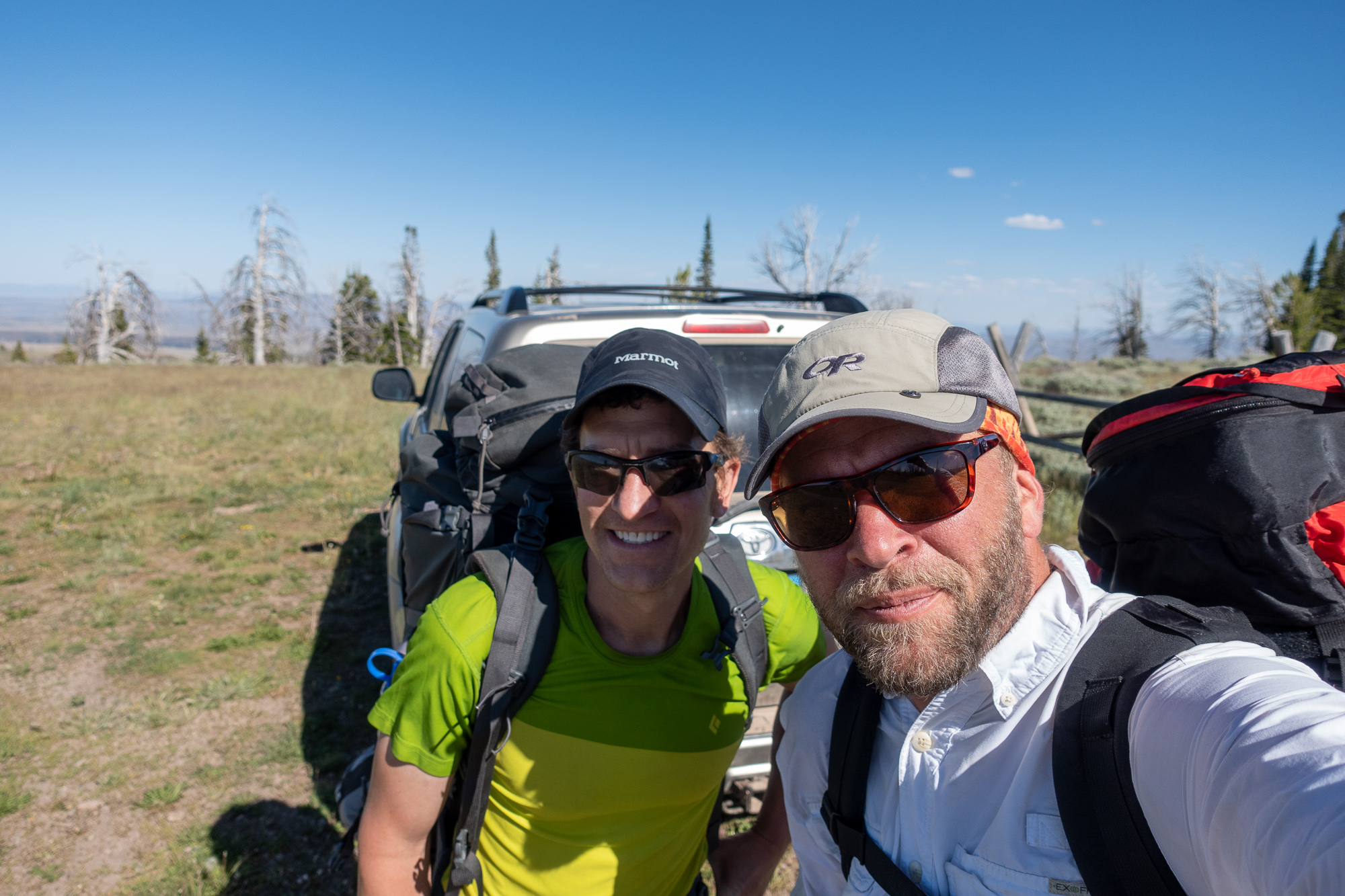 We could have just headed out right then, but we had beer, a great car camp site, and we didn't feel like a long drive in the dark so we spent the night.
Setting up to eat dinner and watch the sunset: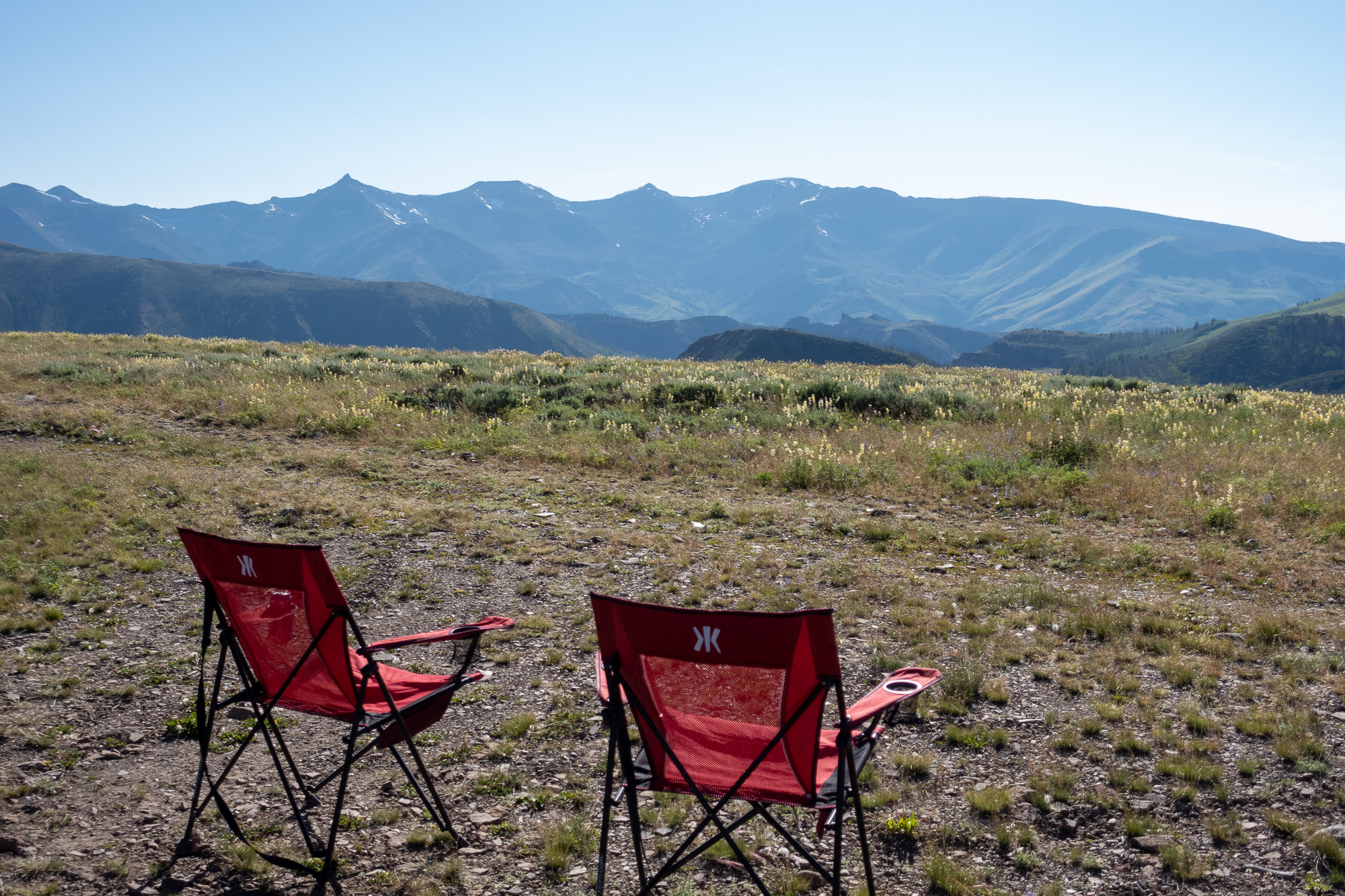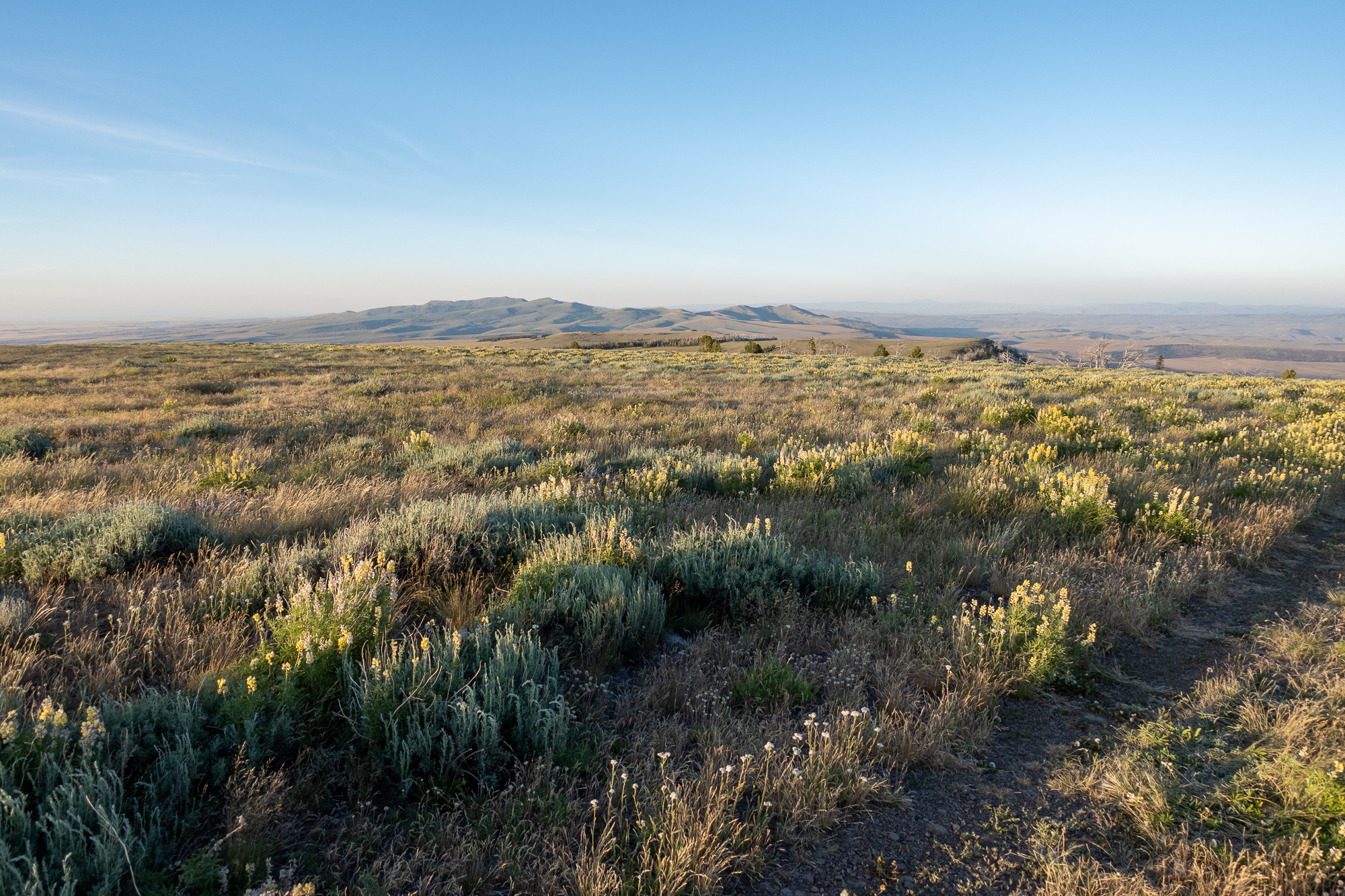 It got cold pretty fast: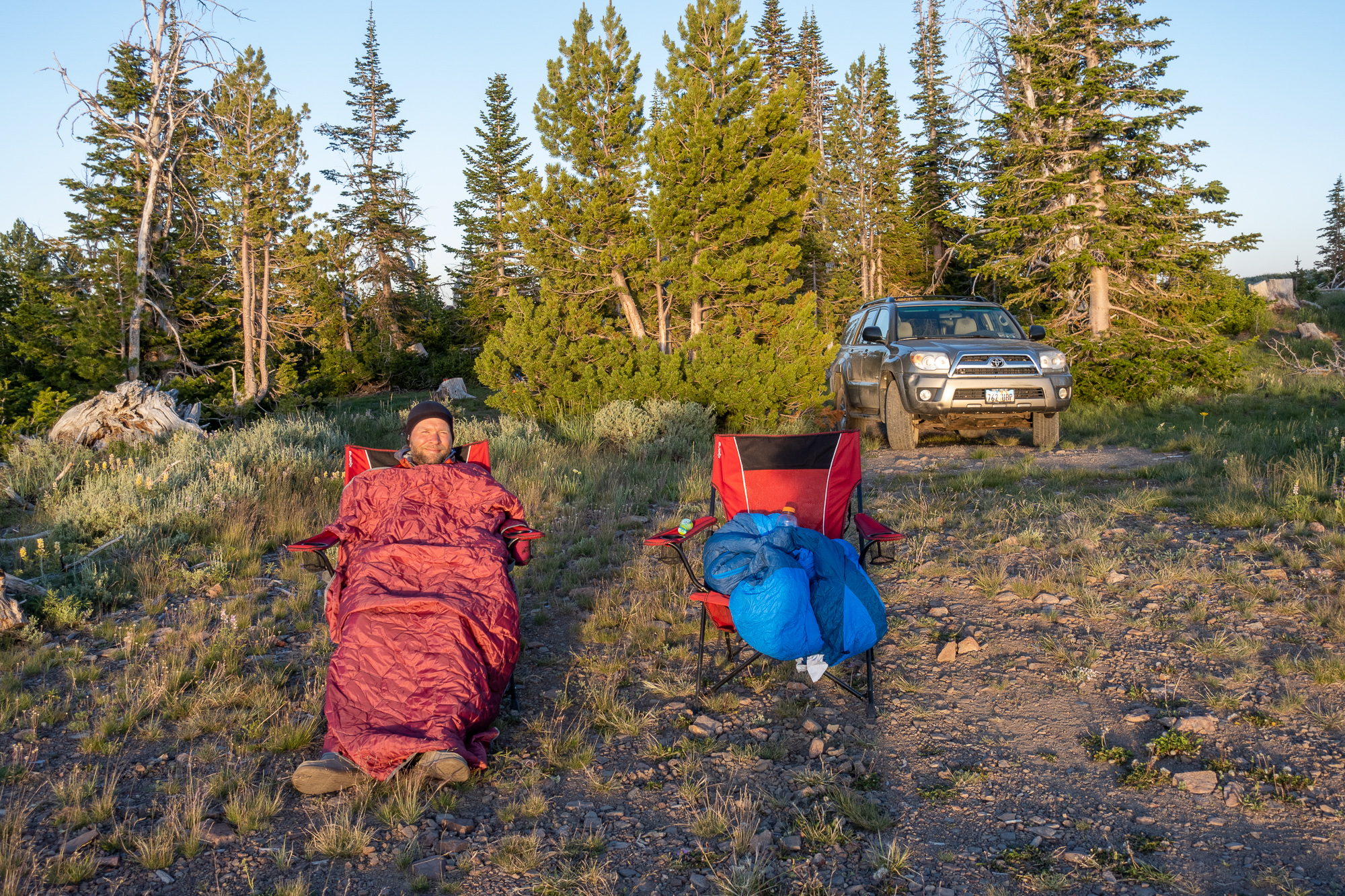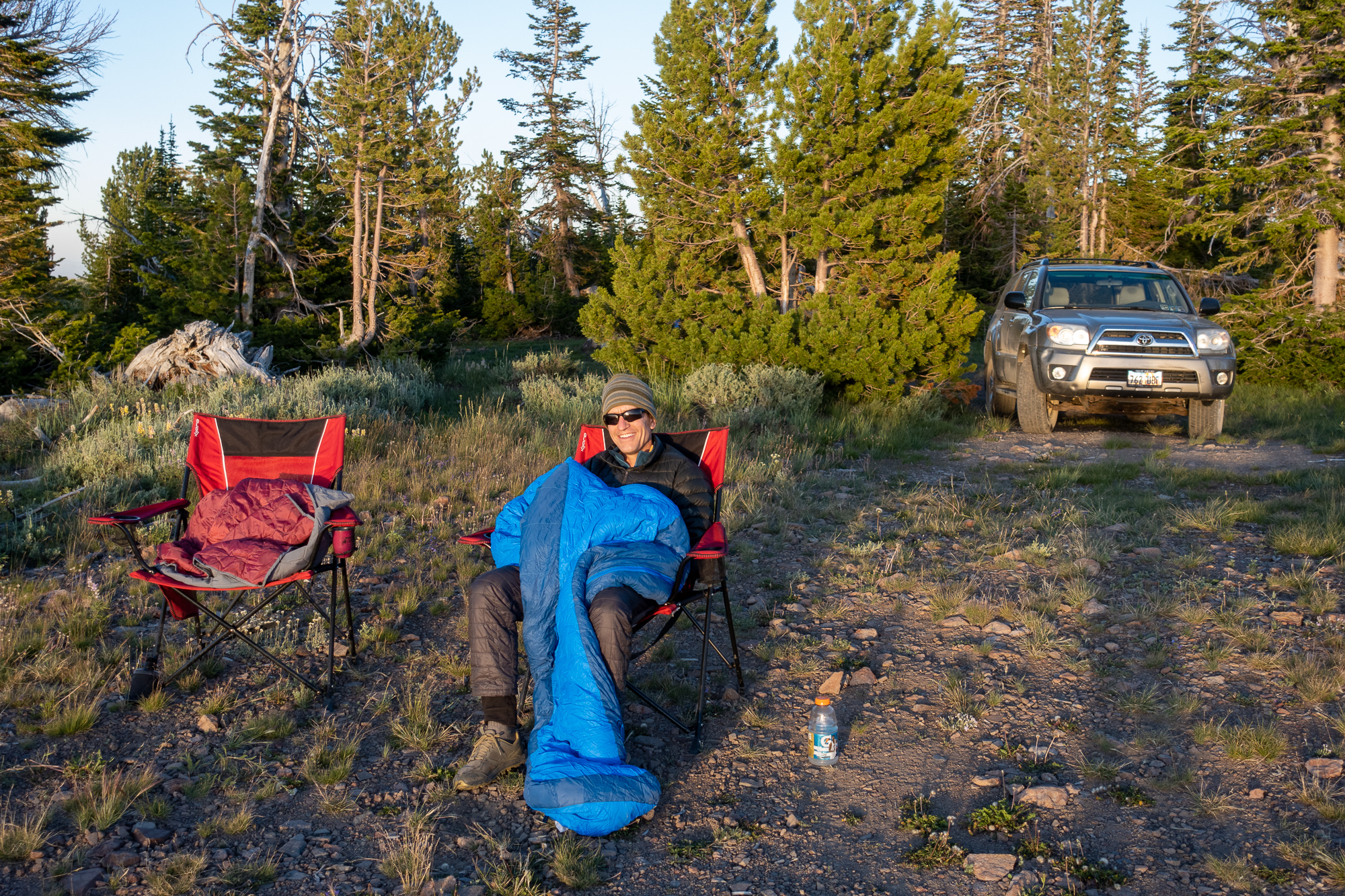 This is why we leave our houses.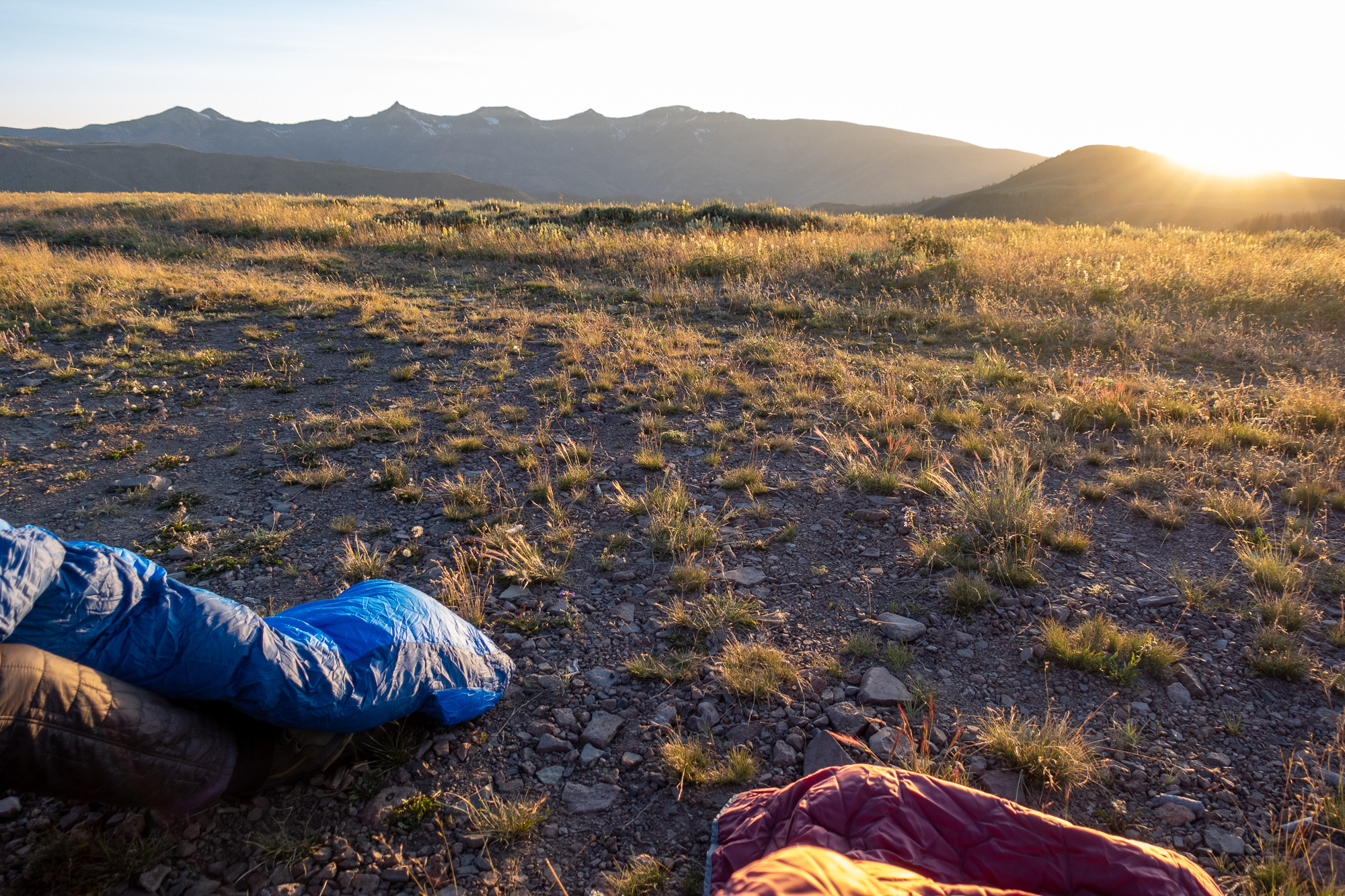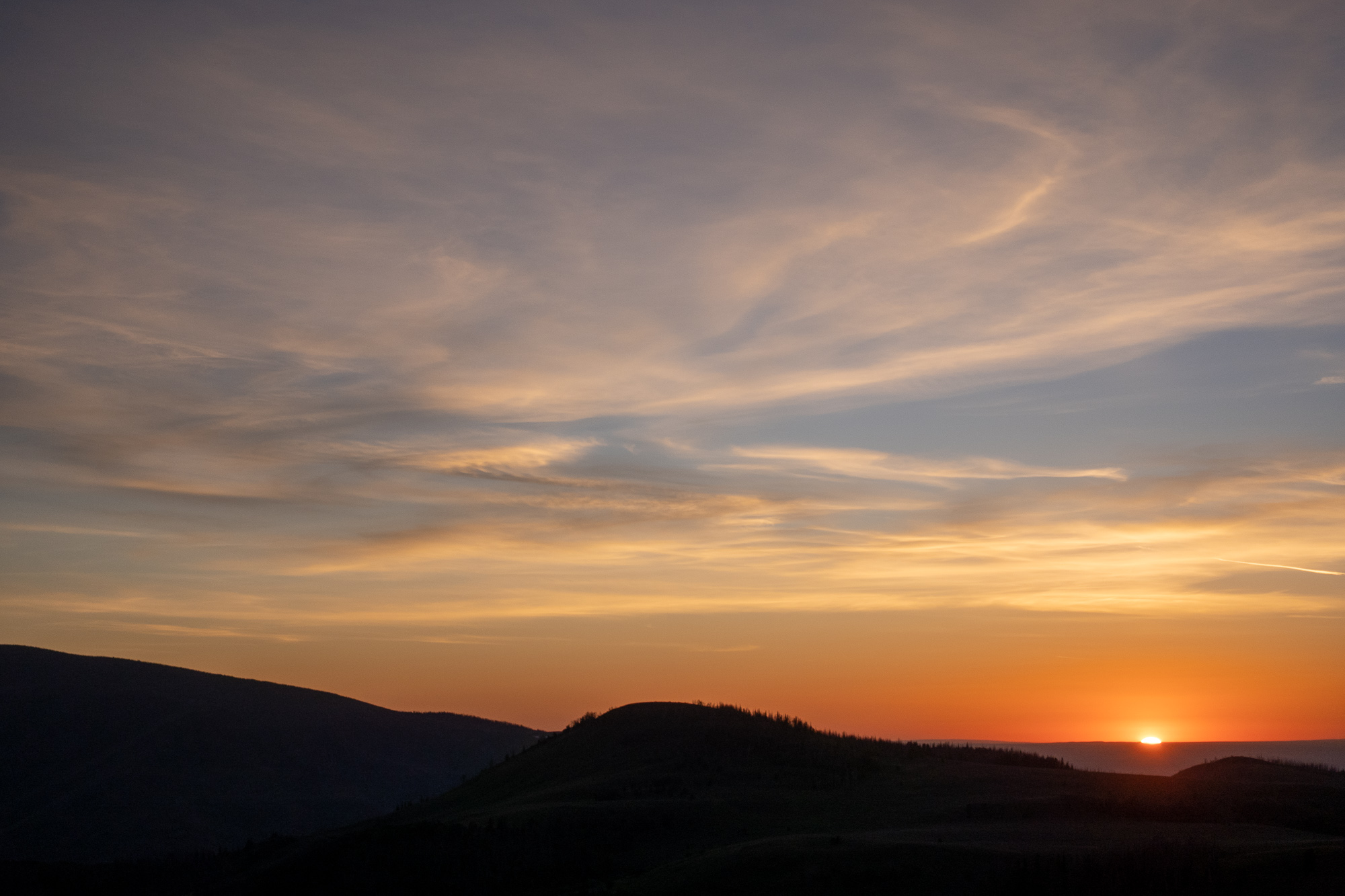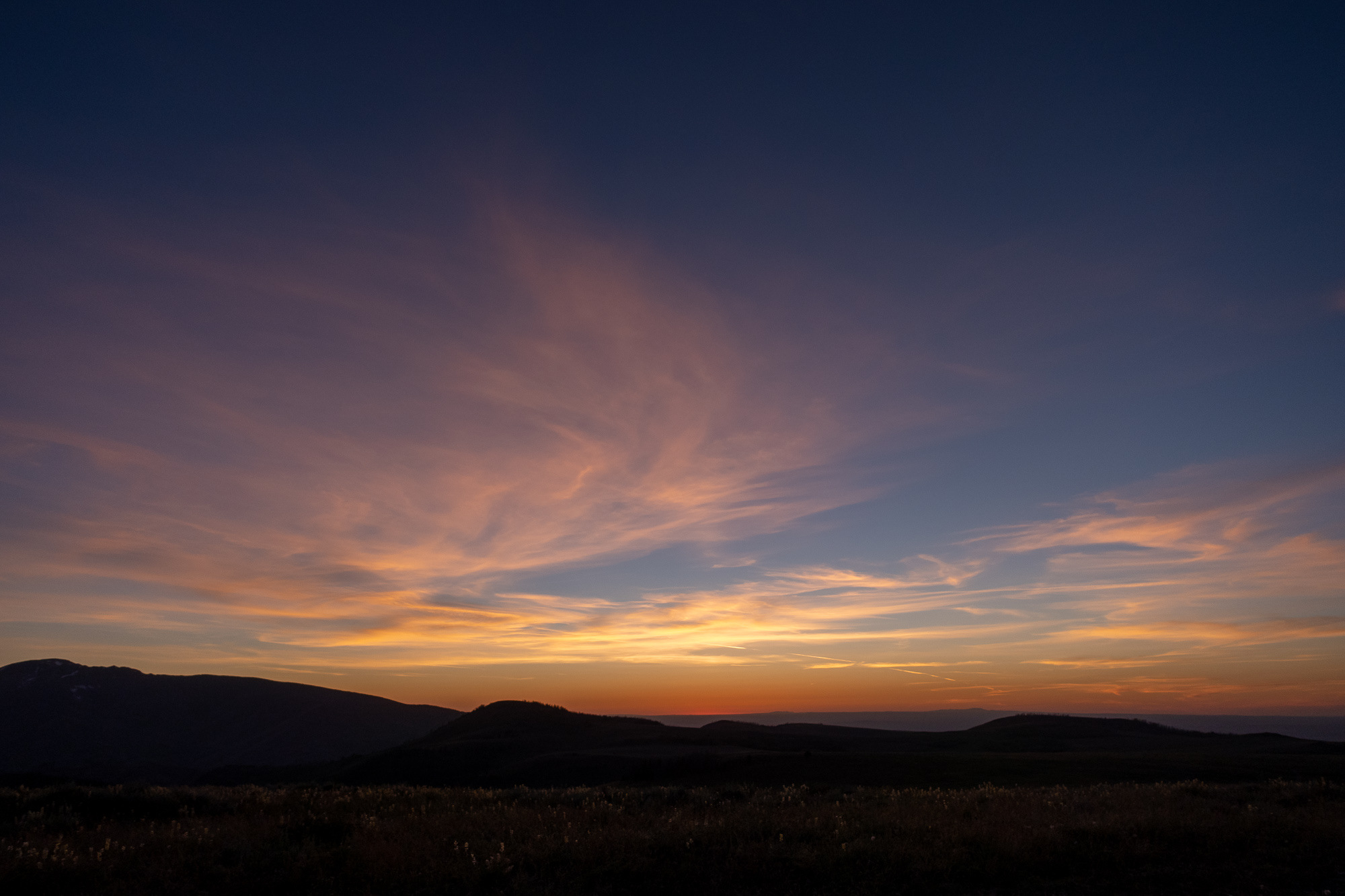 Morning light on the main ridge of the Jarbidge Range was good.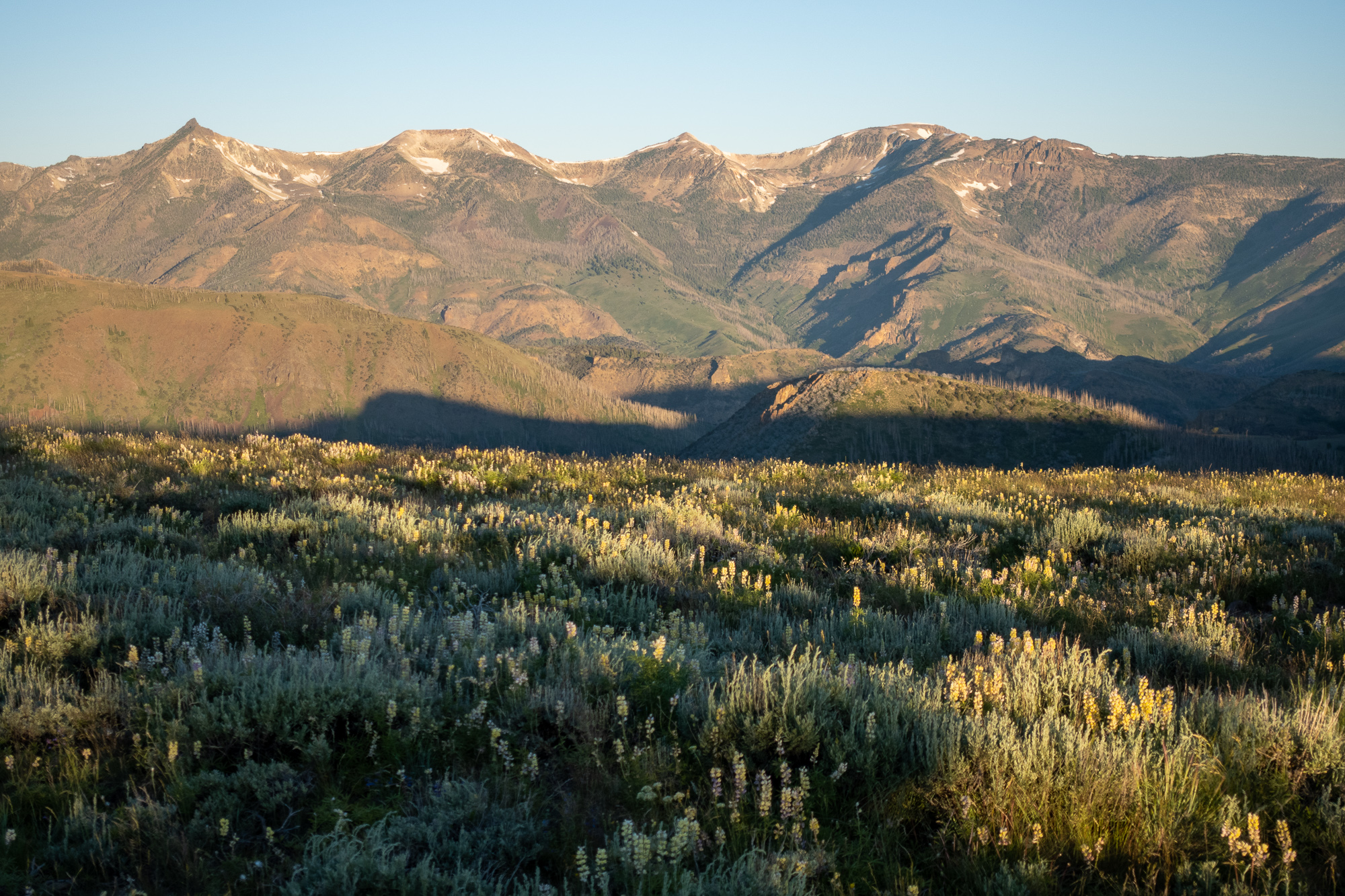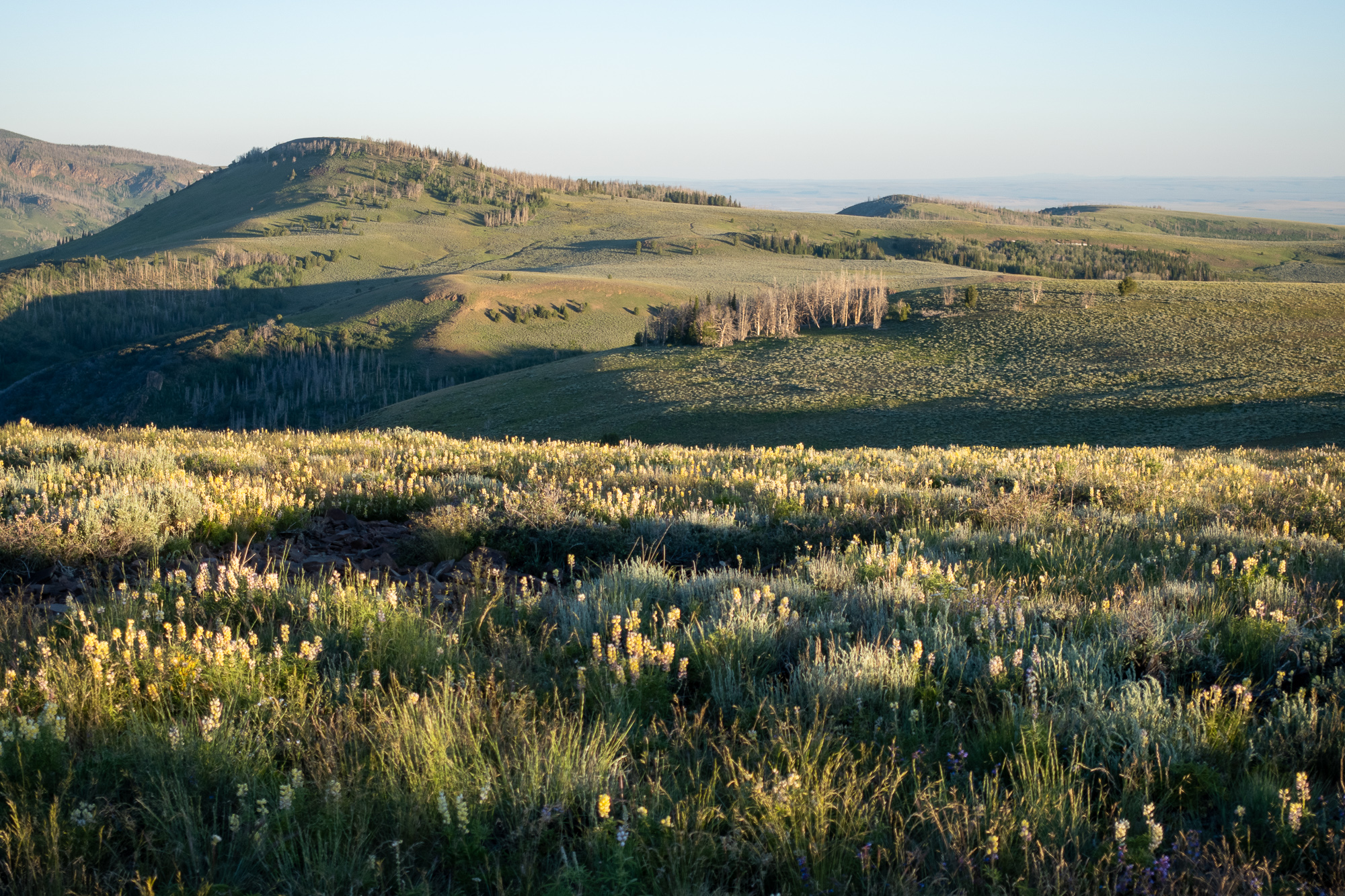 Mid-July was a good time to be in Jarbidge: there was plenty of water around, but not so much that stream crossings were difficult. The first day and night were a bit warm, but after that temperatures were great. We saw oddly little wildlife: no snakes, no frogs, not many birds, and no mammals larger than a marmot. There was plenty of deer and elk scat around, however. Our first campsite had mosquitoes, though they were not particularly bothersome, and we didn't have any bugs after that, except that I managed to find a patch of ticks while hiking off trail through some dense vegetation. Who expects ticks in Nevada?
The Gods Pocket Peak Trail gave the impression of having been well maintained up until a few decades ago. Major trail junctions were marked with signs, but most of the signs were faded to near illegibility and many had fallen over. The trail is excellent for long stretches, but then parts have eroded completely away or have been covered by plants to the point that it's basically gone. We were happy to have a map I had traced from Google Earth imagery: each time we lost the trail, the GPS made it pretty easy to find again. We didn't see any evidence of recent camping activity, such as the fire rings or areas cleared of fallen wood. One of the reasons I'm posting this trip report is that I think this area could use some more foot traffic: this might keep the trail usable for a few more years.