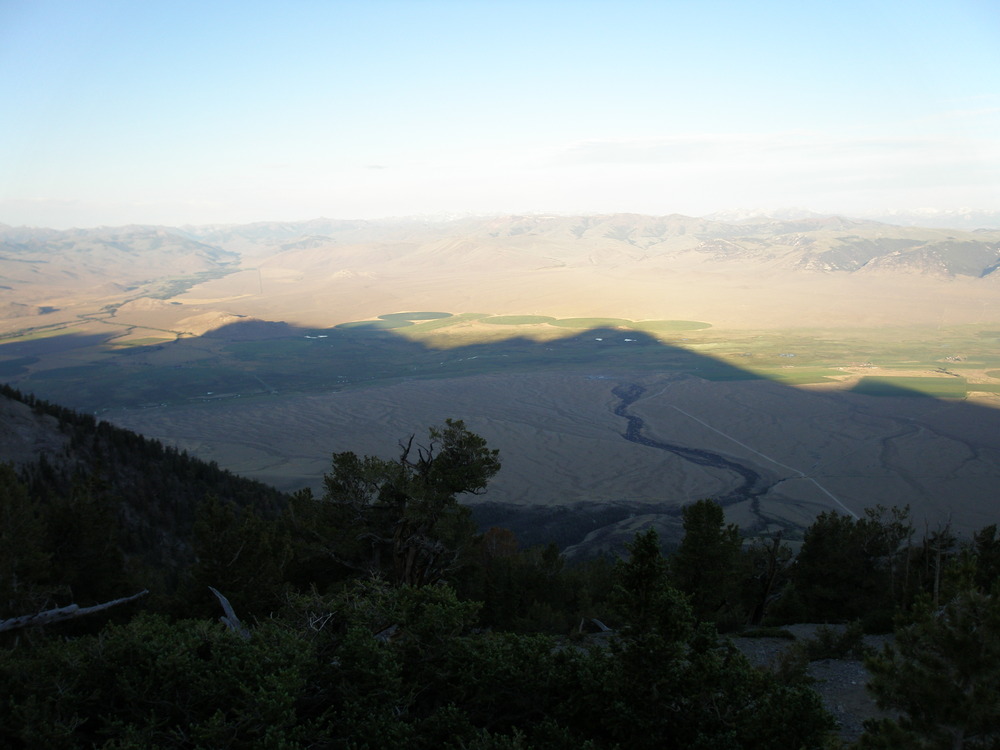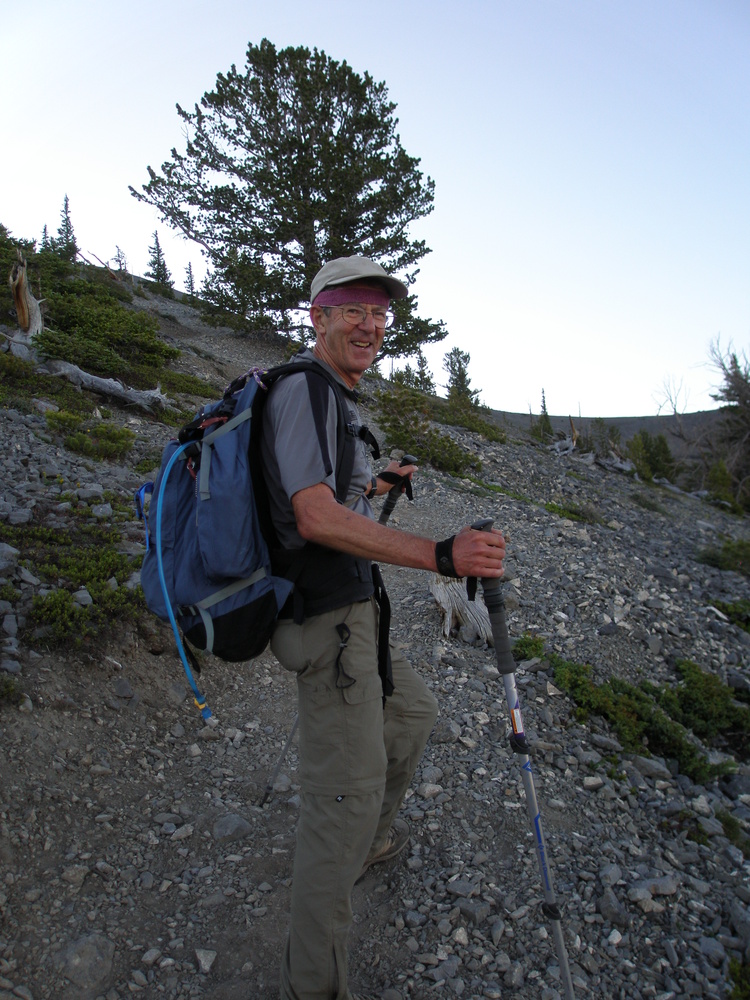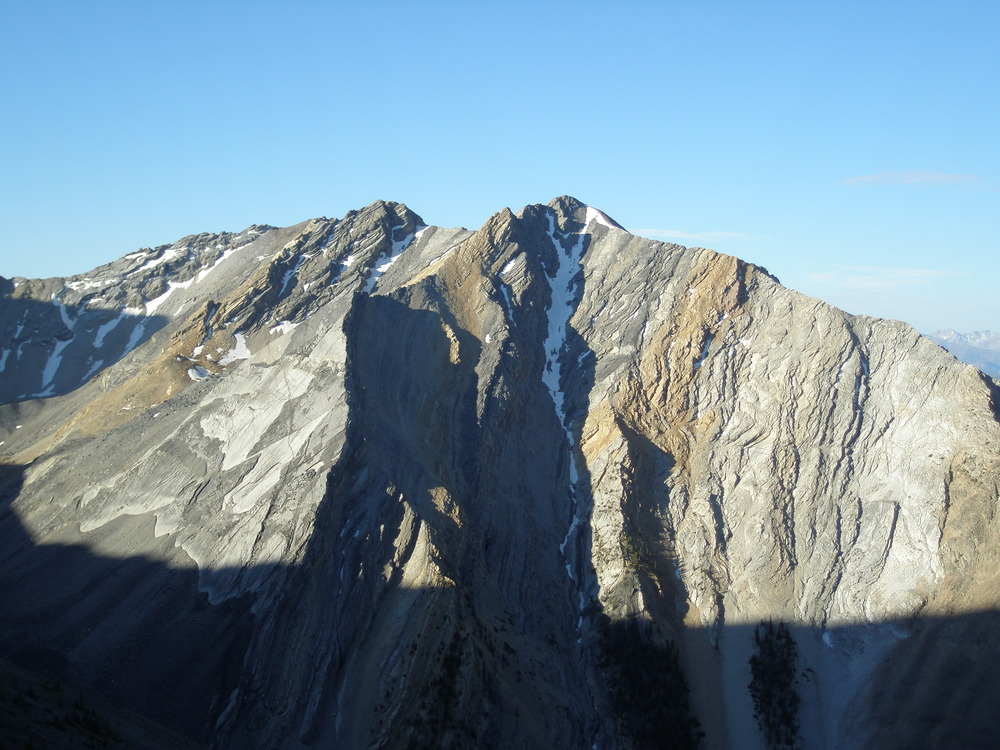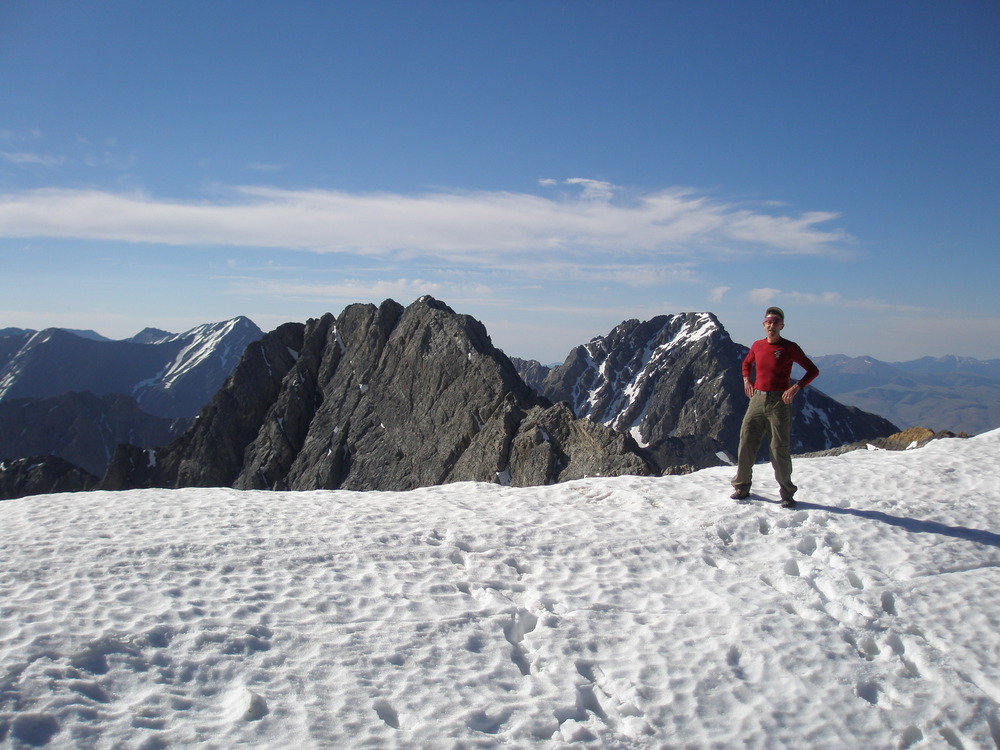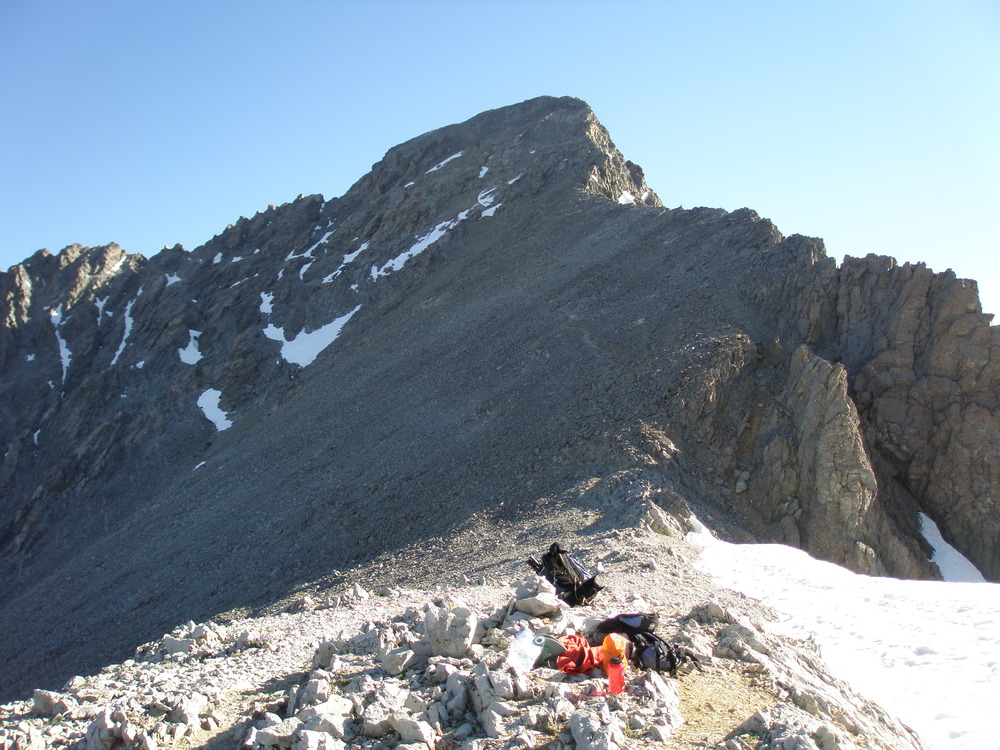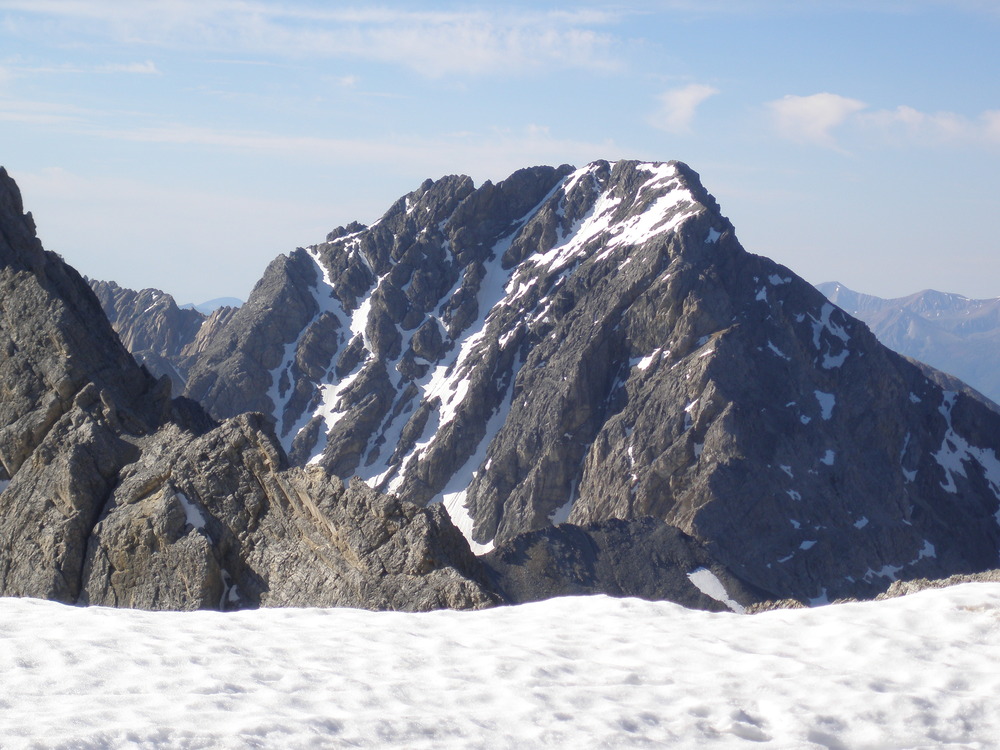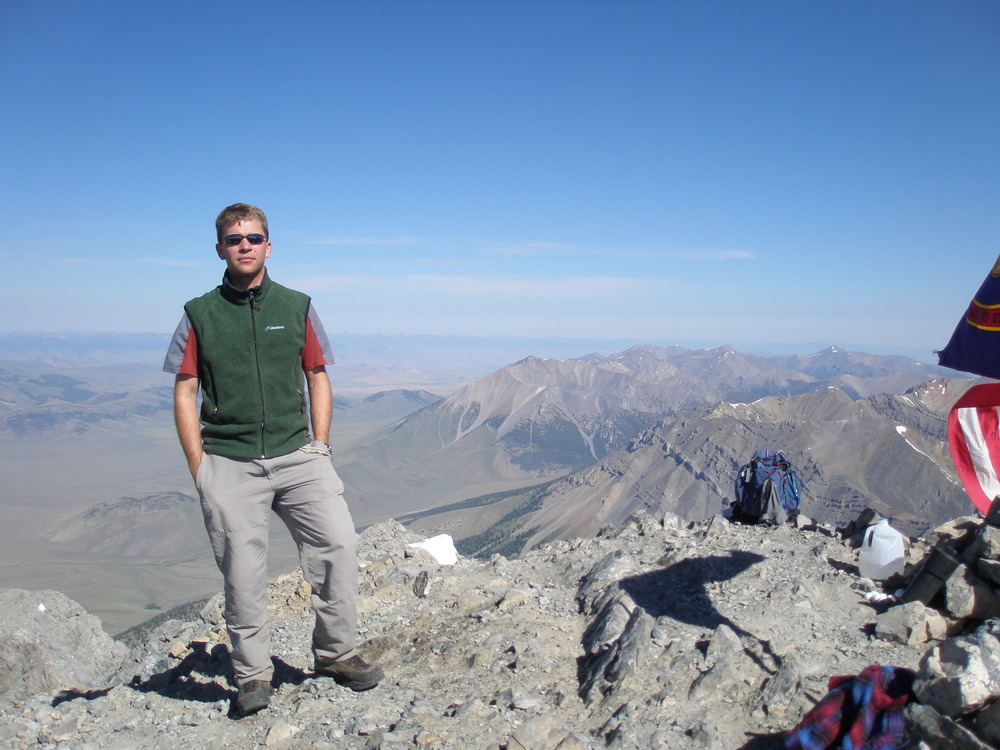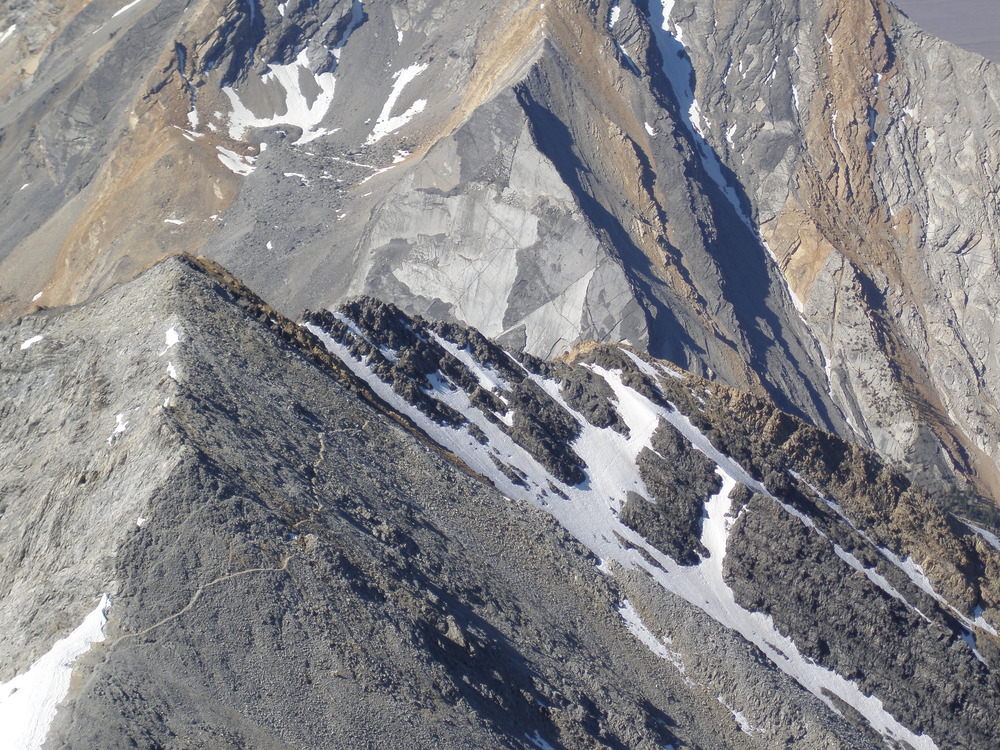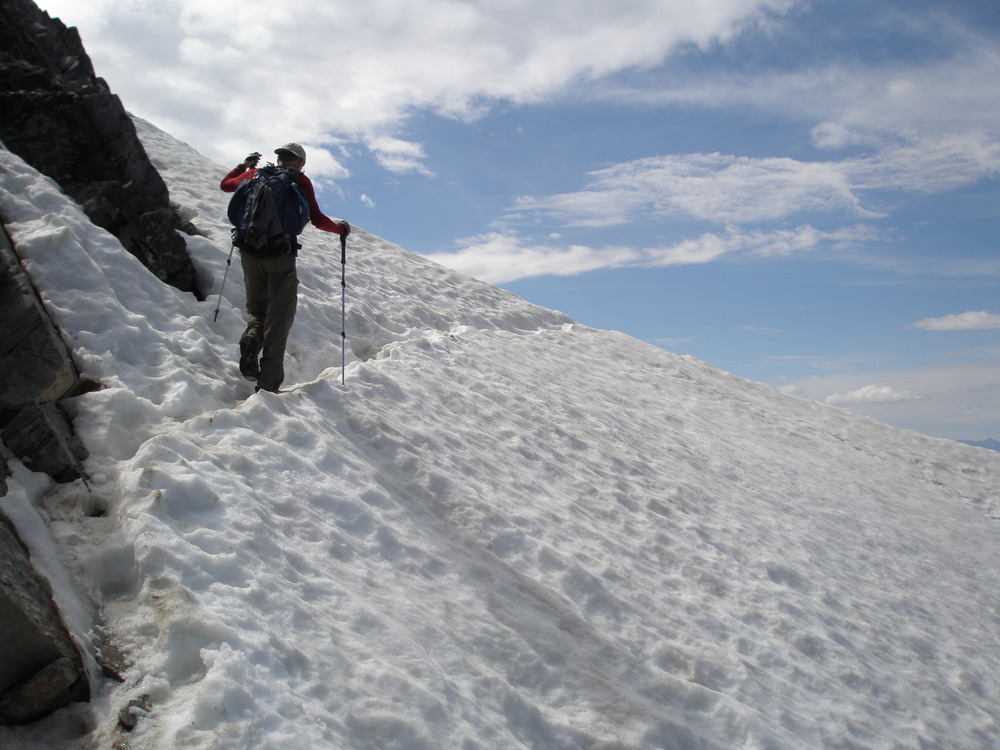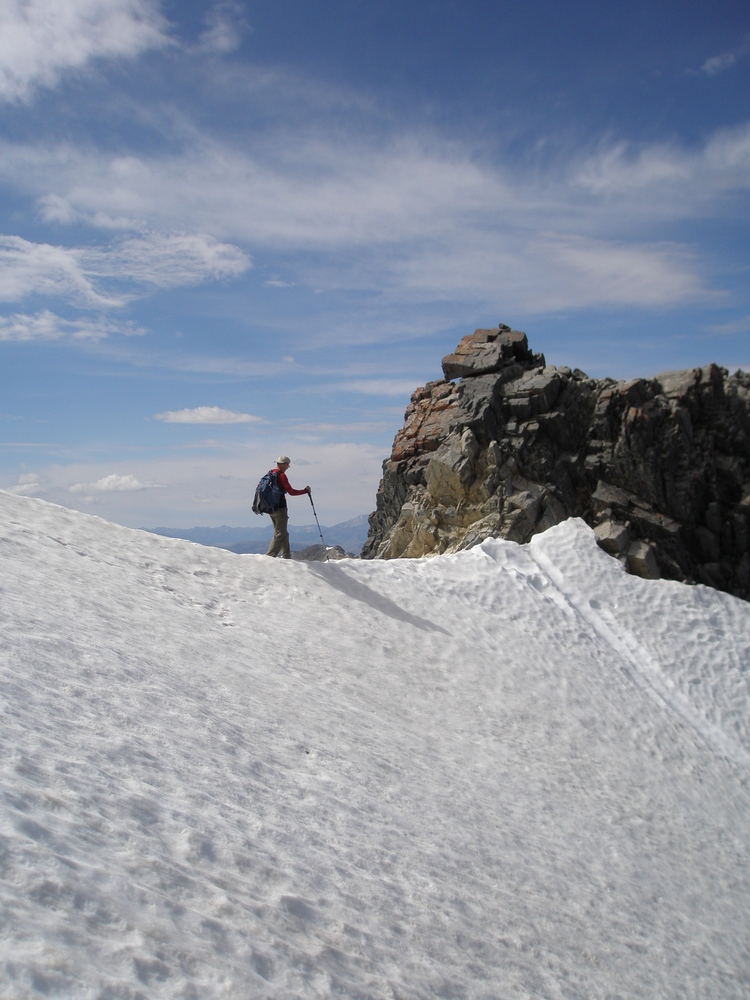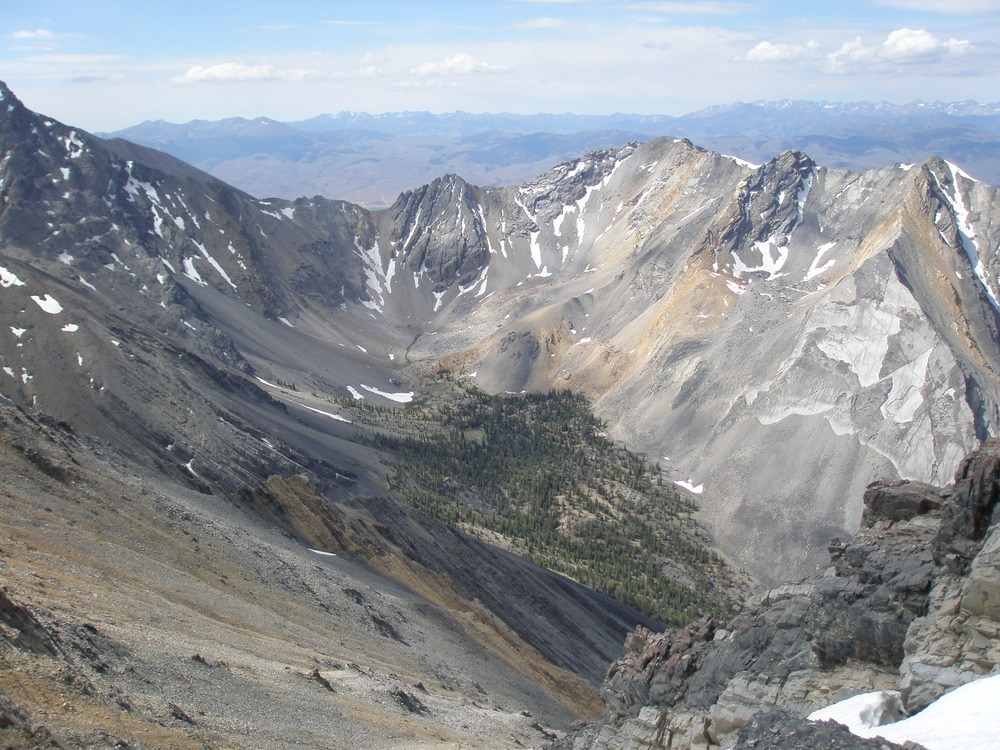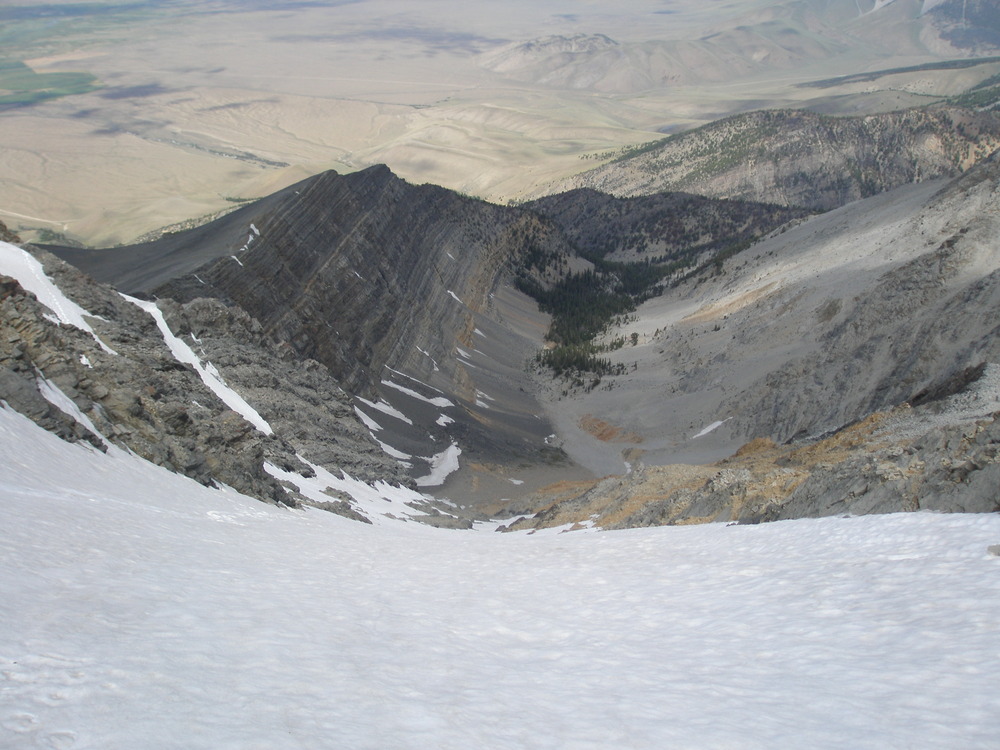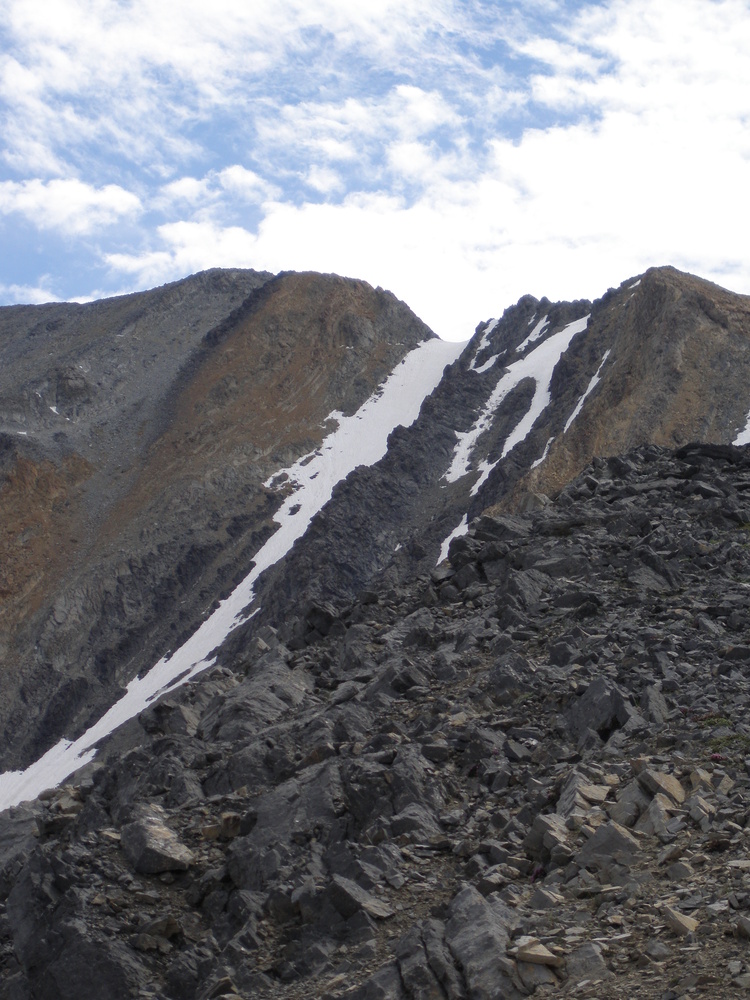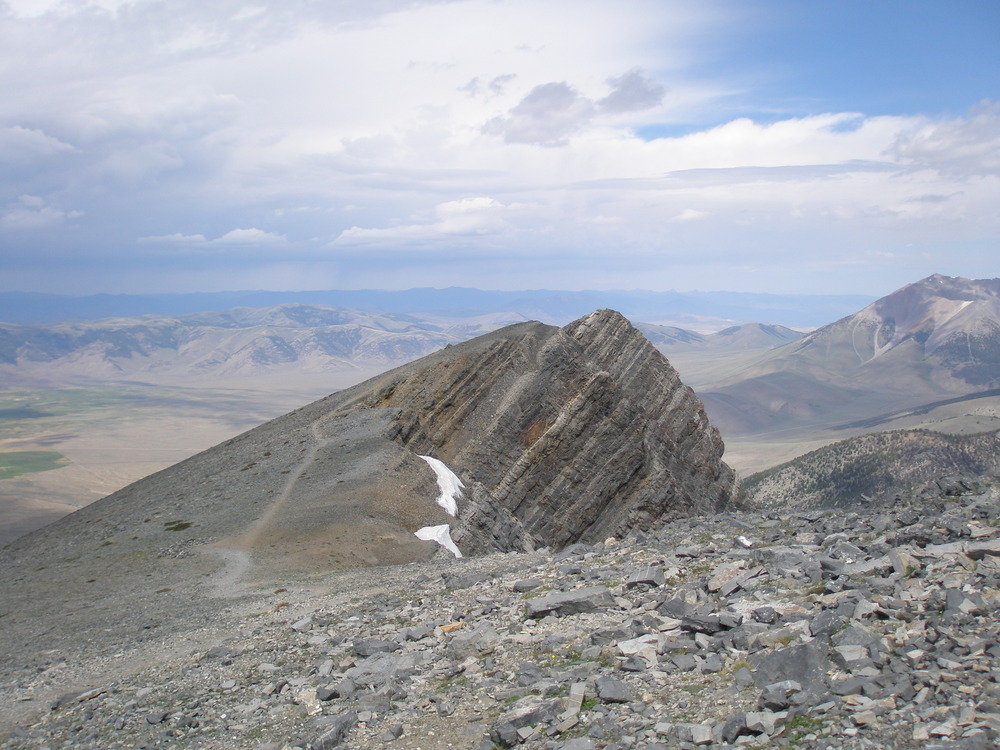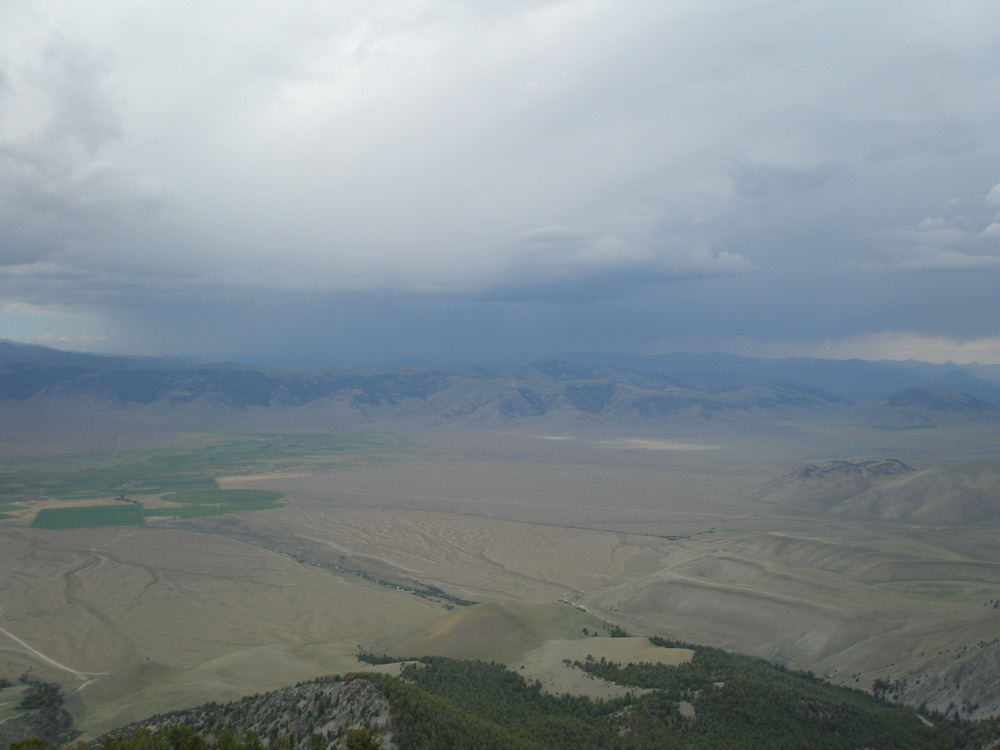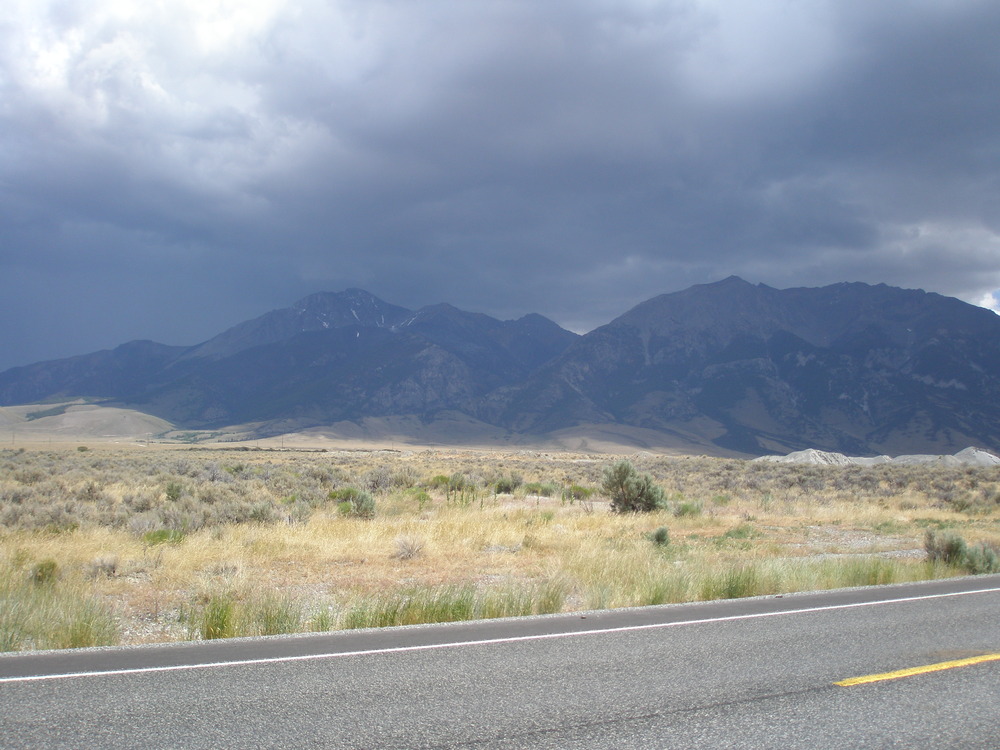 My colleague Dave Hanscom wanted to climb Borah Peak, Idaho's 12,668′ high point. He had climbed this mountain once before and I'd barely even heard of it. We left Salt Lake City around 1pm on Tuesday of this week. The drive up to Mackay, ID took 4.5 hours and is classic intermountain west: wide, dry valleys with mountains always in sight. We grabbed burgers in tiny Mackay (pronounced "mackey") and proceeded 20 miles north to the Borah Peak trailhead. Just before reaching the trailhead we saw what at first looked like a road running across the foothills just above the valley floor; this turned out to be the scarp from a 1983 earthquake that increased Borah's elevation by seven feet. The trailhead has some great campsites along a small stream. Dave set up his tent and I rolled out my bivy bag. With plenty of remaining daylight, we got our packs ready for an early start on Wednesday. Using binoculars we saw a guy pretty high on the trail; we hoped he'd make it down before dark so we could ask about trail conditions, but he was moving very slowly and we eventually gave up. The sunset was beautiful; it would have been a perfect day to be on the mountain.
My alarm went off at 5am; we made cereal and coffee and got moving by 6:00. It was around 50 degrees — nice to not need gloves at breakfast! The warm night also meant that snow up on the mountain would be soft, so we didn't hike with axes. The forecast was for afternoon thunderstorms so we needed to get moving and keep moving. The trail starts out gently but quickly becomes steep: it gains a mile of elevation in just 3.5 miles of travel.
Dave is a strong hiker and I'm in good shape so we made pretty fast progress up to "chicken out ridge" where the class 3 scrambling begins. The scrambling had some intimidating exposure but wasn't bad overall. We crossed a slightly pucker-inducing snow bridge and moved along quickly to Borah's summit pyramid. Here we finally started to feel the effects of altitude and slowed down considerably, getting to the top at 10:00. We had hoped for a climb rate of 1500′ per hour and didn't quite meet that goal, but our actual rate of 1300'/hour seemed reasonable given the altitude and scrambling problems.
We stuck around on the summit until 10:30 when the beginnings of some cloud activity made it clear that it was time to leave. The initial part of the descent was painful due to steep gravel and scree, but after that we made good progress. By noon we were down near treeline and it was definitely time to be getting off of the mountain: the storm clouds were building up in a menacing way.  By 1pm we were back at Dave's car and just in time, we had barely closed the doors when some serious thunder started to happen and we got a bit of hail. We stopped for coffee and sandwiches in Pocatello and were home by 7pm. It was an excellent trip.
A few other groups were on the mountain. One group of four started at 3am; two summited and two turned back at chicken-out ridge. Another group of four started at 5am and they were still fairly high on the mountain when the storm began, hopefully they got off the scrambling part before the rock got wet. One guy started at 8:00 and finished probably a half-hour before we did: a fast hiker indeed.