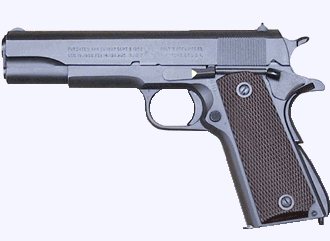 From yesterday's Salt Lake Tribune I learned that Utah may get a state gun: the Browning M1911 semiautomatic pistol, designed by Utahn John Browning. Utah would be the first state to get its own gun. While this is an interesting idea, I'm not sure that .45 is the right caliber:
The Utah state animal is the Rocky Mountain elk. Shouldn't the state gun be a good choice for hunting the state animal? Personally I would not take a .45 on an elk hunt. On the other hand, plinking at seagulls (the state bird) with a .45 would work nicely.
Sure, the .45 has ample stopping power, but we might hope that the state gun would be suitable for carrying by any adult resident of the state. The .45's recoil might be on the heavy side for a hundred-pound recent high school graduate. A 9mm or .38 special may offer a better compromise between effectiveness and usability.
According to the company web site, Browning's handgun offerings are all in .22, 9mm, and .40 — they don't even make a .45 caliber pistol anymore. Let's support local industry and choose a state firearm that is still manufactured here (if any are).
I also learned from yesterday's Trib article that the Utah State Cooking Pot is the dutch oven.