Since I'm not a big skier, I didn't get out a lot in winter during my first few years in Utah. When springtime came, I would just tough it out and get into shape the hard way — go on a few long hikes and suffer appropriately. This worked because I was in my 20s. Now that I'm close to 40, that strategy works very poorly so I try to stay in shape all year. This means having some reasonable winter clothes, which is what this post is about.
The basic ideas behind putting together a good collection of clothing on a modest budget are:
Waterproof items are expensive and almost never necessary. The main exceptions are hard rain (rare in Utah) or spending a lot of time wallowing in wet snow (rare outside of self-arrest practice sessions).
Items should be multi-purpose. Many pieces of outdoor gear are things a person would want to own anyway, just to shovel the driveway or whatever.
Everything can be found for at least 30% off retail price (and often quite a bit more) if you are patient.
I'm posting this since it took me a while to come up with a system that's warm, comfortable, and durable.
Basics
These are all you need down to about 5°F, as long as you keep moving and there's little wind. More layers are needed (see below) to provide margin against getting lost or hurt, to stay comfortable over a lunch break, or when there's weather.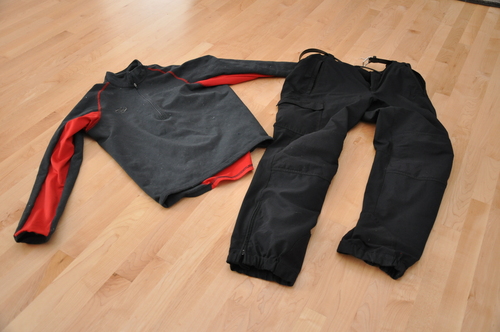 Pants
Soft shell pants are awesome: stretchy, warm, and breathable. The Mammut Champ pants I've used for about three years are not showing much wear and are comfortable in a wide variety of conditions. They seem to be a great choice.
Top
Layering is not needed: a single breathable, windproof, stretchy top is what you want. My top is a Sporthill "zone 3" model and it is excellent, though getting threadbare after 4 years of use. Many other companies make similar gear. The idea is to keep it simple: the shirt is a pullover with no pockets, hood, or any of that.
Socks and Boots
Smartwool socks are my favorite, and not too hard to find on sale. Otherwise anything that isn't cotton should be fine. Boots don't seem to matter that much, you just want decent treads. I'm not partial to Goretex boots but they're hard to avoid unless you go to heavy leather boots.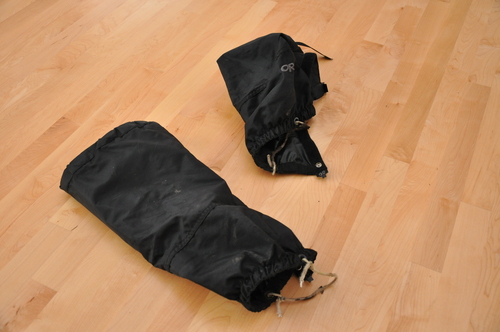 Gaiters
Everyone in the Midwest and Northeast of the US has a hat and gloves, but most people who visit us from those regions have never heard of gaiters. I don't understand this because gaiters are the best thing ever: they keep snow (and sticks and leaves) out of your boots and they keep your legs warm. I'd rather go snowshoeing in tennis shoes and gaiters than in a good pair of boots without gaiters.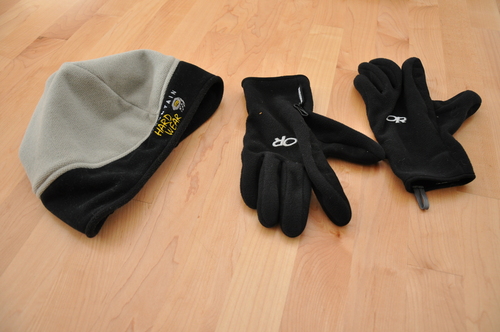 Gloves and Hat
The "windstopper" kind of fleece seems to work well for a light hat and gloves. Gloves last a few years and hats last until you lose them.
Extras
For trips longer than an hour or two, or for non-benign winter weather some extra gear is nice.
Balaclava
Even with a good hat and temperatures not much below freezing, windy weather can easily lead to numb cheeks, neck, and chin. A balaclava solves this problem; in winter I almost always hike/run with a Smartwool balaclava in my pocket, it weights almost nothing and is really warm and comfortable. I also have a heavy storm balaclava but don't use it that often.
Long Underwear
Backpacking in crappy weather taught me to love wool long underwear: it stays comfortable and doesn't get (extremely) smelly after wearing it continuously for a week. Mine is Smartwool but there are several other brands like Ibex and Icebreaker that are probably just as good. This stuff is so comfortable I wear it around the house in winter.
Headlamp
This is a good idea for winter day hikes, and mandatory for evening hiking. I used to use a small headlamp with 3 AAA batteries inside the unit; these are awesome for emergency use and for backpacking trips, but don't provide enough light to illuminate a trail if you're moving fast. My current headlamp has an external battery pack, which is annoying, but it's far brighter and can be used for trail running at night.
Poles
I usually hike with poles in winter, they provide extra points of balance on icy hillsides and make it much easier to self-extricate from a snowbank.
Shell Pants
As I said, these are seldom necessary unless it's very windy or rainy. But still, it's nice to have a pair. I bought cheapo goretex pants about 10 years ago and they still work.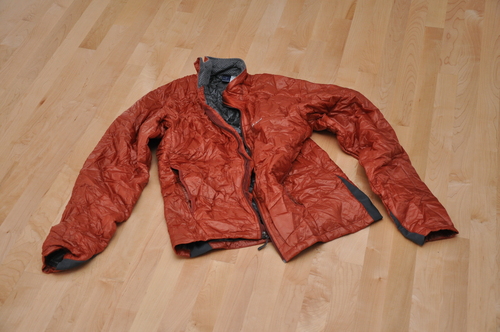 Puffy Jacket
A puffy jacket is great to pull on as soon as you stop moving. The one shown here is a Montbell UL thermawrap, which I love because it's light and small and fairly close-fitting, so it layers well under other stuff. Since it's thin, it's not very warm by itself.
Shell or Soft-Shell Jacket
One of these is nice for the crappiest conditions.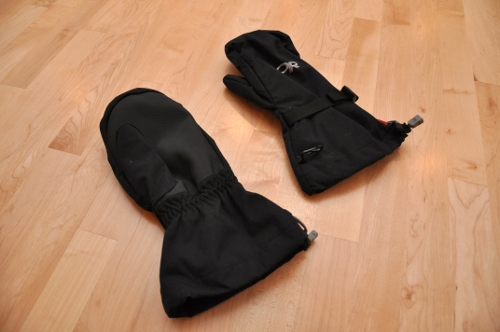 Serious Hand Protection
You definitely want some heavier gloves than the ones I showed above. I also have a pair of pullover mittens, mainly for insurance. You can't actually do anything with your hands while wearing the damn things but I'm pretty sure that (pulled over warm gloves) they'd stave off frostbite in most conditions found in the lower 48.