Many computer scientists, including myself, end up doing research that needs to be evaluated experimentally, and yet most of us have had little training in statistics or the design of experiments. We end up teaching ourselves this material as we go, which often works pretty well. On the other hand, sometimes the issues are surprisingly subtle. Today's piece is about a example where I've found this to be the case; I ran across it a few years ago when some sanity checks on confidence interval code weren't giving answers that seemed to make sense.
The topic is confidence intervals for a binomial proportion, where we take a series of independent yes/no measurements and use them to compute an interval that most likely contains the true proportion. For example, if we flip a coin 50 times and get heads 28 times, should we conclude that the coin is biased towards heads? In other words, does the confidence interval for the proportion of heads exclude 0.5? In this case, the 95% interval does contain 0.5 and so the data does not support the conclusion that the coin is unfair at the 95% level.
If we reach some conclusion with 95% confidence, what does that actually mean? Informally, it means that if we repeated the entire experiment (in this case, 50 coin flips) many times, we would reach the correct conclusion 95% of the time. The other 5% of the time we would be incorrect. Statisticians formalize this as the coverage probability: "the proportion of the time that the interval contains the true value of interest." At this point most of us would ask: Doesn't the 95% confidence interval have a coverage probability of 95% by definition? Turns out the answer is "no" and this is where the fun starts.
Let's take an example where n (the sample size) is 21 and p (the true proportion) is 0.479. We can empirically compute the coverage of the 95% confidence interval by repeatedly taking 21 random samples and seeing if the true proportion lies within the 95% confidence interval. For now we'll use the normal approximation to the binomial. Here's some code that does all this. Compile and run it like so:
$ gcc -O conf.c -o conf -lm
$ ./conf 21 0.479
n= 21, p= 0.479000, nominal coverage= 95.00 %
measured coverage= 91.62 % 
measured coverage= 91.63 %
measured coverage= 91.63 %
measured coverage= 91.61 % 
measured coverage= 91.60 %
As we can see, the coverage is about 91.6%, which means that although we asked for a 5% probability of error, we are actually getting an 8.4% chance of error—a pretty significant difference. There are a couple of things going on. One problem is that the normal approximation is not a very good one. In particular, it is not recommended when np or n(1-p) is less than 10. Here, however, we pass this test. Other sources give a less conservative test where np and n(1-p) are only required to be 5 or more, which can lead to coverage as small as about 87.4% (for n=11, p= 0.455).
The unfortunate thing is that many stats classes, including the one I took many years ago, and also books such as the ubiquitous Art of Computer Systems Performance Analysis, do not go beyond presenting the normal approximation—I guess because it's so simple. However, if you use this approximation and follow the np>5 rule, and aim for a 95% confidence interval, you could easily end up publishing results that are not even significant at the 90% level.
Many statisticians recommend avoiding the normal approximation altogether. But what should be used instead? The Clopper-Pearson interval is fully conservative: it is guaranteed to never have less coverage than you asked for. However, it is often overly conservative, so you might be getting 99% confidence when you only wanted 95%. What's wrong with that? First, it may lead you to waste time running unnecessary experiments. Second, it may cause you to reject a hypothesis that actually holds at the desired level of confidence.
In my work for the last several years I've used the Wilson score interval. It is hardly any more difficult to implement than the normal approximation and has better behavior for small np. Also, it works for p=0 or p=1. The Agresti-Coull interval also has many good characteristics. Agresti and Coull's paper from 1998 is short and easy to read for non-statisticians, I'd recommend it for people interested in learning more about these issues. A more exhaustive (and exhausting) discussion can be found in a 2008 paper by Pires and Amado.
Earlier I alluded to the fact that the normal approximation was just one problem with creating a confidence interval for a binomial proportion. The other problem—and it is a problem for all approximations, including the "exact" Clopper-Pearson interval—is that since the binomial distribution is discrete, it is not possible in general to make the actual coverage probability be the same as the nominal coverage probability.
The relationship between the nominal and actual coverage probabilities is interesting to observe. The following graph (produced using the C program above) shows the behavior of the normal approximation of the 95% confidence interval for n=50, between the np=5 and n(1-p)=5 bounds: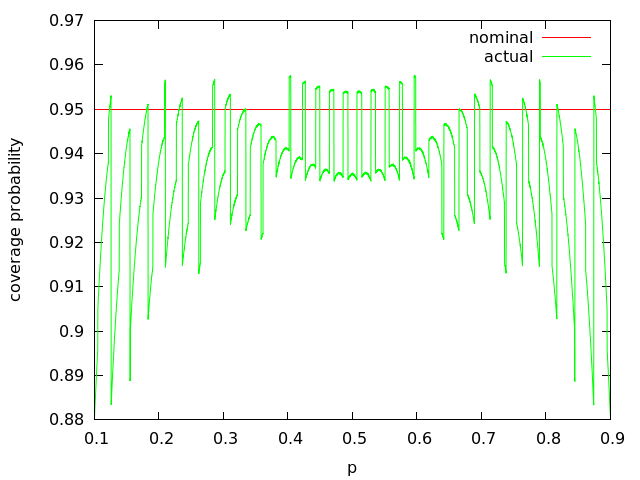 I wrote this piece because the difference between nominal and actual coverage probabilities, which is well-understood by statisticians, does not seem to have been communicated effectively to practicing scientists. In some ideal world the details wouldn't matter very much because people like me would simply rely on a convenient R library to do all confidence interval computations, and this library would be designed and vetted by experts. In practice, a one-size-fits-all solution is probably not optimal and anyway I always seem to end up with confidence interval code embedded in various scripts—so I've spent a fair amount of time trying to learn the underlying issues, in order to avoid screwing up.
Summary: Ignore what you probably learned about confidence intervals for proportions in college. Use the Agresti-Coull interval or Wilson score interval.